I am coming to an end of my stay in Krakow and although I've enjoyed myself immensely, I am ready to go home. The weather has turned pretty cold and miserable all of a sudden and I haven't packed enough warm clothes for one. I also miss Duncan, Tina and my bed and my routine.
My today's recipe is a simple granola recipe, which I've been enjoying a lot lately. It's nutty, crunchy and only mildly sweet thanks to the use of apple sauce in place of some of the maple syrup. It makes for a perfect breakfast paired with a vegan yoghurt and some seasonal fruit – I used berries as they were still in season when I created this recipe but whatever fruit you enjoy will be just as nice.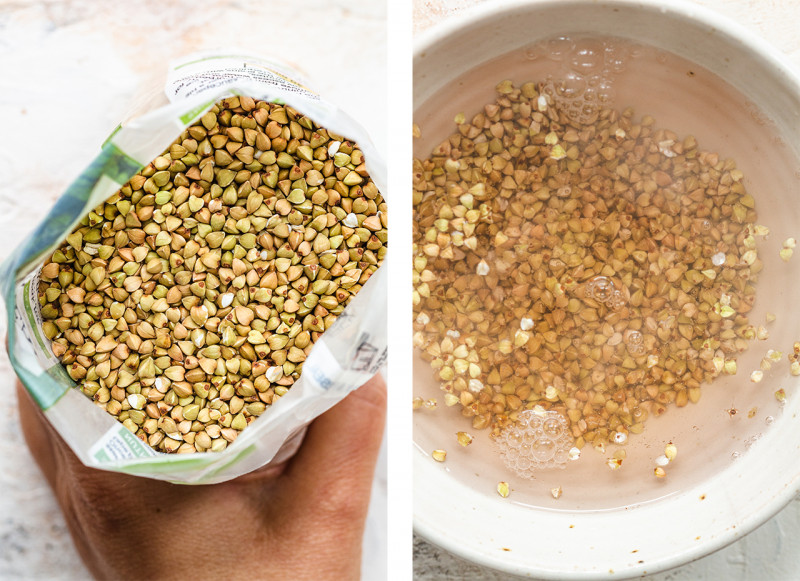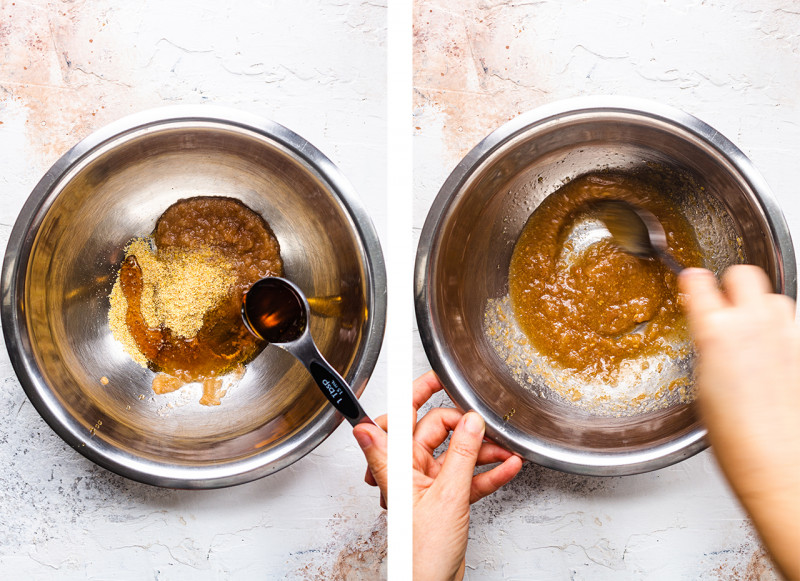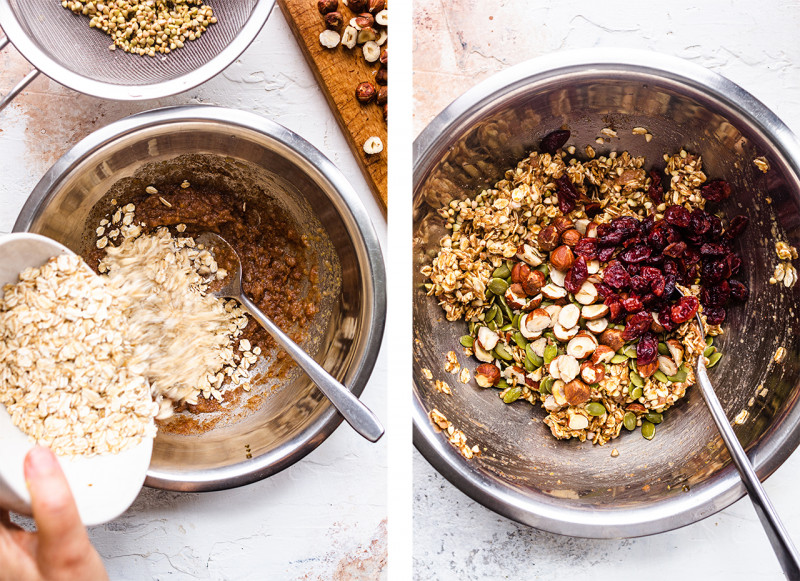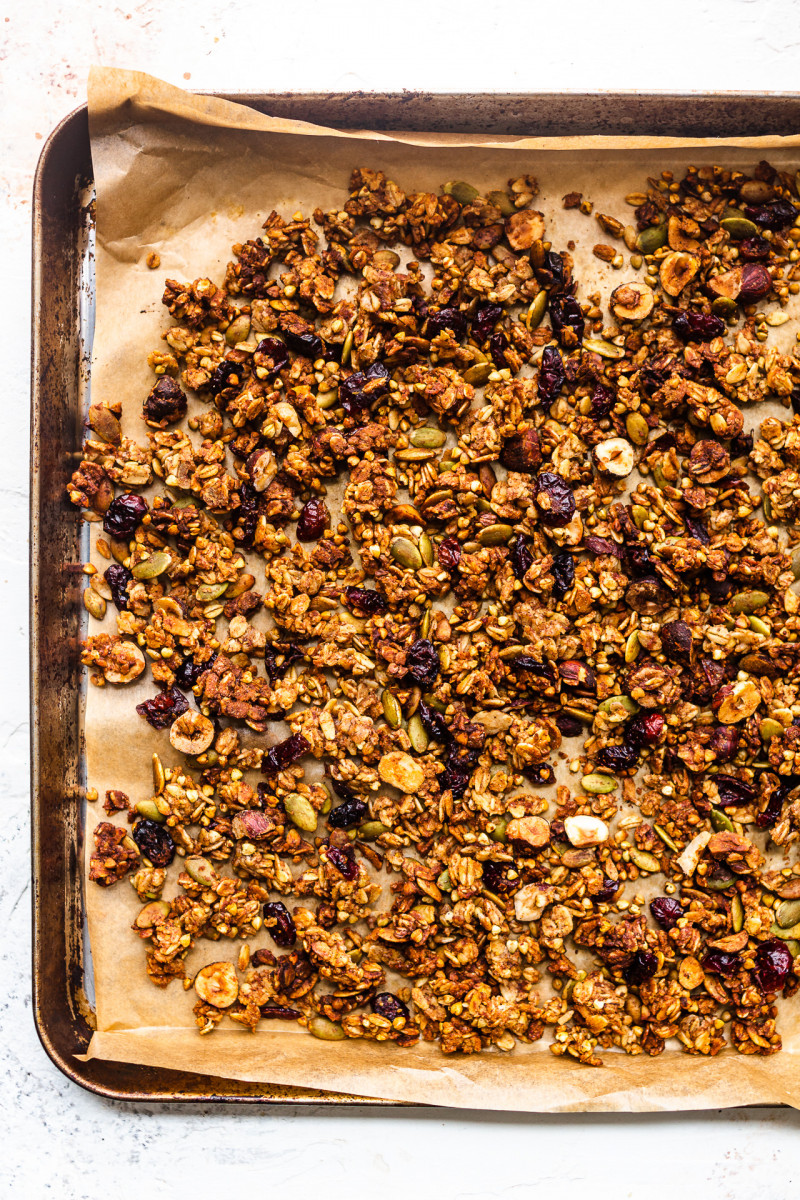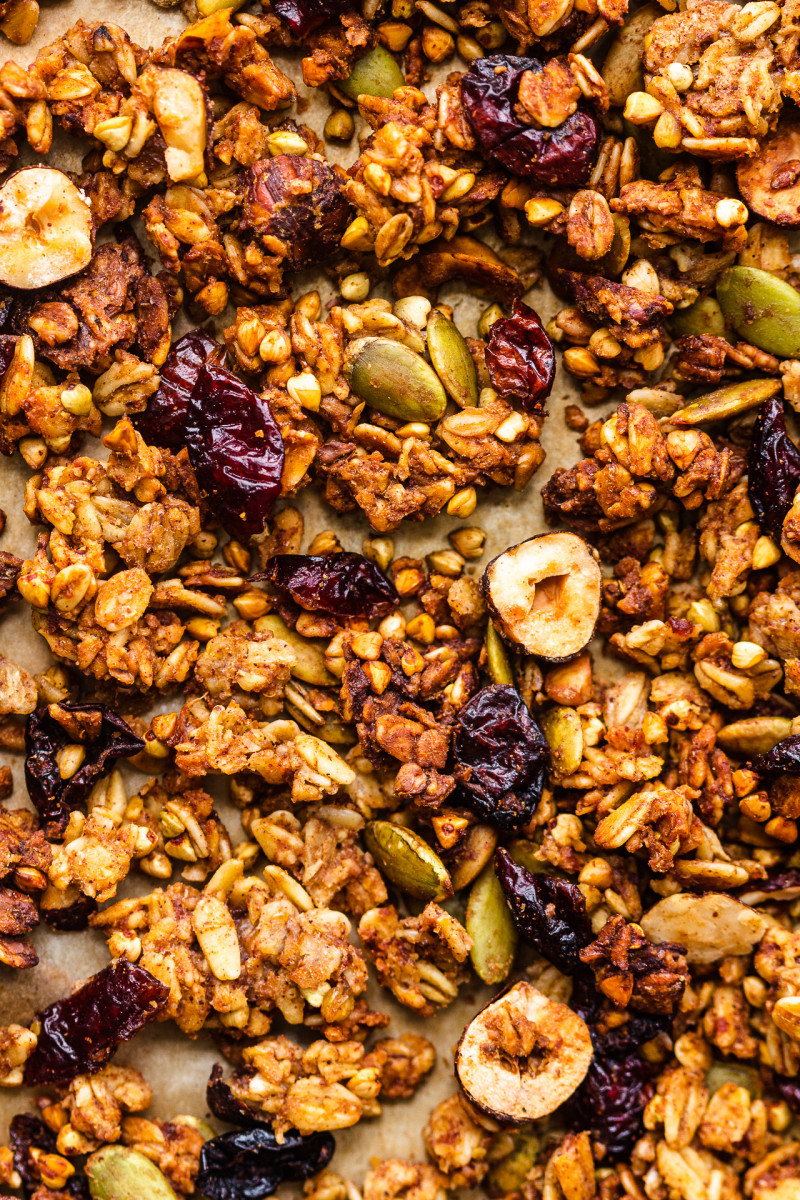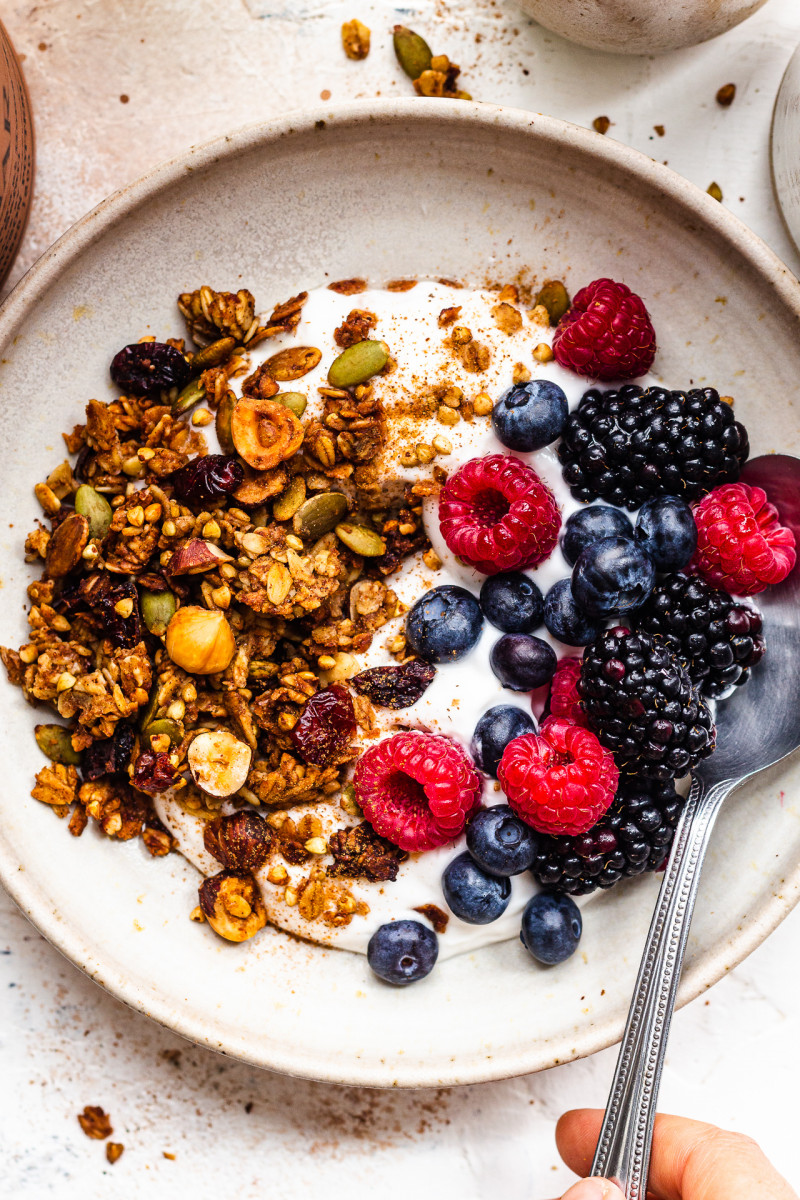 30 g / 2 heaped tbsp raw buckwheat groats*
30 g / ¼ cup dried cranberries (or sultanas)
30 g / ¼ cup hazelnuts (or almonds)
60 g / ¼ cup smooth apple sauce
7 g / 1 tbsp ground flax seeds
30 g / 2 tbsp drippy almond butter or liquid oil (like refined coconut oil)
30 ml / 2 tbsp maple syrup* or other liquid sweetener
100 g / 1 heaped cup whole rolled oats (GF if required)
25 g / 3 tbsp pumpkin seeds (or sunflower seeds)
¾ tsp cinnamon
¼ tsp baking soda
1/8 tsp fine salt
METHOD
Soak raw buckwheat groats in boiling water for 20 minutes, and cranberries and nuts in cold water for the same amount of time. Drain well.
Preheat the oven to 130° C / 265° F fan function (or 150° C / 300° F without the fan) and line a large baking tray with a piece of non stick baking paper.
In a large bowl, mix apple sauce, ground flax, almond butter (or oil) and maple syrup. Stir well until well combined and set aside for 10 minutes for flax to activate.
Add oats, pumpkin seeds, drained buckwheat grouts, cranberries and chopped nuts, cinnamon, baking soda and sea salt. Mix really well
Spread the granola mixture on the prepared baking tray in a single layer and bake for about 35-40 minutes. Rotate the tray and give the granola a stir after about 20 minutes.
Allow the granola to cool down (it will crisp up) before using. Store in an airtight container, it will keep for a few weeks if stored away from moisture.
NOTES
*Be sure to use raw buckwheat grouts (as opposed to kasha, which is roasted and has a strong flavour). I used buckwheat grouts to add a pleasant crunch and nutrition, but if you cannot find them simply use an extra 30 g (1/3 cup) of oats.
*This granola is only slightly sweet, but feel free to add another tablespoon or so of maple syrup if you would like it sweeter – there is no need to change anything else.
If you would like a completely sugar free recipe, check this one here. I have tried making this granola without any maple syrup but it's just too unpleasant to eat in my opinion.
NUTRITIONAL INFO
*per ¼ cup serving (1 out of 8)
DON'T MISS A SINGLE RECIPE
Join our mailing list and we we will let you know when we publish a new recipe. You'll receive our DELIGHTFUL DESSERTS E-BOOK as a thank you for supporting us.