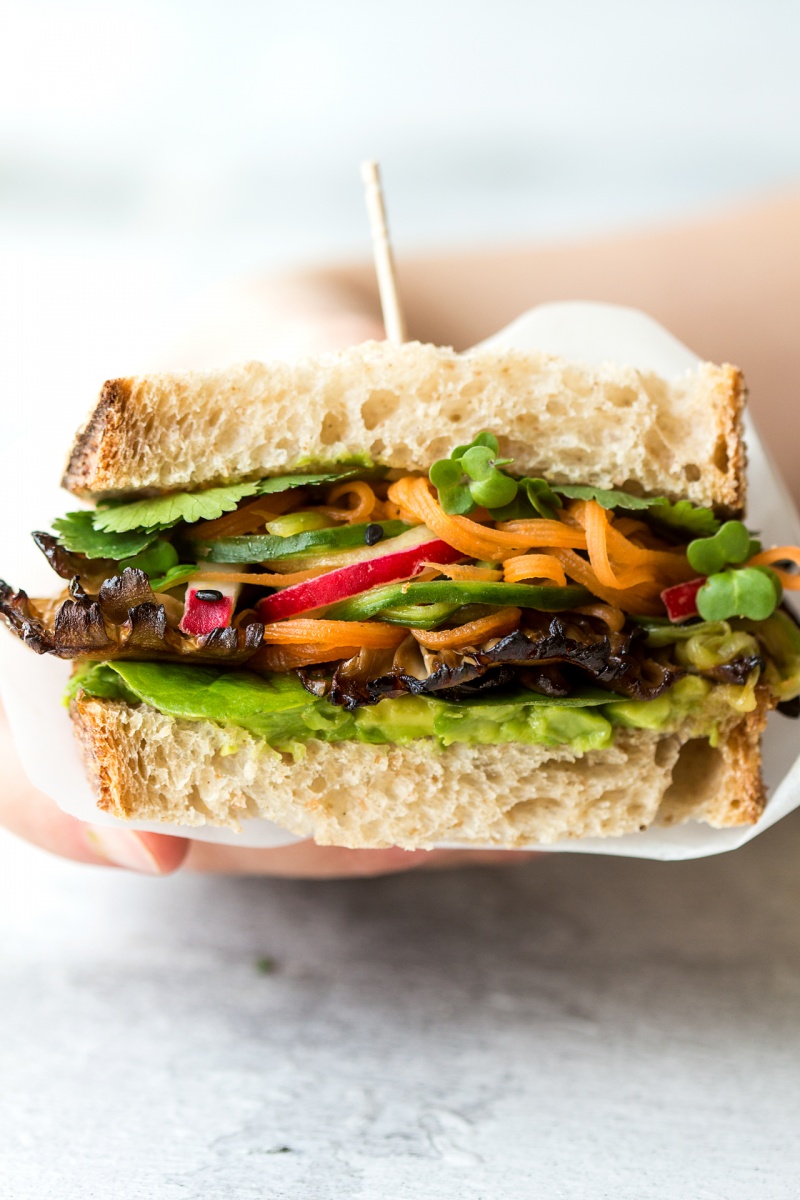 Hope you guys are well and ready for the weekend ahead! We are going to the beach one last time today and then getting ready to return home. We are both sad as we've had a really nice holiday and we wish it wasn't coming to an end, but we are also missing Tina big time and the thought of seeing her sweet furry face again makes us both really happy.
Despite the fact that she has probably had a blast over the past two weeks – she got to enjoy a massive garden at Duncan's cousin's house, where she does not get bullied and where she can explore all day long (and she probably got fussed over a fair bit too as Sydney loves her) – she is bound to be put out when we finally take her home and she will be standoffish for a good few hours too. Cats, eh? 'How dare you have a life beside me, hooman??! Isn't running around with a string in your backyard so that I can chase after it sufficiently relaxing for you??!'
Today's recipe is a small yet mighty Asian-inspired mushroom sandwich, which I wish we had on hand to take to the beach right now.
Although we've been making the most of the amazing Greek summer produce and our tiny kitchen facilities and have been eating like kings, we are both missing Asian flavours after 2 weeks of tomatoes, olives, zucchinis, peppers and capers. We look forward to a few days of brown rice, mushrooms or tofu with Asian pickles and some spice.
This simple sandwich has a lot of these flavours and it's perfect to take to the beach, on a road trip or to work.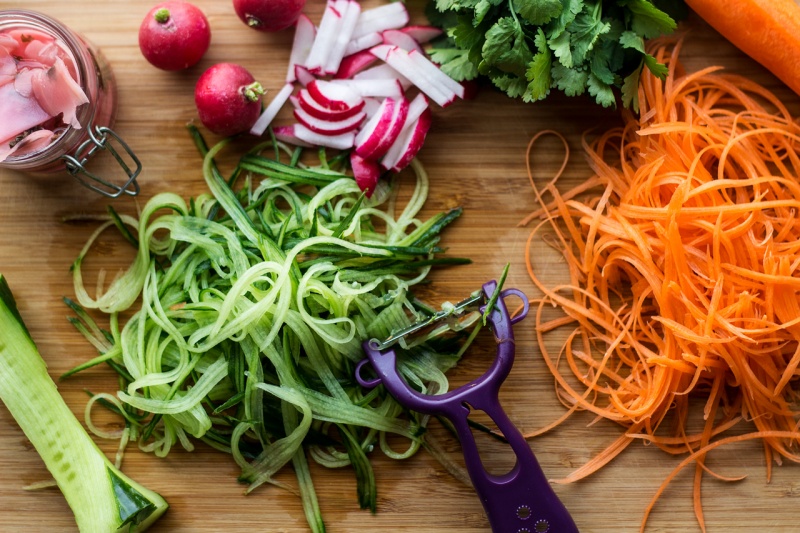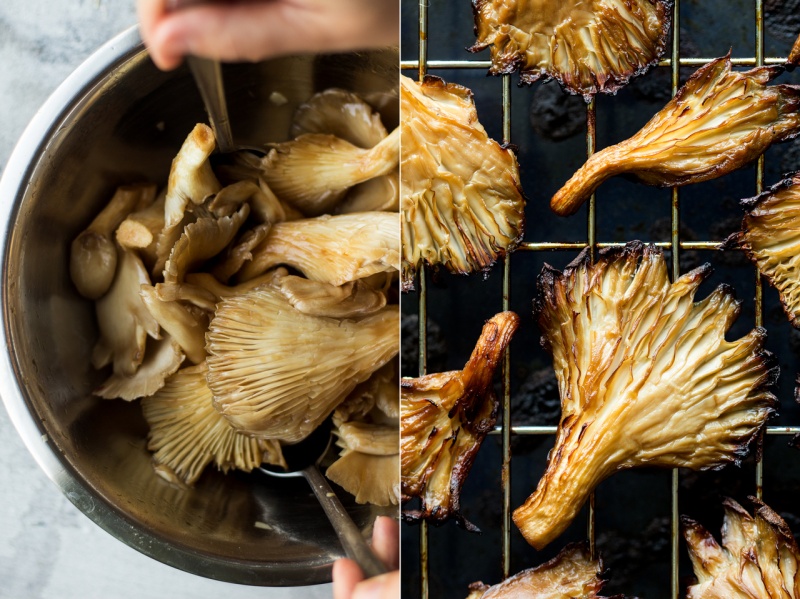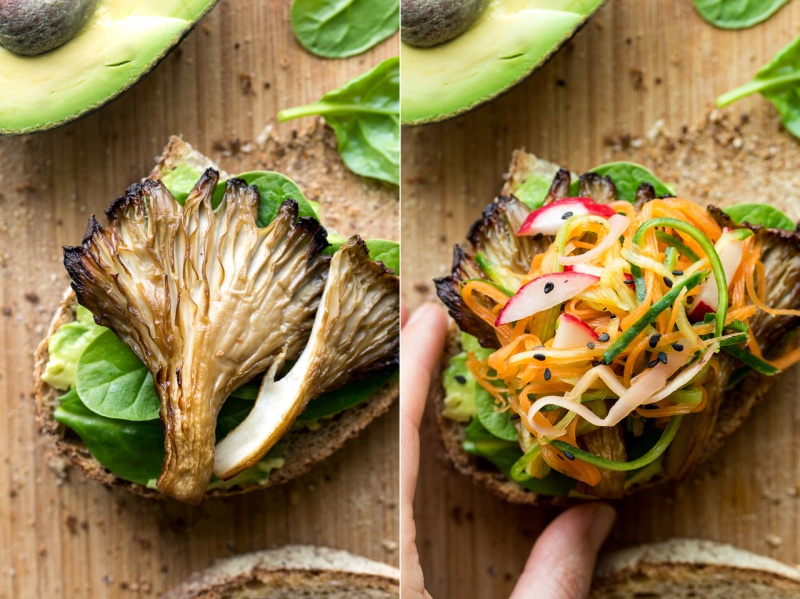 GRILLED OYSTER MUSHROOMS
PICKLED SALAD (make a day ahead if you can)
REMAINING INGREDIENTS
8 slices of quality bread or 4 rolls (GF if needed)
1 ripe avocado
50 g / 1.5 oz fresh spinach
fresh coriander / cilantro leaves
Sriracha mayo, shop-bought or homemade
METHOD
Mix all the marinade ingredients in a large bowl. Add the cleaned mushrooms and coat them in the marinade. Set aside to marinate for at least an hour, giving the mushrooms a stir every 15 minutes or so to make sure they are absorbing the marinade evenly.
Heat up the oven to 160° C / 320° F fan function (or 180° C / 355° F without fan) and if you have a wire rack-topped oven tray use that, otherwise line a regular oven tray with a piece of baking paper.
Arrange the marinated mushrooms on a wire rack-topped oven tray, leaving plenty of space around each so that they can crisp up easily. Bake for about 20 minutes, until cooked through and charred in places.
QUICK PICKLES
Julienne the carrot and cucumber (discarding the watery centre) using a julienne peeler. Cut the radishes into matchsticks and slice the sushi ginger thinly.
Place the prepped veggies in a sterilised (rinsed with boiling water) jar.
Put the rice vinegar, ½ cup / 120 ml water (more water if you want the pickles to be less sharp), sugar (adjust the amount to taste) and salt in a small pot and bring to the boil. Continue simmering for about 10 minutes.
Pour hot pickling liquid over the raw vegetables. Once the pickling liquid cools down, keep the jar in the fridge.
ASSEMBLY
Toast your bread or bread rolls if you wish.
Spread a layer of ripe avocado at the bottom of each sandwich, top with fresh spinach, grilled (and cooled off) mushrooms, drained pickles, coriander and Sriracha mayo. Close the sandwich and enjoy.