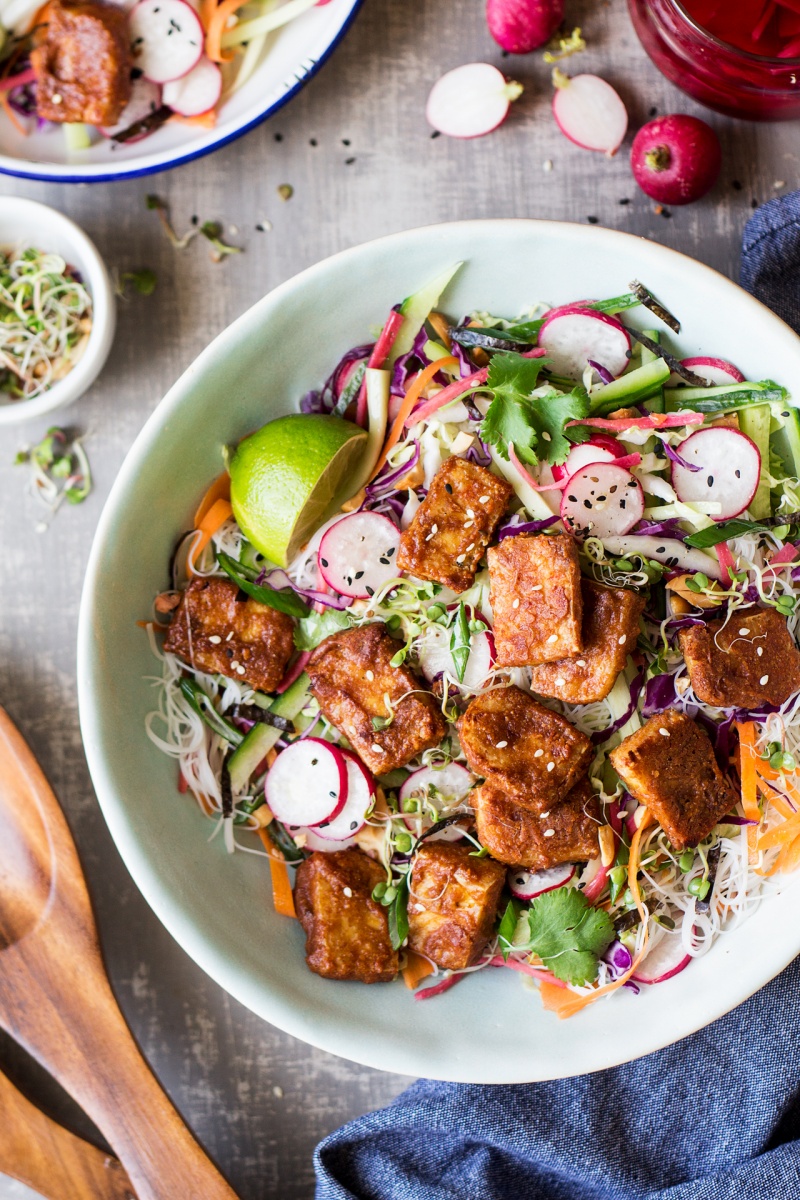 How have you guys been? If you celebrate Easter, I hope you're not feeling too overstuffed or sluggish? Gathering with family and friends over a meal is awesome, but if you're not careful all this grazing can lead to a bit of a binge. Or maybe it's just me and my utter lack of self-control…We've had a quiet weekend, filled with a bit of work and a bit of leisure.
Yesterday, I took a whole day off 'cos I was feeling a little bit burned out and needed some 'me' time. I planned swaying in my hammock, coffee in one hand, book or magazine in the other and a cat on my lap.
Unfortunately, the weather had other plans and as it was really quite cloudy and windy. I ended up having a coffee with a friend in town, having a chilled lunch in our favourite taverna, doing some yoga (I managed to get into a nice routine with it for about two weeks now) and general pottering around. No cooking, styling, photo taking, photo editing, Instagram scrolling and REDUCED thinking about food (I don't think I am able to switch that off completely…;) ) so I can pronounce my day off a success.
I have trouble taking time off…I love doing what I do and sometimes I get a tad obsessed and I find it hard to take a break. Duncan, bless him, is always on my back about that. He is my voice of reason (although that's kinda ironic as he is the silliest person I know…;) ) and keeps on telling me to stop working.
Today's recipe is a simple Asian-inspired salad with lots of fresh veg, some vermicelli noodles and peanut-crusted baked tofu. It's delicious and very filling yet still quite light. Ideal for this early spring weather, which seems to be poking its head out now and again. It makes an awesome work or beach lunch too and I plan to test it in the latter context hopefully rather soon! 🙂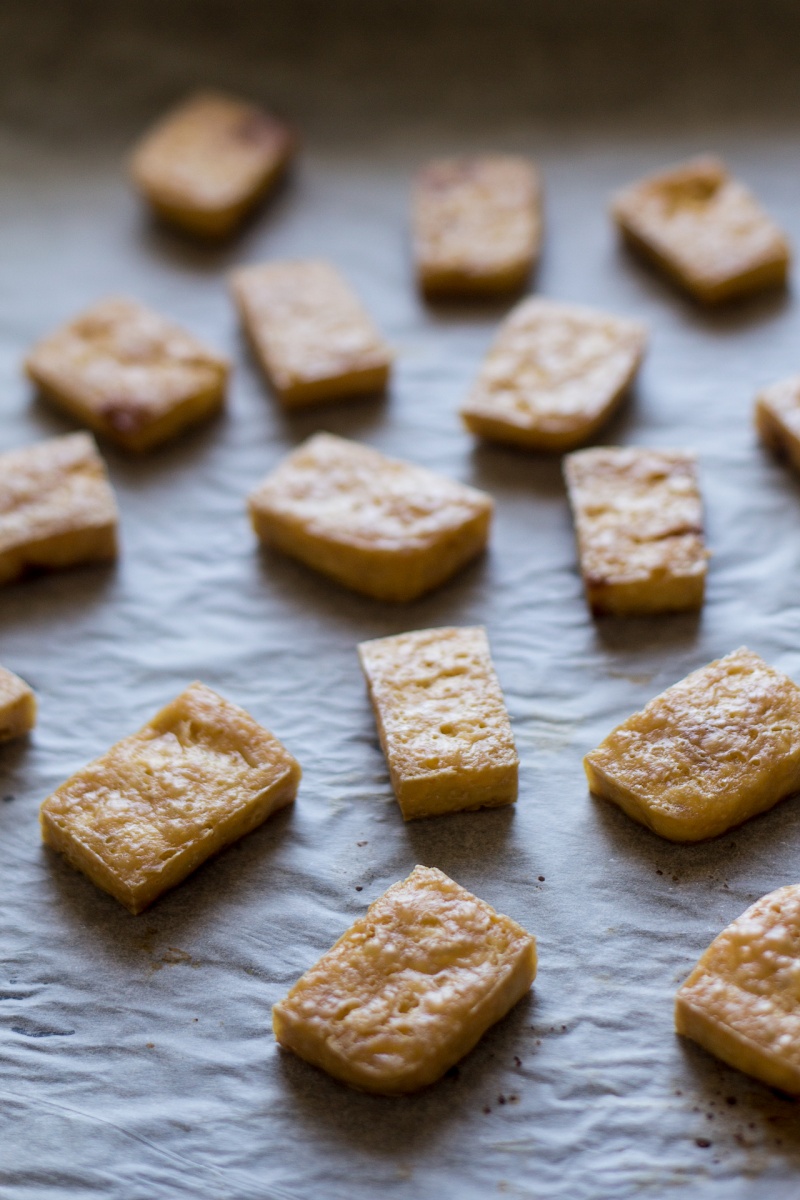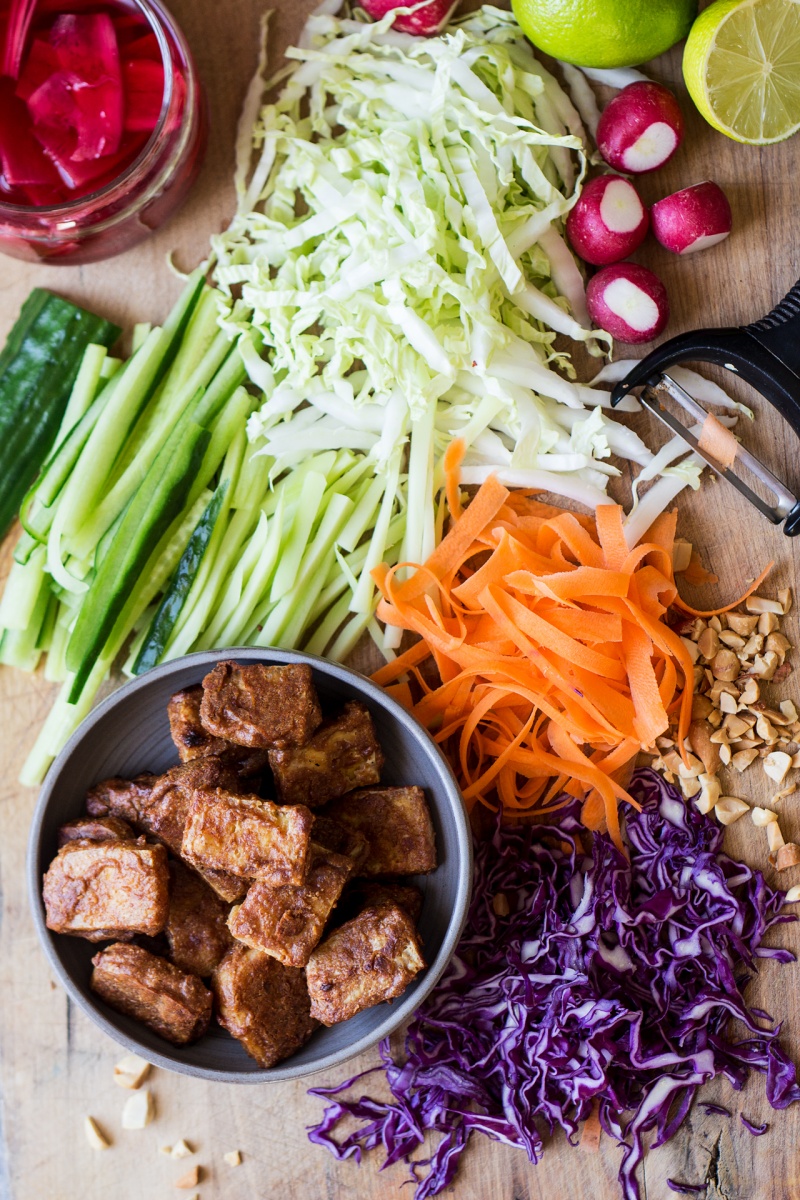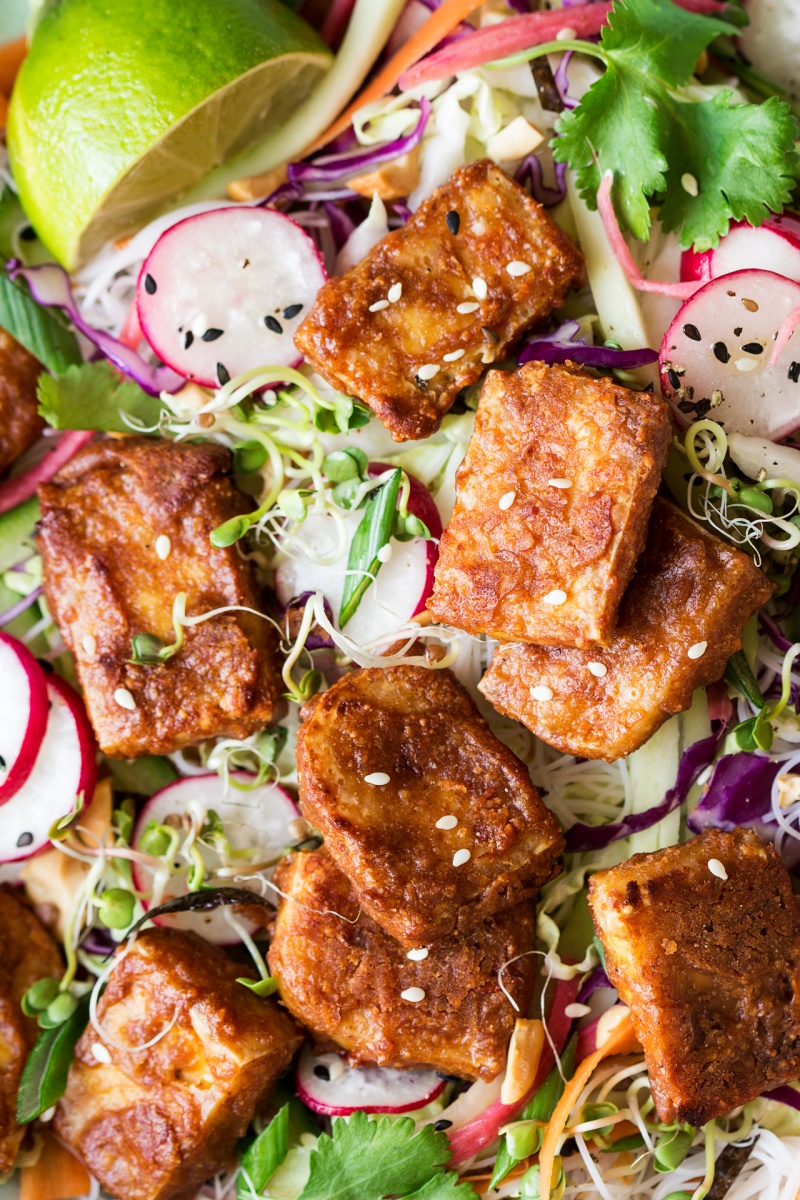 PEANUT TOFU
SALAD INGREDIENTS
100 g / 3.5 oz vermicelli rice noodles
1 broccoli stalk, cut into ribbons (with a speed peeler)
1 spring onion, sliced finely
1 carrot, cut into ribbons
small wedge of red cabbage, shredded finely (with a mandolin)
6 leaves of Chinese cabbage, sliced finely
10 radishes, sliced finely
small English cucumber, julienned (with a julienne peeler)
¼ cup radish sprouts
pickled ginger, cut into thin strips**
2 tbsp fresh coriander, chopped
DRESSING
METHOD
Heat up the oven to 200° C / 390° F and line a baking tray with a piece of baking paper.
Cut pressed tofu into two 50% thinner blocks. Then cut each block into 8 pieces, you should end up with 16 pieces total.
Place tofu on the prepared baking tray. Spoon a few drops of soy sauce (or tamari) over each piece, spreading it with the back of the spoon. If the tofu has been pressed well, the pieces should absorb this seasoning immediately. Do not overdo it as the marinade also contains soy sauce.
Bake tofu in a pre-heated oven for 10 minutes, then flip to the other side for another 10 minutes. At this stage, you simply want it a bit dried out (but not too much) to give it a bit of bite.
Prepare vermicelli noodles according to the instructions on the packet, mine required plunging them into boiled water for 2 minutes and refreshing them under a cold tap. Cool them down completely.
Prepare the marinade by mixing the remaining ingredients in a bowl with about 2 tbsp of water. Whisk well until you get a thick marinade.
Once the tofu has dried let it cool a bit and then coat in the marinade mixture.
Change the oven to grill / broiler function. Return marinated tofu to the baking tray. Grill / broil for about 3-4 minutes on each side, until lightly caramelised. FYI: I've tried sauteeing the tofu on a hot skillet after marinating but this technique did not work as well as grilling as the marinade fell off the tofu and stuck to the pan a bit too much.
Whisk the dressing ingredients together. Toss the vegetables and cooled noodles together in a large bowl. Mix in the dressing. Serve with baked tofu on top.
NOTES
*To press the tofu, you either need
a special tofu press
or you can do it with a bunch of kitchen towels and a heavy weight. Wrap your tofu in a few layer of paper towel, place it on a plate and weigh it down with something heavy (like a heavy chopping block, for example). Once the paper towel becomes wet, change it for a new one. Repeat a few times until the paper towel stays almost dry. Pressed tofu is tastier as it absorbs flavours better.
**You could also add 1-2 tsp of fresh finely grated ginger to the dressing instead.
If you have a peanut allergy, swap peanuts and peanut butter for cashew or almond butter and roasted cashews or almonds.