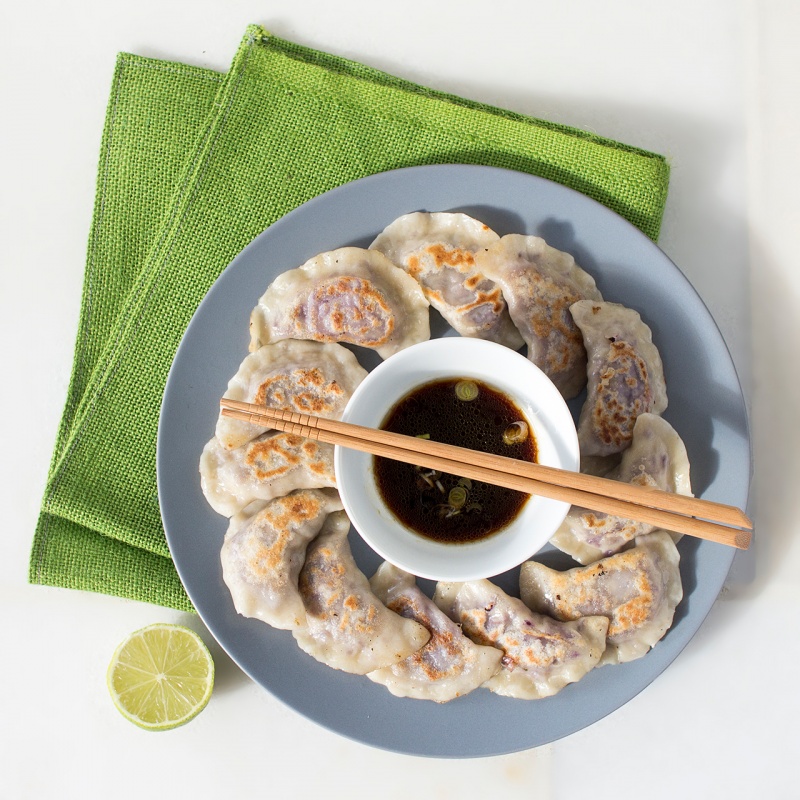 Food, like music, has the ability to conjure up memories of people, places and situations in a way that few things can. Making dumplings reminds me of my late grandmother; who was the undisputed dumpling queen in my family. As a child, I spent many afternoons sitting around the wooden table in gran's kitchen, watching her knead and roll out the dough to make perfectly formed dumplings, deep-filled with a range of delicious fillings (wild blueberry ones that she always made in summer were my favourite).
Sadly, back then I wasn't into cooking, so I didn't manage to pick her brains about any of her culinary secrets. I wonder what she would have said if she could try today's invention? Would she think it's an abomination (traditional Polish cabbage filling is a mixture of sauerkraut, white cabbage and dried mushrooms)? Or would she like my slightly spicy, aromatic, Asian-inspired filling? Either way, if she could see the array of little white hand-rolled shapes I would like to think she would be proud that I was (in some small way) continuing the family legacy.
The trick to making good cabbage dumplings is rolling the dough as thin as it can be without splitting when filled. As red cabbage is, well, red, don't be put off if you see this red peeking through your cooked dough; that's a sign of a good, thin dough. You can eat the dumplings boiled, but I think that pan-frying them after boiling takes them up a few notches.
Just a word of warning, these are highly addictive! If you are planning to make an extra batch for another day, keep it out of sight. After his long Sunday run, Duncan managed to polish off 40 of these cabbage dumplings and was still sniffing around the kitchen for more.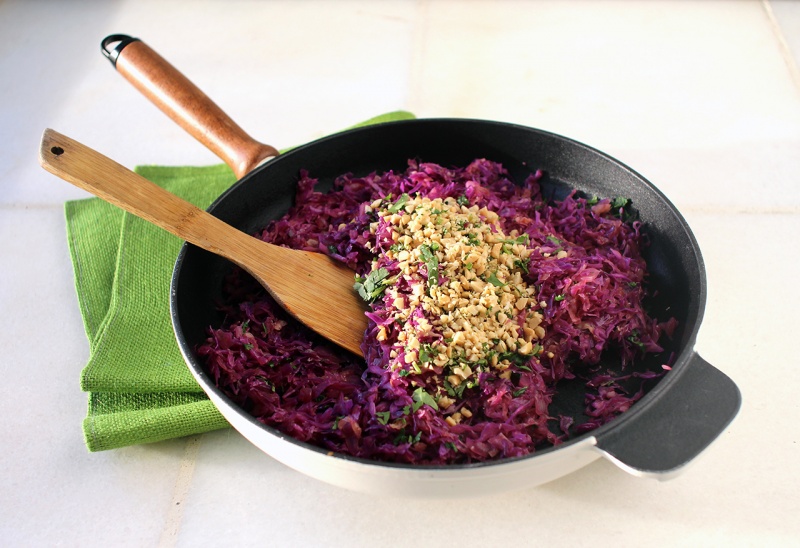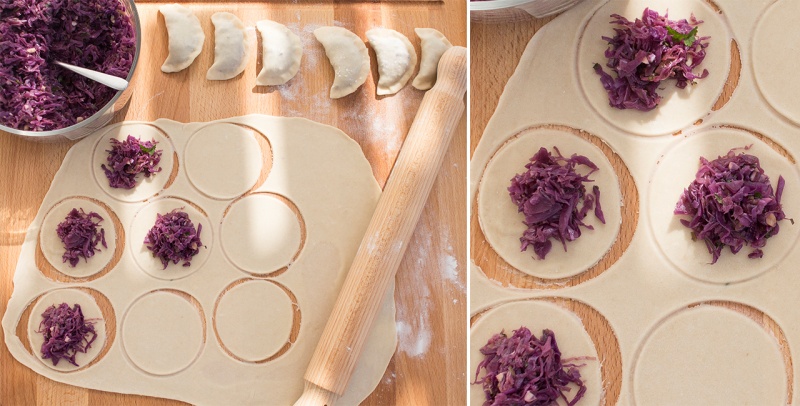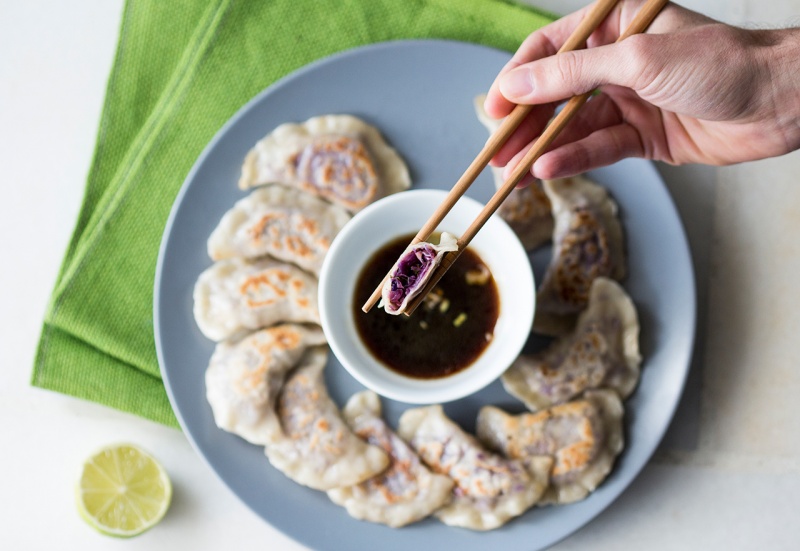 FILLING
450 g red cabbage, very finely shredded
150 g sauerkraut*
1 onion, finely diced
2 garlic cloves, finely diced
2 tsp Sriracha (or chilli to taste)
2 heaped tsp grated ginger
2 handfuls of fresh coriander, finely chopped
2 handfuls of peanuts, finely chopped
2 tbsp dark soy sauce
2 tbsp olive oil
freshly ground pepper
1 tsp miso paste** (optional)
DOUGH
2 cups plain flour
½ cup + 2-3 tbsp of hot water
1 tsp fine sea salt
1 tbsp olive oil
DIPPING SAUCE
4 tbsp dark soy sauce
4 tbsp lime juice
2 tsp brown sugar
1 tbsp sesame oil
chopped spring onion to garnish
METHOD
(FILLING) Heat up olive oil in a pan. Fry onion until translucent, add in garlic and ginger. Keep on stirring to make sure they don't burn. After 1 min, add in finely chopped red cabbage, sauerkraut and sauté until the red cabbage is cooked. Add in all the seasoning, coriander and peanuts. Adjust spicing and saltiness to taste. Leave it to cool down. I like to keep it in the fridge overnight as it gives all the flavours a chance to marry up and makes the filling taste even better.
(DOUGH) In a mixing bowl, combine flour and salt. Add ½ cup of hot water and 1 tbsp of oil. Once combined roughly with a wooden spoon, start combining the dough with your hands. It will need a bit more water but it is very important to add the water in gradually, tablespoon by tablespoon. In my experience it takes another 2-3 tablespoons of water to make the correct consistency dough. Knead it for a few minutes with your hands and then set aside for 30 minutes under a clean kitchen towel or pierced (so that it can breathe) cling film so that the dough doesn't dry up.
Once the dough has had a chance to rest, roll it out with a rolling pin on a lightly floured surface. You want it to be about 1-2 mm thin; the thinner the dough the tastier the dumplings. With an upside down glass, cut out circles in the dough. Place a heaped teaspoon of the mixture in the centre of each circle, fold the circle in half and press the edges of the semi-circle together with your fingers. Go over each dumpling twice to make sure everything is sealed completely. Put the finished dumplings on a lightly floured surface and cover them with a kitchen towel while making the rest so that they don't dry out.
Bring a pot of water to boil, throw in 10 dumplings at a time and from the moment the water comes to the boil again count for 3-4 minutes (depending on how thick your dough is). Once the time is up, fish them out with a slotted spoon and place on a clean plate. Put a new batch in until you have cooked them all.
Heat up a little olive oil in a pan and place the cooled-down dumplings in the pan. Turn them after they've browned on one side. Make sure you don't overcrowd the pan.
Whilst you are frying your dumplings, whip up a quick dipping sauce by mixing all dipping sauce ingredients in a bowl.
NOTES
*If you don't have sauerkraut to hand, increase the amount of red cabbage and add a bit of vinegar/lime juice to the cabbage to add some acidity. Making your own sauerkraut is very simple though – I will show you how soon.
** I used Barley Miso by Clearspring.