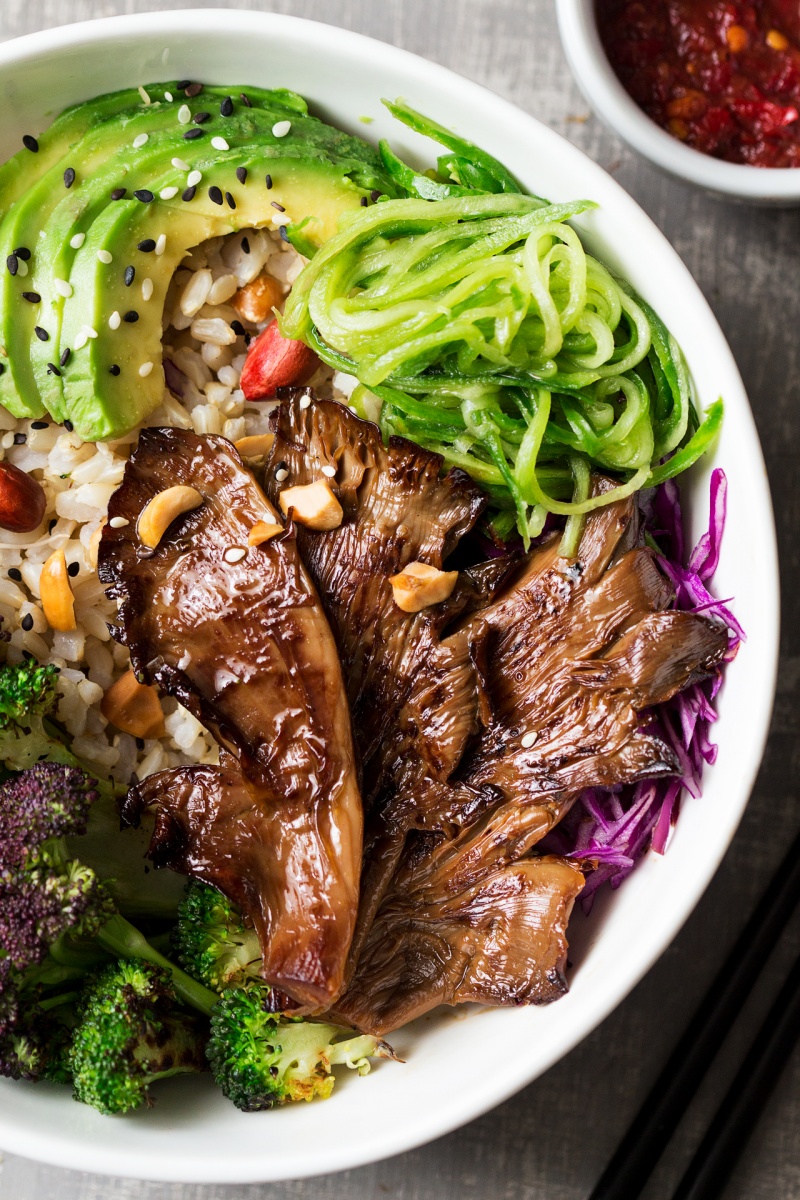 If you've been cooking with me for a while, you know that I have a thing for so called 'buddha bowls' and I thought it was high time for a new one.
I love this very visual and uncomplicated way of eating where natural colours on your plate are an indication of how much goodness and nourishment your body is about to get. I hope you like mushrooms as grilled oyster mushrooms are definitely the star of the show here. I am a huge fan of mushrooms but these particular ones did not grab my attention at the green grocers for a long time. Perhaps because, in their raw state, they are grey and a bit uninspiring looking and I was blissfully unaware of their pleasant meaty texture until I ate them in several places during my holidays in Poland.
As it turns out, they are dead easy to prepare and go so well with my favourite Asian flavours that I have been completely obsessed with them ever since I came back home. We now have mushrooms for dinner every day this week – not mushroom for anything else 😉 – sorry, could not help myself…
Anyway, oyster mushrooms rock so, if you haven't yet, urgently give them a chance – your tastebuds will be in umami heaven! Promise!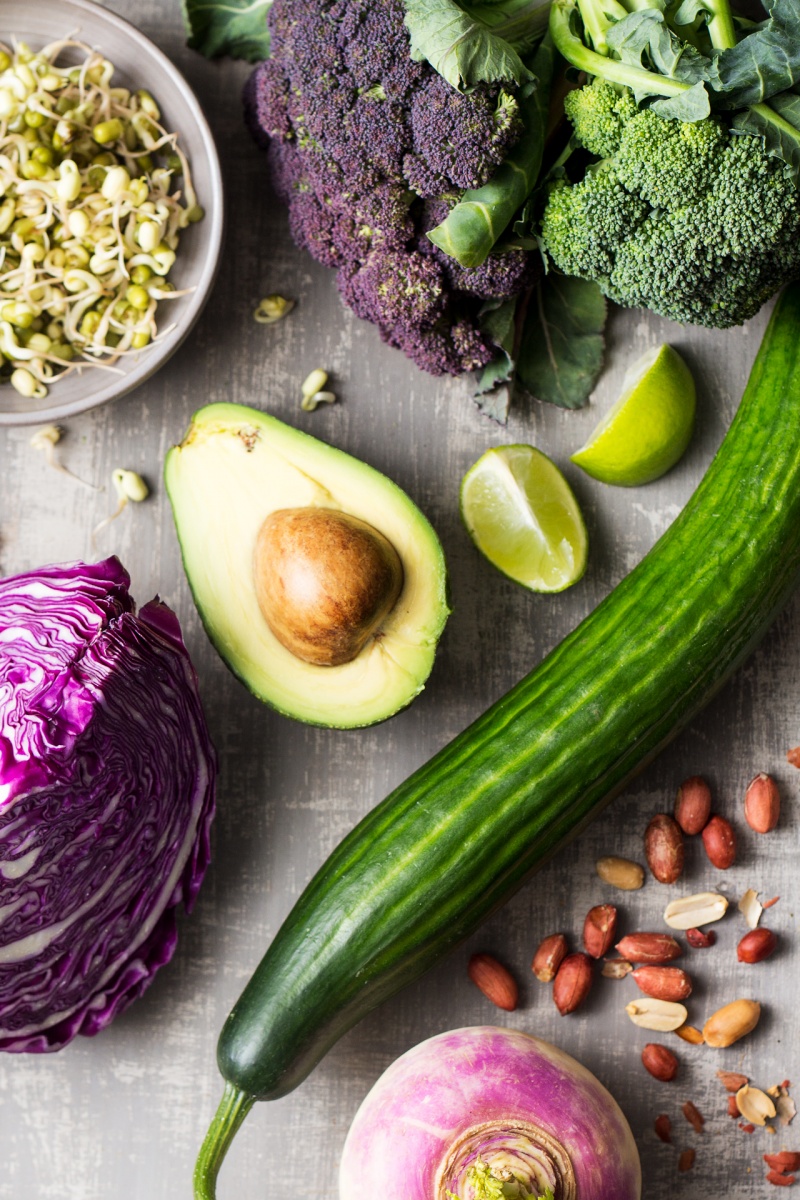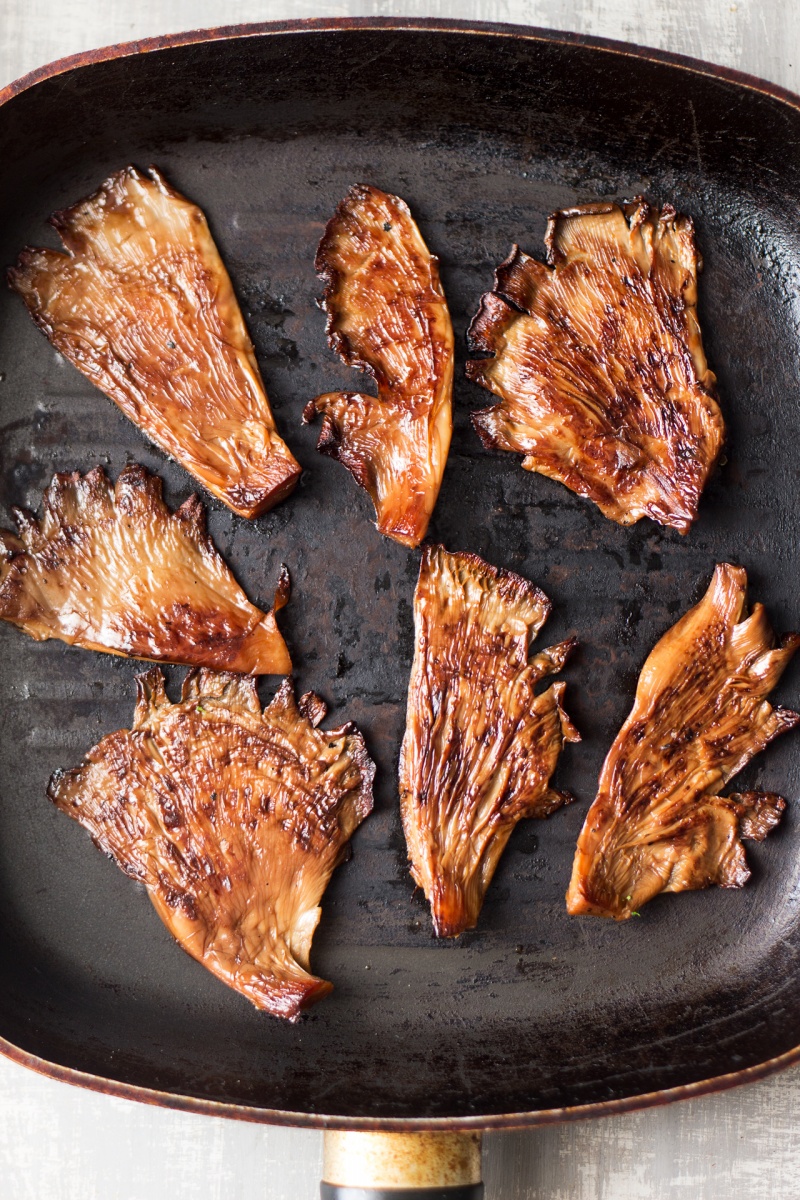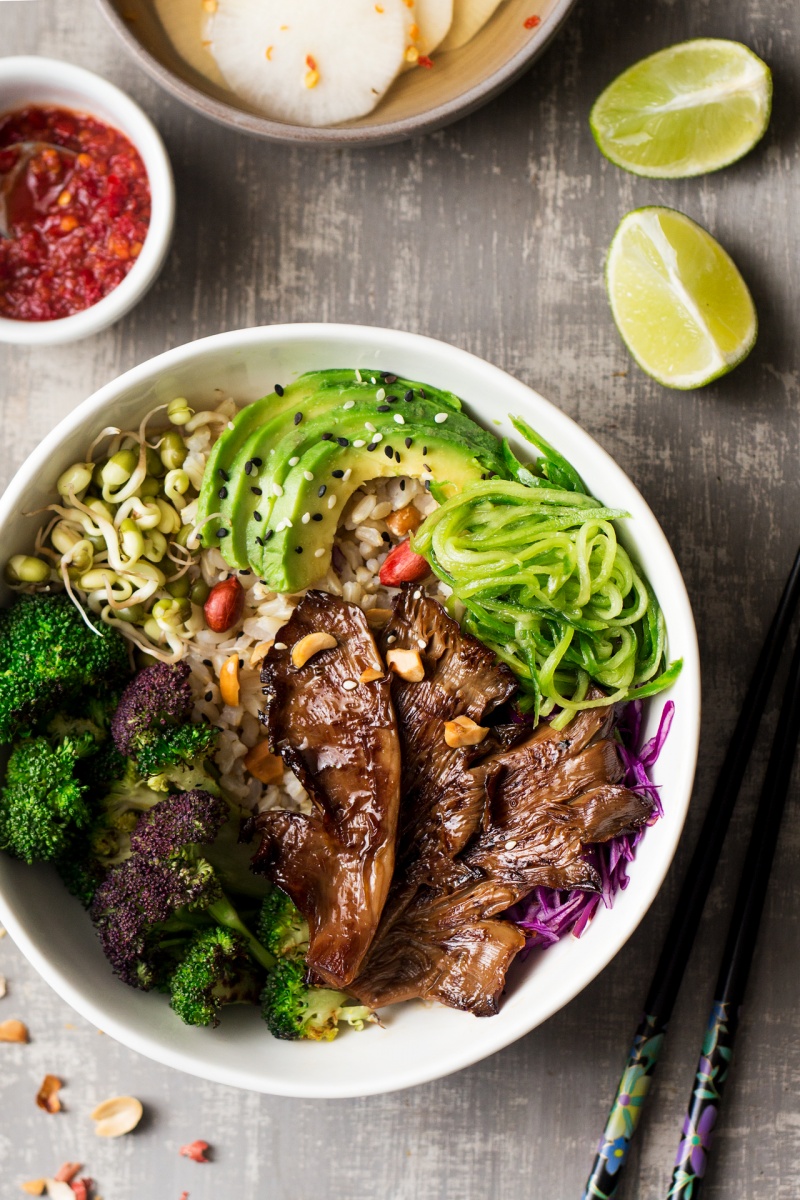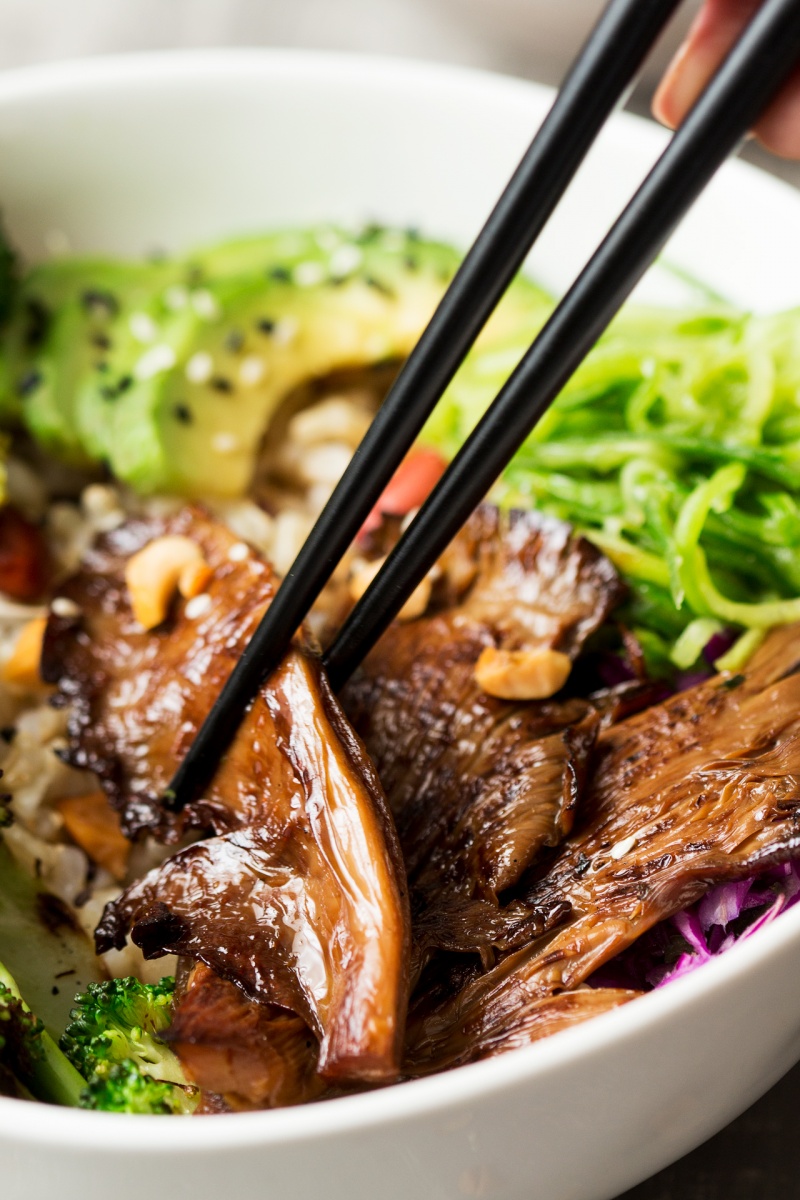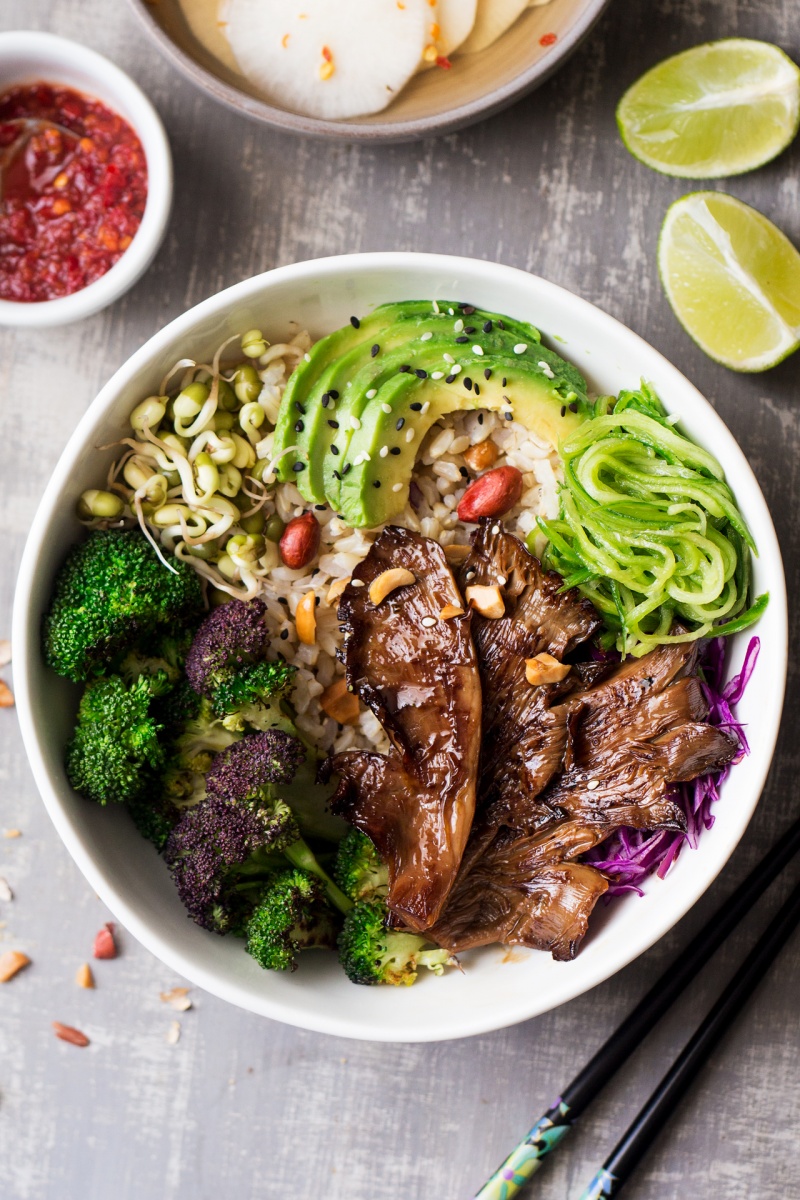 QUICK-PICKLED DAIKON (optional, make a day ahead)
1 daikon OR 2 small turnips
120 ml / ½ cup rice vinegar
1-2 tbsp sugar (adjust to taste)
1 tsp sea salt
a good pinch of chilli flakes (optional)
OYSTER MUSHROOMS
200 g / 7 oz oyster mushrooms
1½ tbsp tamari (if GF) or soy sauce
½-1 tsp Sriracha
1 tbsp maple syrup or sugar
1 tbsp rice vinegar
½ tsp toasted sesame oil
¼ tsp liquid smoke (I used hickory flavour)
1 tbsp neutral vegetable oil
REMAINING INGREDIENTS
½ cup brown rice, cooked
½ head broccoli (I used regular and purple sprouting variety), divided into florets
½ English cucumber
½ cup sprouts (I used mung bean)
small wedge of red cabbage, shredded thinly
½ small avocado, sliced
2 tbsp roasted and unsalted peanuts, chopped
oil for stir-frying
METHOD
QUICK-PICKLED DAIKON (optional, make a day ahead)
Sterilise a medium jar with plenty of boiling water. Wash and peel the daikon. Slice it into fairly thin slices.
Put rice vinegar, 60-120 ml / ¼-½ cup cup of water (depending how sharp you want your pickles, I like them sharp), sugar, 1 tsp of salt and chilli flakes into a small pot and bring to a gentle boil.
Place sliced daikon at the bottom of the jar and cover with the hot pickling mixture. Let it cool, put the lid on and stick into the fridge for at least a day before consumption. Store in the fridge, they should keep for about 2-3 weeks.
OYSTER MUSHROOMS
In a medium bowl, mix together tamari, Sriracha, maple syrup, rice vinegar, sesame oil and liquid smoke.
Divide the mushrooms into equal size pieces and place them in the marinade. Coat them well and leave aside. Meanwhile, proceed to STEP 7.
Once the mushrooms have been marinating for 15 mins or so, heat up a griddle pan on a medium-high heat. Brush its surface with a little bit of oil and place the mushrooms on it once the pan is hot. Grill the mushrooms until golden-brown and cooked through, make sure you keep an eye on them the whole time so that they don't burn. If you don't own a griddle pan, you could also bake them in the oven at about 180° C / 355° F for about 20-25 mins, turning them to the other side half way through. Do not bin the marinade, it comes in handy as a seasoning / sauce.
ASSEMBLY
Using a julienne peeler or a regular speed peeler, turn the cucumber into threads or ribbons. I like to toss it gently with a few drops of tamari and toasted sesame oil, but that's optional. Quickly stir-fry broccoli florets on a wok or grill them on a griddle pan, making sure that they retain a bit of crunch. Season lightly with some tamari (or soy sauce).
Divide cooked rice, threads of cucumber, shredded cabbage, sprouts and stir-fried broccoli between two bowls. Top with oyster mushrooms. Sprinkle with chopped peanuts and sesame (if using). Serve with a side of pickled daikon, hot chilli sauce (I use sambal oelek) and use the leftover mushroom marinade for seasoning.