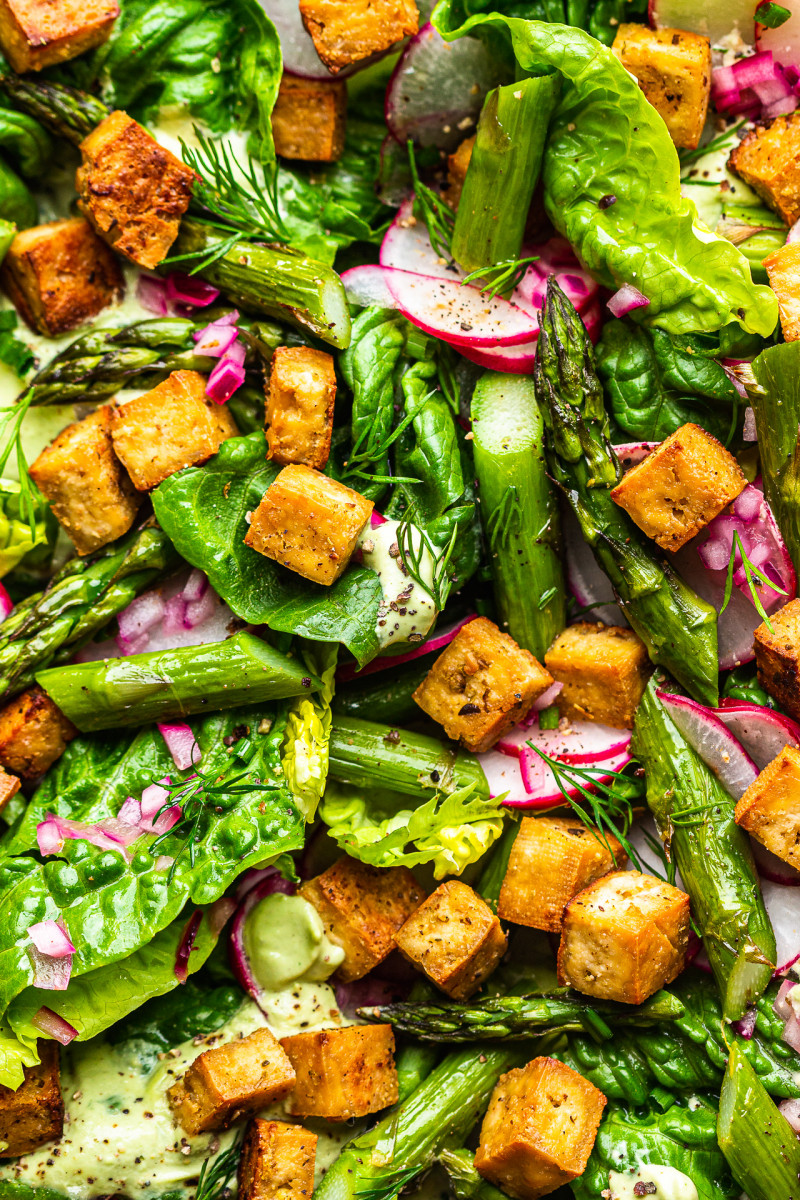 With sunnier weather on the horizon, fresher and lighter meals are back in favour again. I am hoping you'll enjoy this asparagus salad as it's my current go to. This simple asparagus salad with lemon tofu is easy to make, full of flavour and texture and very satiating – something that many salads aren't.
This asparagus salad features tender asparagus of course, alongside other Spring greatest hits – crispy lettuce and spicy radishes. It's brought together by a creamy dill dressing that can be made with or without nuts and topped with a generous amount of baked lemon tofu. It has got bags of freshness, lots of crunch and chew and a nice lemony tang. It's great for making ahead too as both the tofu, the dressing (and asparagus if need be too) can easily be made in advance and stored in the fridge.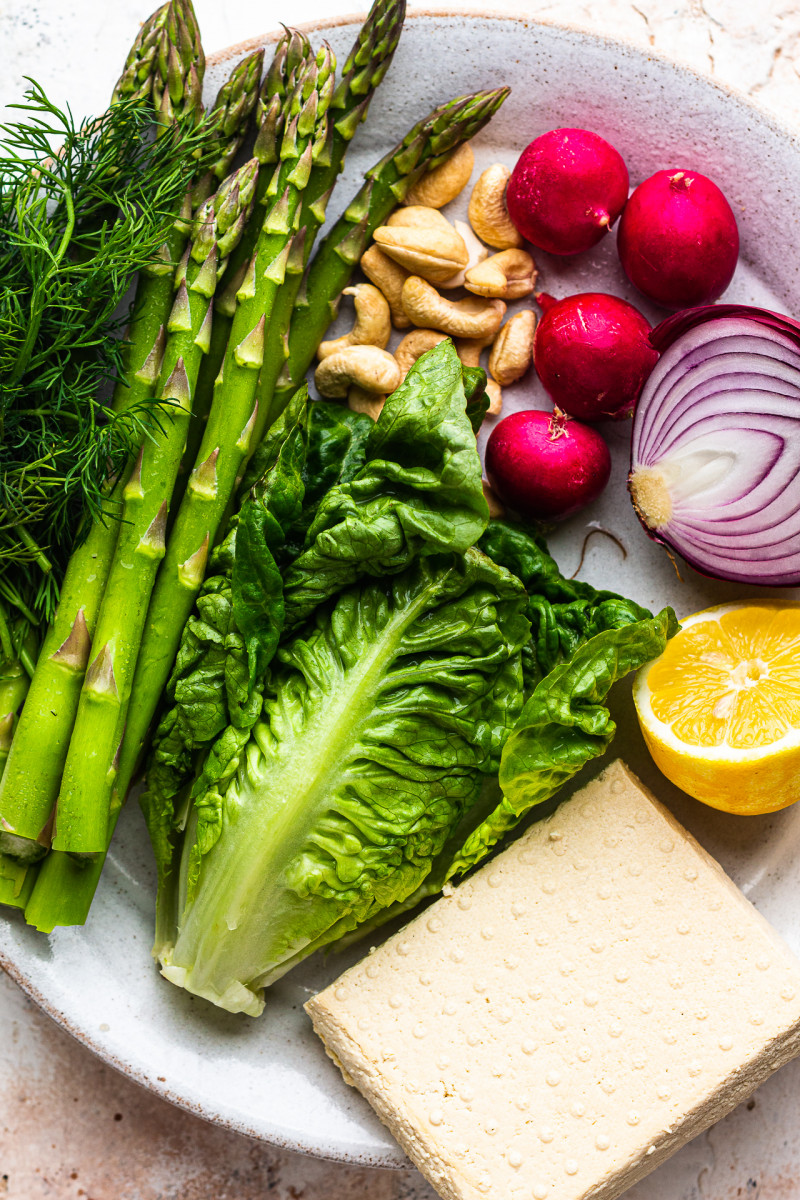 MORE ABOUT THE INGREDIENTS
TOFU: To make this salad satiating and rich in plant protein, I used extra firm tofu which I marinated in a simple lemon marinade and baked in the oven until chewy on the inside and crispy on the outside. Firm or extra firm tofu is what I needed here – the type that is stored in water, not the silken type (that comes in Tetra packs usually). Like for most applications, you need to press it first to get rid of excess water and so it absorbs the marinade better. Coat in the marinade and set aside for as long as you can – overnight is best.
LEMON JUICE & ZEST: As lemon is one of those quintessentially Spring flavours, I used lemon juice and zest to marinate the tofu and added a little bit more to the dressing and to quick-pickle red onion too. If using zest as well as the juice, use unwaxed lemon if you can.
NUTRITIONAL YEAST: Nutritional yeast, which is a staple vegan seasoning made out of inactive yeast, contributes a slightly cheesy flavour to things and I used it in both tofu marinade and in the dill dressing. It isn't the end of the world if you haven't got it (you can substitute with a little white miso, but be sure to dial down salt if you do), but I recommend it if you can.
OREGANO: I used a small amount of dried oregano in the tofu marinade, you can use another type of dry herb if that's what you have. Crush it between your fingers to release more flavour.
GARLIC POWDER: A bit garlic powder adds a nice kick to the tofu marinade. You can use fresh garlic if you prefer but garlic powder is more convenient and it distributes more evenly throughout the marinade.
OIL: I added a little olive oil to the tofu marinade to help with crispy exterior and to asparagus to lock in moisture. If you would like to make this dish without oil, you can skip it, but be aware that the tofu and asparagus will be a little drier after baking.
CASHEW NUTS / SUNFLOWER SEEDS: Cashews nuts or hulled sunflower seeds form the base of this oil-free dill dressing. Both of them need to be soaked in water and then drained before using. Soak them in boing water (just enough to cover them) for 20-30 minutes or in room temperature for several hours (or even overnight).
CAPERS: A small amount of sharp capers adds a beautiful depth of flavour to the dressing. If they are not available, how about a different pickle (capers are pickled flowerbuds!!), like a small gherkin, for example.
MISO: A small amount of white miso (shiro miso in Japanese) paste adds a nice depth of flavour and some saltiness. If you only have red miso paste, simply add a little less as it tends to be more potent. If you wish to keep this dish GLUTEN-FREE, use miso that is based on something other than wheat (rice, chickpeas etc.)
DILL: Fresh dill is what makes this a dill sauce so be generous although you can always adjust the amount to taste. I used about half a packet of dill. I also added a small handful of fresh parsley leaves for colour.
LETTUCE: Fresh, crispy lettuce is what makes this salad taste fresh and summery. I went with Gem lettuce, but Cos or Romaine are just as suitable.
ASPARAGUS: British asparagus is everywhere right now and that's the main vegetable I used to make this salad Spring-like and seasonal. I baked mine as I already had the oven on to bake the tofu, but you could also grill it (on a BBQ or a griddle pan) and pan-fry your tofu instead.
RADISHES: Fresh radishes add a bit of a peppery note and a nice crunch, plus they look beautiful against vibrant green leaves and we do eat with our eyes.
RED ONION: I used a very small amount of finely diced red onion for taste, but as I wanted a subtle onion taste I quick pickled my onion in a little lemon juice. You can use it raw if you like onion taste or use a milder allium, like chives or spring onion (scallion) greens instead.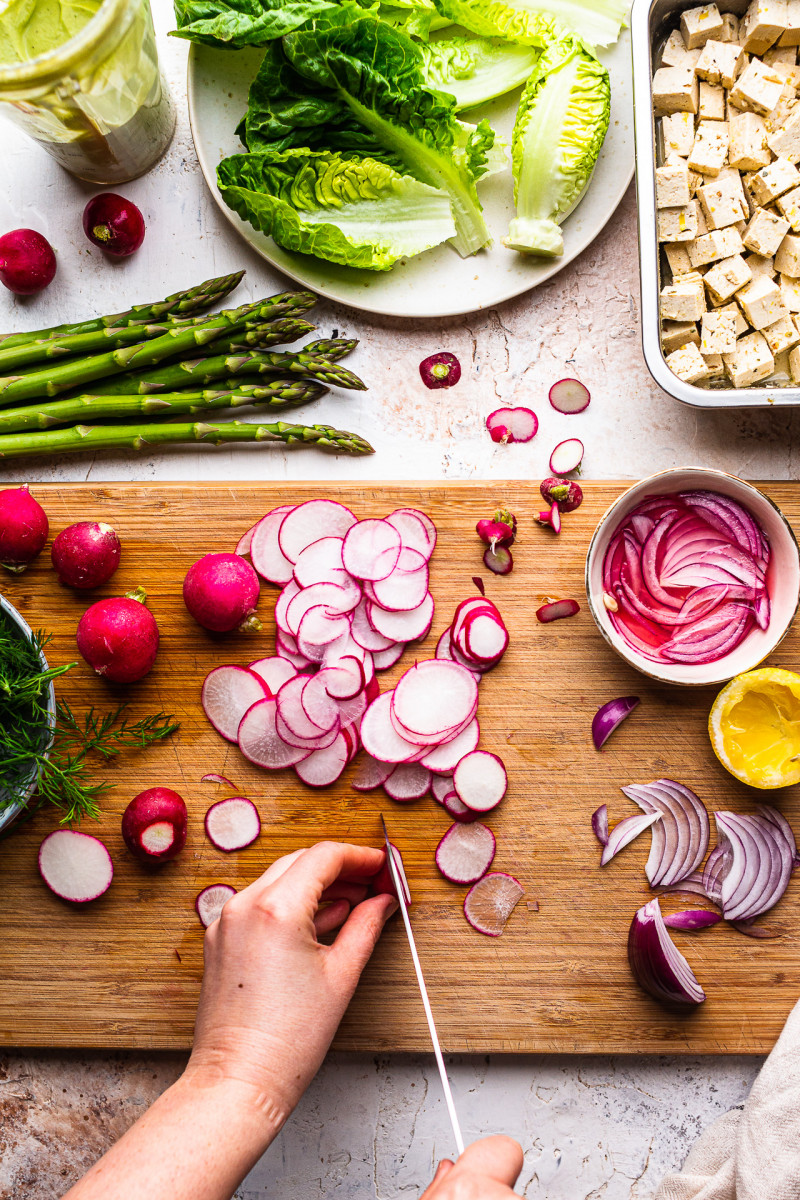 CAN I PREP THIS SALAD AHEAD?
You can make the DRESSING a day or two in advance and store it in the fridge in a jar or you can freeze it. I like to freeze it in ice-cube trays and defrost only the amount I need. You can bake the TOFU in advance and pickle the ONION too. The only thing I would recommend prepping ahead of eating is SALAD LEAVES (although they keep well if washed, dried and stored in a box, between layers of paper towels), RADISHES and ASPARAGUS.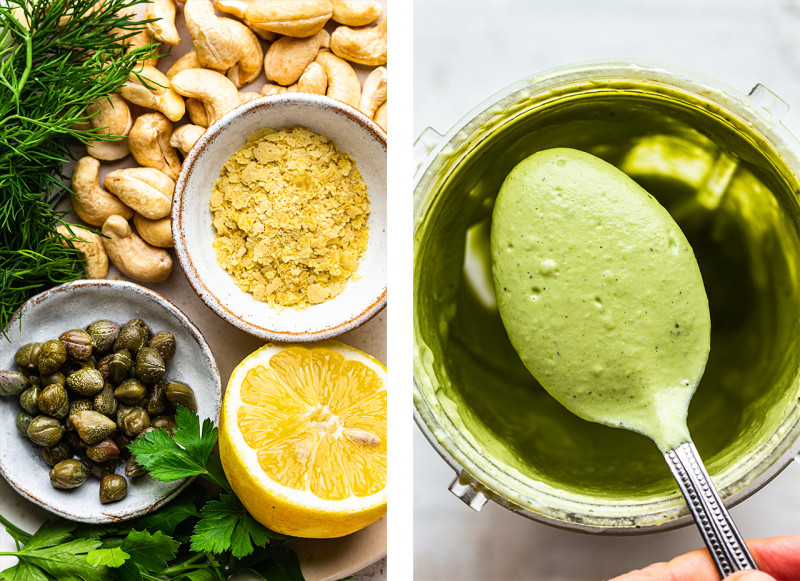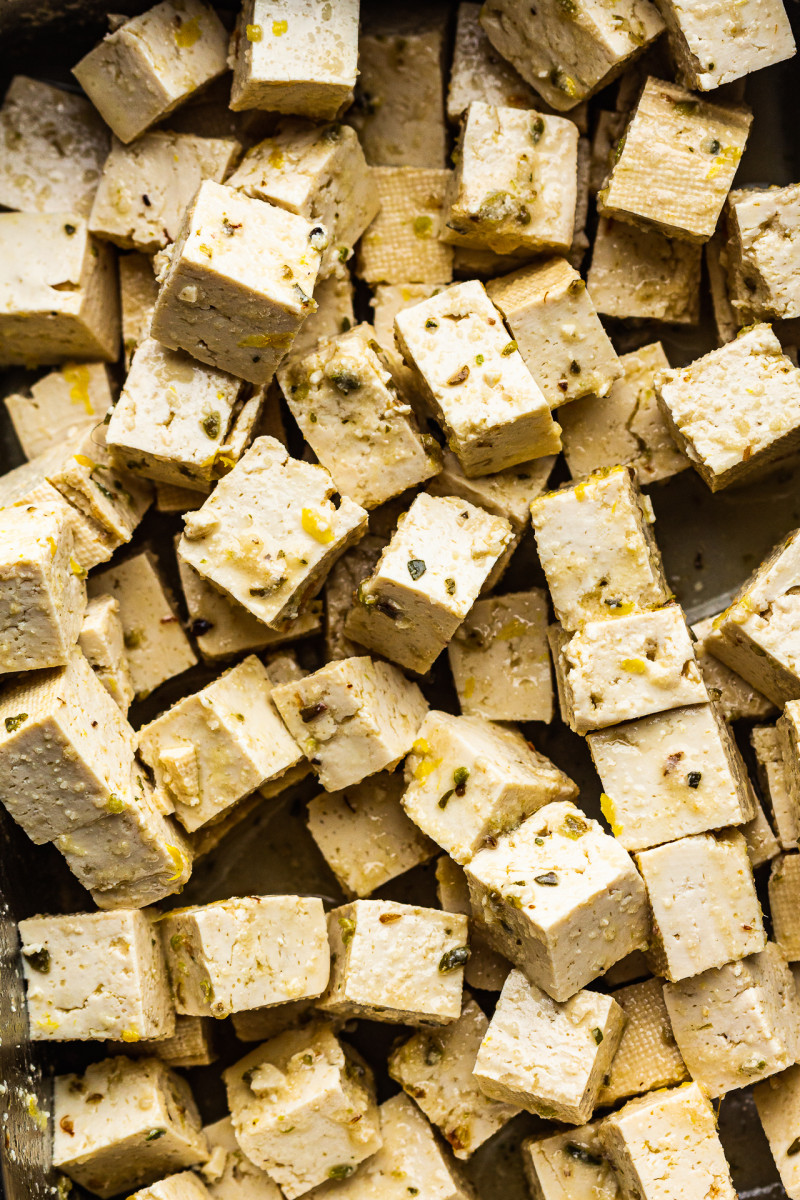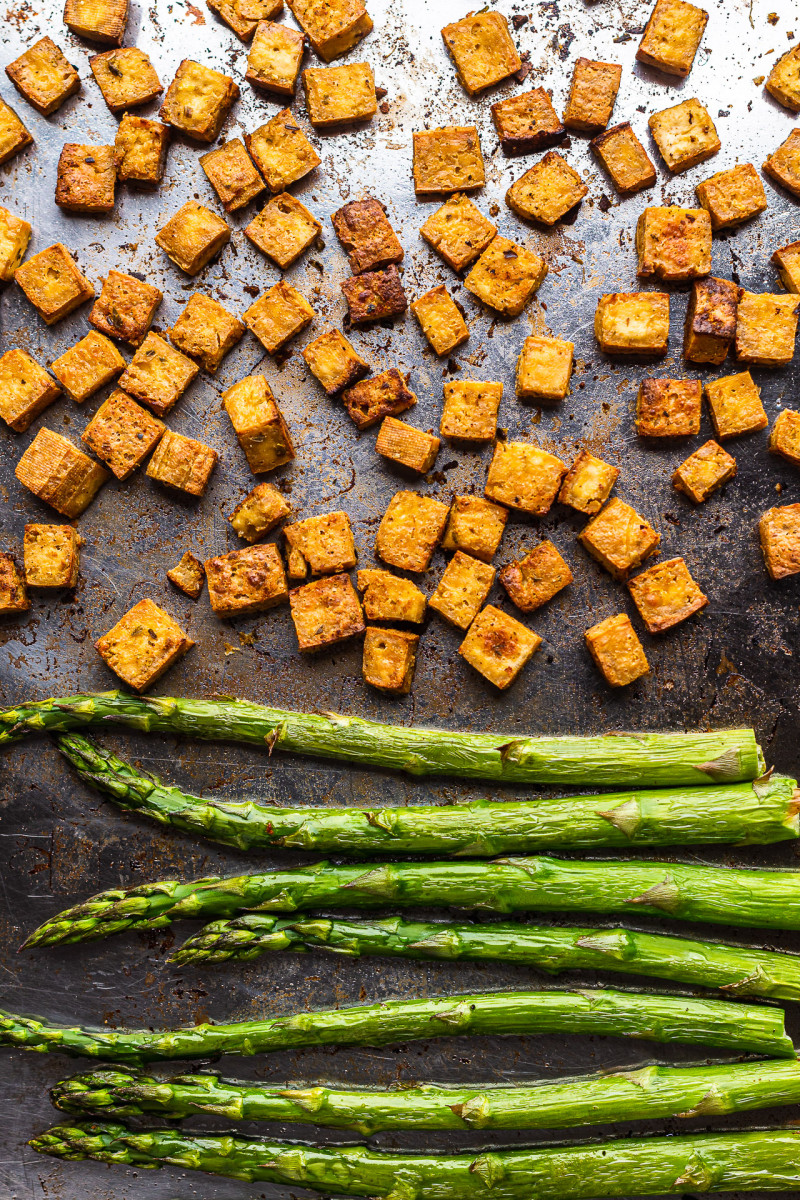 CAN I MAKE THIS SALAD WITHOUT AN OVEN?
While I baked my tofu and asparagus in the oven for ease, you can also make it without an oven. Char your oil-coated asparagus on a hot griddle pan (I actually prefer to do that with asparagus and was it not for tofu needing to be baked, I would have used that method), on a hot cast-iron skillet or even a BBQ! Tofu can be pan-fried in oil. I like to dust it with a little flour (like cornflour / cornstarch or rice flour) before frying for a crisper exterior.
CAN I MAKE THIS SALAD OIL-FREE?
You could skip the oil completely if you wish although it will mean that tofu and asparagus gets a little more dry in the oven.
HOW MANY PEOPLE DOES IT SERVE?
It depends on one's appetite, but I think that it will feed 2 people as a main (along some new potatoes or bread if really hungry) or 4 as a starter. The sauce makes extra, which can be frozen for another time – I recommend freezing it in ice-cube trays.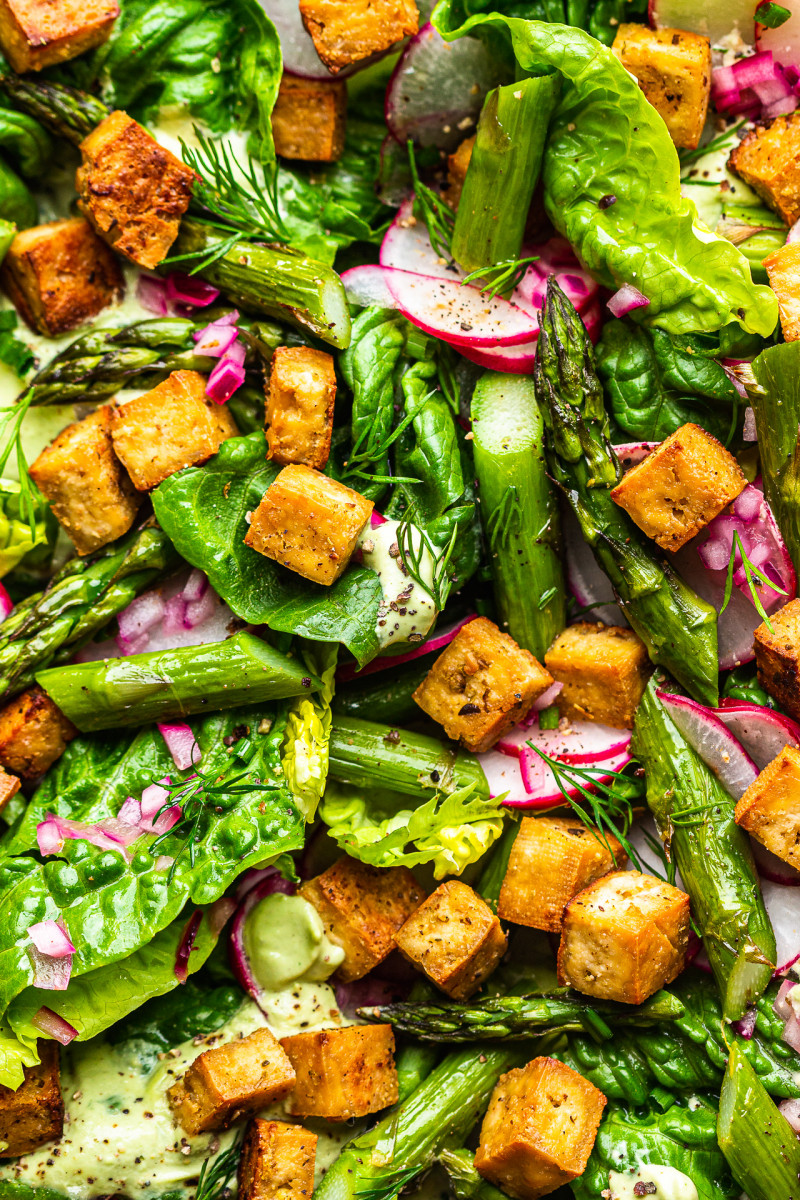 LEMON TOFU
400 g / 14 oz firm tofu, pressed
60 ml / ¼ cup lemon juice + zest 1 small lemon
½ tsp fine salt
¼ tsp fine black pepper
2 tbsp nutritional yeast
½ tsp dried oregano, crushed between your fingers
½ tsp garlic powder
15 ml / 1 tbsp olive oil
DILL DRESSING
130 g / 1 cup cashews (or sunflower seeds), soaked*
30 ml / 2 tbsp lemon juice, more to taste
1 tbsp capers
½ tbsp white miso paste
1 tbsp nutritional yeast
10 g / 0.35 oz fresh dill, fronds picked
salt and pepper, to taste
REMAINING INGREDIENTS
200 g / 7 oz asparagus
¼ red onion
1 Gem (Cos or Romaine) lettuce
12 radishes
METHOD
LEMON TOFU
Cut pressed tofu into 1.25 cm / 0.5″ cubes, place in a flat bottomed and large dish so that tofu cubes are spread out in a single layer.
Combine all of the remaining lemon tofu ingredients into a marinade and pour over cubed tofu. Using a flexible spatula, stir gently to coat. Place in the fridge and to marinate for as long as possible (overnight is best).
DILL DRESSING
Place drained cashews (or sunflower seeds) in a small blender alongside all other ingredients. Add just enough water to be able to blend the mixture super smooth – I added about 100 ml (7 tbsp) of water. Add a dash more water of you want the dressing thinner.
Taste and season to taste. Store in an air-tight jar in the fridge for up to 2-3 days or freeze for up to 2 months.
SALAD
Pre-heat the oven to 200° C / 390° F (or 180° C / 355° F with fan) and grab a large baking tray. Lift tofu out of the marinade and arrange it on two thirds of the baking tray, bake for about 15 minutes.
Dice onion really finely and if you want to take the harshness out of it, either submerge it in boiling water for a few seconds or make a quick pickle by sprinkling it with 2 tbsp of lemon juice diluted with 1 tbsp of water (season with a pinch of sugar and salt). Allow it to pickle for a few minutes, drain before using in the salad.
Chop salad leaves into bite size pieces and slice radishes thinly using a vegetable mandoline or a sharp knife.
Cut or snap woody ends off the asparagus and place it on a large plate, drizzle with a teaspoon of olive oil and roll around the plate to coat. Arrange on the baking tray next to the tofu (flip the tofu to the other side).
Return to the oven for further 8-10 or so minutes, until asparagus is knife tender and tofu is crispy and golden.
Allow asparagus and tofu to cool off, then cut baked asparagus into bite size segments.
Arrange all of vegetables on a large platter, drizzle with the dressing and top with baked tofu.
NOTES
*CASHEWS/SUNFLOWER SEEDS: soak in boiling water (to soften) for 20-30 minutes or in room temperature water for a few hours (or overnight). Drain the water away before using.