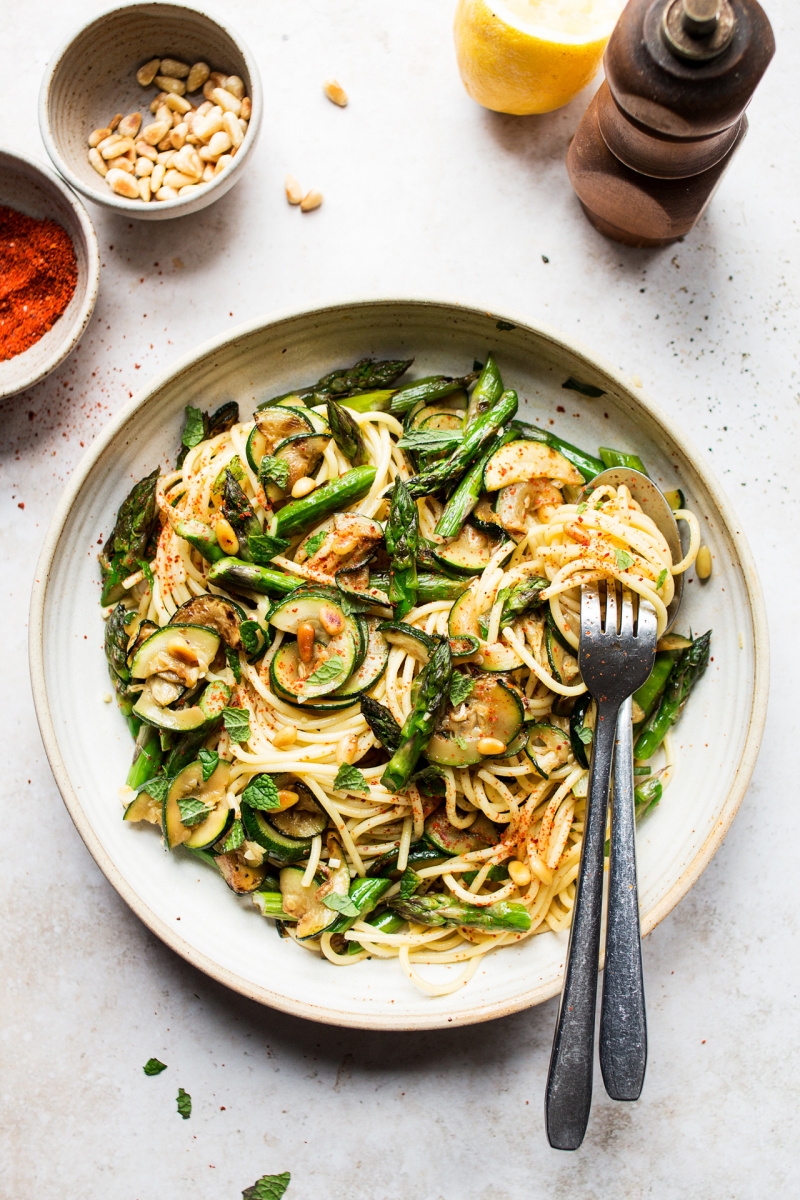 The past few days we've been hosting my parents. It was great to catch up with them both, even if the weather was the worst we have seen in a while. It was almost raining non-stop ever since they arrived on Friday. As a result we spent a lot of our time at home, huddled by the kitchen table with Tina sleeping in her new favourite basket that my mom brought for her. It was really nice as we all got on really well, which is not always the case 😉 .
Dad has been super helpful with the roof issue we are having. He told us how we can mitigate our roof's structural issues fairly simply and cheaply. He drew us plenty of helpful drawings, went to a home depot with me and helped me bring 3 meter long planks of wood into the house and then, because it was raining (and he was a bit bored), even installed the first of the three rafter ties (which are meant to stop the roof from sagging and spreading) with me so that I know how to proceed with the remaining two. It's been so good to get his advice. He saved us lots of money and stress, plus empowered us to extend the remit of what we consider as possible DIY jobs.
I was a little bit worried about the food situation but I should not have been. They both loved my vegan moussaka and mushroom pasta that I ended up making more than once. Dad sneaked out for some fish and chips once but other than that they ate vegan almost all week and were really happy to too. I even baked them some muffins for the road as I needed to practise the recipe for the blog and they were very happy to be my test subjects. Luckily, the muffins came out really well (which isn't always the case…). I was chuffed. I will be posting them on here as soon as my bananas ripen enough before Duncan gets to them… 😛 .
The biggest surprise of my parents' visit is how much my dad loved Tina. I didn't think he was into cats at all, but I was wrong and the feeling was mutual. It's nice especially that we have no kids, I keep on joking to my parents that Tina is their granddaughter 😉 and to be fair to them, they roll with it. It was a relief as Tina isn't always that chilled about us having guests. There were certainly some visitors in the past that made her feel stressed and it's always a bit stressful to us when she is upset.
My parents left this morning so it's back to reality for me. I've just shot this recipe for you. For a good while the sky was so dark that I was getting ready to take the artificial light out of the box. Luckily, I managed somehow. This pasta is a spring-inspired riff on my mushroom pasta that everyone loves. These days, I make this spring version instead, as asparagus is in season and mint is taking over my garden. It's quick and easy to make, fresh and delicious. It makes a perfect midweek meal too! Enjoy x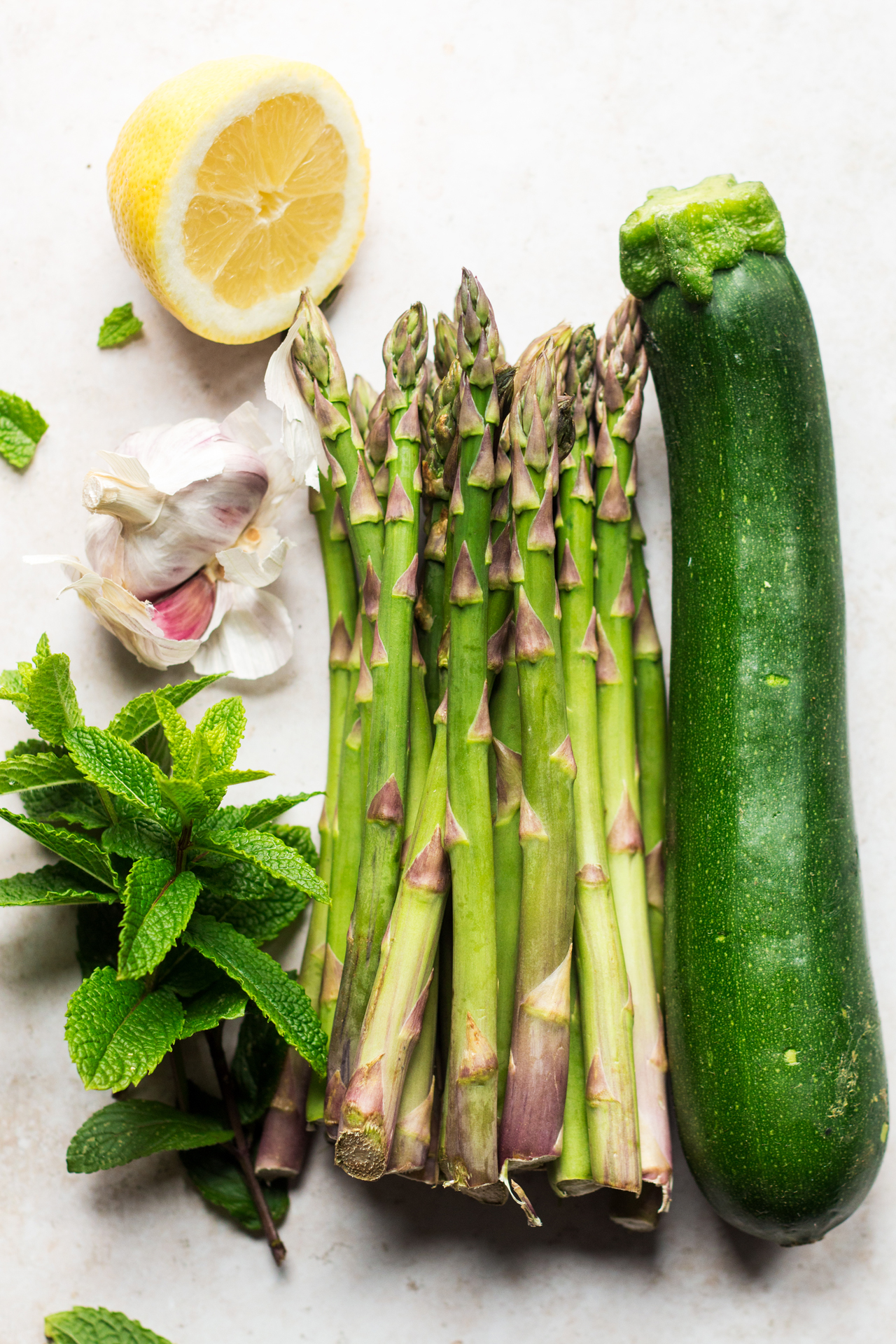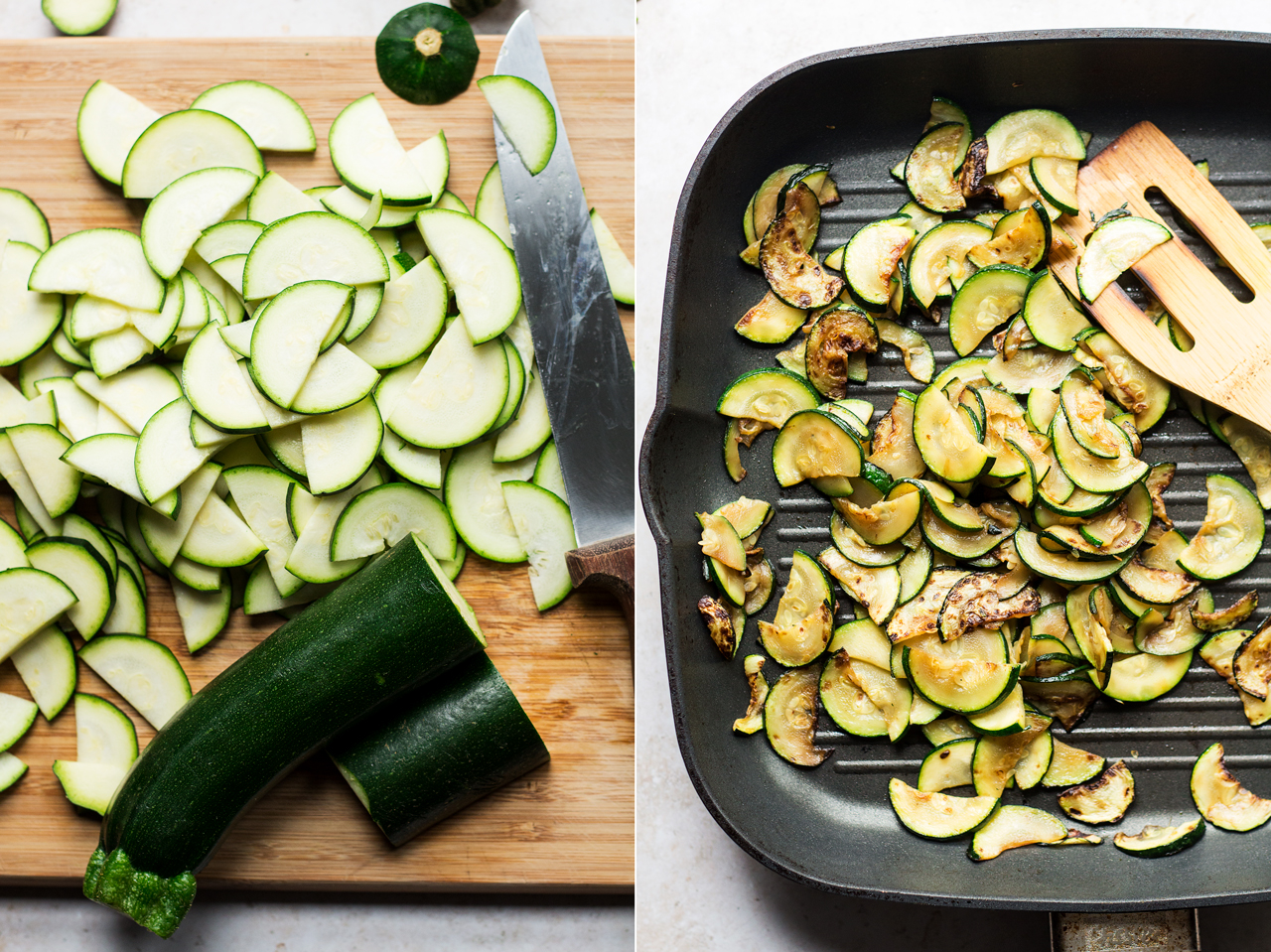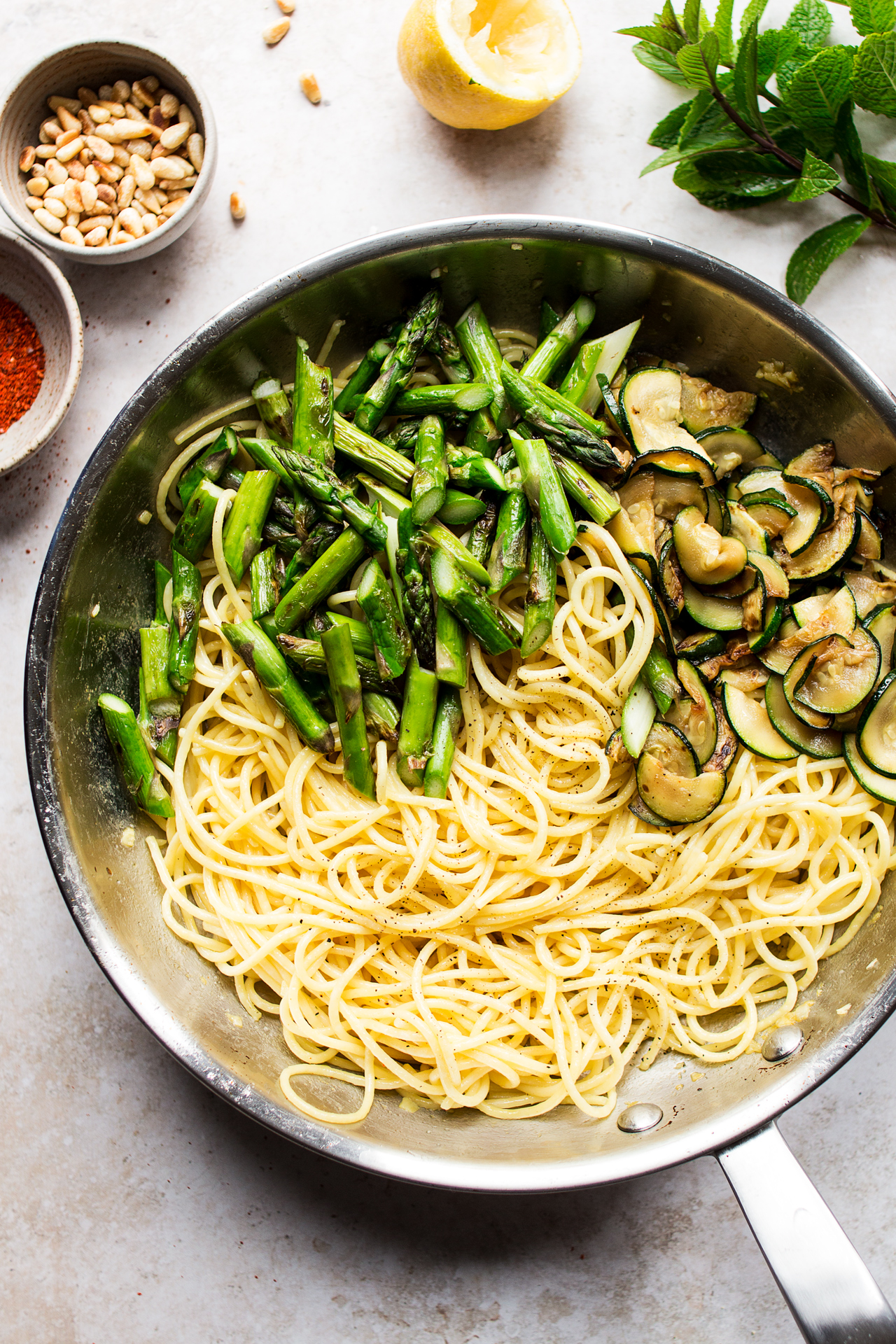 200 g / 7 oz green asparagus spears
200 g / 7 oz courgette / zucchini
45 ml / 3 tbsp extra virgin olive oil, divided
200 g / 7 oz spaghetti (GF if needed)
1-2 garlic cloves, diced finely
2 tbsp nutritional yeast
juice of ½ lemon
salt and black pepper, to taste
a good pinch of chilli flakes (I used fine Korean chilli flakes)
2 tbsp toasted pine nuts, to garnish
fresh chopped mint, to garnish (optional)
METHOD
Snap off the woody ends of the asparagus with your fingers and discard.
Cut the courgette / zucchini in half lengthwise and slice into thin slices with a knife.
Heat up a griddle pan, once hot brush it with a little olive oil and throw asparagus onto the hot pan so that the spears are perpendicular to the pan's griddle lines. Allow them to char for a few minutes undisturbed then roll them onto the other side with a wooden spoon. Char them on all sides until the spears are no longer raw but still retain a bit of crunch (about 5 minutes, depending on the thickness of your spears and the level of heat). Season with salt and pepper and take of the pan. Cut them into bite-size pieces and set aside.
Return the pan to the heat, brush it with some more olive oil and once hot, throw zucchini slices onto it. Again, allow them to char for a few seconds before giving them a good stir. Continue in this manner until all of the slices are cooked, some will be charred more than others. Season and set aside.
Cook the pasta just short of al dente (the pasta I used takes 10 min to cool al dente, I cooked it for 8½ min) following the instructions on the packet, saving 60 ml / ¼ cup of cooking water just before you drain your pasta.
When pasta is about to be ready, heat up a heavy bottom frying pan on low heat. Once hot, add in 2 tbsp of olive oil and finely diced garlic.
Gently cook the garlic for about 2 minutes, stirring the whole time. Do not allow it to brown as it will make your pasta taste bitter. If the garlic is sizzling too aggressively, turn the heat off (or take the pan off the heat if not using gas) and allow it to cook in the residual heat.
Add a splash (start off with 2 tbsp, add more if needed) of pasta cooking water, nutritional yeast and stir them together well so that the oil emulsifies. Cook on low heat for another minute or so.
Toss the drained pasta well in the garlicky oil. Drizzle with lemon juice, season with salt and black pepper and a sprinkle of fine chilli flakes (if using).
Stir in asparagus and zucchini pieces to heat them both up again.
Divide between two plates, sprinkle with toasted pine nuts and fresh mint.
NOTES