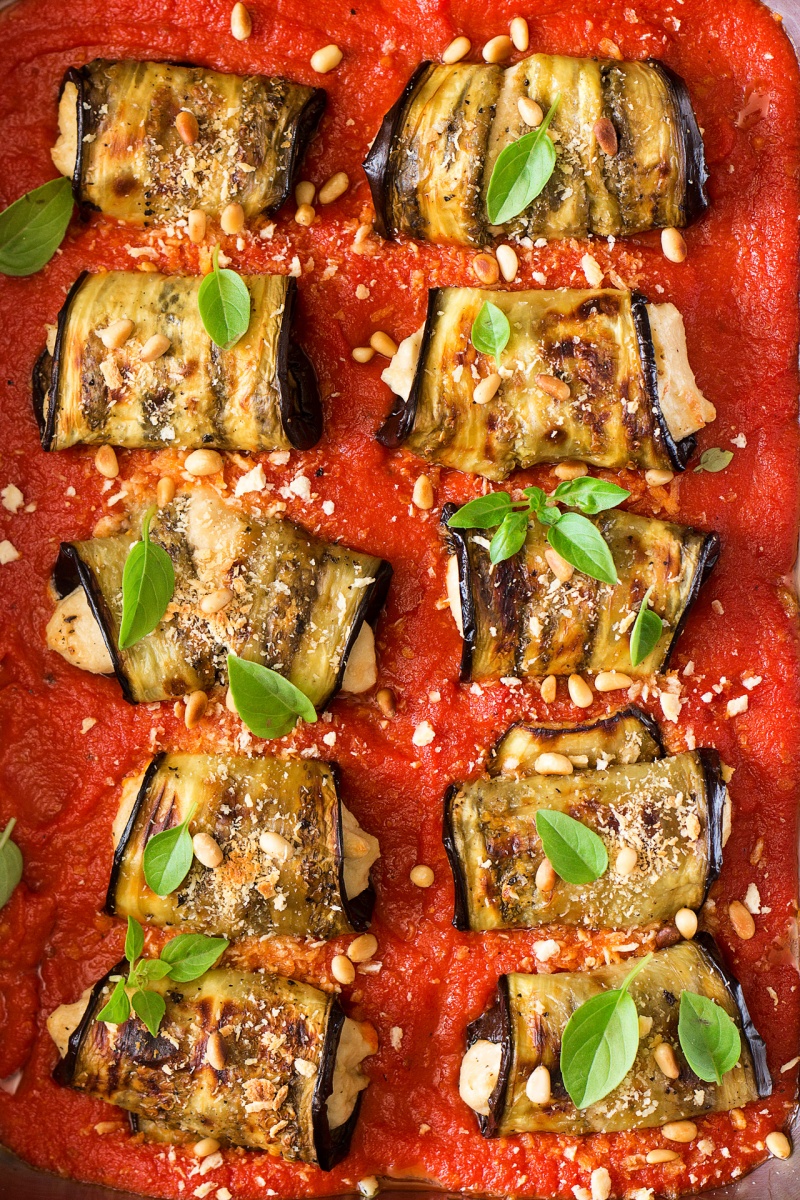 As you may have noticed, I am a bit of a magpie when it comes to cooking. I like to cherry-pick aspects of different cuisines and twist them a fair amount for my own recipes.
Unless you are one of these people who can eat the same thing day in and day out, being able to draw on the culinary heritage of the whole world is very much a necessity when you become vegan. The fact that so many conventional dishes are off limits forces you to get out of you comfort zone and explore unfamiliar ingredients and flavour combinations – a process which results in so many happy discoveries! 🙂
Today's inspiration came from Italy. I made a vegan version of the Italian classic – involtini melanzane. If you live in a big, buzzing city with plenty of vegan options at your fingertips, you can probably buy a vegan ricotta easily, in which case this recipe will be rather quick to make. I'm not that lucky in this respect so I've had to get off my ass and come up with a vegan ricotta before I even started rolling my aubergine slices.
My ricotta is easy to make and it makes a perfect creamy filling for these involtini babies so please do try if you cannot get hold of a shop bought cheese. I know it's a bit more work, but it's worth it, trust me! I don't know about you, but a couple of succulent aubergine rolls filled with a beautifully creamy cheese topped with a luscious tomato sauce is pretty much my idea of a dinner heaven, especially when accompanied by a big green salad and a cheeky glass of wine.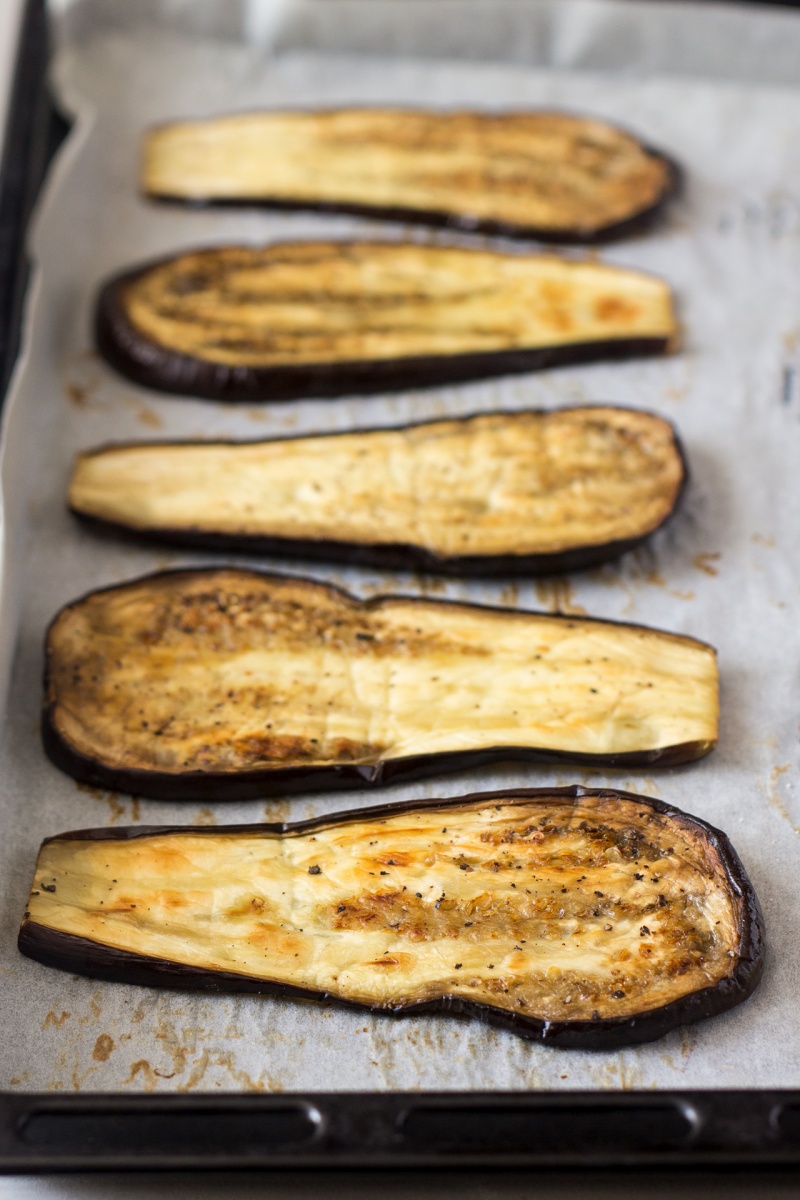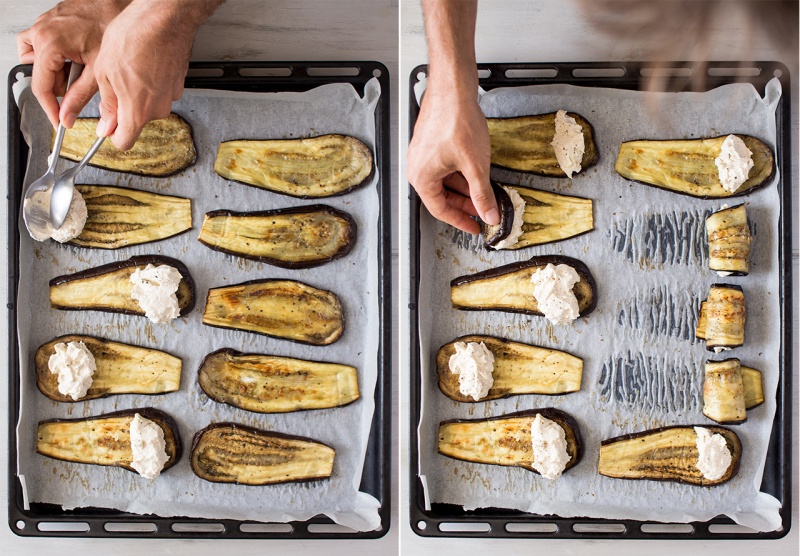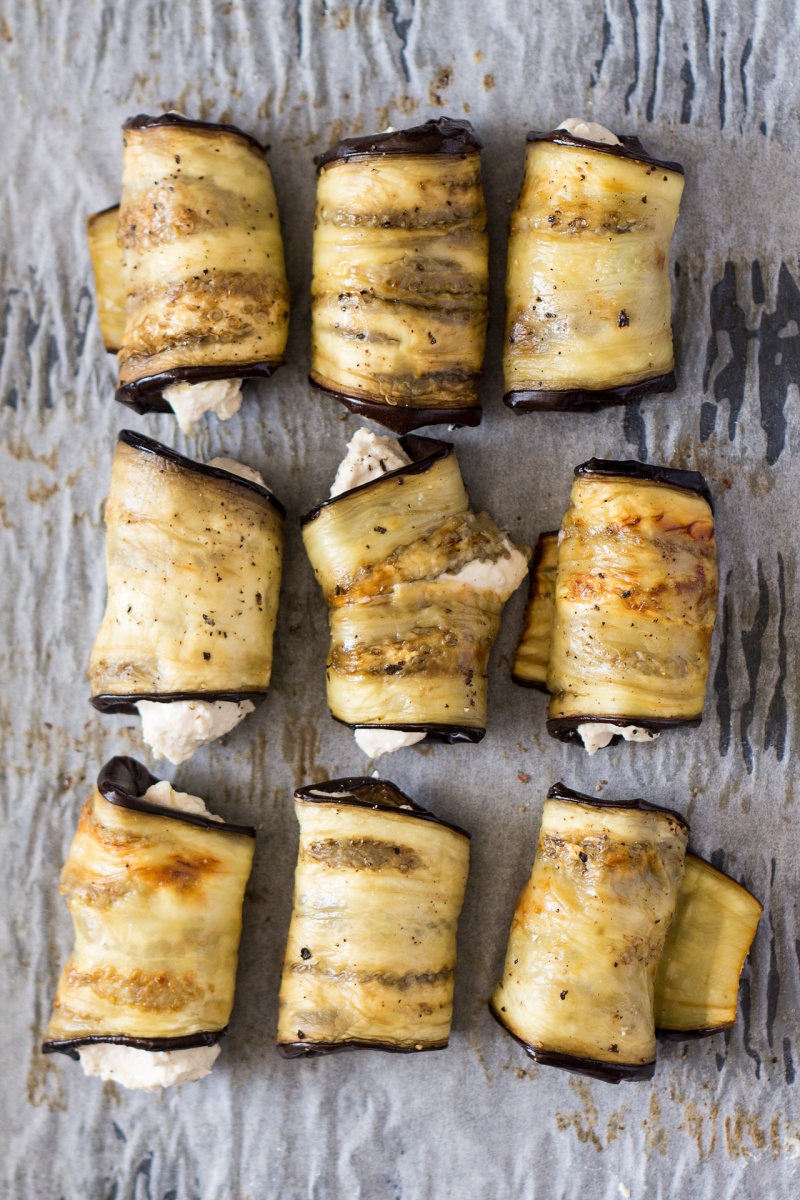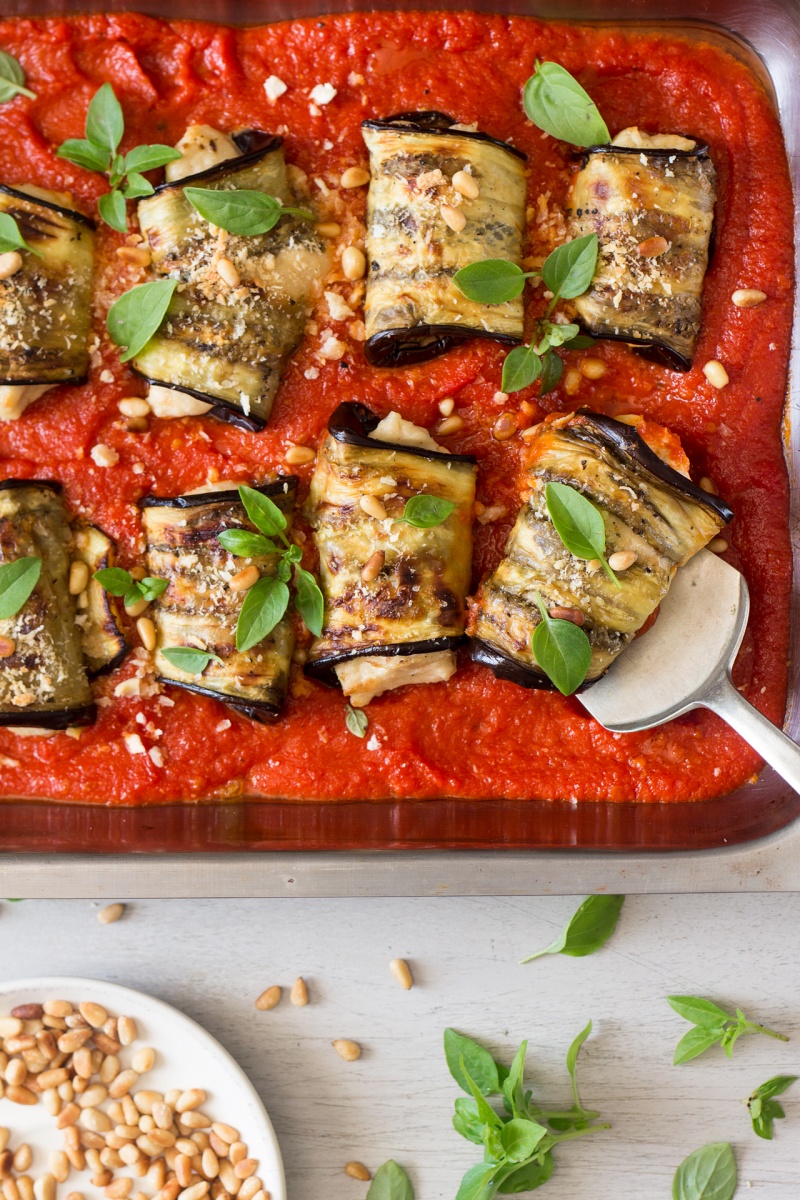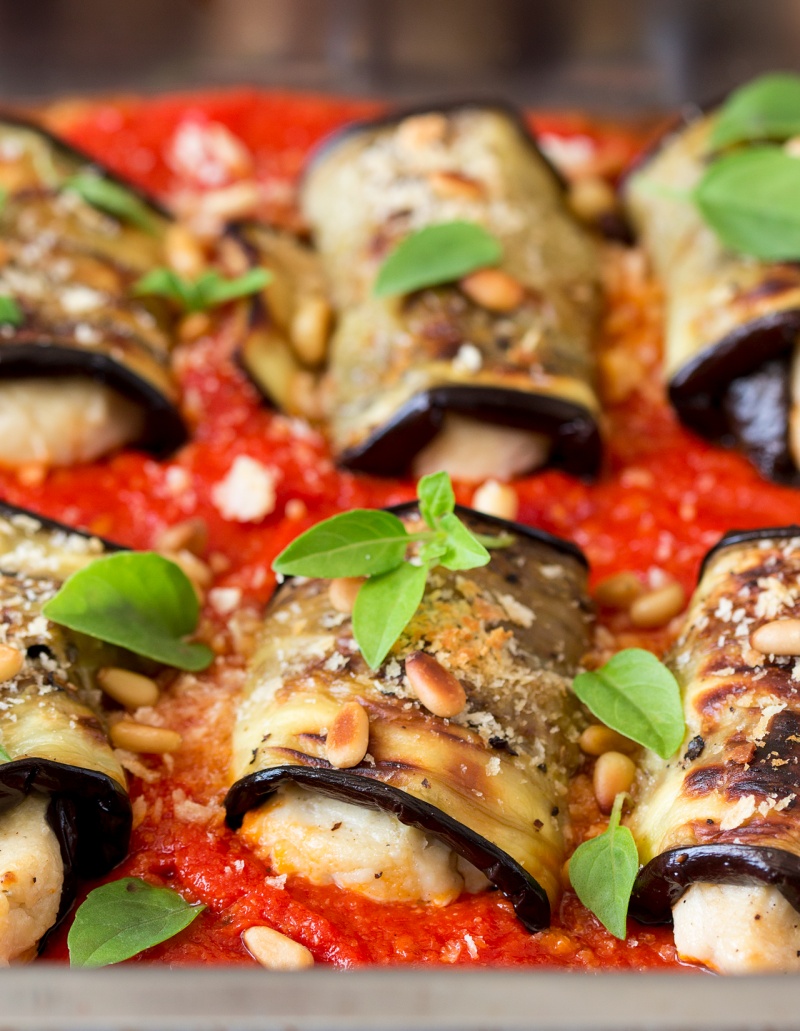 TOMATO SAUCE
1.5 kg / 3.3 lb ripe tomatoes, peeled and diced
2 tbsp / 30 ml olive oil
4 garlic cloves, finely diced
1-2 tsp brown sugar
¾ tsp sea salt, more to taste
pepper, to taste
large sprig of basil
½ tsp hot chilli powder or flakes (optional)
REMAINING INGREDIENTS
3 large and long aubergines (about 700 g / 1.5 lb)
1 portion vegan ricotta, homemade or shop-bought*
1½ tbsp pine nuts
1½ tbsp coarse breadcrumbs
fresh basil, to garnish
olive oil
METHOD
TOMATO SAUCE
Heat up olive oil in a large (oven-proof if you have one) frying pan. Throw in garlic and stir-fry it on low-medium heat until it softens and becomes fragrant.
Chuck in chopped tomatoes and simmer (without a lid) on a low heat for about 45-60 minutes giving it a good stir every 10-15 minutes. You want the tomatoes to break down fully and the sauce to thicken. Start step 5 below.
Towards the end of the cooking time, add a large spring of fresh basil and submerge it in the sauce to release its beautiful aroma. Season the sauce with salt, sugar, pepper and chilli if using. You can also add a bit more olive oil if you want the sauce to be richer.
If you want your sauce to be smooth, transfer it into a blender and give it a good whizz.
INVOLTINI
Heat up the oven to 175° C / 355° F and line a large baking tray with a piece of baking paper.
Cut aubergines into 1 cm / 0.4 " thick slices lengthwise. Make sure the pieces are the same thickness so that they take the same amount of time to cook. Brush both sides of the aubergine slices with a bit of olive oil and sprinkle with a little salt and pepper.
Arrange them on a prepared baking tray making sure the slices have a bit of room around them and bake for about 30-35 minutes, until soft. Flip the pieces to the other size half way through the cooking time as I found that the side that is in contact with the baking tray gets cooked a little faster. Once done, remove the tray from the oven and cool.
Place about a tablespoon of the ricotta mixture on the wider end of the aubergine slices and roll up gently. If a slice happens to burst in the middle once filled and rolled, don't worry, it just makes the dish a little bit more rustic 🙂 .
Once the sauce is ready, transfer it to a baking tray or leave it in the pan if you're using an oven proof one. Place rolled involtini, sealed side down, in the sauce. Brush involtini top with a bit more olive oil and place under a hot grill / broiler for about 3-4 minutes (until the tops get brown). Sprinkle with a handful of breadcrumbs and pine nuts and return to under the grill for another 2 minutes. Garnish with fresh basil and serve as a starter or a main dish with some grain or pasta.
NOTES
*If using shop bought vegan ricotta, you may want to flavour it with some lemon zest, salt and pepper, a touch of garlic and maybe some fresh herbs.