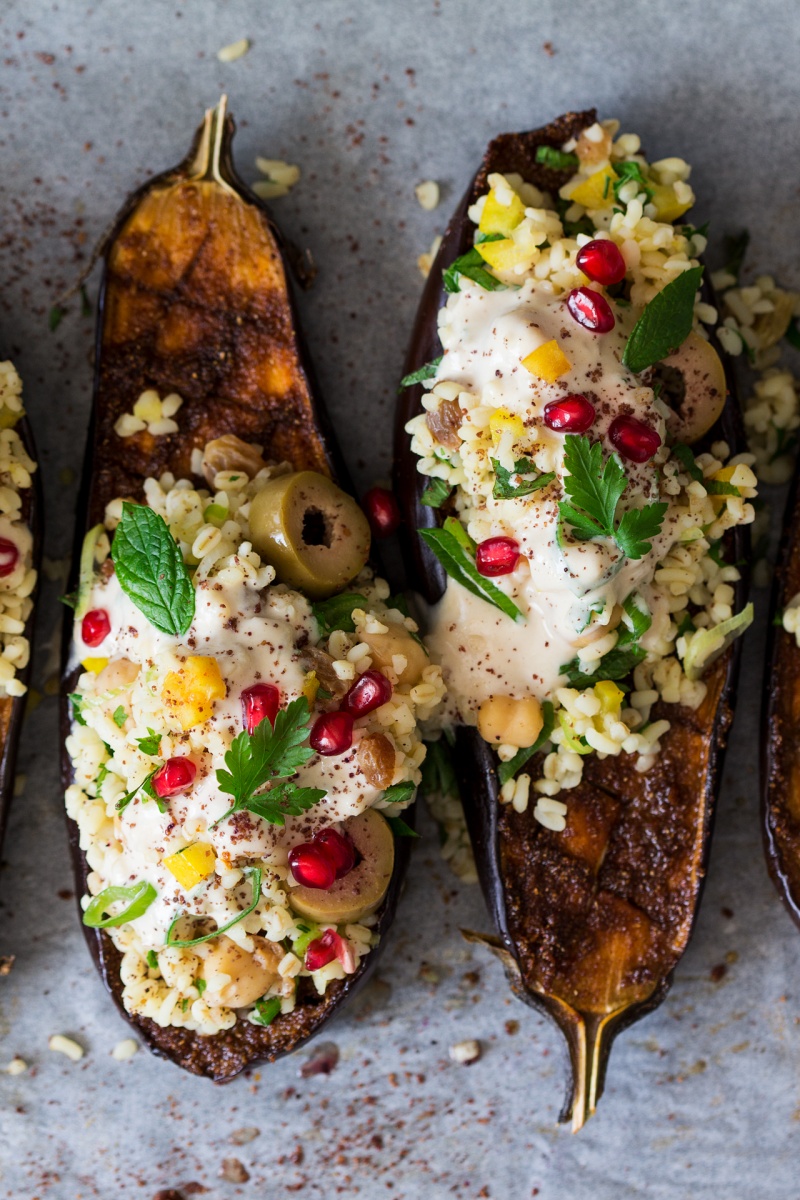 I made no secret of the fact that aubergine, eggplant or mad apple (as it used to be referred to in the Middle Ages 😉 ), is one of my favourite vegetables. I love its firm texture and its propensity to soak up flavours so well. No wonder it's such an important ingredient in so many culinary traditions that are known for their assertive flavours – Japanese, Mediterranean / Middle-Eastern and Indian. Today's dish idea has been shamelessly borrowed from one of my culinary idols, Yotam Ottolenghi, whose vegetable-centric and very visual style of cooking has earned him a cult following all over the world. It's a simple dish of aubergines marinated in a spice rub and roasted until tender, topped with a simple yet flavoursome bulgur wheat salad and drizzled (in my case as the original recipe uses a yoghurt sauce) with a tahini sauce. Apart from the sauce itself, I made a few other tweaks to the original but I cannot claim any credit for this recipe, I'm afraid. This dish is 'an Ottolenghi on a plate' ! 🙂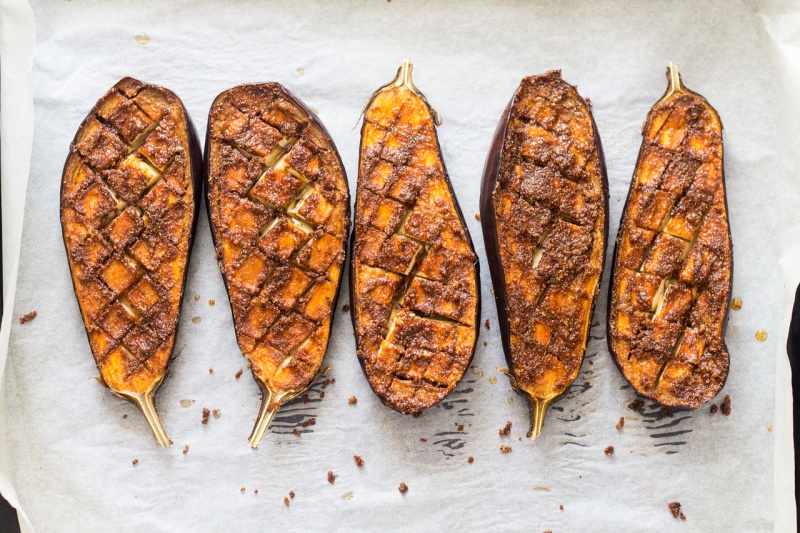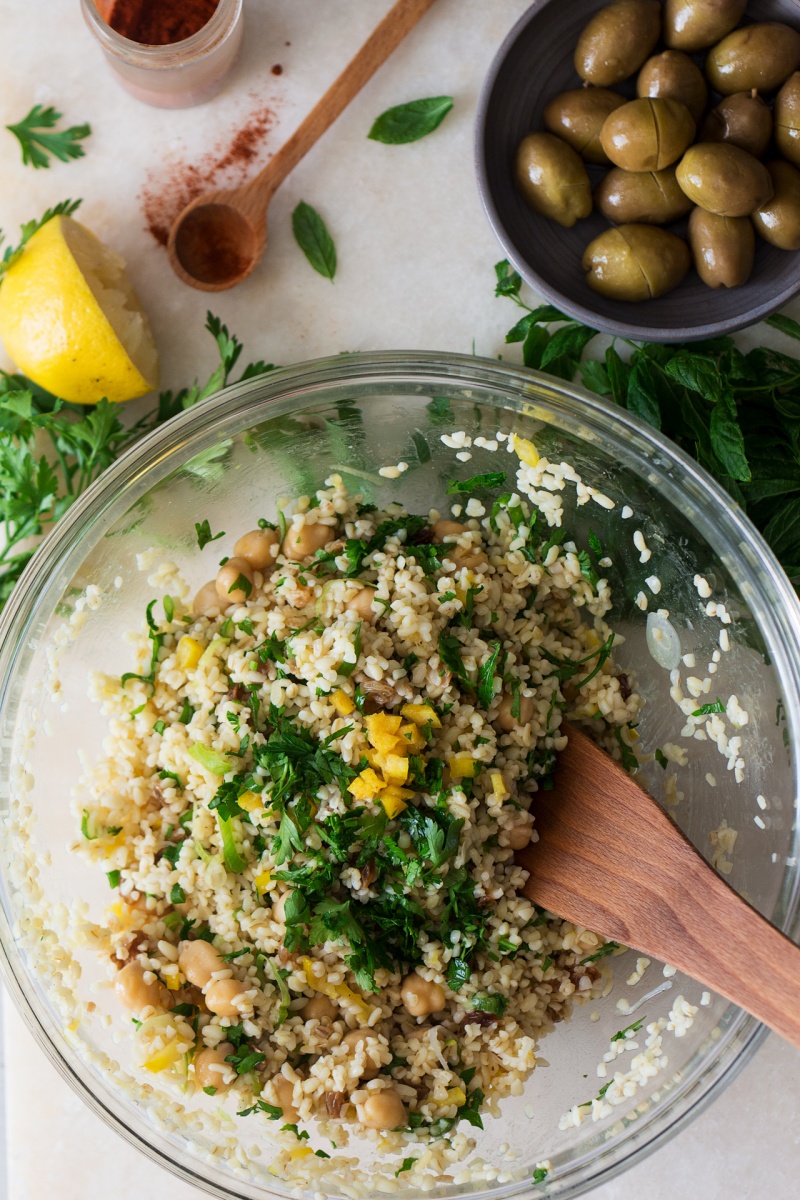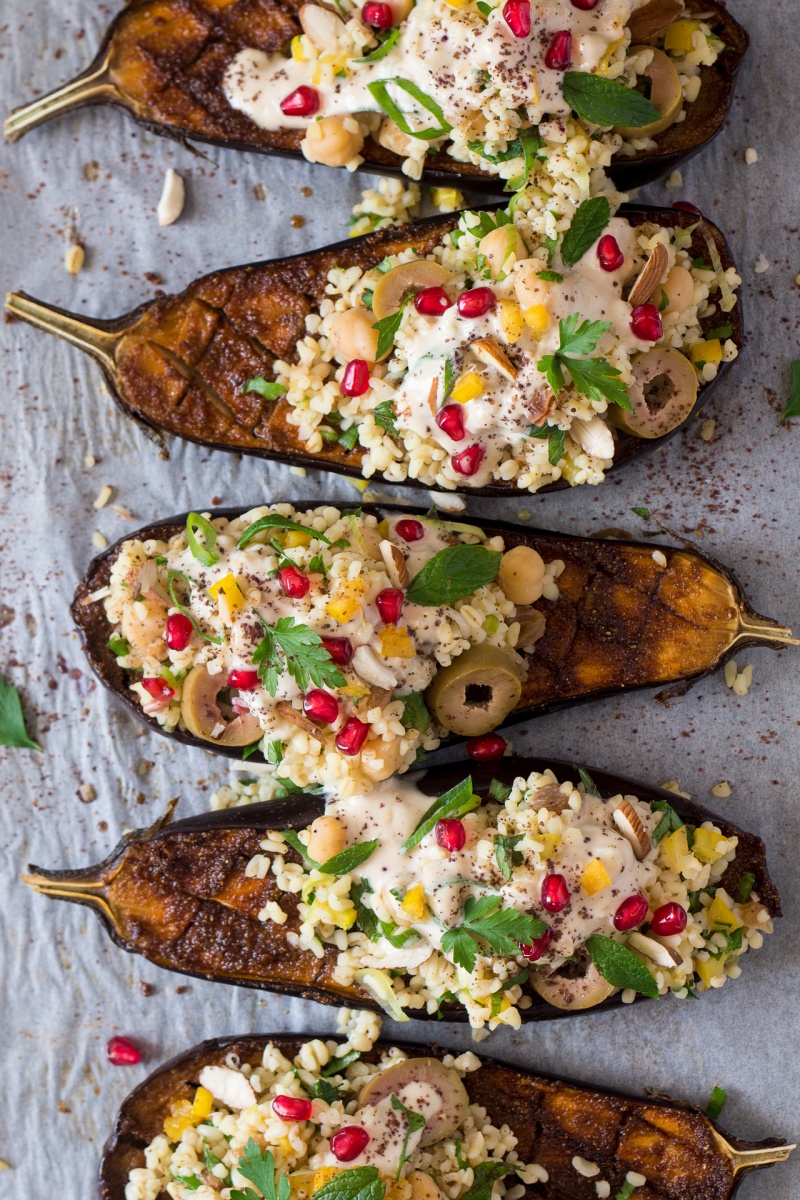 Ingredients
1 garlic clove, crushed
1 tsp ground cumin
1 tsp ground coriander
½ tsp chilli flakes
½ tsp sweet paprika
2-3 tbsp extra virgin olive oil
2 medium aubergines
1 cup bulgur wheat (quinoa or millet would work for GF version)
¼ cup sultanas, chopped finely
3 tbsp finely chopped preserved lemon skin
1 cup cooked chickpeas
10 green Kalamata olives, sliced
large handful of coriander or parsley leaves, torn
large handful of mint leaves, torn
2 small spring onions, finely sliced
seeds of ¼ pomegranate
handful of almonds, chopped
DRESSING
1 tbsp tahini
½ lemon, juice only
1-2 tsp maple syrup
1 small garlic clove, grated
salt and pepper, to taste
Method
Mix all the dressing ingredients together in a small bowl and set aside.
Boil a kettle of water. Rinse bulgur wheat well and place it in a bowl. Once the water comes to the boil pour about 1¼ cup (300 ml) of boiling water over it. Cover the bowl with a tight fitting lid or an upside down plate immediately. Set aside for 10-15 mins to allow it to 'cook'. If using quinoa or millet instead, cook them according to the packet instructions.
Place cumin, coriander, chilli flakes, sweet paprika and a good pinch of salt in a small bowl. Mix 2-3 tbsp of olive oil in with the spices to achieve a thick spice rub. Mix in finely grated garlic clove.
Heat up the oven to 200º C / 390º F and line a large baking tray with a piece of baking paper.
Wash aubergines, cut them in half lengthwise and scour the flesh in a criss-cross pattern. Go in as deep as you can without cutting the skin.
Spread spice rub on top of the aubergines, place them on the prepared baking tray and bake for 30-40 minutes (depending on their size, mine took 35 min) until their flesh is completely soft. Let aubergines come to room temperature.
Place 'cooked' bulgur wheat in a large bowl. Season with salt, add chickpeas, sultanas, finely chopped lemon skins, olives, pomegranate seeds, spring onions, herbs and chopped almonds.
Place bulgur wheat salad on top of each aubergine and drizzle with tahini sauce. Decorate with some extra herbs.
Notes
This recipe is loosely based on a
Chermoula aubergine with bulgar & yoghurt recipe
from Ottolenghi's book
Jerusalem
.