Autumn porridge with poached quince
Autumn porridge with poached quince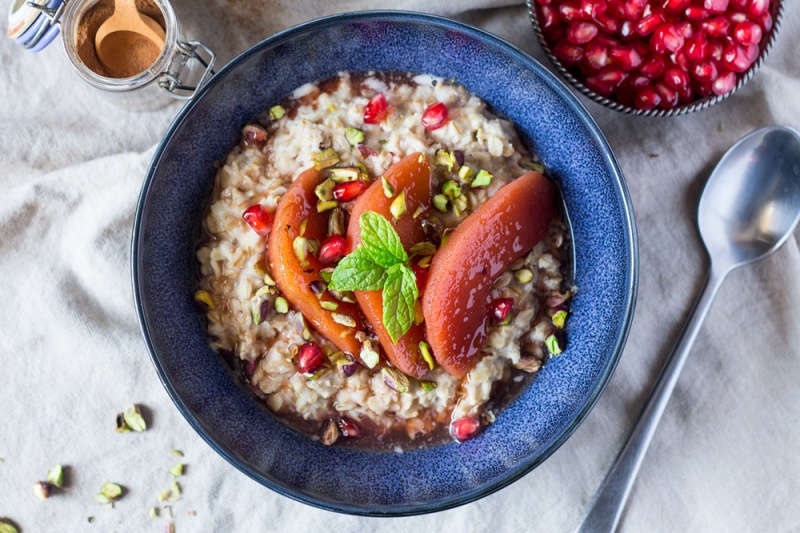 Have you guys ever tried quince? Until recently, I had no idea what it tastes like. As soon as summer had packed it in, I kept on seeing trays on knobbly, vibrant yellow fruit at my local greengrocers. From a distance, they reminded me of fake fruit made of plaster, which my art teacher used to incorporate into still life scenes. On closer inspection, they seemed hard and a bit intimidating but I was drawn to their beautiful vibrant colour and most beautiful, perfumed smell. After several abandoned attempts to buy a few quinces, I finally plucked up the courage. My idea was to tame these beasts and make something really simple with them.
As all beautiful fresh fruit we used to have with our breakfast oats are no longer in season, we have switched over to porridge and I thought that poached quince should rival its distant cousin, apple, as a great porridge topping. As Duncan watched me struggle to peel and chop these hard, strange looking fruit, he was a bit sceptical about the amazing taste I promised. It wasn't until about 2 hours later, when he appeared lured by the amazing smell, fork in hand, asking if he can taste some. He's been in love with poached quince ever since. While prepping quince isn't a breeze (you need a bit of elbow grease), stewed fruit will reward your effort by tasting delicious, filling your house with the most amazing of smells and turning the most appetising pink hue, like a plant chameleon.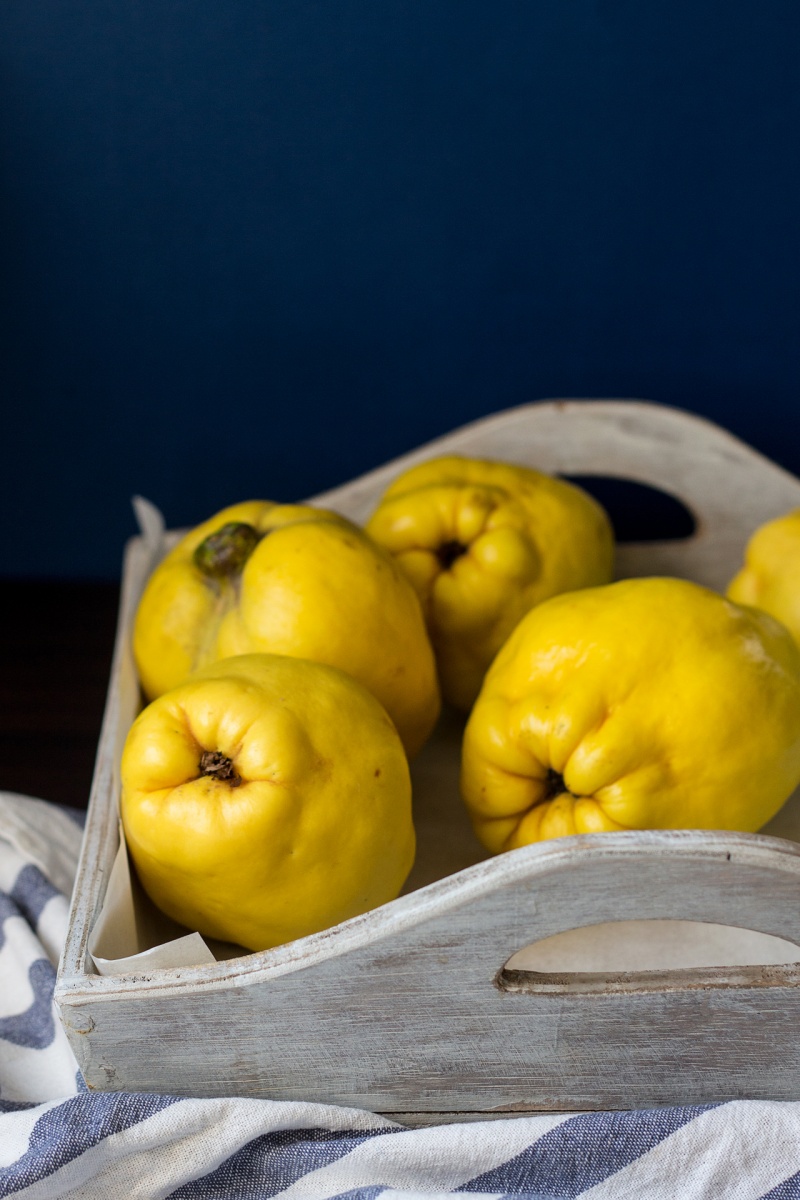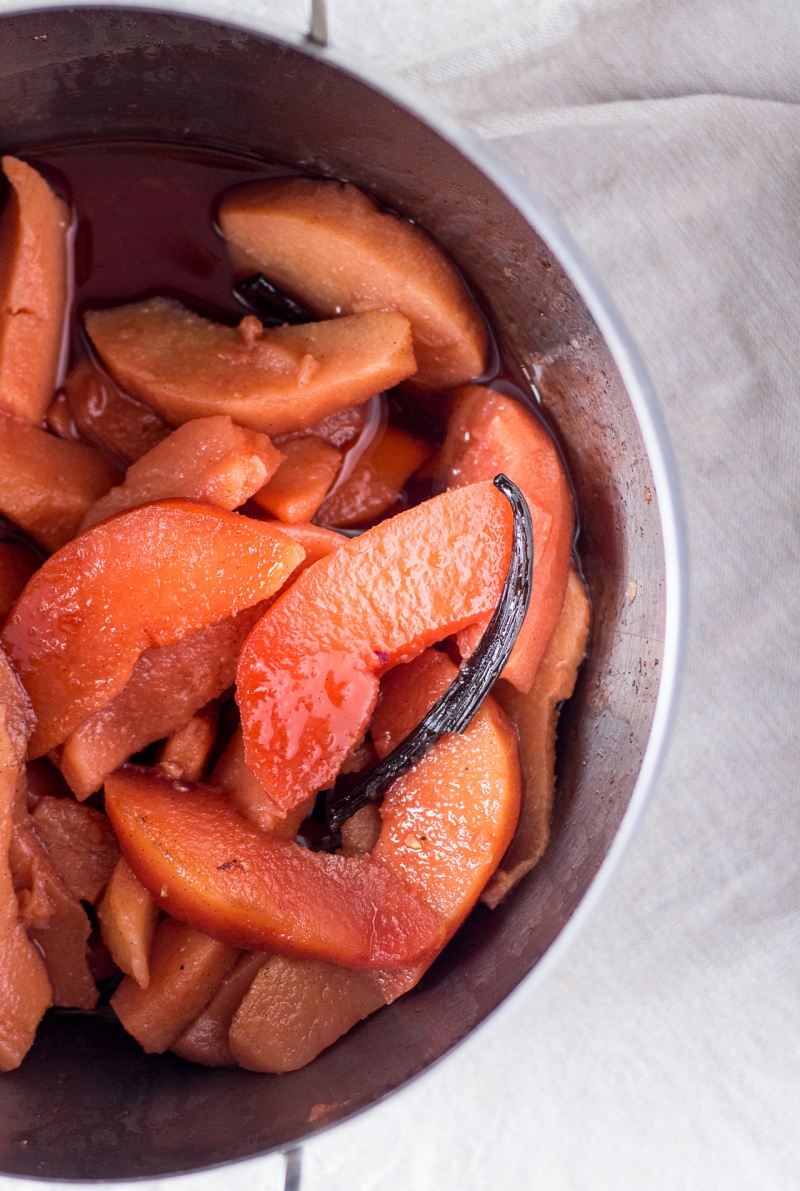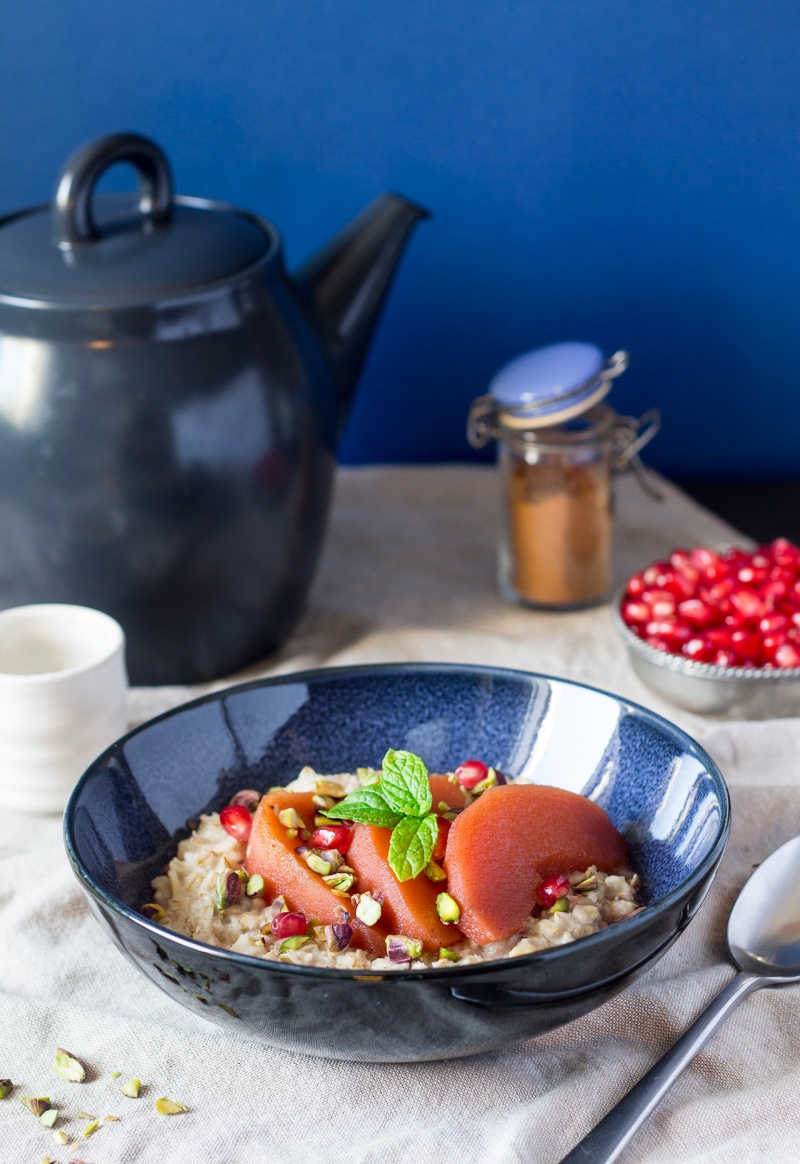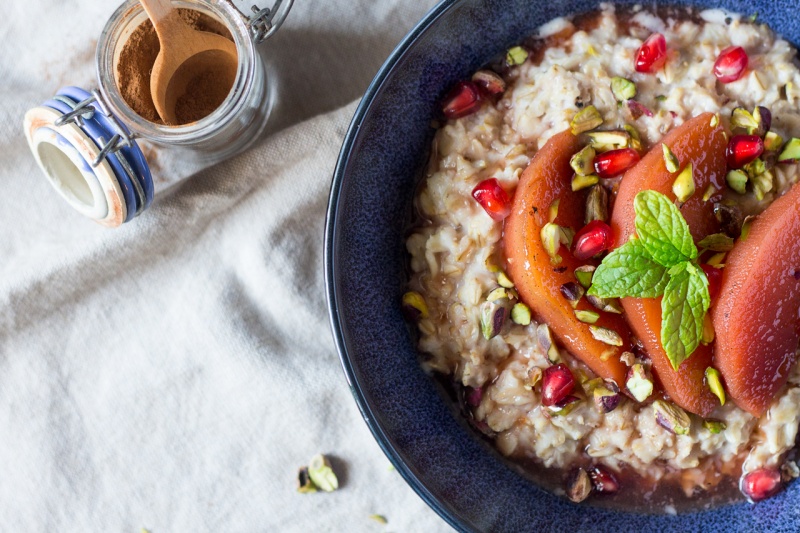 SPICED QUINCE (10 servings)
3 large quinces / about 1.2 kg
1 vanilla pod, seeds scraped
1 star anise
a quill of cinnamon
2 cloves
1 whole all spice
a large strip of lemon peel
½ cup brown sugar (my version isn't overly sweet, so add more sugar if you like)
½ lemon
PORRIDGE (2 servings)
100 g jumbo rolled oats (gluten-free for gluten-free version)
any thin plant milk or full fat coconut milk thinned with 50% water
a handful of any nuts, chopped
seeds from ½ pomegranate (optional)
maple or agave syrup, to serve (optional)
METHOD
SPICED QUINCE
Prepare a large bowl of water with 2 tbsp of lemon juice. Peel each quince, chop into half, core and cut each half into four equal sized pieces. Keep prepped quince in the bowl of lemon water to prevent discolouration.
Put cut up quince into a large pot (with a lid). Add about 2 cups / 0.5 litre of water, all the spices including vanilla seeds and leftover vanilla bean and sugar to the quince. Place a lid on top of the pot and bring everything to the boil gently.
Once the mixture has boiled, reduce the heat and simmer the fruit on a very low heat (I used setting 1 out of 6) for about 1½ to 2 hours (until quince is soft). Cover the pot with a lid but leave a small gap so that some of the steam can escape. It's important to cook quince very gently as this will turn the flesh the most beautiful pink colour. Once the fruit is soft, take it out of the pot and set aside. Gently simmer the remaining liquid (without the lid) for a few more minutes to thicken the syrup.
PORRIDGE
Put oats into a pan and pour enough plant milk to cover them. Cook your oats on a low-medium heat, stirring frequently. As soon as oats absorb the milk add some more.
Keep on adding milk until you achieve a consistency you like, I like mine to have a bit of texture. Once you've added all the milk, let the porridge cook gently (little bubbles will rise to the surface) for another minute or two.
Serve immediately with a portion of warmed up quince & syrup, sprinkle of nuts, pomegranate seeds and a dusting of cinnamon.
DON'T MISS A SINGLE RECIPE
Join our mailing list and we we will let you know when we publish a new recipe. You'll receive our DELIGHTFUL DESSERTS E-BOOK as a thank you for supporting us.