Baba ganoush – aubergine spread
Baba ganoush – aubergine spread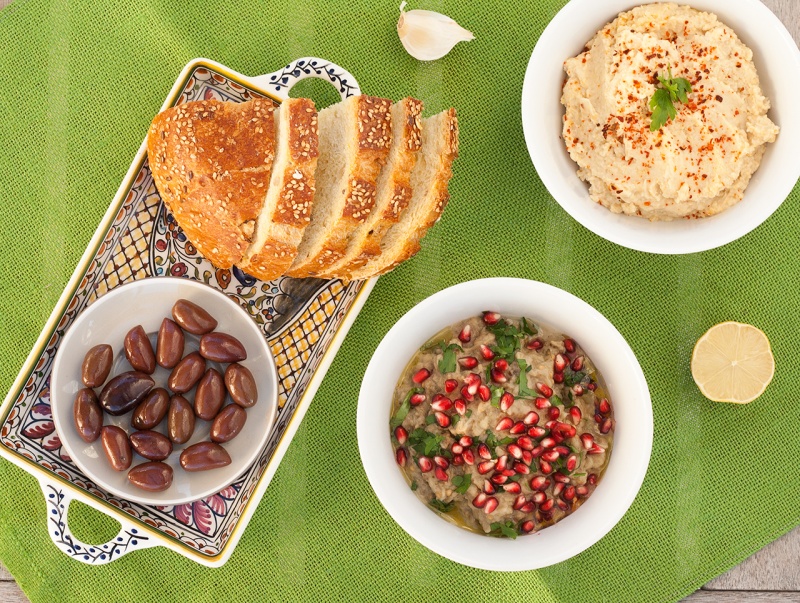 Baba Ganoush is the ugly sister of hummus. It is one of those dishes that looks very humble, bordering on 'unappetising', but makes your palate sing with joy. Like hummus, this smoky aubergine spread is a staple of Arabic and Mediterranean cuisine and almost each and every country on the Mediterranean Sea (including Greece) has its very own version of it. All of them have one thing in common: a simple cooking method and clever spicing, elevating the humble aubergine to a delicacy level. This is best conveyed by the fact that the French have called their version of this dish "caviar d'aubergines".
The best way to cook the aubergines is by charring them directly over a gas stove or a barbecue. Either of these two cooking methods gives the dish its signature smokiness. As the Greek islands have no gas and it is way too windy and cold for a BBQ (yes, even here it does eventually get cold-er), I have had to resort to using my grill-oven instead. If you are a lucky owner of a gas hob, get yourself a pair of kitchen tongs, pierce the aubergine in a few places beforehand and hold it over the naked flame, turning frequently until all sides are blackened and the inside gets all mushy. Baba Ganoush is best served at room temperature and it is one of those dishes that tastes best the day after, if you can stop yourself from eating it immediately.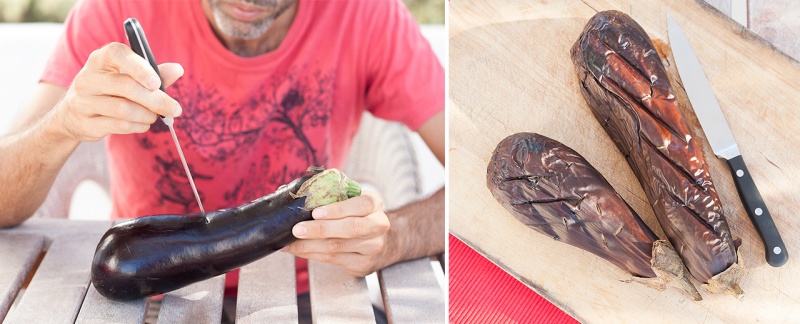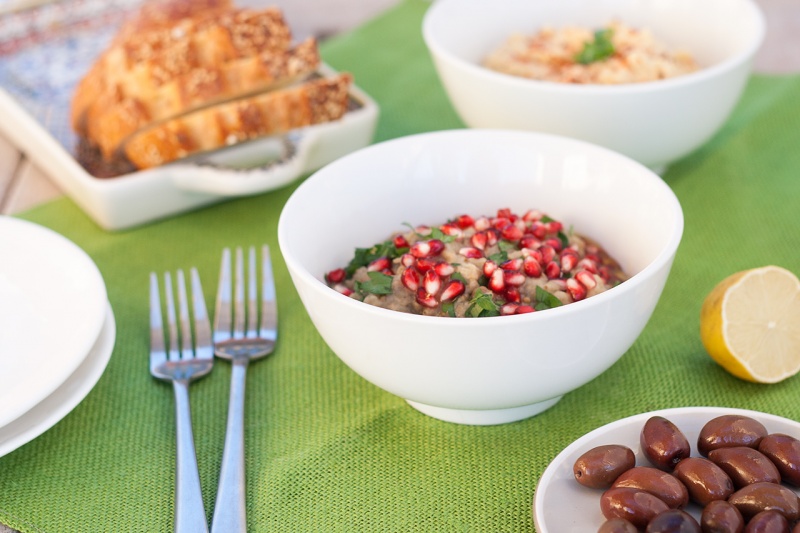 6 medium aubergines
5 tbsp lemon juice
3 tbsp level tahini
1 tsp level salt
1½-2 garlic cloves
1 tsp maple syrup or honey (if using)
freshly ground pepper
a handful of pomegranate seeds
2 tbsp of olive oil
fresh parsley or mint, finely chopped
METHOD
Pierce the aubergines with a knife so that the steam can escape whilst they are cooking. If you have a gas hob or a has burner, hold the aubergine directly above the flame with a pair of tongs, turning it every now and then so that it is evenly cooked. If you have an electric hob, set your grill to 225° C and bake the aubergines for about 50 minutes, turning them every quarter of an hour. Whilst cooking, aubergines will leak some juice so place a large baking tray at the bottom of the oven to avoid mess.
Once they are cool enough to handle, cut the aubergines in half and scoop out all the flesh using a spoon. Place the flesh on a sieve and leave for an hour or so to allow all the excess liquid to drain away.
Using a hand blender, mix aubergine flesh into a paste. Spice it up with lemon juice, tahini, garlic, salt, maple syrup and pepper. Taste and adjust all seasoning.
To serve (it tastes best the day after it's been prepared), pour the olive oil over the dip, sprinkle with pomegranate seeds and fresh herbs.
DON'T MISS A SINGLE RECIPE
Join our mailing list and we we will let you know when we publish a new recipe. You'll receive our DELIGHTFUL DESSERTS E-BOOK as a thank you for supporting us.