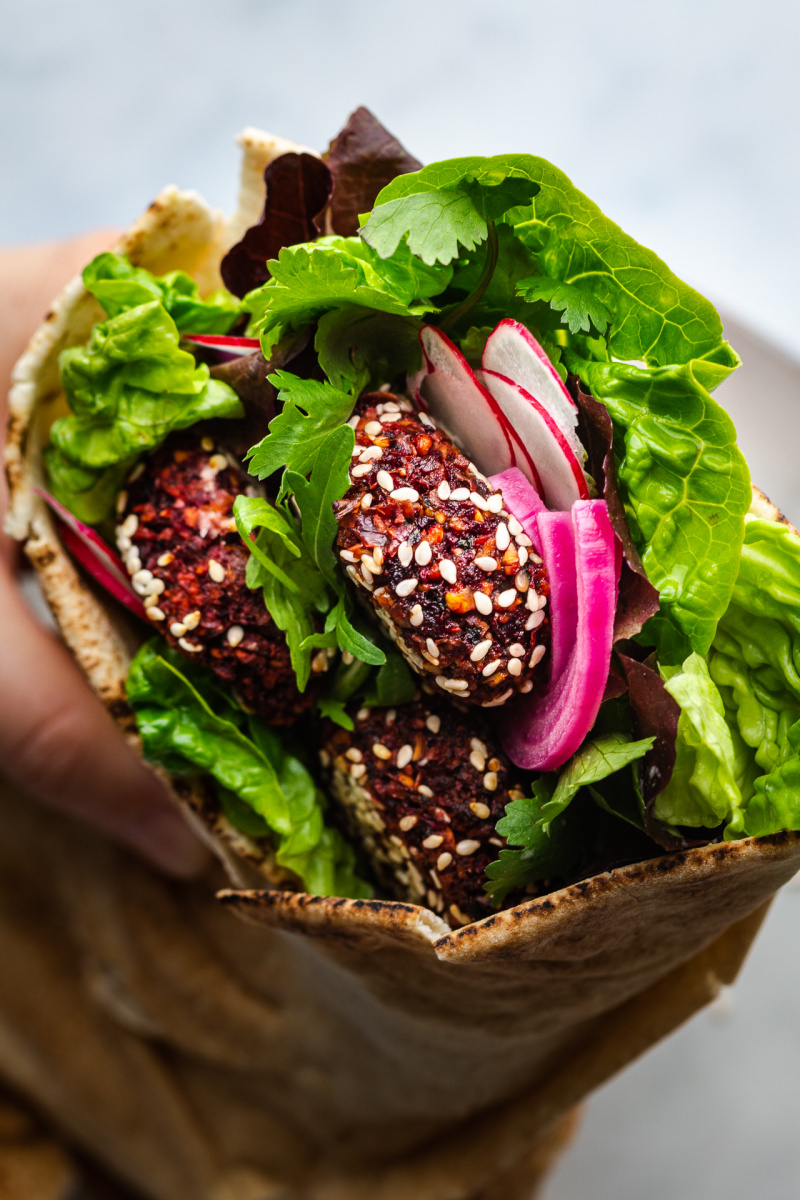 Hope you guys have had a good weekend and your week has started well. We went walking along the Somerset coast with a couple of friends on Sunday and it was a great day full of sunshine, sea air, conversation and banana bread. Despite the beautiful weather, it was quiet, peaceful and very relaxing. We returned feeling very tired yet restored and we vowed to go on day trips more often given how much beautiful nature there is almost on our doorstep.
As the sun is a more frequent guest in our UK skies, I crave more and more salads and generally slightly lighter food like a good baked falafel wrap, for example. I love falafels but I'm fairly oil-phobic, as you probably know if you have been here before, so I have been working on cracking baked falafels since 2015 (!) and me being me, I always find a reason to tinker with my existing recipes to improve on the previous versions. This is what today's recipe is all about. I've made baked beet falafels before and they are delicious, but a little more time consuming as I made them with a baked beetroot. These new ones use fresh beets instead and require much less process – the mixture comes together in no time at all – and I think they are close to baked falafel perfection!
They are healthy yet not cardboard dry, they boast a deliciously crunchy exterior and soft, pink interior. I left my first batch for Duncan to test for his lunch one day as I had an appointment in town. There were 12 of them on the baking tray when I left and he said he will have 5 maximum, but when I got back there were only 3 left for me. His excuse was that they were delicious and he couldn't help himself. I knew I got played but he was instantly forgiven 🙂 as it's always a great feeling when a test cook renders the result you were hoping for.
To achieve a crispy shell, I experimented with higher oven temperatures and I brushed the tops with a little extra olive oil, it's only a small amount but it makes a massive difference. I also decided to make them a little stubbier than my previous versions and all these little tweaks have resulted in my favourite baked falafels yet. They are brilliant in a pitta bread filled with silky smooth hummus, a bunch of veg, some gherkins or pickled onions or as a part of a salad bowl. The uncooked mixture keeps in the fridge for a good few days and freezes well too so that's handy even if you are cooking for one. I hope you'll make them and enjoy my healthier take on this awesome, naturally vegan food.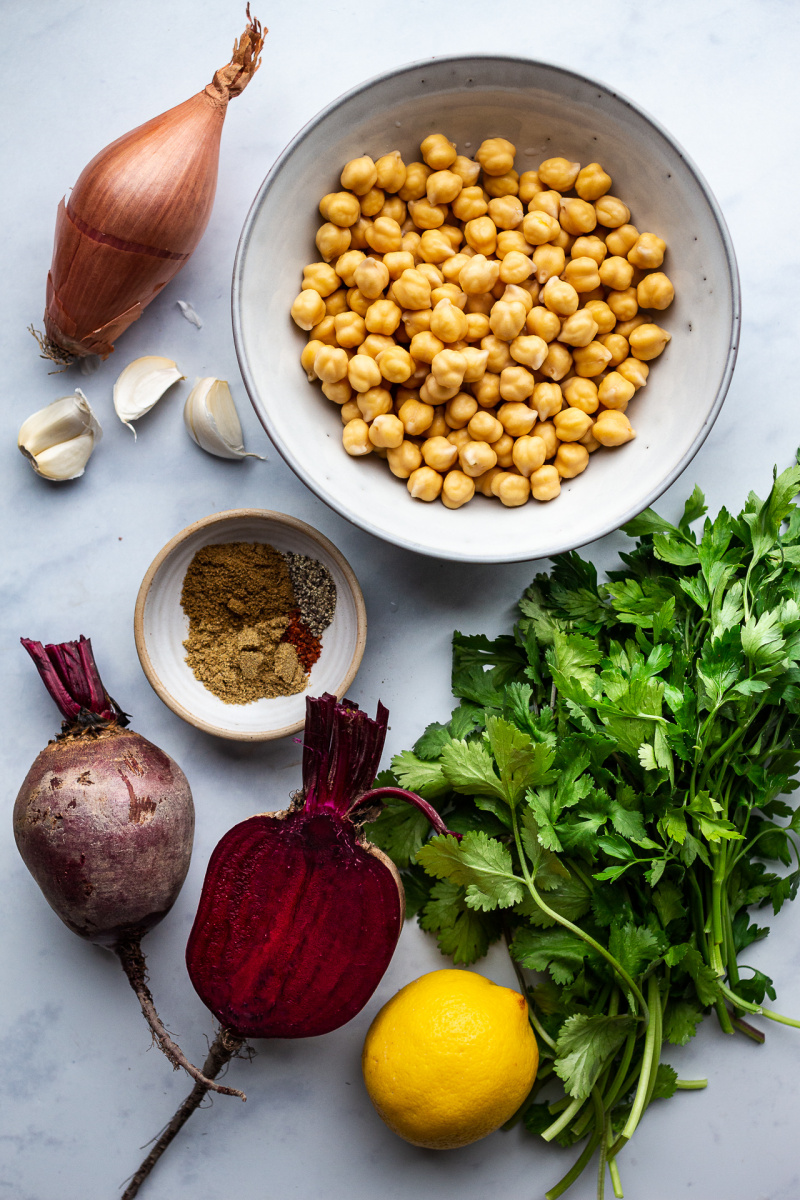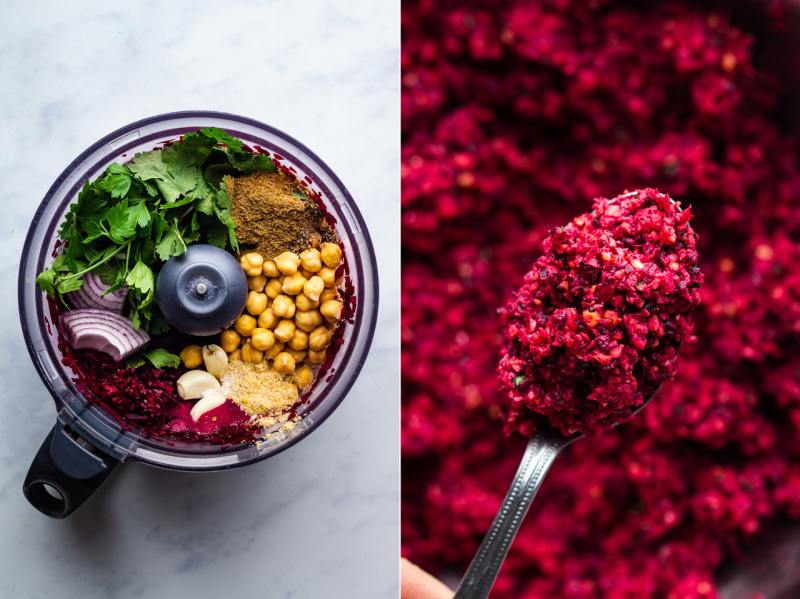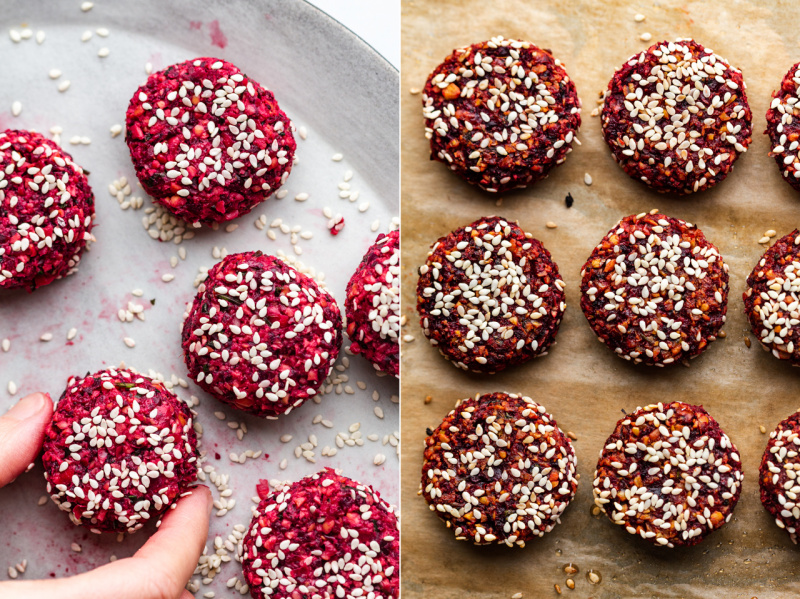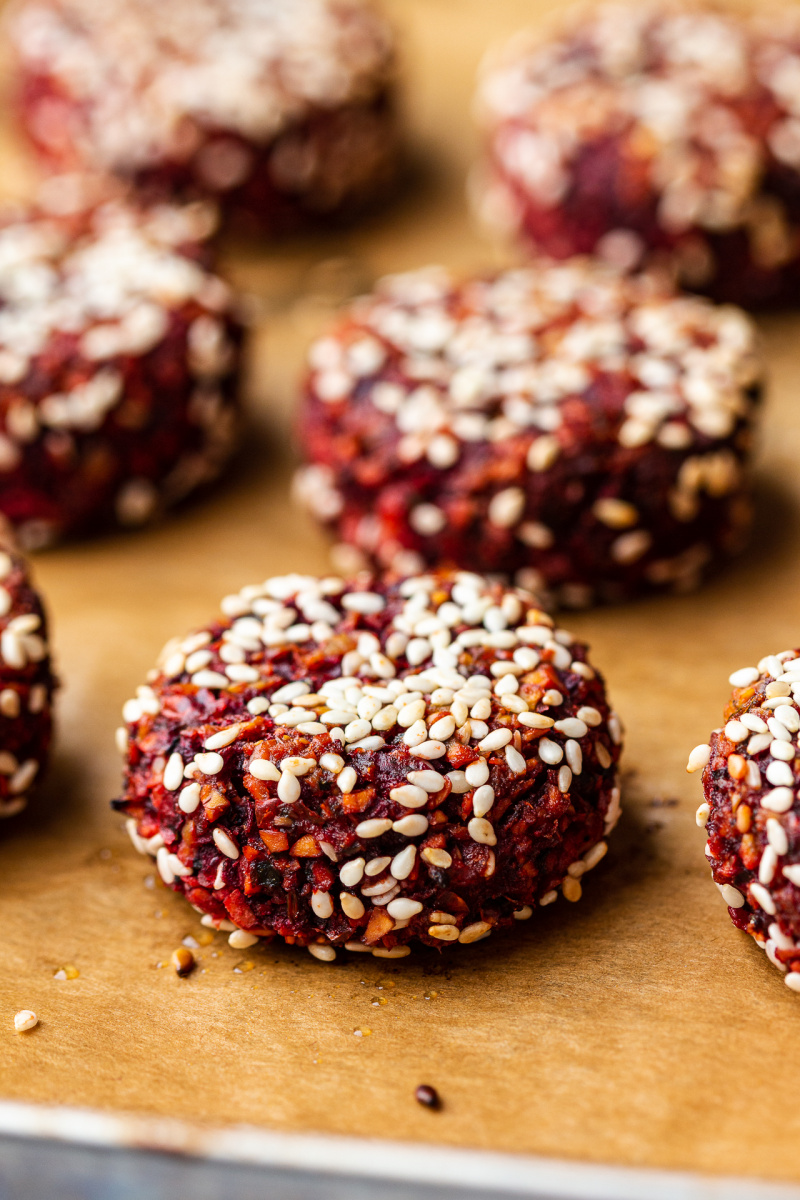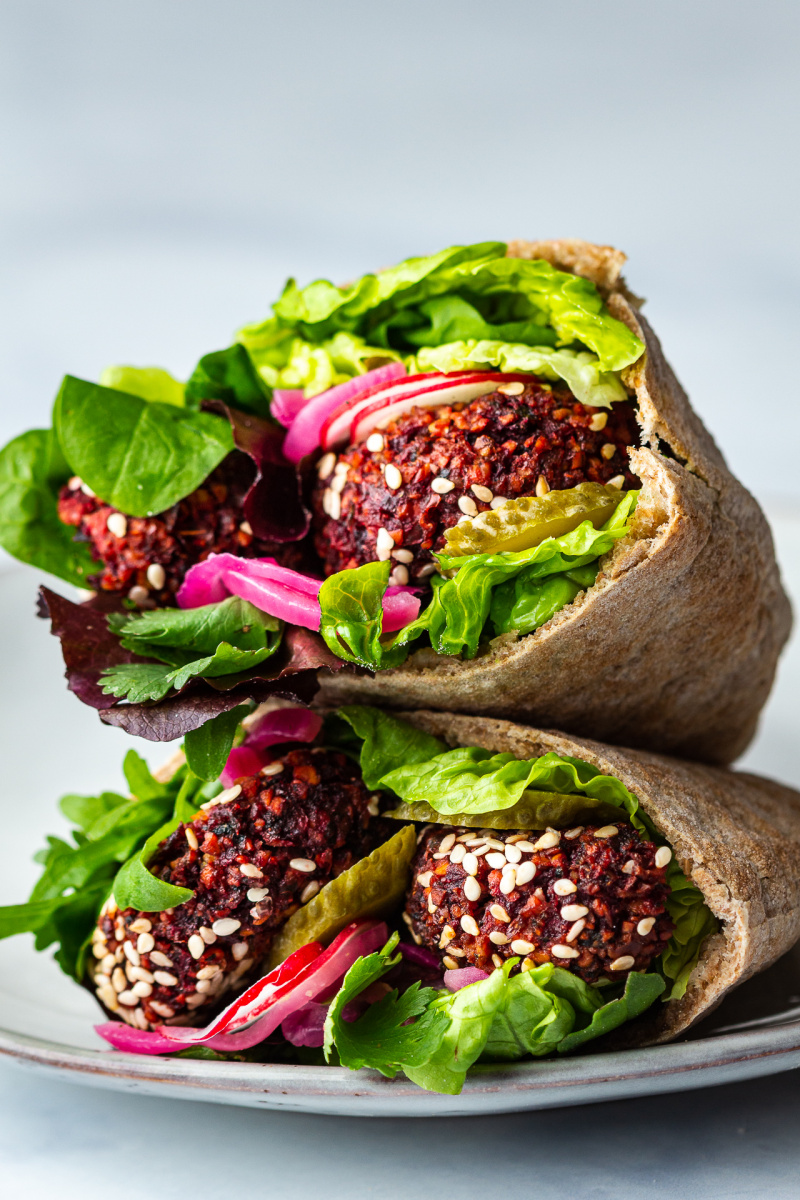 200 g / 7 oz raw peeled beetroot
240 g / 1½ cups soaked chickpeas*
2 tbsp ground flax or chia seeds
½ large onion or 1 shallot
3 garlic cloves
a handful of coriander
a handful of parsley
30 ml / 2 tbsp lemon juice + zest 1 lemon
¾-1 tsp salt, adjust to taste
¼ tsp black pepper
1½ tsp cumin
1 tsp ground coriander
chilli flakes to taste (optional)
½ tsp baking powder
35 g / 4 tbsp rice flour
30 ml / 2 tbsp olive oil, for brushing
sesame seeds, to coat (optional)
METHOD
Slice your beetroot and grind it up roughly in a food processor.
Add drained chickpeas, ground flax (or chia seeds), onion, garlic, herbs, lemon zest and juice, salt, pepper, cumin, coriander, chilli flakes (if using), baking powder and rice flour. Process until the mixture is uniformly and finely chopped.
Set aside in the fridge for at least 30 minutes. A longer resting time makes it easier to form the falafels.
Preheat the oven to 200° C / 390° F fan (220° C / 425° F if you don't have a fan setting) and line a large baking tray with a sheet of greaseproof paper.
Brush small circles of olive oil onto the baking paper at regular intervals, keeping ample space around each falafel so that the browning process isn't inhibited through too much moisture. I recommend baking 10-12 at a time.
Using your hands, form small patties (1 heaped tbsp worth / 28 g each) or balls with your hands or using a small ice cream scoop. I like to shape mine into 2 cm / ¾" tall and 4 cm / 1½" diameter discs. The mixture will be fairly wet so handle it gently, but don't be tempted to add more flour – it will make the falafels dry. Apply some sesame seeds to the underside of each falafel with your hand before placing it on the oiled area of your baking paper. Apply more sesame seeds to the tops.
Bake for 12 minutes. Take the tray out of the oven, gently lift each falafel off the surface using a spatula. Brush a little oil on before placing the other side of the falafels down. Brush the tops with some more olive oil for extra crispiness and bake for another 12 minutes until the tops are golden brown.
Enjoy them warm, in a hummus wrap or as part of a salad bowl. The mixture keep in the fridge for 2-3 days and freezes well.
NOTES
*Obtained from approx. 130 g / ¾ cup of dry chickpeas soaked overnight. Rehydrated chickpeas will expand, to at least twice their size, so make sure they are well covered in water. Soak for a minimum of 12 hrs and 24 hrs if possible. I like to soak 2-3 cups of dried chickpeas and cook the rest for a
stew
or
curry
.
This recipe is based on my previous falafel recipes: this one and that one.