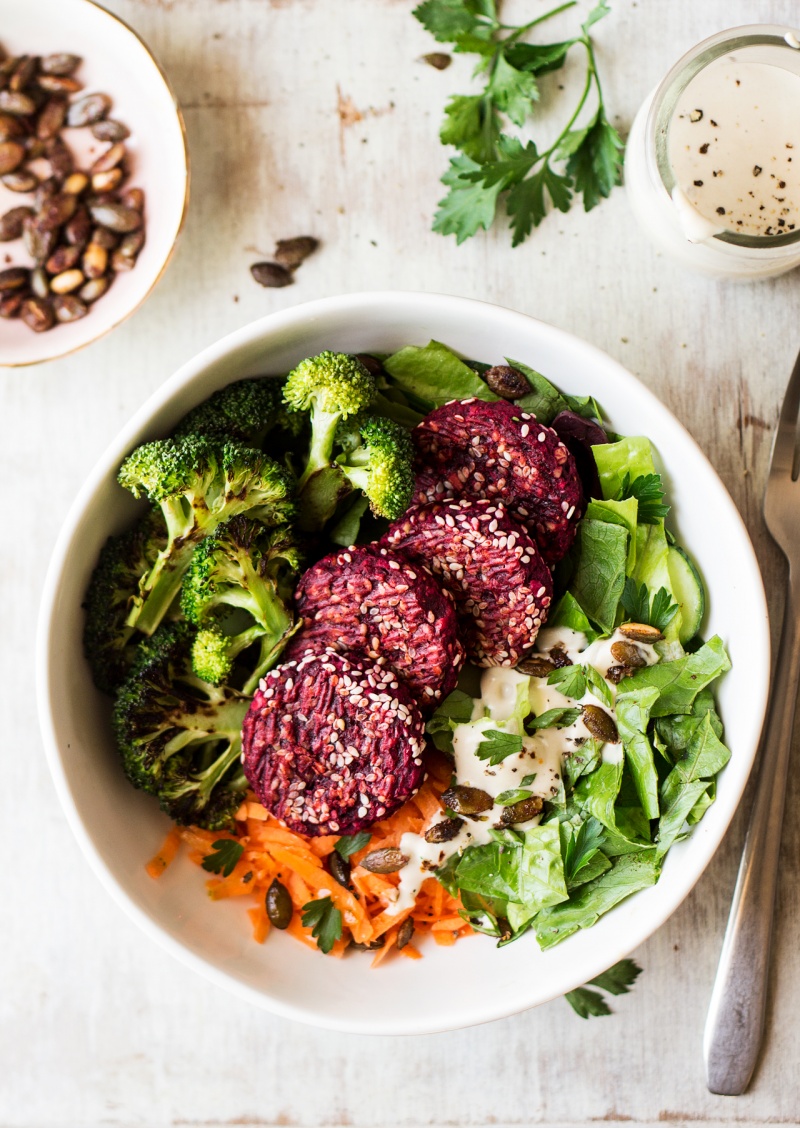 CHECK OUT MY NEW, IMPROVED BAKED BEET FALAFELS RECIPE HERE.
After a long and arduous three day journey, we've arrived in Bristol at last. The sun is shining today, Tina is exploring a massive garden of Duncan's family's house. She seems really happy and all is good in our little world.
It hasn't been easy getting here though. In fact, we've had a nightmare journey. Initially, we planned to complete our travels in 2 days, but Sky Express (a Greek airline that does flights between Paros and Athens) cancelled our flight and we had no choice but to go a day early and stay in Athens overnight.
We booked a pet-friendly Airbnb outside of Athens with a big garden so that Tina could stretch her legs and wee. The owner seemed surprised to hear that we had a cat even though we said so upon booking. She said she had two dogs (one of them an angry bull terrier), but she will keep them away for our stay.
At 4 am in the morning, Tina woke us both up, desperate to use the toilet. We tried to coax her to pee on a nappy inside the house, but she was really unhappy about that, growing more and more agitated by the minute, so we decided to put a harness and a leash on her and walk her out in the garden.
All was going well, she found a spot she was happy with, crouched down ready to pee when an out of control German Shepherd charged at us from nowhere. It all happened incredibly quickly, but while I tried to keep the dog away from her, she did a Houdini and slipped out of the harness and was gone. Just like that, we lost out cat in the middle of nowhere with packs of wild dogs roaming the countryside. We were beyond ourselves while the dog kept on jumping up on us, play-biting, and scratching – deaf to any verbal commands and completely out of control.
We went back inside, put some clothes on, grabbed a torch, a cat carrier and a bowl of cat food and decided to look for Tina on the other side of the fence. It was 4.30am in the morning, pitch black, I was sobbing like crazy, the dog was yapping on the inside of the fence and we were losing hope…We were walking around and calling out but with this dog being out of control inside the property's boundary, we knew there was no chance Tina would ever appear.
After about 90 minutes, the dog got bored and we heard a miaow – it was the sweetest sound we've heard in a while. She was on the inside of the fence trying to find us!! We could not believe it! We knew that once we entered the gate, we would alert the dog to our presence and we would lose Tina again. We tried to pull apart the wire mesh of the fence with our hands but it wasn't budging. Next, Duncan tried to dig underneath the fence with his bare hands but it ran deep into the ground. Tina was not in a climbing mood either (she was so shaken – and the fence was topped with barbed wire) so with no other choice, we decided to creep back into the property.
The plan was that I would distract the dog with a bowl of cat food and Duncan would grab Tina and put her back into the carrier. We entered and the dog was nowhere to be seen. Duncan managed to grab Tina and at the point when he was holding her over the carrier, the dog appeared again. I managed to keep it at bay with cat biscuits but it was too late as Tina had seen him. She went into survival mode and started thrashing about like a wild animal. In fear and panic, she scratched Duncan's hands to shreds and bit him too. He must have been in so much pain, but he wouldn't let go of her – not losing Tina was his only priority – and managed to put her back into the pet carrier and took her back to our accommodation. She was shaken, but calmed down eventually.
We disinfected Duncan's wounds and went to bed. The next morning, his right hand reddened and swelled up massively and he was in a lot of pain, but we had a morning flight so catching it was our main focus. At the airport, Duncan went to the pharmacy to get some advice and the pharmacist was shocked at the state of his hand. She gave him a tetanus shot and advised him to go to the medical centre downstairs, but we really had no time. As I am crap with needles and Duncan has had a lot experience of injecting himself during a long-term illness he had when he was younger, he self injected himself in the airport's cafe and we boarded the flight.
When we arrived in Amsterdam, we got picked up by a couple of lovely Dutch friends of ours, Marit and Don who, having seen our Instagram story, offered to pick us up from Amsterdam airport, cook us dinner and then take us down to the ferry port in Rotterdam. We were both really feeling awful (Tina was difficult on the flight) and so stressed and we were (still are) so grateful for their kind offer.
During a beautiful dinner, Duncan had trouble using his hand and it was looking really really bad, at which point Marit suggested to ask their neighbour, who is a doctor, for an opinion on what to do. The lovely neighbour looked pretty alarmed at seeing the state of him and proceeded to ring the ferry to check if they have a doctor on board (they didn't), rang the hospital and Marit rang the ferry asking how late we can board. They were all so amazingly helpful, I wanted to cry with happiness! In the end, Marit's neighbour sorted out antibiotics for Duncan, which we picked up from a hospital on the way to the ferry. Don drove us all the way there and we managed to catch the ferry in good time. The antibiotics were what he really needed as after about 3 doses the swelling and most of the redness went down and his hand is almost back to its normal self. I don't know what we would do without the help of these guys, we will be forever grateful to them.
Okay, so these were both the lowlights and highlights of our trip to Bristol. Meanwhile, here is a simple meal that I prepared for you while still in Greece – a bowl of baked beetroot falafels with a simple tahini sauce and roasted pepitas. Easy to make, healthy and gluten-free too. Enjoy!!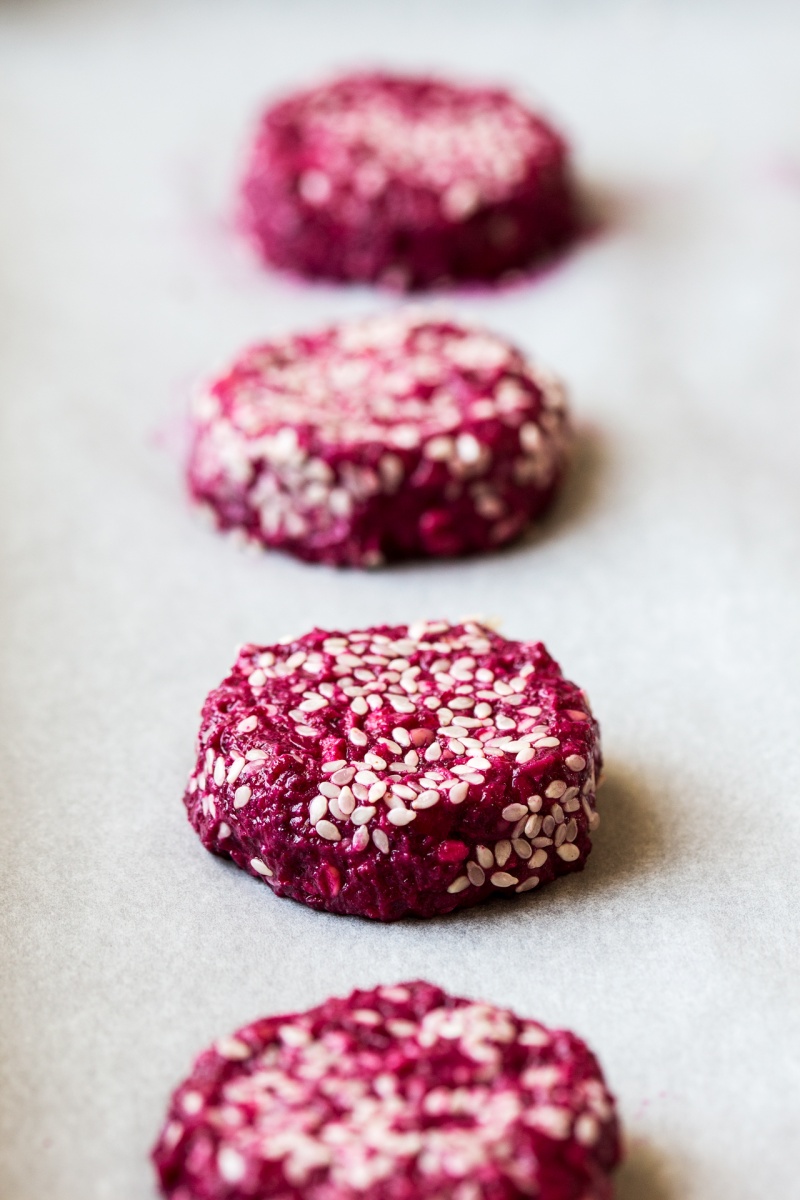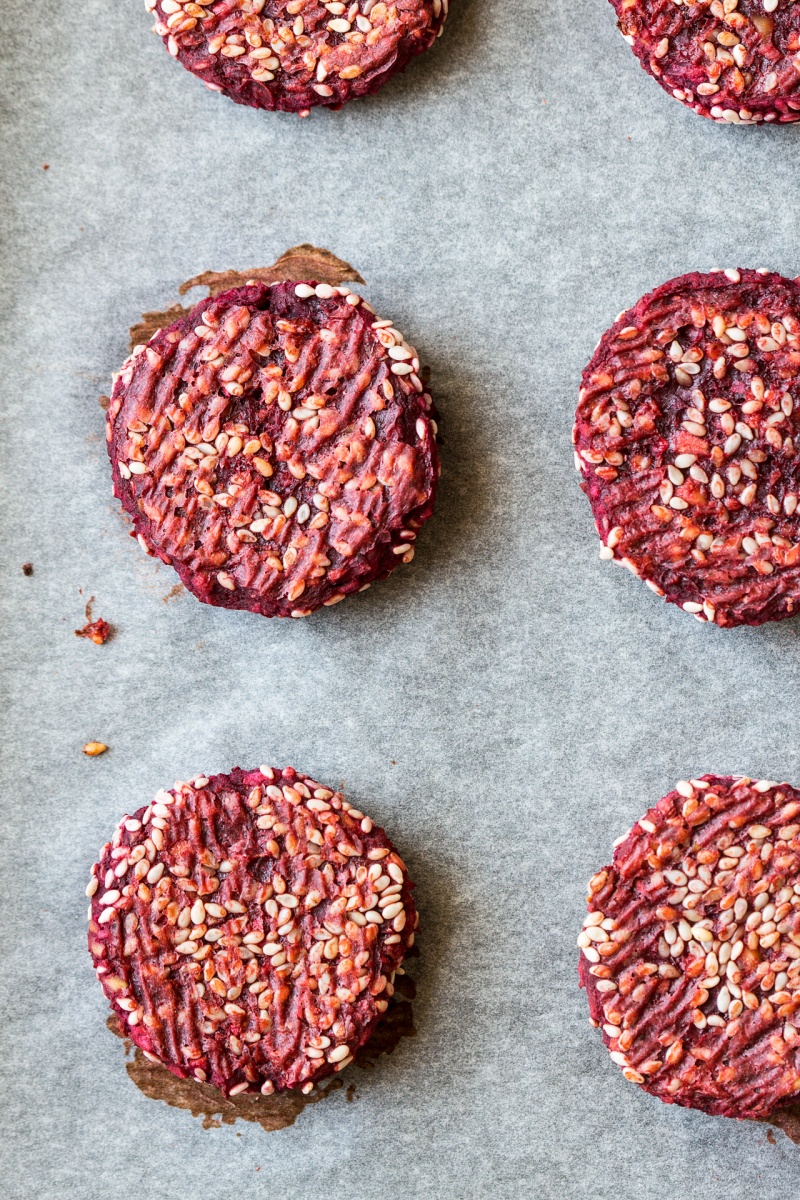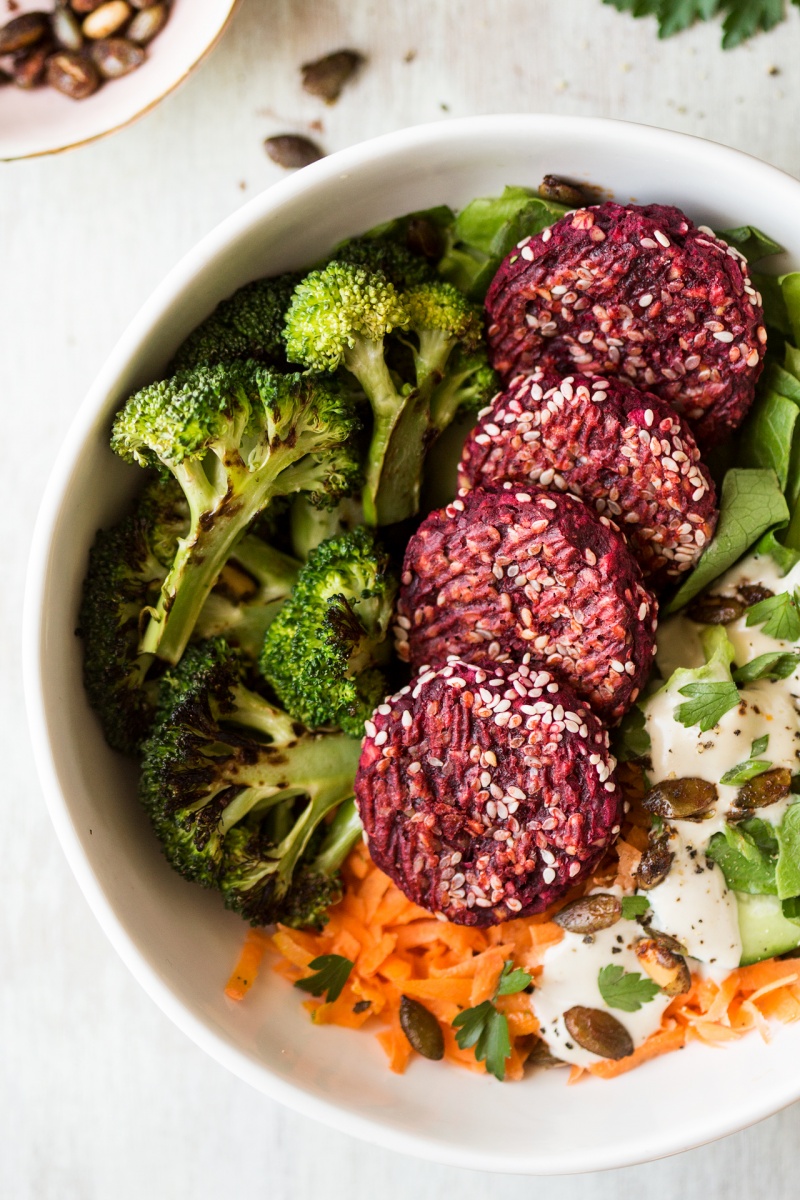 BAKED BEETROOT FALAFELS
1 cup beetroot puree (2 medium beetroots cooked)
½ level cup raw chickpeas, soaked overnight
1 large garlic clove, finely grated
1 tsp smoked sea salt
1½ tsp cumin
1 tsp sumac
1 tsp ground coriander
1 tsp dried oregano
½ tsp dried thyme
¼ tsp hot chilli
4 tbsp / ¼ cup buckwheat flour*
white sesame seeds, to coat
TAHINI SAUCE
2 tbsp tahini
½ lemon, juice only
1 tsp maple syrup
½ garlic clove, grated finely
salt and pepper to taste
ROASTED PEPITAS (optional)
METHOD
BEETROOT FALAFELS
Line a baking tray with a piece of baking paper.
Turn your cooked beetroots (I steamed mine for 1 hr) into a puree in a food processor or hand-held blender. Add 2 tbsp of water (if required) to get the mixture going.
Rinse your soaked chickpeas and grind them finely (they should resemble medium bulgur wheat after grinding) in a food processor.
In a large bowl, combine 1 cup of beetroot puree, 1 cup of ground chickpeas, grated garlic, herbs and spices. Finally add buckwheat flour and mix it all very thoroughly. Place in the fridge for several hours to firm up.
Put sesame seeds on a plate. Using your hands, form small (approx. 1.5 cm / 0.6″ thick) falafels out of 1 tbsp of the mixture. The mixture will be rather wet, which is intentional – it means that the falafels won't end up dry after baking – so handle it carefully. Once shaped, dip your hand in the sesame seeds and press them into the falafel with your fingers. Do that several times until the falafel is nicely coated on all sides, placing the finished falafels (making sure they have plenty of space around them) on the prepared baking tray.
Pre-heat the oven to 180° C / 355° F fan forced (or 200° C / 390° F on a regular setting). Bake for 15 minutes on one side, then using a spatula, flip onto the other side and bake for another 15 minutes. They are done when the exterior is firm and crispy yet they yield to pressure (meaning that the inside remains moist).
TAHINI SAUCE
In a bowl, mix tahini with lemon juice and a splash of water.
Add maple syrup, garlic and a bit more water to achieve a pourable consistency. Season with salt and pepper.
ROASTED PEPITAS (optional)
Heat up a small frying pan on a medium heat.
Add oil to the pan and once it starts rippling slightly, add pumpkin seed kernels.
Stir-fry them gently for a few seconds until they start popping.
Take the pan off the heat. Toss the hot seeds in the spices and salt and allow them to roast for a few more seconds in residual heat whilst stirring the whole time.
NOTES
It's best to prepare the mixture a day in advance as it makes it easier to shape the falafels and the spices have had a chance to mingle.
*You can also use rice flour, oat flour, chickpea flour or white wheat flour.
CHECK OUT MY NEW, IMPROVED BAKED BEET FALAFELS RECIPE HERE.