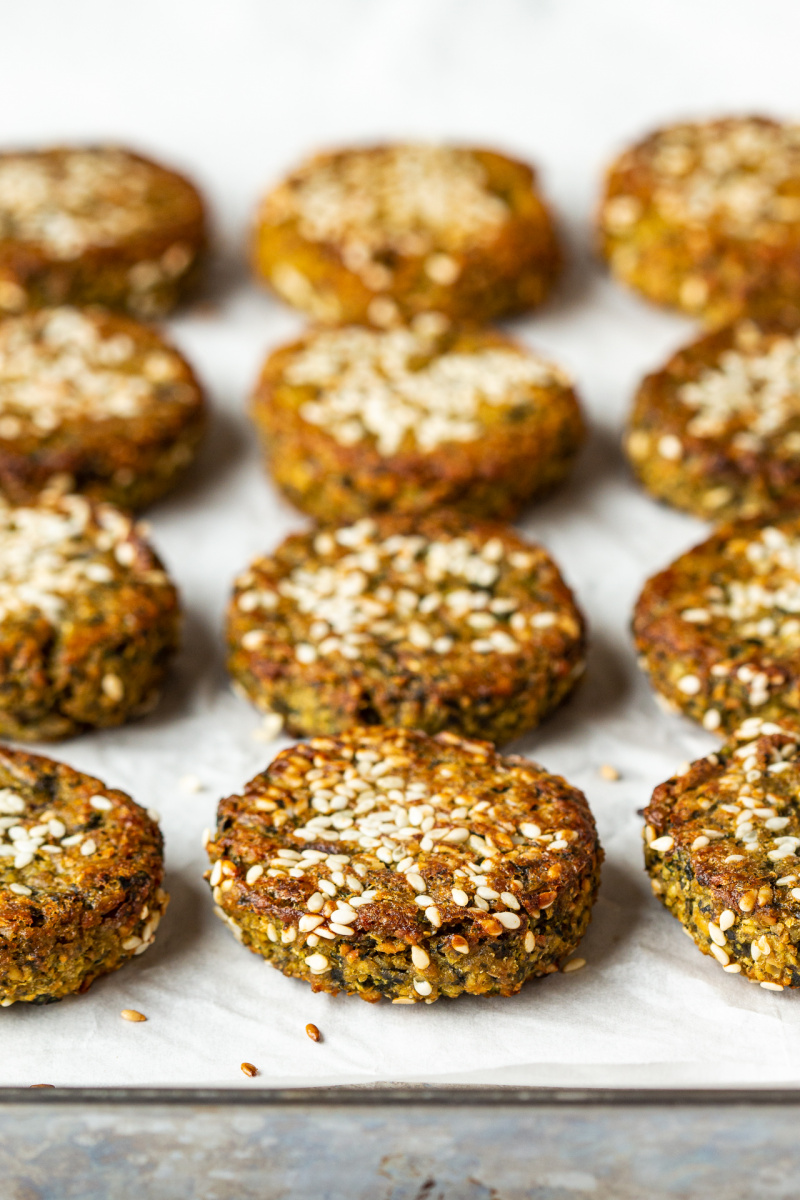 Like many of you, I bet, I am a massive fan of falafels. They are the ultimate vegan food, aren't they? I was introduced to them in my early 20s by an ex-boyfriend who otherwise was a bit of a waste of time, if I am honest, but he did introduce me to some nice foods so maybe there was a point to that relationship after all 😉 .
The only trouble is that I dislike frying things and although I do it occasionally, as you can see by some of the recipes on this blog, I certainly avoid frying things on a regular basis. Other than the health aspect, I also intensely dislike the clean-up, especially the perennial dilemma of what to do with the leftover oil. I do try to reuse it a few times but it's tricky as you need to stick to one particular type of food (onion bhajis do not mix well with doughnuts, for example 😉 ). Even then there comes a time when you need to dispose of it and unless you own a restaurant and use up large amounts of oil that is always a tricky bit and pouring it down the drain is not the done thing.
So while I think that the best falafels are certainly fried falafels I wanted to come up with something that has similar flavours, but is much healthier and can be enjoyed on a regular basis. These green guys came out surprisingly well and I say 'surprisingly' because this (and another) recipe nearly broke me last week. After a few 'meh' outcomes, I was so down on myself, feeling like I cannot cook, I'm good for nothing, I may as well chuck the whole thing in as no one is going to want to eat anything I come up with. With some perspective and a good outcome under my belt, it sounds overly dramatic but that's where a negative thinking spiral can certainly take you.
This is what this year has been about for me personally – a fight against the negative thinking that has been sapping the joy out of my life for way too long now without me realising. I used to call myself a realist and thought that being hard on myself and anticipating negative outcomes was on some level protective, but now I realise that my brain was simply poisoned and that I developed unhealthy thinking and behavioural patterns to cope with the punitive atmosphere of my childhood home.
Eradicating these false beliefs about myself and the world around me at midlife is super hard, but it's certainly worth doing. This is not who I am, it's a legacy that was 'given' to me from an early age and I, with no choice in the matter, absorbed it all like a sponge and it continued to slowly poison everything in my life from the inside until now. Enough is enough and so I am working hard on catching my internal monologue and picking apart all the toxicity that makes me not want to get up in the morning….It's one of the hardest things I have ever done and I still have some serious slip-ups, but seeing and admitting the truth to yourself is half the battle. Plus, I always have Duncan trying to show me some perspective and steer me away from self-flagellation and I really appreciate him, always but especially then. He is a fun loving person that may appear silly at times, but has a lot of life wisdom to impart and I treasure that quality in him immensely.
So after I dusted myself off, it took a few more tries and many tweaks but I did nail this recipe eventually and I am really happy with the end result. These falafels are not only easy to make, fragrant with herbs and spices but they are a little crispy on the outside and moist on the inside – something I was so hell-bent on achieving as my main issue with baked falafels is that they are cardboard dry. Like in my previous baked falafel recipes, I once again decided to use soaked raw chickpeas, but I have also done some testing with cooked chickpeas if that's all you have. The trick that allowed me to keep these guys nice and moist on the inside is the addition of a courgette, which, while it contributes no taste, improves the texture of these falafels considerably, plus it allows you to sneak some more vegetables into little people if you happen to have to feed any. I know from friends with kids that they can be incredibly tricky to feed green stuff to. Well, I hope you'll enjoy these, especially that they have been a true labour of love. Have a great rest of the week!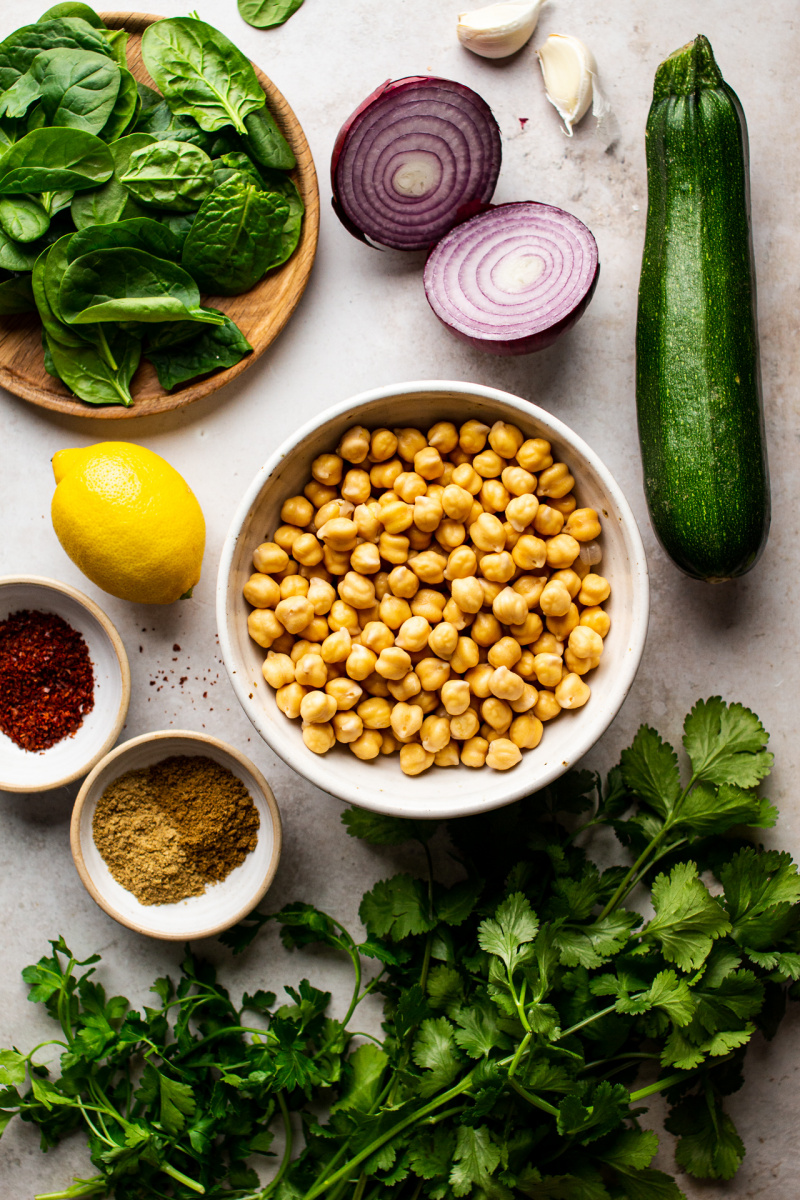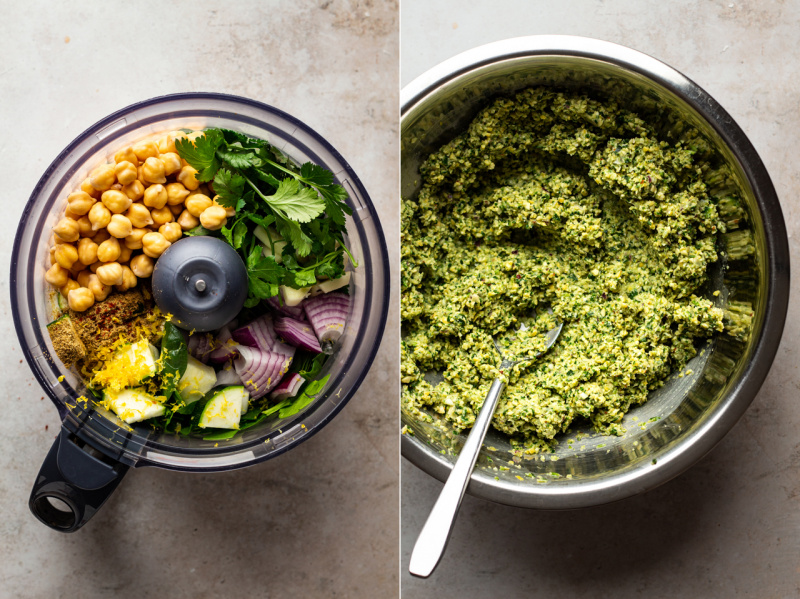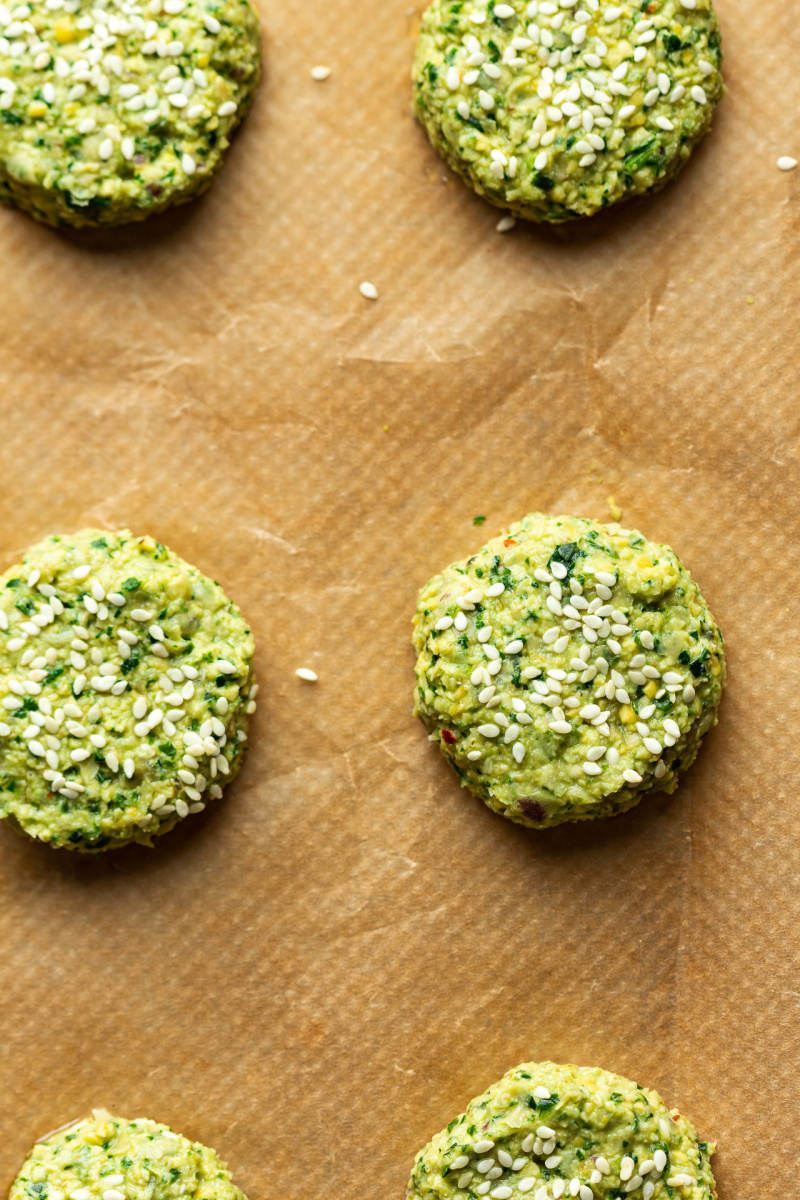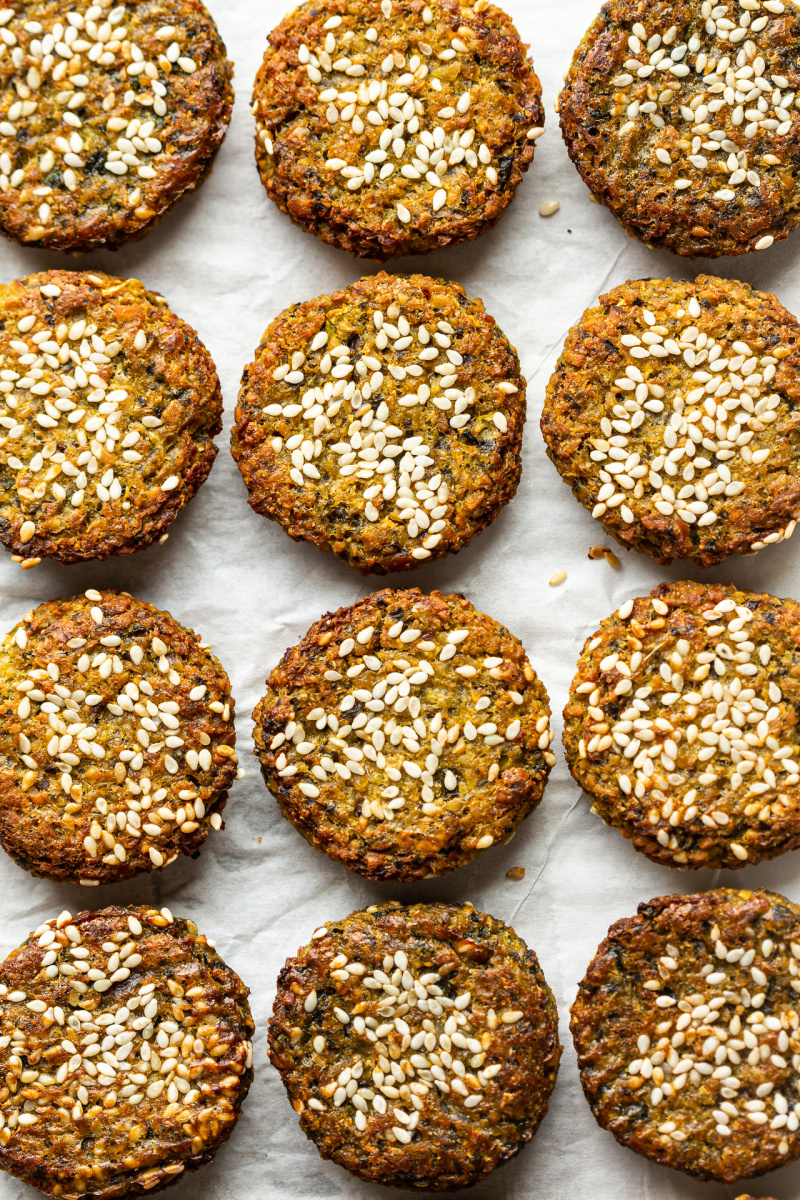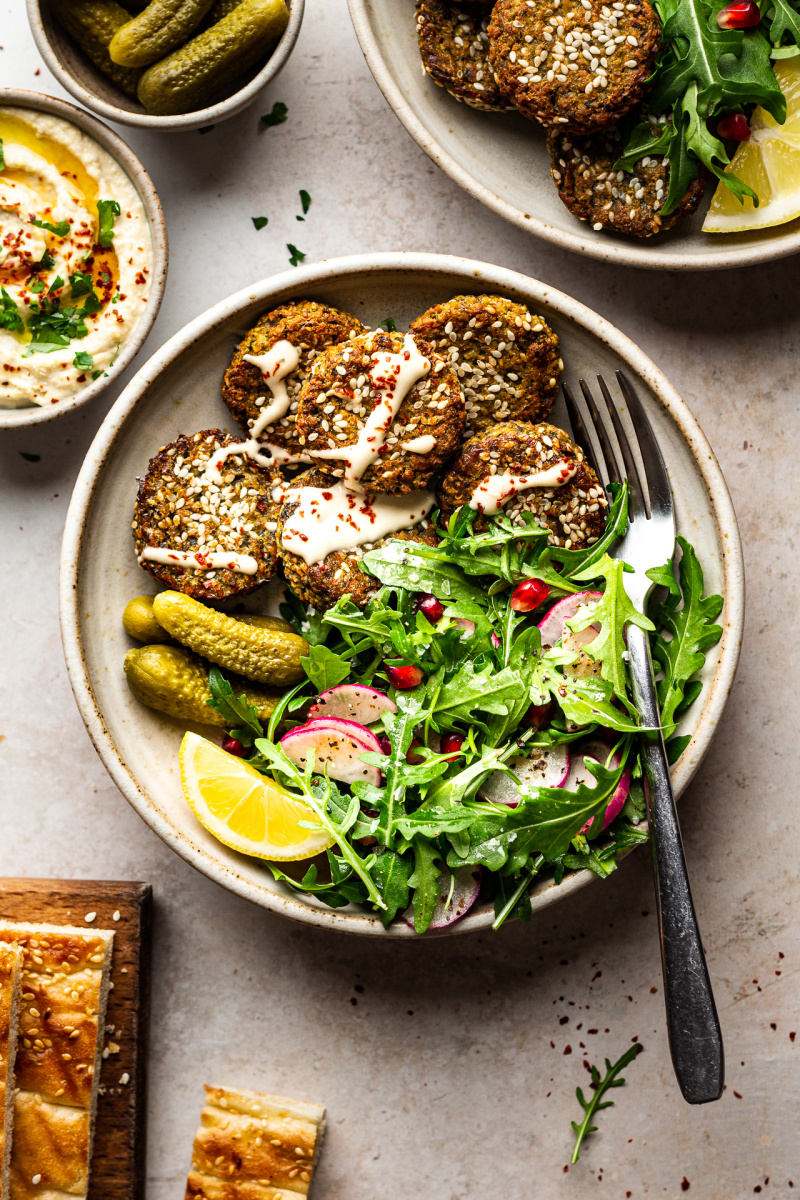 150 g / 1 cup soaked overnight chickpeas*
2 tbsp ground flax or chia seeds
30 g / ½ packed cup chopped fresh spinach
200 g / 7 oz courgette / zucchini, roughly chopped
½ large onion (I used red), roughly chopped
3 garlic cloves, roughly chopped
a large handful of coriander
a large handful of parsley
zest of 1 lemon
¾ tsp salt, more to taste
¼ tsp black pepper
1½ tsp cumin
1 tsp ground coriander
chilli flakes to taste (optional)
½ tsp baking powder
35 g / 4 tbsp rice flour**
olive oil
sesame seeds, to coat (optional)
METHOD
If using dried chickpeas (which is my recommendation) soak approximately ½ cup of dried chickpeas in plenty of cold water – they will expand, to at least twice their size, so make sure they are well covered. Soak for a minimum of 12 hrs and 24 hrs if possible. I like to soak 2 cups of dried chickpeas and cook the rest for a stew or curry.
Place 150 g / 1 cup of drained chickpeas, ground flax (or chia seeds), spinach (discard fibrous stems if present as they add a bitter taste), courgette / zucchini, onion, garlic, herbs, lemon zest, salt, pepper, cumin, coriander, chilli flakes (if using), baking powder and rice flour in a food processor. Process until uniformly and finely chopped.
Transfer the the mixture to a mixing bowl and set aside in the fridge for 10-15 minutes.
Preheat the oven to 200° C / 390° F fan (220° C / 425° F if you don't have a fan setting) and line a large baking tray with a sheet of greaseproof paper.
Brush small circles of olive oil onto the baking paper at regular intervals, keeping ample space around each falafel so that the browning process isn't inhibited through too much moisture.
Using your hands, form small patties (4 tsp worth / 28 g each) with your hands or using a small ice-cream scoop. Mine were 1.5 cm / 0.6″ tall and 4 cm / 1.6″ across. The mixture will be very wet at this stage so handle it gently, but don't be tempted to add more flour – it will make falafels dry. Apply some sesame seeds to the underside of each falafel with your hand before placing it on the oiled area of your baking paper. Sprinkle the top with more sesame seeds.
Bake for 12 minutes. Take the tray out of the oven, gently lift each falafel off the surface using a spatula. Brush a little oil on before placing the other side of the falafels down. Brush the tops with some more olive oil for extra crispiness and bake for another 12-13 minutes until the tops are golden brown.
NOTES
*I have tested these with cooked chickpeas too if you cannot get hold of dry chickpeas. I personally prefer the ones made with soaked (uncooked) chickpeas but cooked ones are certainly an option. If you do that please use 300 g / 1½ cups of chickpeas in place of the soaked ones.
**I have not tested any other flours, but I am pretty confident that chickpea flour or all purpose wheat flour will work also.
This recipe is based on my previous falafel recipes: this one, this one and that one.