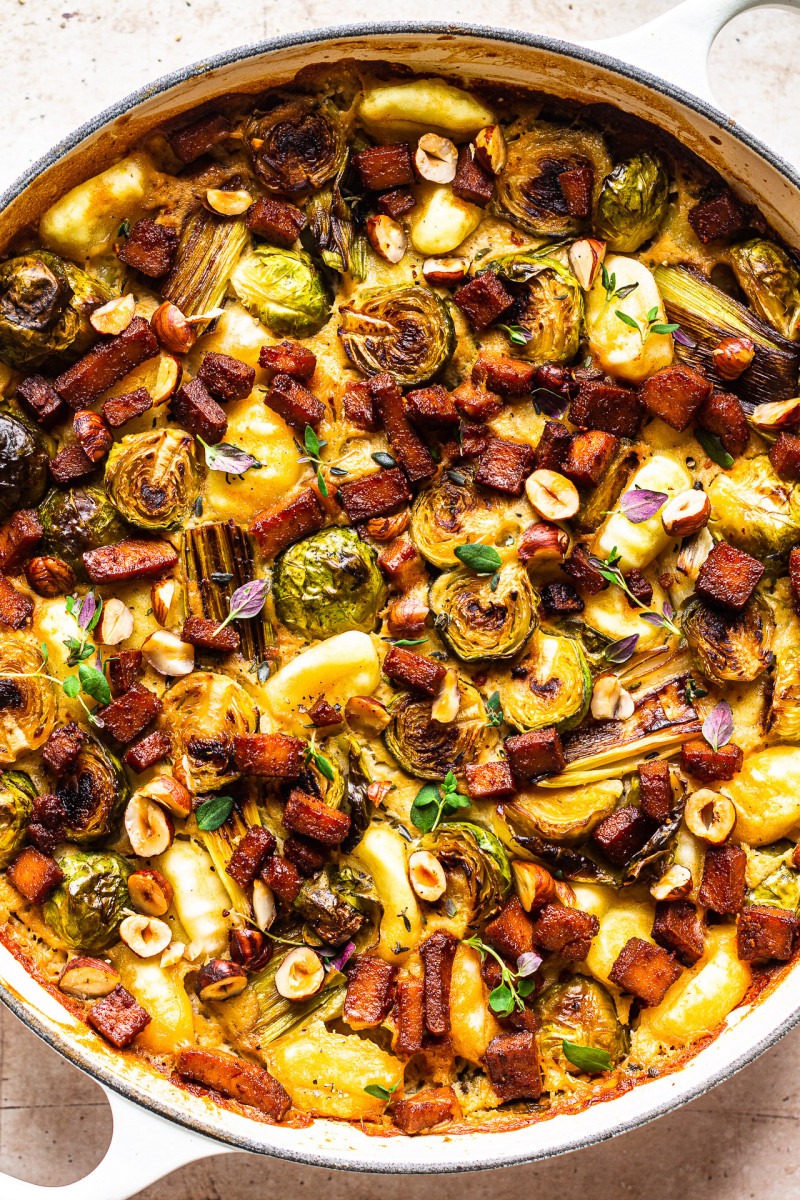 I have not said goodbye to cozy comfort food just yet and I am glad I didn't as the weather has taken a bit of a turn the past couple of days. I'm typing this as I procrastinate my run – it's really cold and windy out and I simply don't fancy it today. I will go, but want to stay in the warmth a little bit longer…
Today's dish is a twist on my vegan gnocchi bake with mushrooms and broccoli, which so many of you love. This time, I've made with staple winter vegetables: Brussels sprouts and leeks. I had a couple of leeks gifted to me by a friend (thanks Shelley!) who had a surplus from her veg delivery box and I had some forsaken Brussels sprouts at the back of my fridge. I was racking my brain on how to put them to a good use until this idea came about. I tested it for one of our dinners and it was an instant hit.
It's a simple dish to make and does not require much work, but it's well worth the effort. Because I am a (recovering) perfectionist, I felt compelled to add an extra element to this dish to give it another dimension of flavour and texture. I made a tray of vegan bacon (or facon) bits that get baked in the oven while you crack on with the bake and finish off on the dish itself. They add delicious pops of flavour and a bit of a different texture. While I think they are worth the effort, this dish is still delicious without them. If you like the idea, but for whatever reason don't want to use tofu, use flaked almonds, like in this recipe.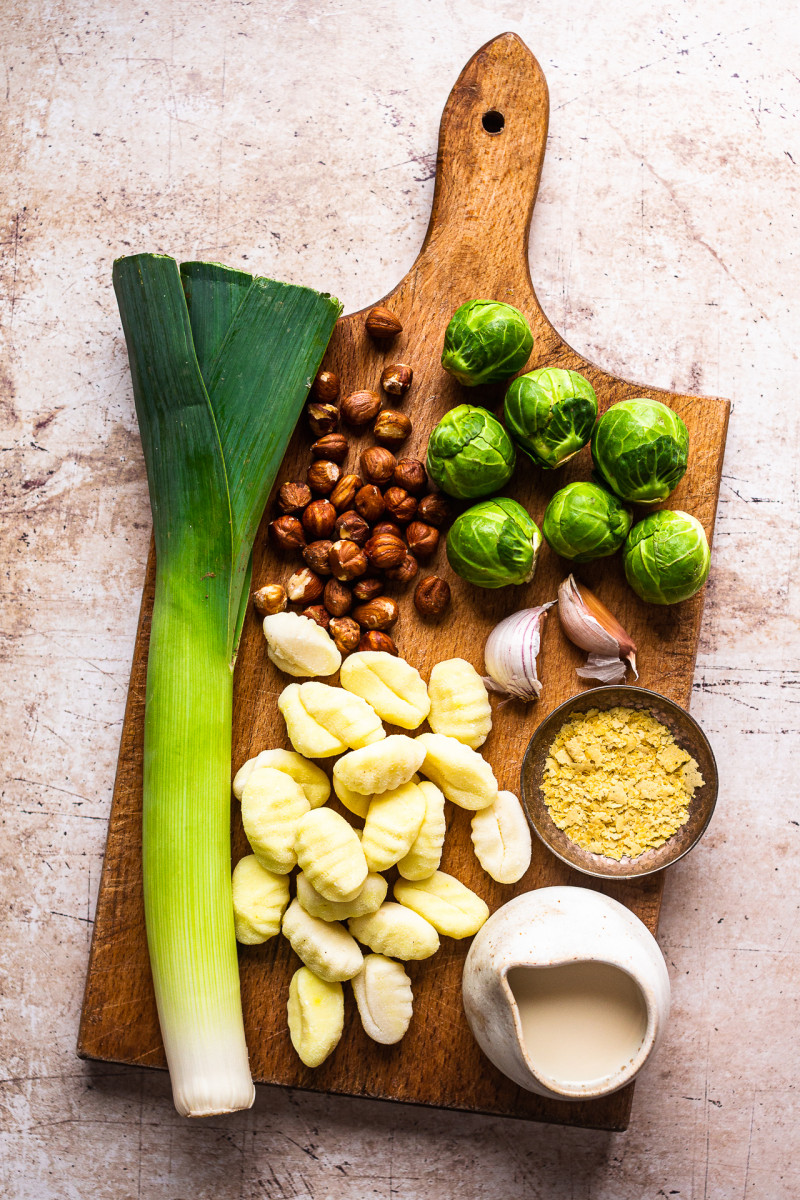 This winter gnocchi bake is really simple to make and only requires a few, easy to get, ingredients. You will find them in any well-stocked supermarket during winter time. Let's go through the main ones…
MORE ABOUT THE INGREDIENTS
TOFU: This is an optional ingredient, only needed if you want to make vegan bacon bits (they are worth it though!). You'll need firm or extra firm tofu (I used Dragonfly brand this time). You need to press it well to extract excess water out of it and to allow it to absorb the marinade.
GNOCCHI: Shop-bought, vacuum packed gnocchi works well here, just be sure to check the ingredients on the packet as some brands contain eggs or powdered milk. Be sure to purchase a brand without wheat flour for the gluten-free version of this dish. I have not tested this dish with homemade gnocchi as I was after a speedy dinner, but I suspect that they may be a little too fragile for this application.
BRUSSELS SPROUTS: Brussels sprouts (aka baby cabbages) are so cute, aren't they? and so good for you. I cut them in half, char a little and then they finish off cooking in the bake, in the oven.
LEEKS: Leeks get beautifully creamy when baked in a sauce and they add so much flavour. The only trick with leeks is to wash them well (without disturbing the layers) as they are prone to hiding a lot of grit.
FLOUR: Flour needs no introduction, it is used to create a roux (thickened creamy sauce). I use all purpose flour, but if you are gluten-free, chickpea flour (besan/gram flour) works well too.
PLANT MILK: Any plant milk will work here. I used soy, sometimes oat, sometimes almond. Use whatever plant milk you like the taste of, apart from coconut milk – that would be weird, I think…
THYME: A bit of fresh thyme adds flavour here. Rosemary would make for a nice substitute. If using dried herbs, crush them between your fingers well and use sparingly as they are more potent than fresh (provided they have not gone stale, of course).
MISO: White miso paste, which is a less assertive cousin of red miso paste, is used here to add umami and savouriness to the sauce. It is widely available these days, but you can skip it and add another tablespoon of nutritional yeast if that's what you have. If you are making this dish gluten-free, look for miso that is based on chickpeas, brown rice, millet etc., rather than wheat.
DIJON MUSTARD: Dijon mustard adds a hint of heat to the sauce, which helps to cut through its richness.
NUTRITIONAL YEAST: Nutritional yeast, which is a staple vegan seasoning made out of inactive yeast, gives the sauce a hint of depth and cheese-like flavour.
GARLIC: I use a couple of cloves of garlic to flavour the roux. They get sauteed in oil before any flour is added.
HAZELNUTS: I add a handful of halved hazelnuts in at the end for a lovely crunch and to keep the texture of this dish varied and interesting. Pine nuts, walnuts or almonds would also work.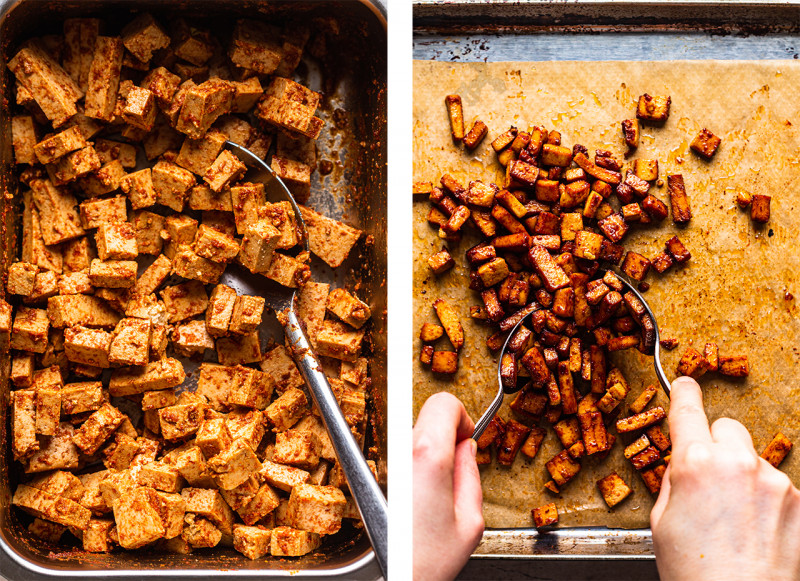 My recipe includes an optional topping of vegan bacon (facon, if you like) bits. It's totally optional althought it does add another layer of texture and flavour, plus it's low on effort and only uses pantry staples so I recommend making it if you have time. The only thing that it needs is some planning as tofu needs marinating at least 2 hours in advance, several hours in advance is even better.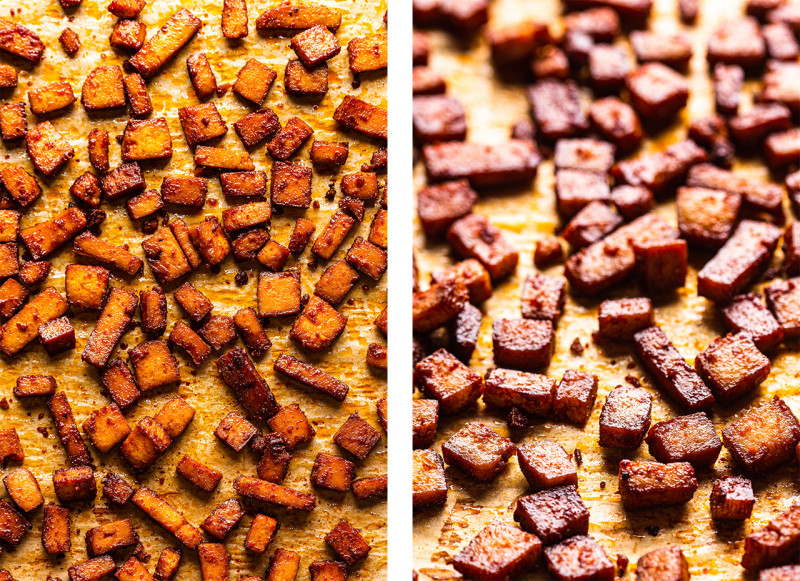 I bake marinated tofu just before I am ready to bake the gnocchi and scatter it on top of the gnocchi bake for the final 10 minutes of baking time.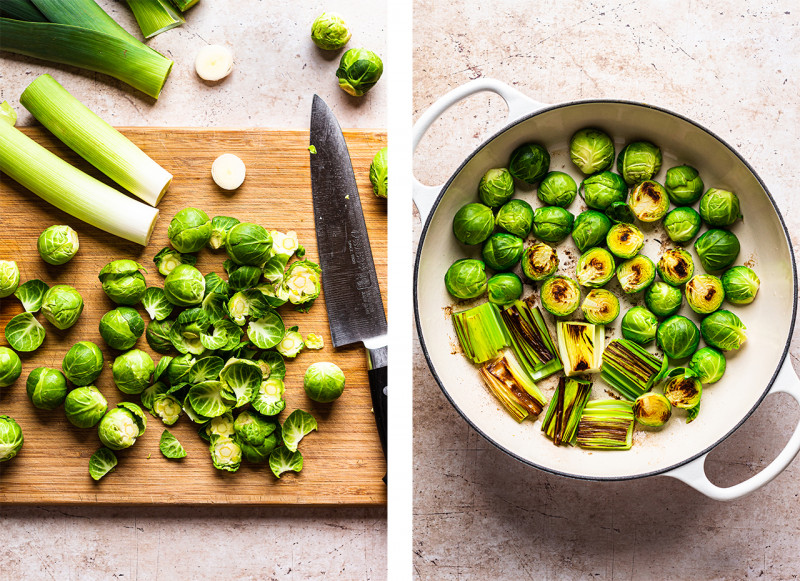 Start off by prepping your vegetables, washing and drying them well. Once clean and dry, pan-fry them gently in a little oil in the same pan you will be making your bake, just until charred – they will finish off in the oven.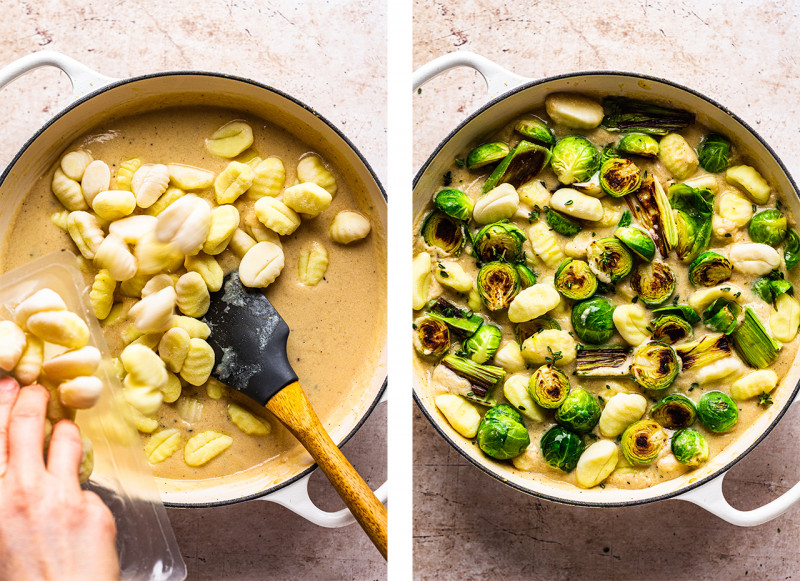 Make the sauce in the same pan you used to char your veggies – I did not wash mine, all the burnt bits get deglazed once the milk has been added. Once the sauce is ready, add raw gnocchi, charred Brussel sprouts and leeks. Cover and bake uninterrupted for about 15 minues.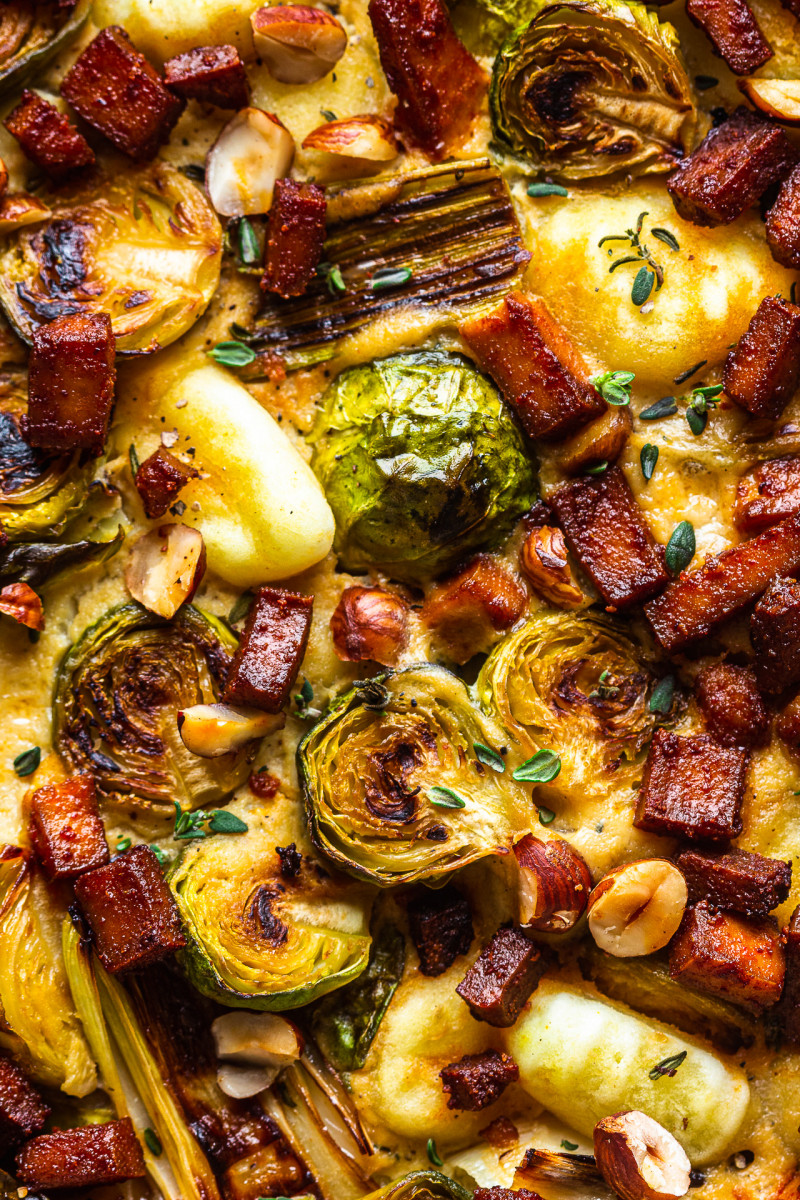 Scatter hazelnuts and pre-baked bacon bits (if making) on the top of the bake for the last 10 minutes of baking time and bake until everything looks golden and gnocchi is cooked through. Divide between plates and enjoy!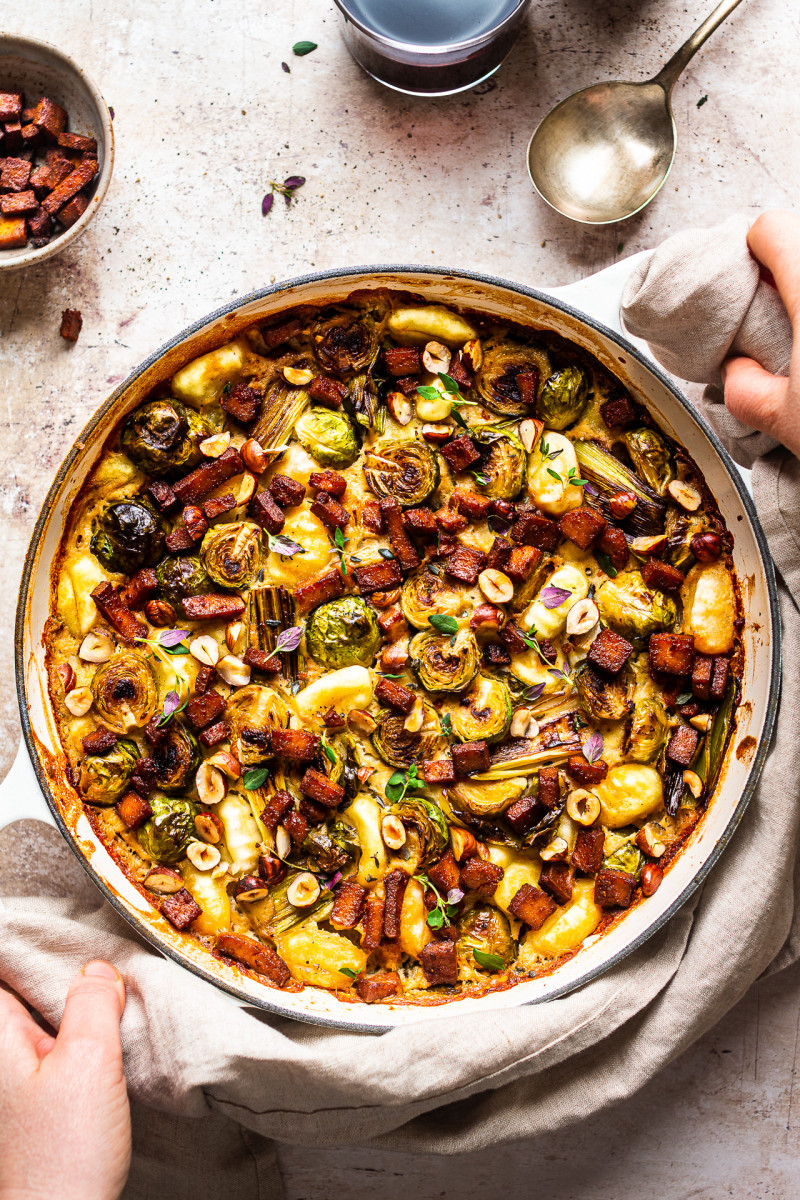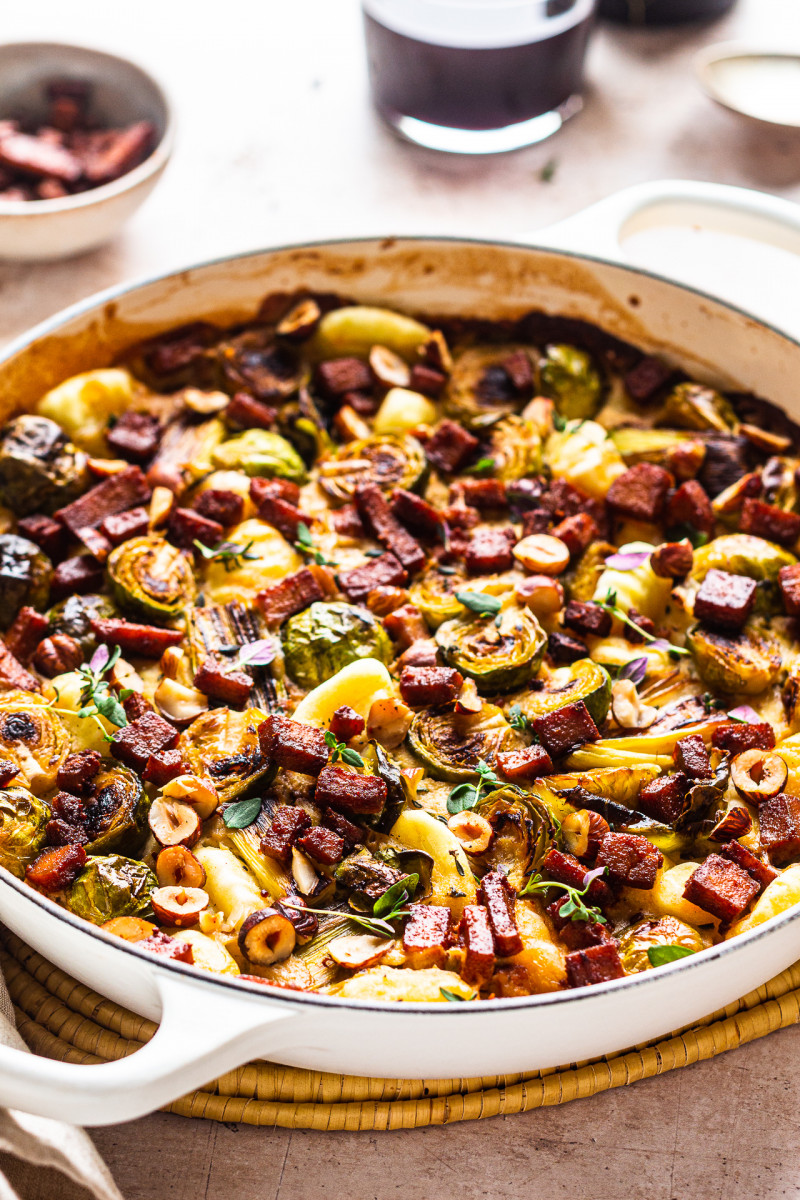 VEGAN 'BACON' BITS (optional, marinate ahead)
30 ml / 2 tbsp all purpose soy sauce (or tamari if GF)
1 tbsp / 15 ml maple syrup (or soft brown sugar)
1 tsp sweet smoked paprika (or a few drops of liquid smoke)
5 ml / 1 tsp apple cider vingar
10 ml / 2 tsp tomato puree / paste
1 tbsp nutritional yeast
400 g / 14 oz firm or extra firm tofu, well pressed
15 ml / 1 tbsp olive oil
BECHAMEL
30 ml / 2 tbsp olive oil
2 garlic cloves, very finely diced
12 g / 1½ tbsp all purpose flour (or chickpea flour for GF version)
500 ml / 2 cups soy milk (or any other neutral tasting plant milk)
10 g / 2 tsp white / shiro miso paste*
2 tsp Dijon mustard, more to taste
1 heaped tbsp nutritional yeast
approx. 1 tbsp fresh thyme leaves (or rosemary leaves, chopped)
approx. ¼ tsp black pepper (for the entire dish)
approx. ½ -1 tsp salt flakes (for the entire dish)
15 ml / 1 tbsp lemon juice, more to taste
REMAINING INGREDIENTS
500 g / 17.5 oz shop-bought gnocchi** (gluten-free if needed)
15 ml / 1 tbsp olive oil
250 g / 8.5 oz Brussels sprouts
125 g / 1 leek
20 g / 2 tbsp hazelnuts, halved
vegan bacon bits (optional), shop-bought or see above
METHOD
VEGAN 'BACON' BITS (optional, marinate ahead)
Combine the first six ingredients in a small tin.
Cut pressed tofu into 1 cm / 0.4″ dice, I left a few pieces double the size for varied texture.
Coat tofu in the marinade and let it marinate for as long as possible. Overnight is best, 2 hours will do.
Just before you are ready to bake your gnocchi, preheat the oven to 200° C / 390° F and spread marinated tofu on a large baking tray.
Bake for 15 minutes, then coat in olive oil and bake for another 10 minutes. We will finish it off on the bake, keep the oven on.
CHARRING VEGGIES
Cut dark green part of the leek off and discard (or use in stock). Cut the rest of the leek in half lengthwise, gently clean with water in between the layers trying to keep them nested inside each other. Dry well and cut into 2.5 cm / 1 inch segments.
Trim Brussels sprouts, remove and discard the exterior leaves. Clean trimmed sprouts under the tap if dirty, dry really well and slice in half lengthwise.
Preheat a medium ovenproof dish (I used a 26 cm / 10.2″ cast iron casserole dish) on the stovetop, on low-medium heat.
Add 1 tbsp of olive oil and once it heats up, arrange halved Brussels sprouts and leeks (cut side down) on top. Allow the veggies to char on both sides, remove from the pan and set aside. Cool the pan a little before next step.
BECHAMEL
If you are skipping tofu becon bits, preheat the oven to 200° C / 390° F (otherwise your oven should be already on).
Heat up olive oil in the same dish you charred the veggies in (I do not wash between stages). Add diced garlic and sautee in on a low heat stirring all the time.
Once the garlic looks cooked, add flour. Mix it into the oil with a spatula and allow it to cook (it should bubble gently) for a whole minute. Do not let it brown, we only just want to cook off the raw flour taste.
Next, gradually add plant milk while stirring the whole time. Allow the mixture to simmer gently until it thickens.
Season with miso, mustard, nutritional yeast, thyme leaves, salt, pepper and a good squeeze of lemon to cut through the richness. Taste and adjust the seasoning remembering that vegetables and gnocchi go in unseasoned.
ASSEMBLY
Add raw gnocchi to the bechamel. Arrange charred Brussels sprouts and leek segments in between the gnocchi.
Cover the dish with a lid (or tightly with a piece of kitchen foil) and bake for 15 minutes.
After 15 minutes, uncover and bake for a further 10, then scatter hazelnuts and bacon bits (you will have some left over) on top and bake for further 10 minutes until everything is beautifully browned and gnocchi is knife tender. Divide between bowls and enjoy immediately.
NOTES
*MISO: If wanting to keep this dish gluten-free, make sure to use a gluten-free miso paste – made with chickpeas, rice, millet, amaranth or quinoa instead of wheat, barley or rye.
*GNOCCHI: Be sure to check that your shop-bought gnocchi is vegan as some supermarket brands add milk. I have not tried making this dish with homemade gnocchi, but I believe that it will work just as well.
NUTRITIONAL INFO
*per 1 out of 4 portions (without tofu bacon)