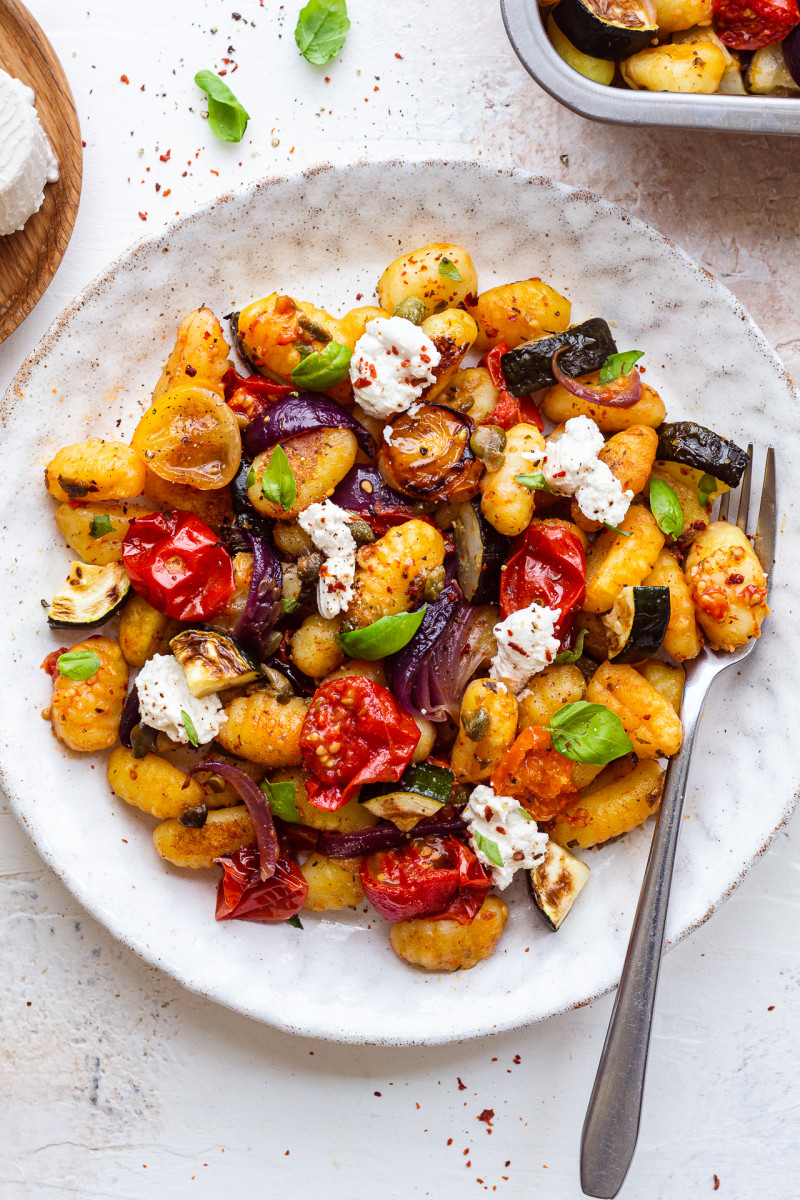 I've finally had my complaining about the weather heard and this week we are in for a treat here, in the UK. Friday is set to see a whopping 28° C (82° F) and I am so excited. I am planning all my work around it, to make sure that I can spend it in my garden with a bucket of strawberries in one hand and a canister of iced coffee (Greek style, of course) in the other. I know it sounds ridiculous that I am so prepared to make the best out of one day of heat, but that's what living in the UK does to you, ha ha.
So because of warm weather I am all about low-effort recipes this week, I am sure you'll appreciate those too! First up a tray of delicious, oven-roasted gnocchi with piles of summer vegetables and small dollops of almond ricotta.
MORE ABOUT THE INGREDIENTS
OLIVE OIL: A little olive oil keeps this dish nice and moist and gets the edges of the gnocchi a little crispy. You could use veggie stock instead but unlike oil, which locks in moisture, it will evaporate during baking making the bake drier and less pleasant to eat.
CAPERS: These pickled flower buds add a nice pop of flavour that works really well against sweet roasted vegetables. I like to chop mine up finely for an even distribution of flavour.
GNOCCHI: Shop-bought, vacuumed packed gnocchi works well here, just be sure to check the ingredients on the packet as some brands contain eggs or powdered milk. Be sure to purchase a brand without wheat flour for the gluten-free version of this dish. I have not tested this dish with homemade gnocchi as I was after a speedy dinner, but I suspect that they may be a little too fragile for this application.
TOMATOES: Cherry tomatoes are key here, not only do they provide lots of delicious flavour but they turn all jammy in the oven making this a self-saucing dish. I purposefully added them into the bake after 10 minutes to make sure that some of them are still whole when the dish is done baking. If you add them at the start, they will be completely disintegrated by the end.
ZUCCHINI: Coarsely chopped zucchini makes for a great addition to this dish, it provides moisture and another texture dimension. An eggplant / aubergine would also work nicely too.
ONION: I did not want the onion to dominate so only used half a red onion here but if you like stronger onion flavour feel free to use an entire onion instead. Cut it into thick wedges lengthwise, it will get soft and sweet from roasting.
BALSAMIC VINEGAR: A small amount of quality – the thicker the better – balsamic works really well here against the sweetness of tomatoes and the onion. It brings the entire dish together nicely.
SUGAR: A small amount of sugar gives tomatoes a little sweetness boost and provides a nice contrast against tart balsamic. If you don't want to use sugar, a handful of raisins will work well too.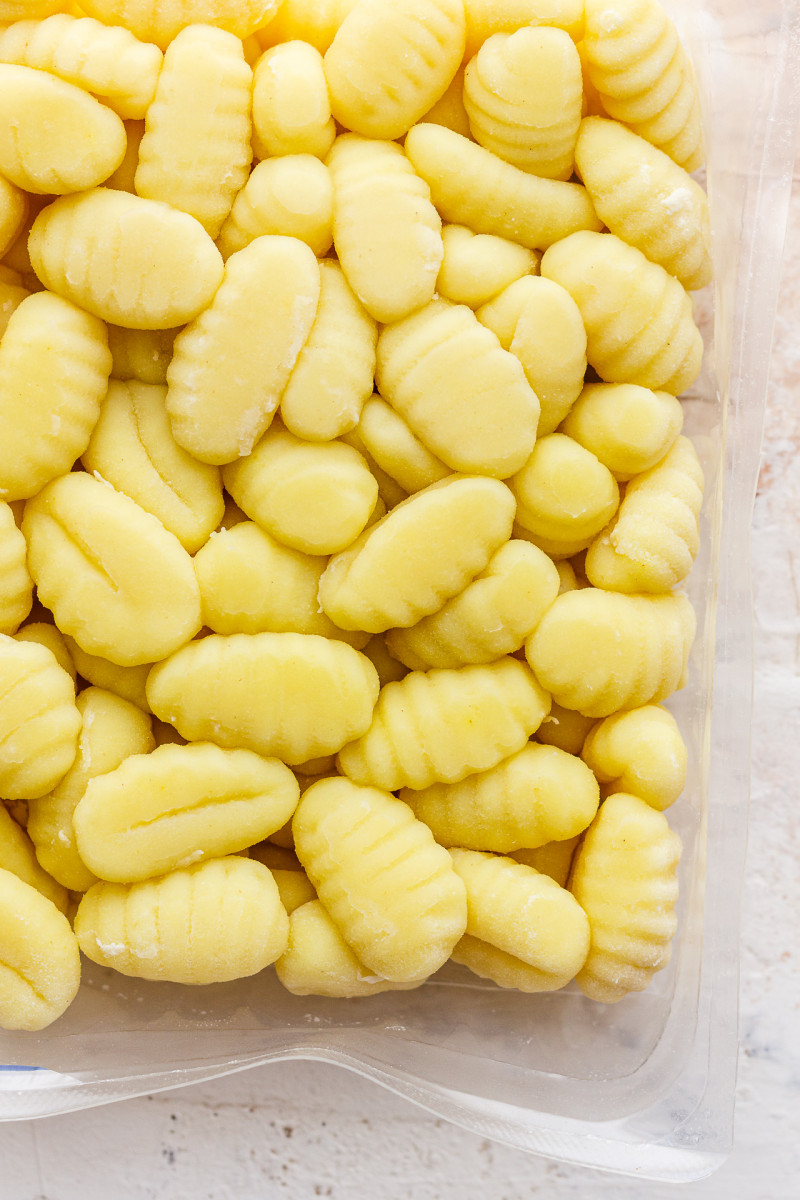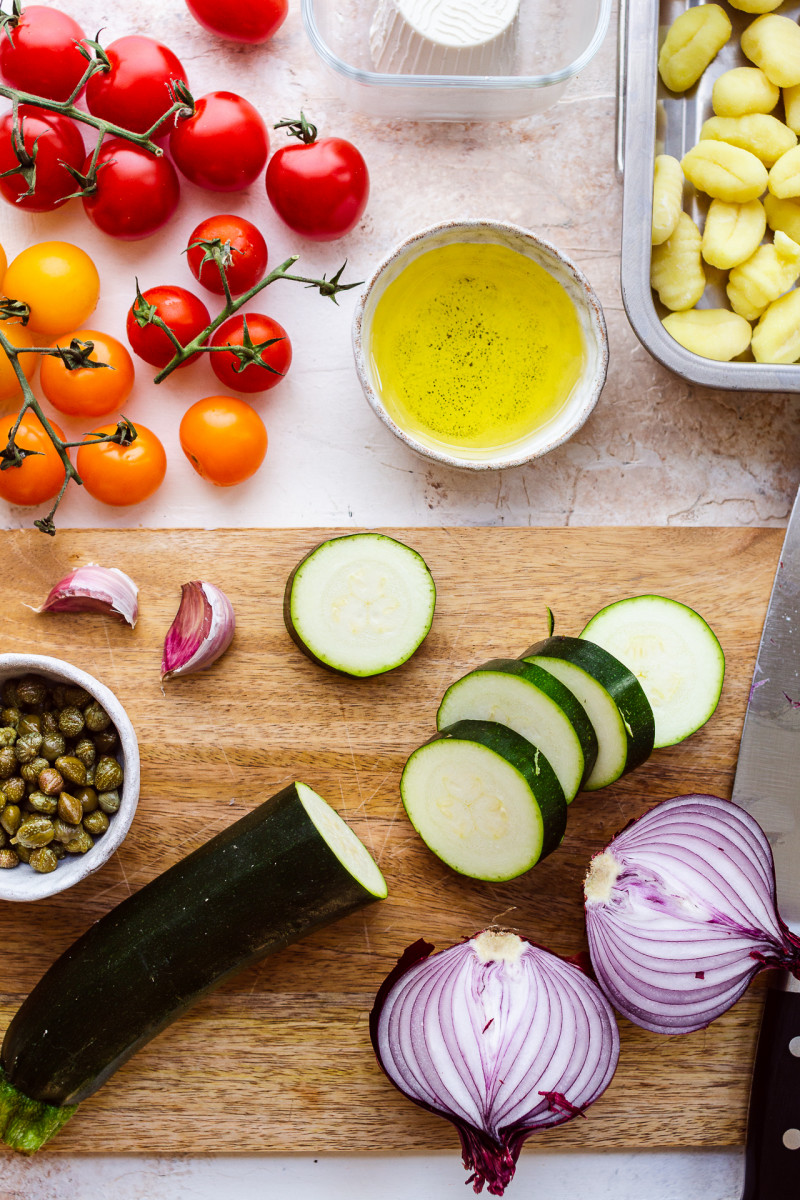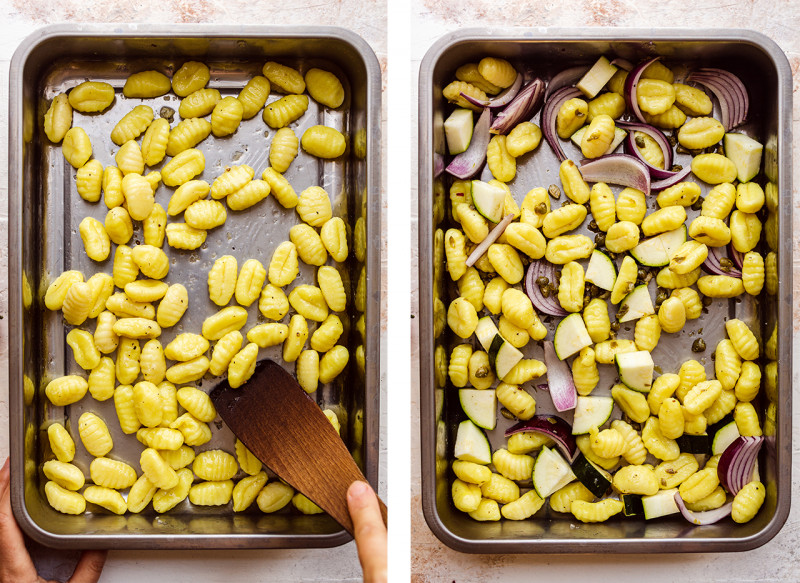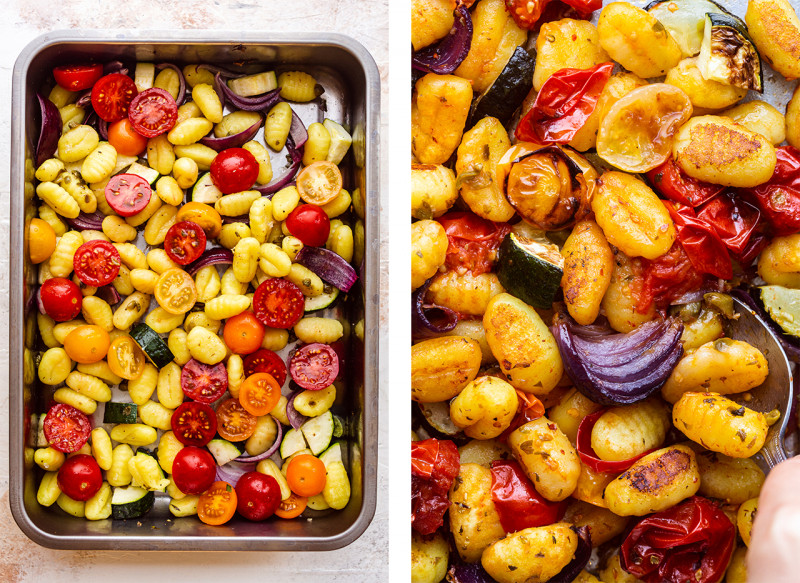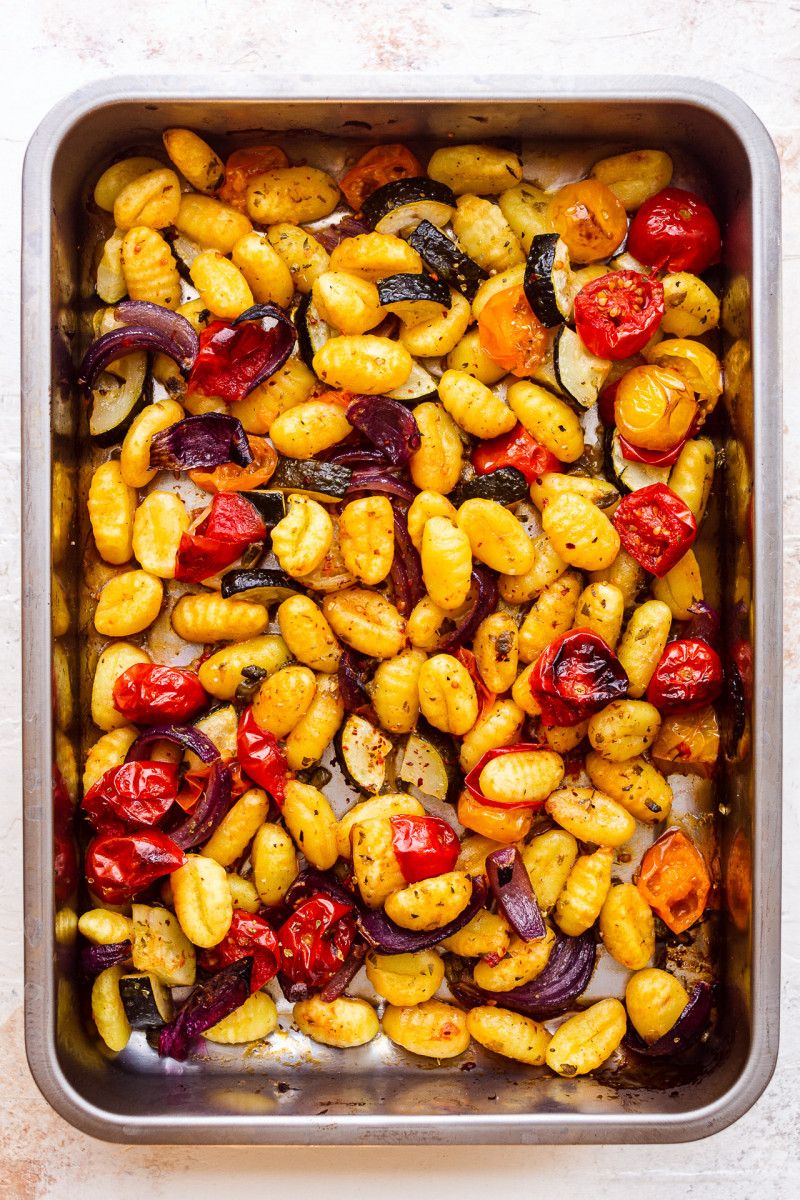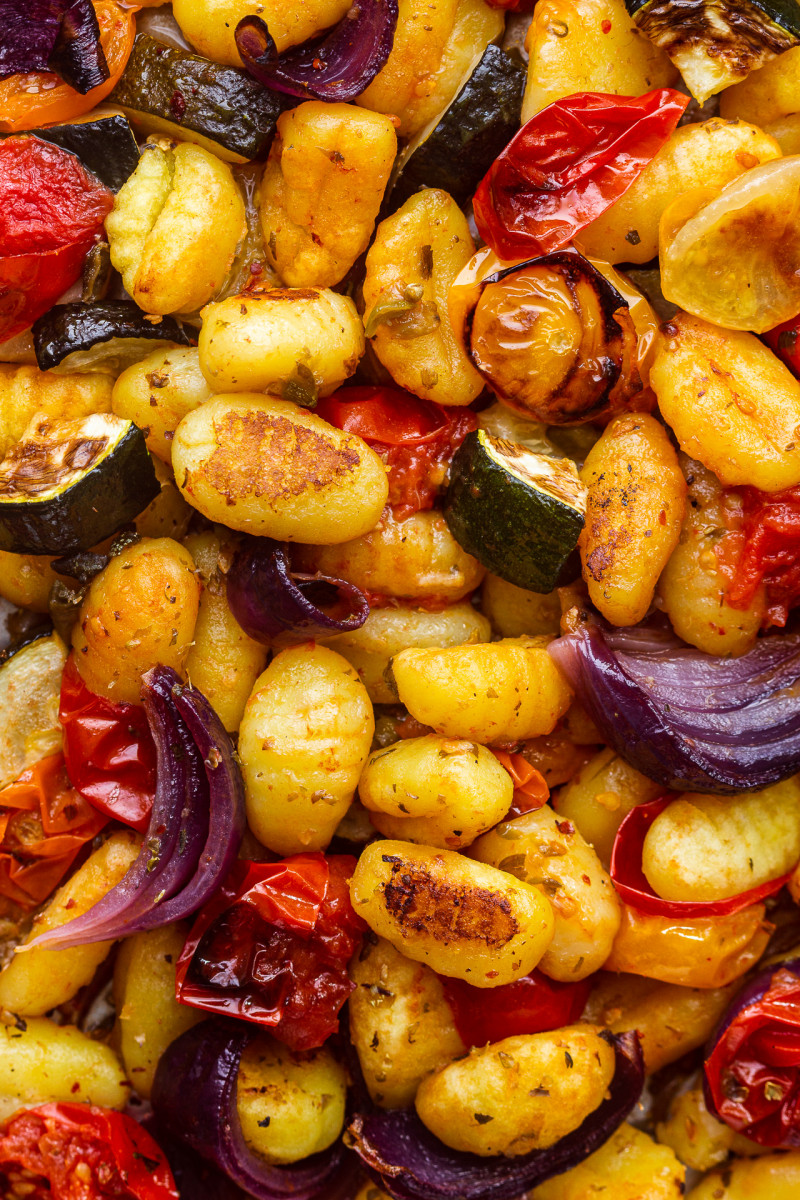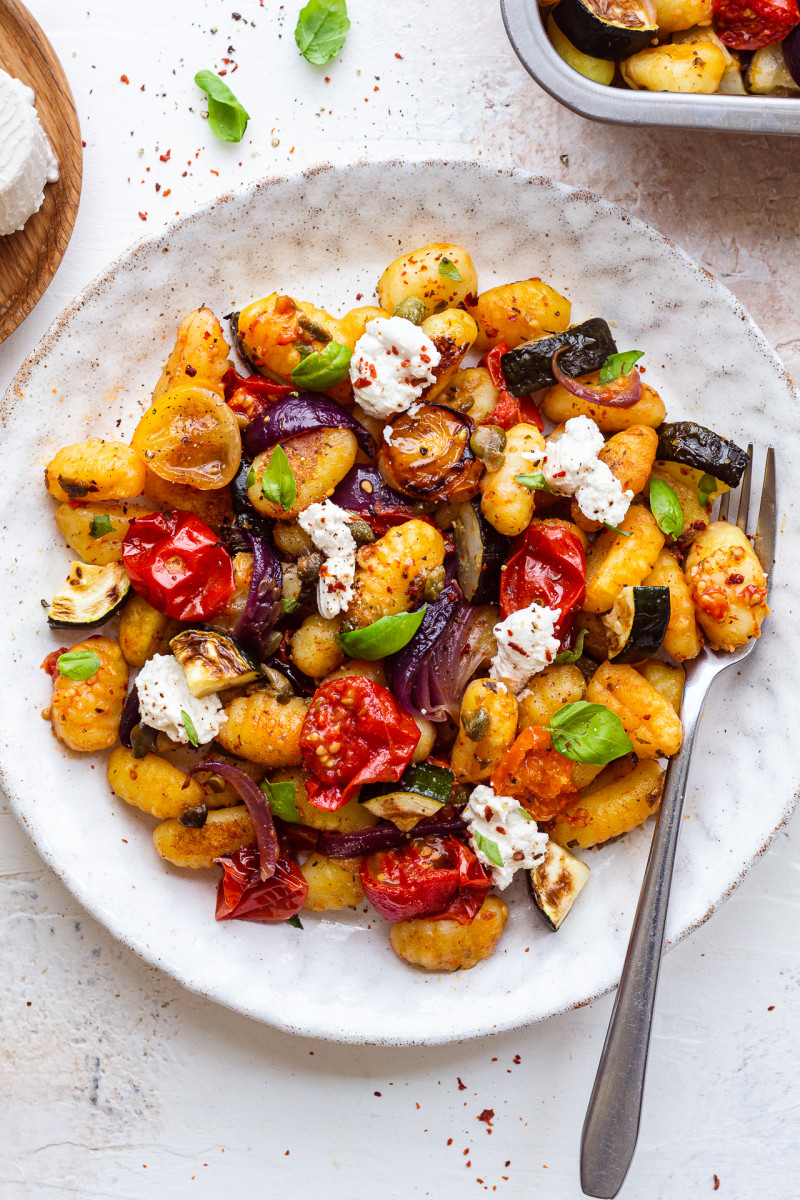 30 ml / 2 tbsp olive oil
1 large garlic clove, finely grated
1 tsp dried oregano
a generous pinch of mild chilli flakes (optional)
1 heaped tbsp capers, chopped finely
½ tsp salt, more to taste
a generous grind of pepper
500 g / 17.5 oz vegan gnocchi (GF is needed)
½ red onion
small zucchini
400 g / 14 oz cherry tomatoes, halved
15 ml / 1 tbsp quality balsamic, optional
1 tsp sugar (or 1 tbsp chopped raisins)
vegan ricotta, to serve (optional)
METHOD
Pre-heat the oven to 220° C / 425° F and grab a medium size baking tin. I used a 22.5 cm / 9″ x 30 cm / 12″ baking tin.
Combine olive oil, grated garlic clove, oregano, chilli flakes (if using), chopped capers, salt and pepper in a mixing jug.
Leaving the base intact, cut red onion into thick wedges lengthwise. Slice zucchini into thick slices and then each slice into quarters.
Place gnocchi in the baking tin and stir olive oil mixture through, until well coated. Next add in onion wedges and zucchini. Bake for 10 minutes.
Add halved tomatoes, balsamic and sugar (or raisins) and stir everything through.
Bake for 15 minutes, give the tin a good stir and bake for another 10 minutes.
Divide between two or three plates. Serve with dollops of vegan ricotta (if using).