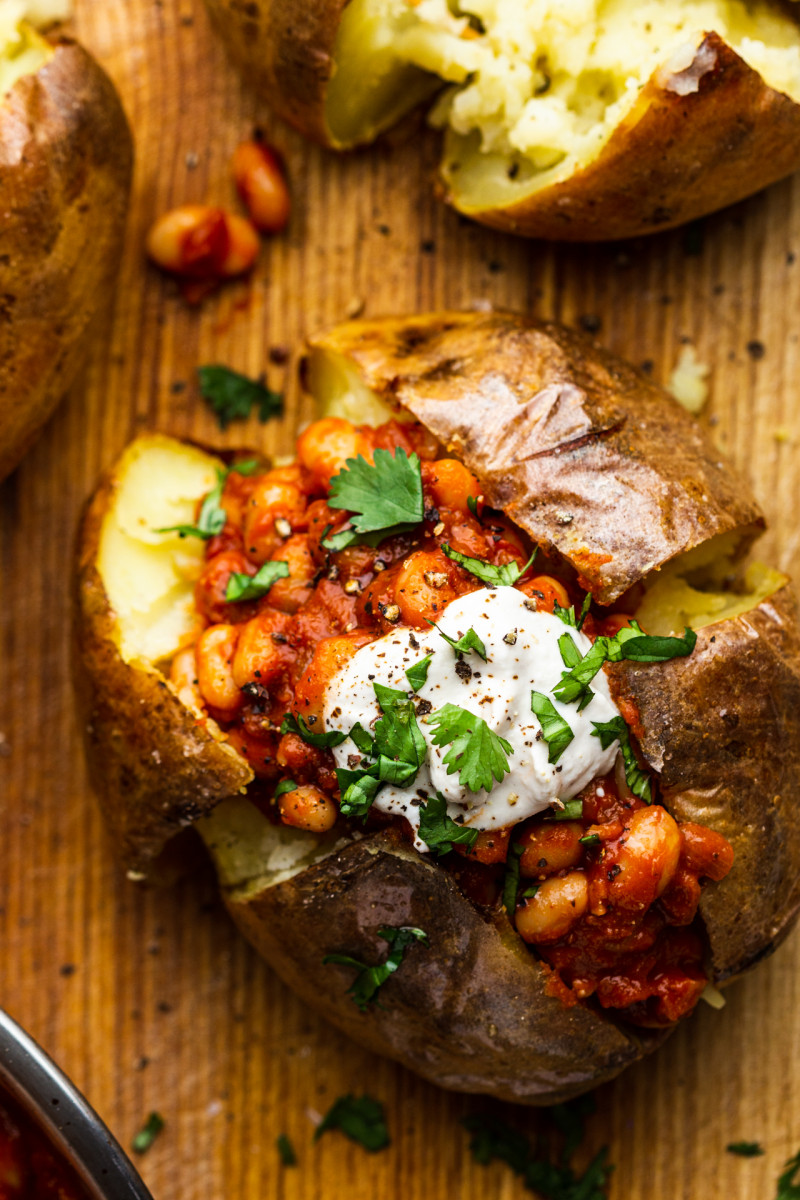 Giant baked potato or jacket potato, as it's commonly known in the UK, is a bit of a British institution. It's truly special as not only does it epitomise quick comfort food, but it appears to cut through social class and, as any foreigner who spends a chunk of time living over here will know, that's very rare when it comes to food in the UK.
I will be the first one to admit that I have had a long period of looking down on it. It turns out though, that like with many things in life, things done well can truly make you a convert. A well cooked baked potato should be fluffy inside and have a beautifully crispy skin that is a pleasure to eat. Yes, you eat the entire thing – it's a great example of zero waste food.
The second component of a good baked potato, in my opinion, is a flavoursome and saucy filling. Aside from possibly camping, I don't think I will ever embrace canned Heinz baked beans, which thanks to incredibly cunning marketing are believed by many to be truly British. The concept itself though, that of a steaming hot baked potato filled with saucy beans speaks to me, sure.
Making a pot of beans from scratch takes a total of just over 1 hour (your beans will cook in the time it takes for the sauce to thicken) and that's mostly just waiting and giving the pot a stir now and again. Homemade beans are not only tastier, more nutritious, but they are cheaper too. I like to make a big pot, portion it and freeze. I defrost them as needed and I enjoy them on a piece of toasted sourdough or in my baked potato. Below are a few pointers that may be helpful if you would like to attempt this meal.
BAKING POTATOES: In the UK, baking potatoes are very big, starchy potatoes. One potato tends to weigh anything between 320-380 g / 11¼ – 13½ oz and is essentially a meal in itself. If you cannot find potatoes this big, the dish will look a little less impressive and you may need more potatoes but it will still be nice provided they are starchy (not waxy) potatoes. Be sure to adjust baking time though.
DRIED ANCHO CHILLI: Please do not feel the need to go out and buy it. I simply had it in my cupboard and felt like this would be a great dish to use it for. It adds a slightly fruity and smoky taste and a kick of spice (unless you don't include the seeds). You can use a hot smoky sauce (like chipotle Tabasco) or some dried chilli flakes instead.
SOY SAUCE / TAMARI: It adds saltiness as well as a depth of flavour. You could also use a small dollop of marmite (yeast extract) instead if you have it.
BEANS: I used small (7mm) white kidney beans also known as haricot or navy beans, which I soaked overnight and cooked until soft. I added a piece of kombu to help with digestion of sugars present in the beans and a bit of baking soda to soften the skins. You want to use approximately ¼ tsp per 2 heaped cups / 400 g of dry beans. Chickpeas or other small beans will work just as well in this dish.
STORAGE: Once cooled, store in an air-tight container in the fridge for up to 5 days or portion and freeze, defrost by leaving it to thaw naturally (either in the fridge or on the kitchen counter in colder months).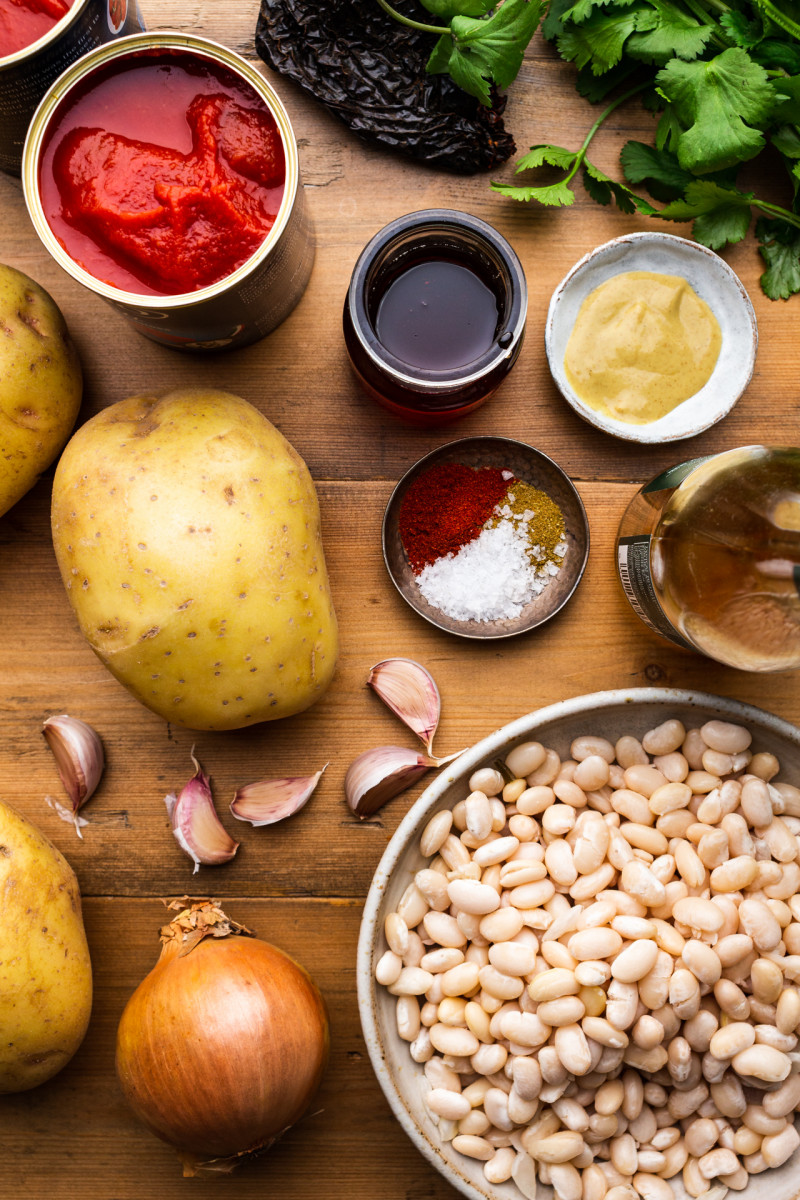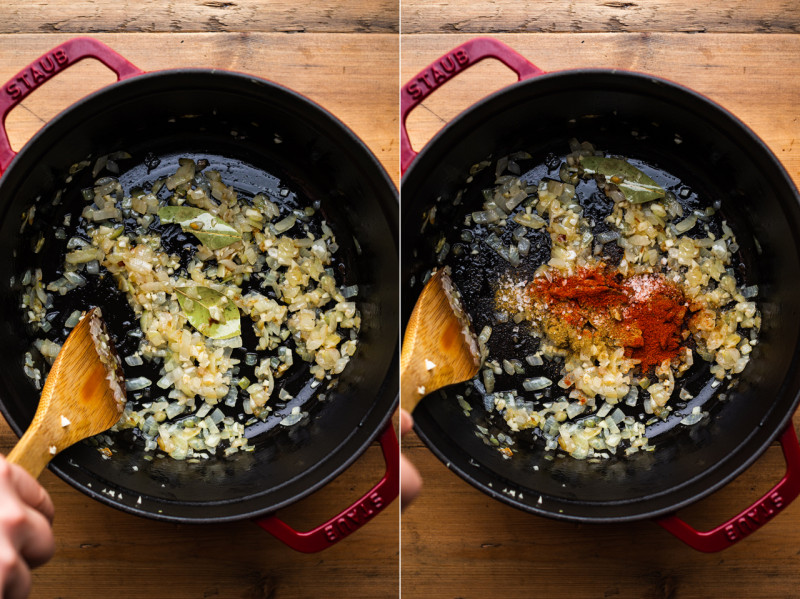 Sauté onion and garlic in olive oil until the onion turns translucent and garlic soft and fragrant. Next, add in spices and fry them off for a few seconds before adding liquids.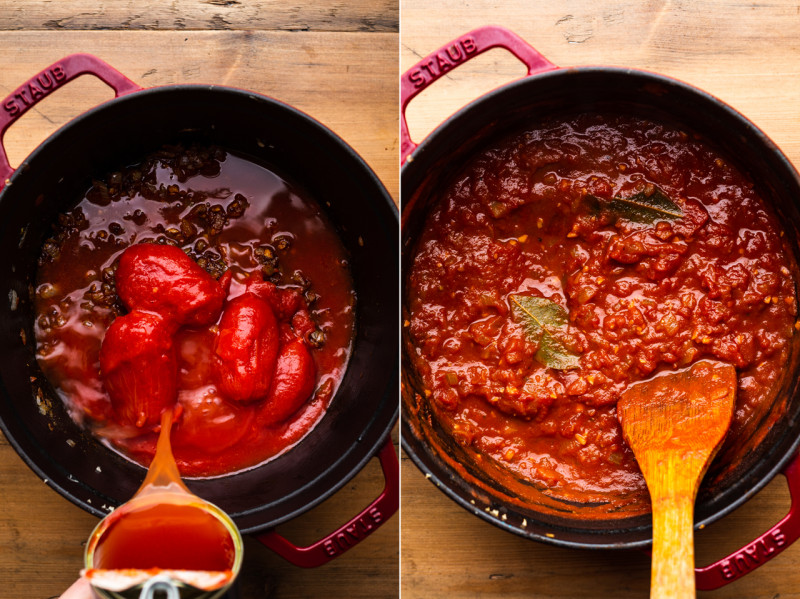 Add canned tomatoes (squashing them down with a wooden spoon as you add them in) and a can worth of water to begin with. Simmer on low-medium heat, until the sauce thickens and all the tomatoes break down (photo on the right). Make sure to stir every 20 minutes or so and add more water if the pot is starting to look dry and the tomatoes are still chunky.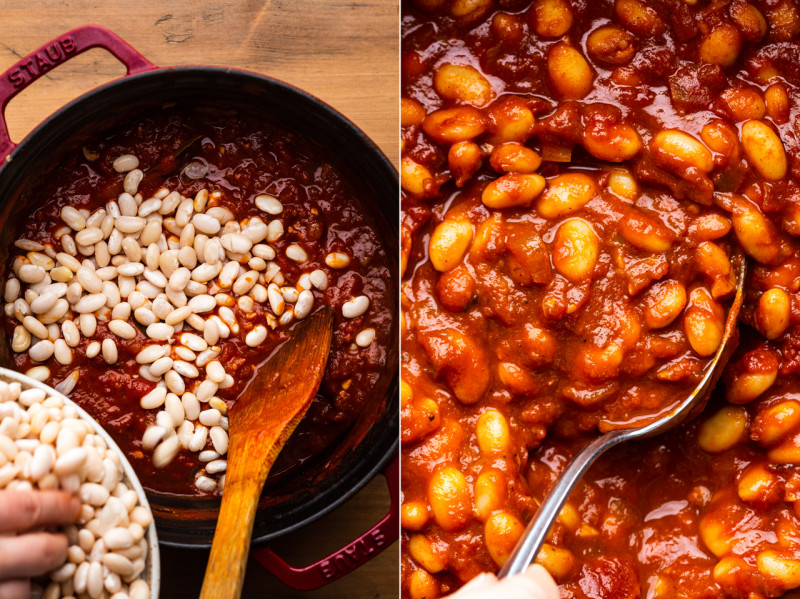 Add all the remaining seasonings (tasting as you go along) and cooked beans. Simmer for further 10 minutes or so. For best flavour, prepare the beans a day ahead.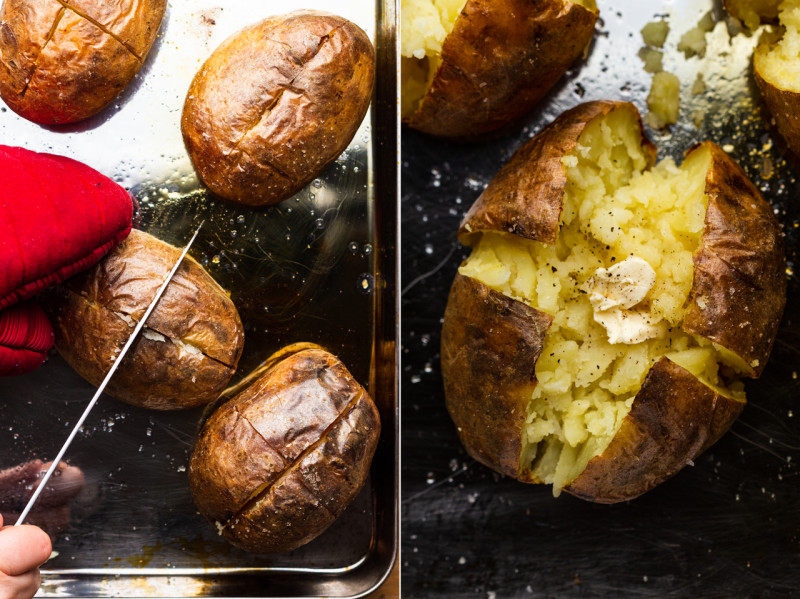 Cut the potatoes open as soon as they finish baking to allow the steam to escape – otherwise the skins won't stay crispy. It's a good idea to wear a kitchen glove on your non dominant hand 😉 ! Using a fork, work in some olive oil (or vegan butter), salt and pepper into the flesh before topping with beans.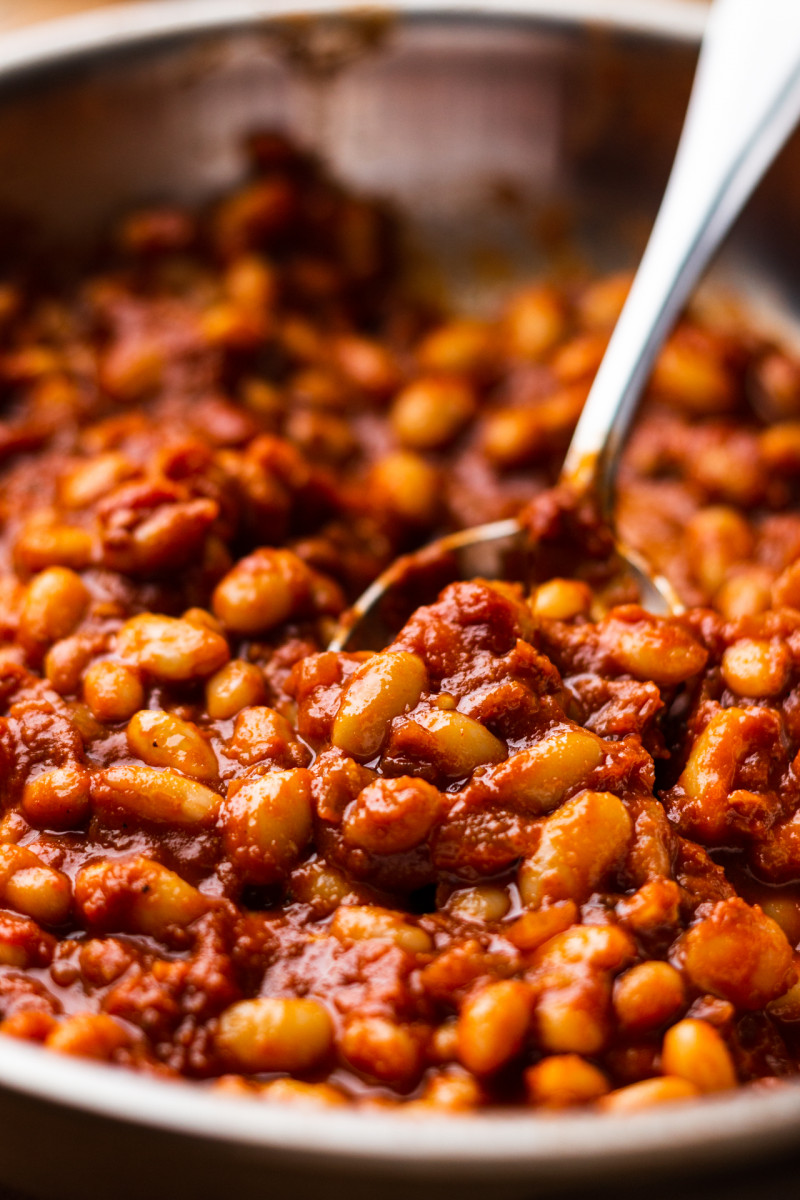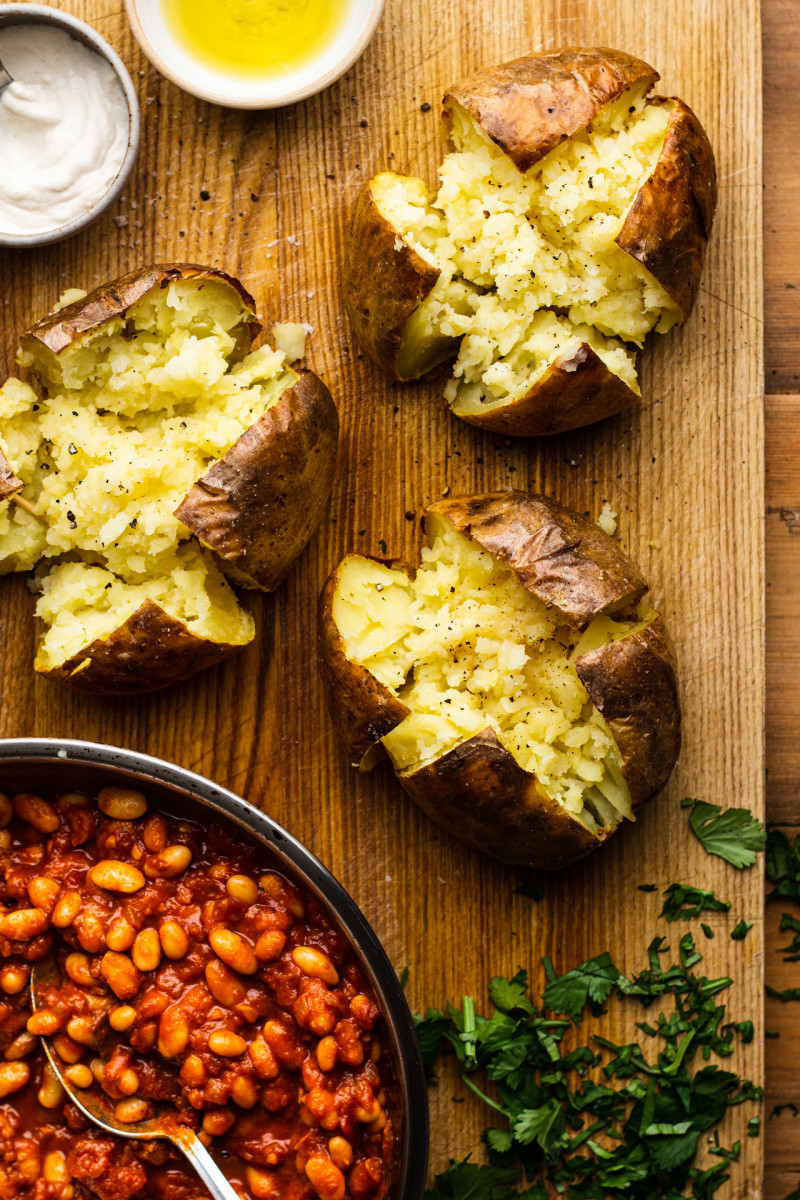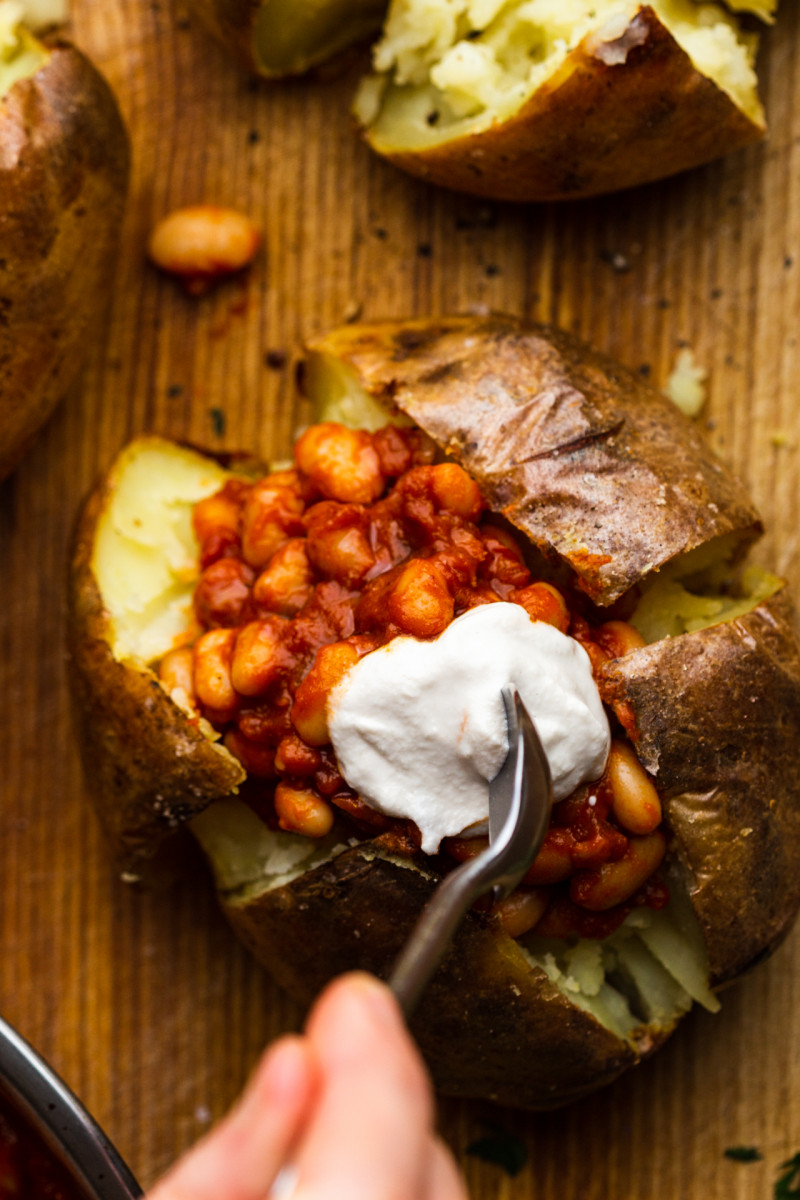 BAKED POTATOES
4 tbsp / 60 ml olive oil, divided
4 large baking potatoes (approx. 350 g / 12½ oz each)
coarse salt
SMOKY BEANS
1 medium onion, very finely chopped
4 garlic cloves, very finely chopped (plus one extra* for potatoes)
2 small bay leaves
1 tsp cumin powder
2-3 tsp smoked paprika (I like them smoky so I use 3)
salt and pepper, to taste
2 x 400 g / 14 oz canned tomatoes (I like plum tomatoes best)
30 ml / 2 tbsp maple syrup* or light and dark muscovado sugar, adjust to taste
5 ml / 1 tsp backstrap molasses
20 ml / 4 tsp apple cider vinegar, adjust to taste
20 ml / 4 tsp Dijon mustard, adjust to taste
15 ml / 1 tbsp soy sauce (or tamari if GF)
10 ml / 2 tsp vegan Worcester sauce
1 dried ancho chilli* (optional SEE NOTES)
2 x 400 g canned white kidney beans or homecooked*
GARNISH (optional)
chopped fresh coriander (or parsley) to garnish
vegan cream to garnish, shop-bought or homemade
METHOD
BAKED POTATOES
Heat up the oven to 200° C / 390° F. Pour 1 tablespoon of oil on a deep baking tray. Clean potatoes and dry them really well, next pierce all over with a skewer or a small sharp knife and roll them in the olive oil, sprinkle with coarse salt and place on a baking tray.
Bake for about 45 minutes, after 45 minutes, whack the oven temperature to 220° C / 425° F and carry on baking for another 15 minutes, until the skin is taut and crispy and the potatoes are dark brown (but not burnt).
Immediately after you take the potatoes out of the oven, cut through the skin (I found that wearing an oven mitt on my non dominant hand helps) so that the steam can escape, otherwise the skin will start to go soggy. Because time is of the essence here, I take the potatoes out of the oven one by one, quickly make a long cut across the length and then make another cut perpendicular to it in a second pass. I open the potato just a little so that the steam doesn't get trapped inside.
Gently prise each potato open and using a fork, fluff the inside up by adding a bit of olive oil (or vegan butter), followed by salt and pepper.
SMOKY BEANS
Heat up oil in a pan, once hot add diced onion and fry off on a low-medium heat until soft and translucent (about 10 minutes). Next add in garlic and bay leaves – fry for a few minutes stirring frequently as garlic burns easily.
Next, add cumin powder, smoked paprika, some black pepper and a generous pinch of salt. Fry them off for a few seconds, stirring frequently.
Add canned tomatoes. If using plum tomatoes, add one can at a time, squashing the whole tomatoes with a wooden spoon. Add a can's worth (about 500 ml / 2 cups) of water to the pan. Stir everything well and allow it to simmer gently for about 20 minutes.
Give everything a good stir every 20 minutes (I find that the sauce takes about 60 minutes of simmering time) and squash down any stubborn tomato pieces you see. As soon as the pan is starting to look dry but the tomatoes are still quite chunky, add more water (I add about 1 litre / 4 cups in total).
Once all the tomatoes have broken down nicely (see photo) and the sauce is thick and uniform, season with maple syrup, molasses, apple cider vinegar, Dijon mustard, soy sauce, vegan Worcester sauce and blitzed ancho chilli (if using). You will probably need to add quite a bit more salt too – go by your palate. Finally, add cooked beans and allow the entire pot to simmer for 10 more minutes or so.
NOTES
HOT TIP
: Make this dish a day ahead for a better flavour!
*GARLIC: If you like garlic, grate a clove of garlic into 1-2 tbsp of olive oil at the start, use this garlic-flavoured olive oil to drizzle inside the potatoes after baking.
*MAPLE SYRUP/SUGAR: I added quite a lot for me as I wanted these beans to be sweet sour, but you can adjust the amount to your liking. If using less sweetener, be sure to reduce the amount of acid by similar percentage – unless you like them sour.
*DRIED ANCHO CHILLI: Needs to be rehydrated in boiling water for 30 minutes. Remove the stem and most of the seeds (unless you are not scared of heat) before chopping finely or blitzing with some of the tomatoes and adding back to the stew. You can use a few drops of smoky (or regular) Tabasco instead, a pinch of dried chilli or skip if you don't like any heat.
*BEANS: If cooking your own, soak 1½ -2 cups of small (I used 7mm size) white kidney / haricot / navy beans in plenty of water overnight, drain, cook them well covered with a lid on. Add a piece of kombu (which reduces stomach upset) and two big pinches of baking soda (to soften the skins and speed up cooking) if you wish. Mine were done in about 40 minutes but please keep on checking them as the cooking time depends on how long the beans have been stored for.