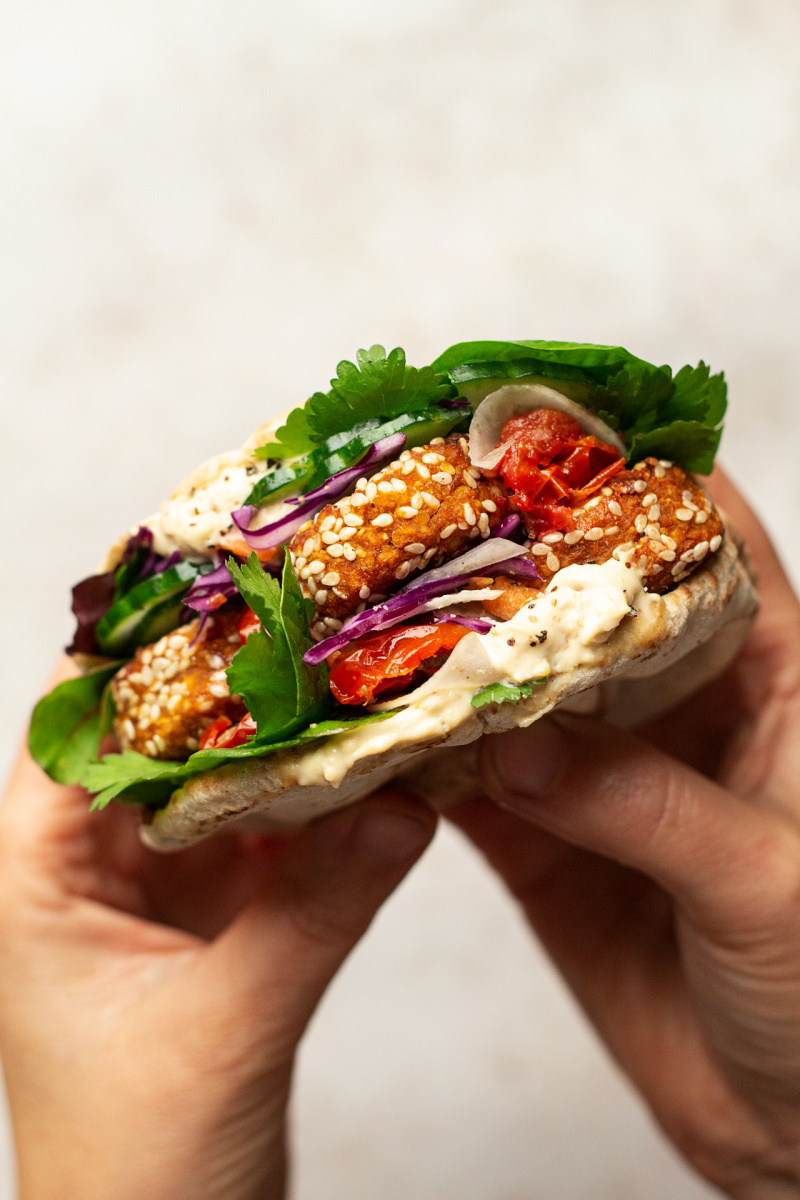 Okay, I dragged my feet a little, I'll admit, but I am finally ready to embrace the pumpkin season. Despite trying to hold on to summer for as long as I could possibly get away with, I actually love autumn – could it be because I am an October child? Possibly.
I love warm autumn sunshine, colourful leaves rustling underfoot, the smell of bonfires and pumpkins. Of course, I love pumpkins! It's hard not to! They are sweet, satiating, go nicely with spicy things and sour things and they make delicious desserts too.
So I am kicking pumpkin things off with a handy recipe for baked pumpkin falafels that are easy to make, healthy and make a tasty lunch centrepiece. They are a perfect pitta filler or a great way to bulk up a salad bowl. They sit really well alongside a hefty dollop of hummus, pickles, fresh salad, a simple tahini sauce and a drizzle of chilli sauce or oil (if you feel that way inclined). They are filling and full of plant protein.
They are not difficult to make but the mixture is a touch messy to work with, so be warned. The reason being in order for the falafels not to end up dry once baked, the mixture has to be rather wet. I am using raw, soaked chickpeas that cook in the pumpkin puree as the mixture firms up in the oven. The end result is a pattie that is hard on the outside and soft in the middle. If you don't like getting your hands dirty, simply use two spoons to give your falafels a more organic shape – problem solved. Hope you'll enjoy these!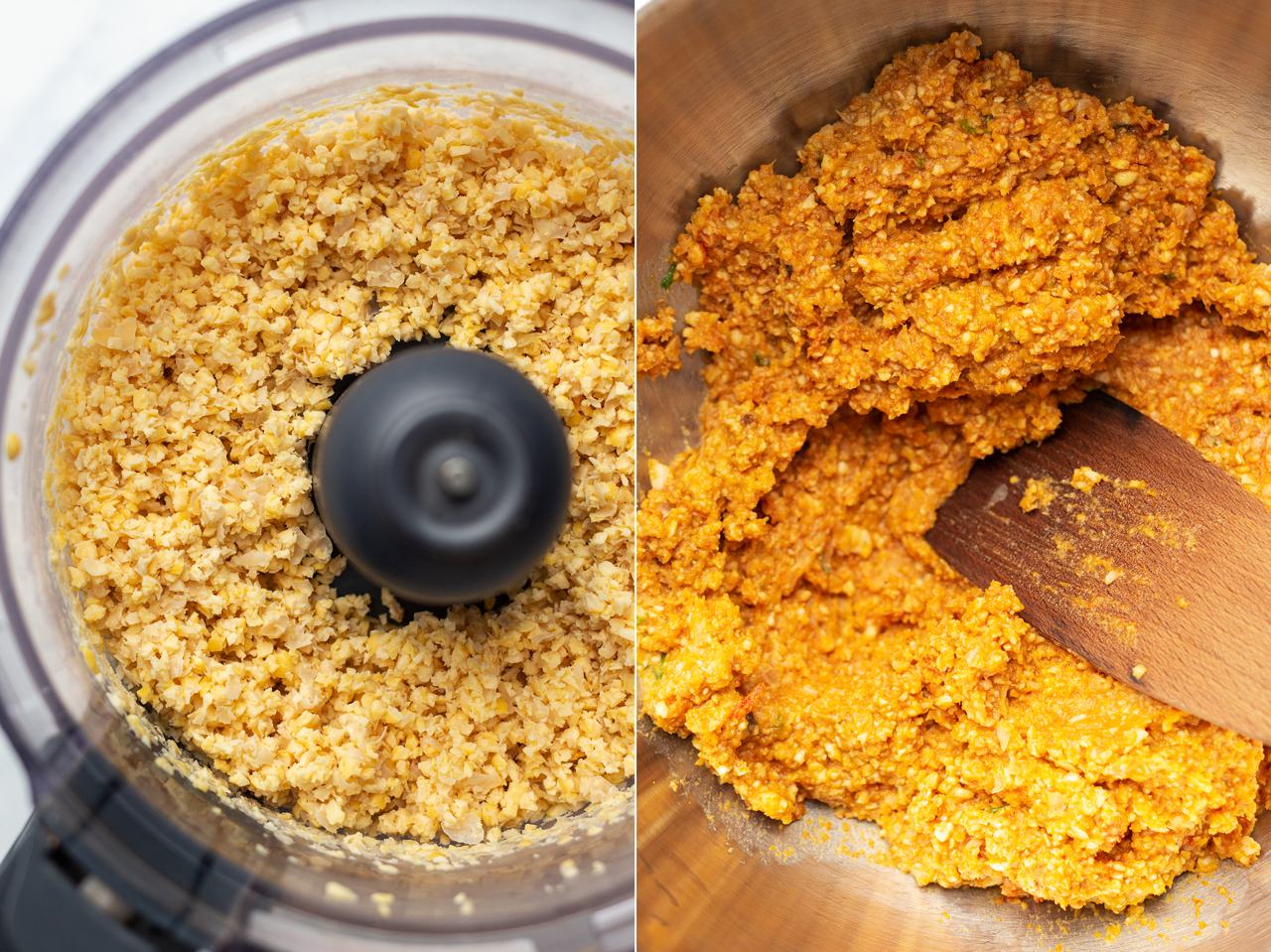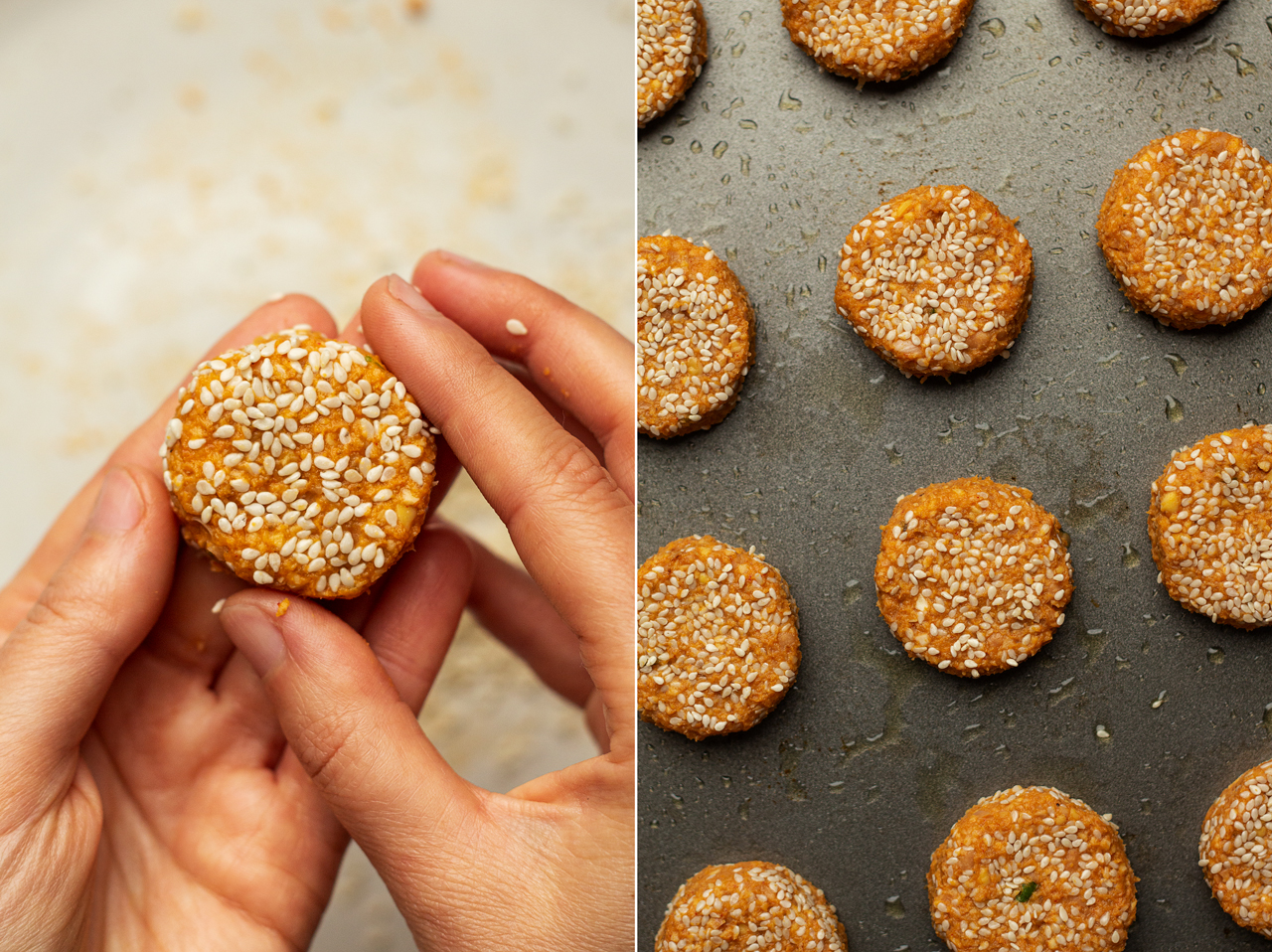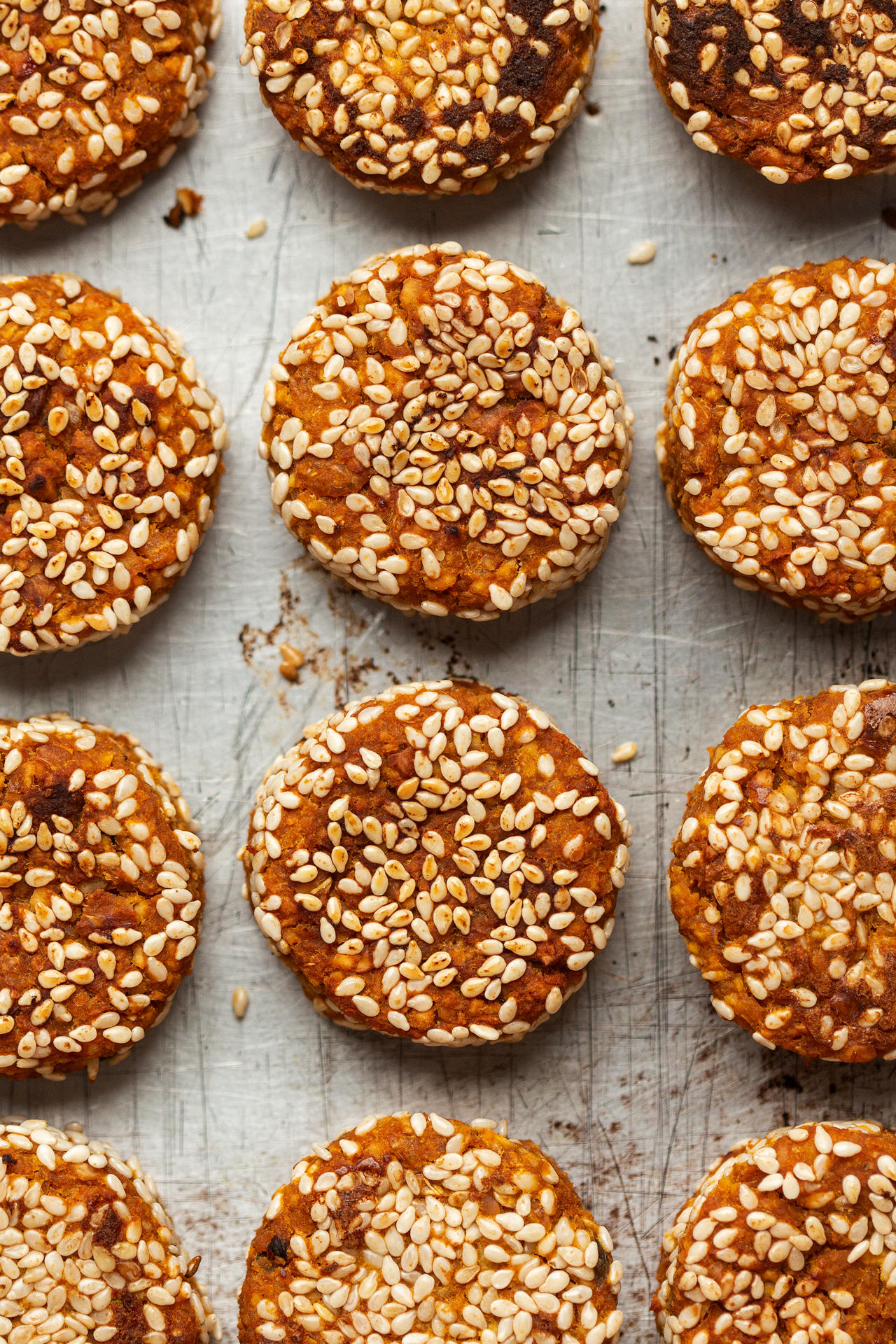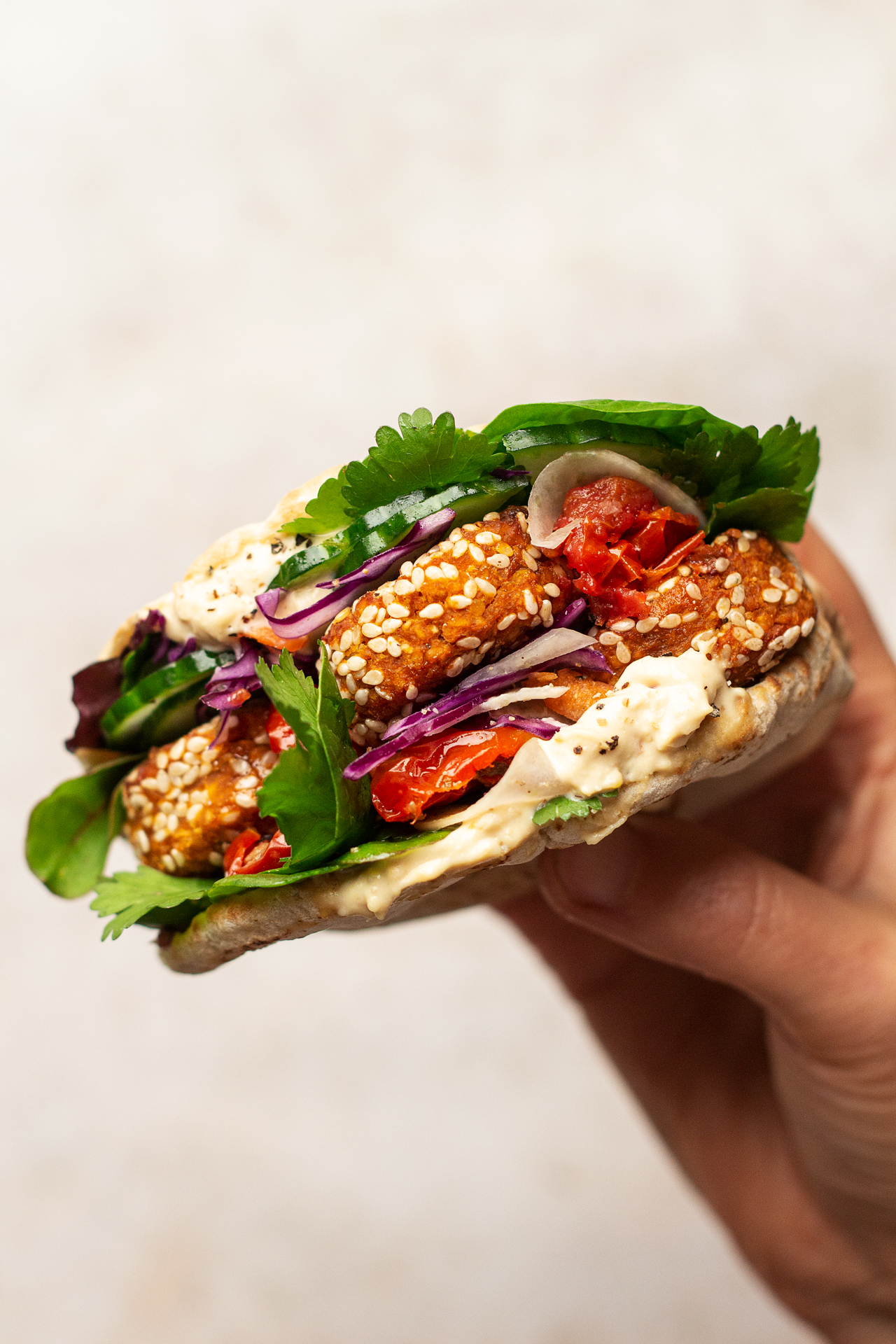 PUMPKIN FALAFELS
1 cup pureed pumpkin* (approx. 650 g / 23 oz fresh)
1 tbsp olive oil (plus slightly more for baking)
½ cup chickpeas, soaked overnight
1 garlic clove, sliced
1 tsp salt
1 heaped tsp cumin
1 tsp ground coriander
1 heaped tsp smoked paprika
1/8 tsp cayenne pepper (optional, adjust to taste)
2-4 tbsp chickpea flour (or all purpose wheat flour if not gluten-free)
sesame seeds, to coat
TAHINI SAUCE
2 tbsp tahini
½ lemon, juice only
salt and pepper to taste
METHOD
PUMPKIN FALAFELS
If using fresh pumpkin, peel it, cut into equal size cubes and coat in 1 tbsp of olive oil. Roast in a 200° C / 390° F oven until soft, it takes about half an hour, turning the pieces over 15 minutes in.
Rinse your soaked chickpeas and grind them quite finely (see photo) in a food processor. Transfer to a large bowl – don't wash your food processor just yet.
Place baked pumpkin and sliced garlic in the food processor and process until smooth. If using ready made puree, simply grate the garlic finely into the bowl with ground chickpeas.
Transfer pumpkin puree to the bowl with chickpeas, add salt, dry spices and flour and mix very well. Start off with 2 tbsp of flour and add 2 more if needed. The mixture is meant to be very wet. As long as you are able to form patties, there is no need to add more flour as the falafels will end up dry inside. Place in the fridge for several hours (or freezer for an hour) to firm up.
Put sesame seeds on a plate. Using your hands, gently form small falafels out of the mixture (mine were 20 g each). Once shaped, dip your hand in sesame seeds and press them into the falafel with your fingers. Do that several times until the falafel is nicely coated on all sides.
Preheat the oven to 200° C / 390° F. Brush a bit of olive oil onto a baking tray and place falafels on it, making sure they do not touch. Bake for 10 minutes on one side, then using a spatula flip onto the other side and bake for another 10 minutes. They are done when the exterior is crispy and golden.
TAHINI SAUCE
In a bowl, mix tahini with lemon juice and a splash of water.
Add a bit more water to achieve a pourable consistency. Season with salt and pepper.
NOTES
*Use a pumpkin with firm, dense flesh (like butternut pumpkin, for example) instead of more watery varieties.