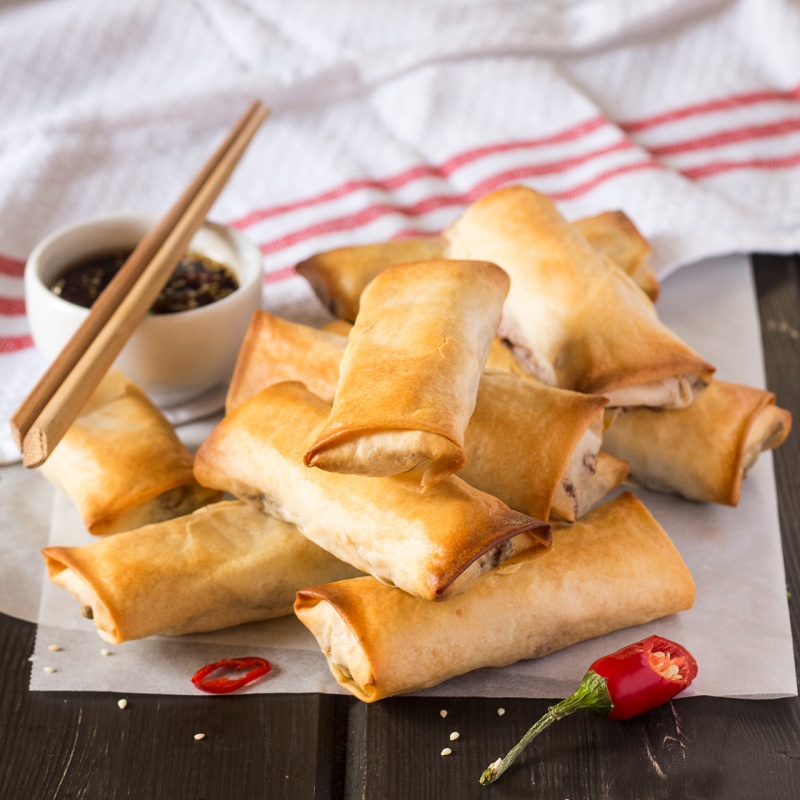 Who does not like sinking their teeth into a crispy, flaky spring roll dipped in a flavoursome dipping sauce?
I love their crunch, the flavour and the moist interior. What I am not overly keen on is the fact that often spring rolls owe their crispy golden shell to deep-frying.
Well, turns out that if you stick a tray of spring rolls into an oven (having brushed each one with a small amount of oil), you won't get an inferior product at all. They taste every bit as delicious as their deep-fried brothers, are more healthy and the preparation method is less messy too. It's a triple win if you ask me.
What vegetables you put in them is totally up to you! I picked local veg that are in season. As you'll notice, I put the veg into the rolls raw as they have plenty of time to cook during their sojourn in the hot oven. Enjoy these vegan baked spring rolls warm with a side of a simple dipping sauce and maybe even a cold beer.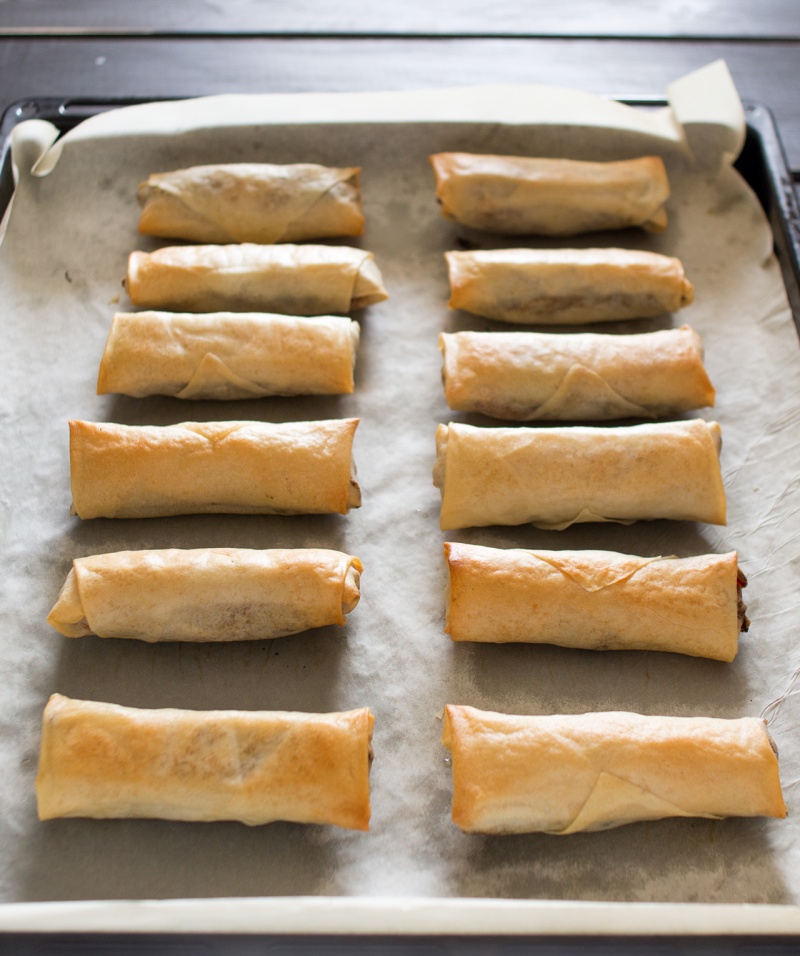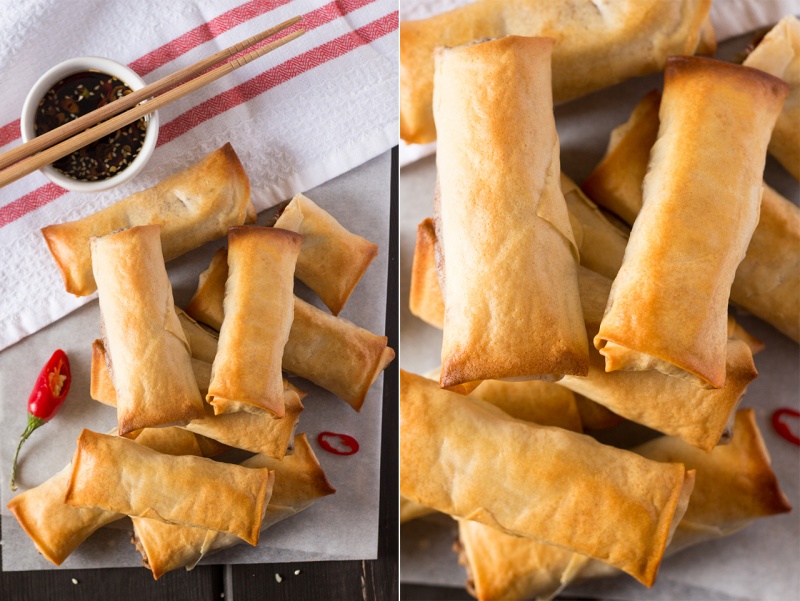 DRESSING FOR THE FILLING
5 cm / 2 in piece of ginger, grated finely
1 large garlic clove, crushed
2 tbsp / 30 ml dark soy sauce
½ tbsp sesame oil (or replace with vegetable oil)
½ tbsp neutral tasting vegetable oil + more for greasing
2 tsp Chinese five spice powder
SPRING ROLLS
12 spring roll wrappers*
½ courgette, julienned
1 red pepper, julienned
1 large carrot, julienned
a wedge of white cabbage, shredded
2 small spring onions – white part finely sliced, green cut lengthwise into thin strips
½ tbsp cornflour mixed with 1 tbsp water
DIPPING SAUCE
2 tbsp / 30 ml dark soy sauce
½ tbsp toasted sesame oil
1 tbsp rice wine vinegar
fresh chilli, finely sliced or pinch of chilli flakes
1 tsp sesame seeds
2 cm of finely sliced spring onion
METHOD
Whisk all the dressing ingredients together and set aside for the flavours to marry.
Prepare vermicelli noodles according to packet instructions.
Pour the dressing over julienned vegetables and mix well. Pre-heat the oven to 425° F / 220° C.
(see a series of photos in the post) Place a single wrapper on a wet kitchen towel (cover the remaining wrappers with another kitchen towel so that they don't dry). Arrange the wrapper in a diamond shape, place a bit of noodles at the bottom, then a stack of marinated vegetable and start rolling it up. Stop when you reach half way, fold the right and left corner in so that the roll looks like an open envelope. Brush a bit of cornflour mixture on the final corner and finish rolling. Place under a damp kitchen towel while you roll the rest.
Brush the rolls with a small amount of vegetable oil and place on a baking tray lined with a piece of baking parchment.
Bake for about 15 minutes on one side, then flip and bake for another 10-15 minutes on the other side, until the rolls are golden brown.
Mix all the ingredients for the dipping sauce.
Cut rolls in half gently with a serrated knife and enjoy them warm dipped in the sauce.
NOTES
*Spring roll wrappers are paper thin pastry squares made of wheat flour rather than rice flour (rice flour ones are used for
fresh summer rolls
and require no frying or baking). I found mine in a freezer section of local grocery store.