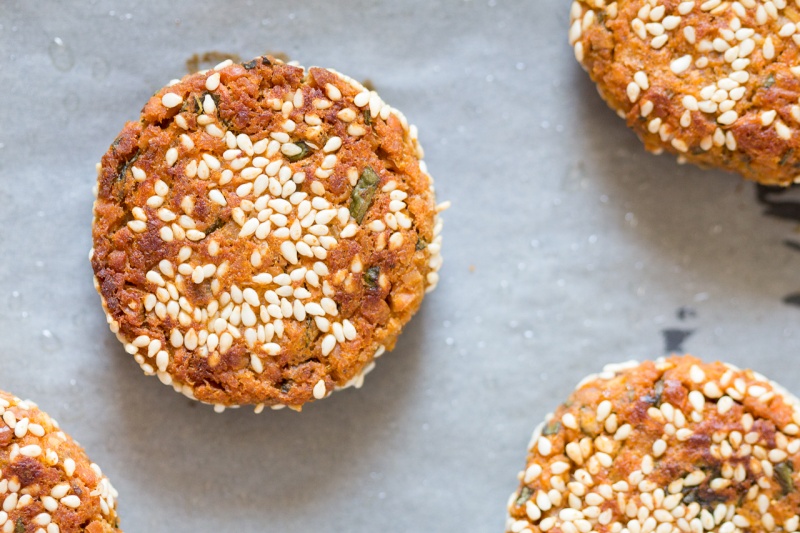 A while ago, I've confessed to being a falafel fiend. I mean, who wouldn't like these tasty little nuggets, crispy on the outside and soft on the inside? They are SO satisfying to bite into.
The only thing I struggle with is having to fry them in oil, which is why I do not make them very often. I mean, it's okay now and again, but not the healthiest of choices. However, whenever I tried to bake my falafels in the oven, I was never that thrilled with the result as I found them too dry.
Inspired by baked sweet potato falafels I used to enjoy at a UK restaurant 'Leon'  I thought of using sweet potato as a binder to add much needed moisture to my falafel mixture.
As with most things, it took a few trials and errors to get the texture right (which meant that we had baked sweet potato falafels for dinner every single night for an entire week), but I'm really pleased with how these little puppies have turned out. They have a nice crunch on the outside and are soft and moist on the inside.
These slightly sweet, spiced falafels go super well with lemony tahini sauce and make an awesome lunch when accompanied by a grain (I used couscous) and heaps of vegetables.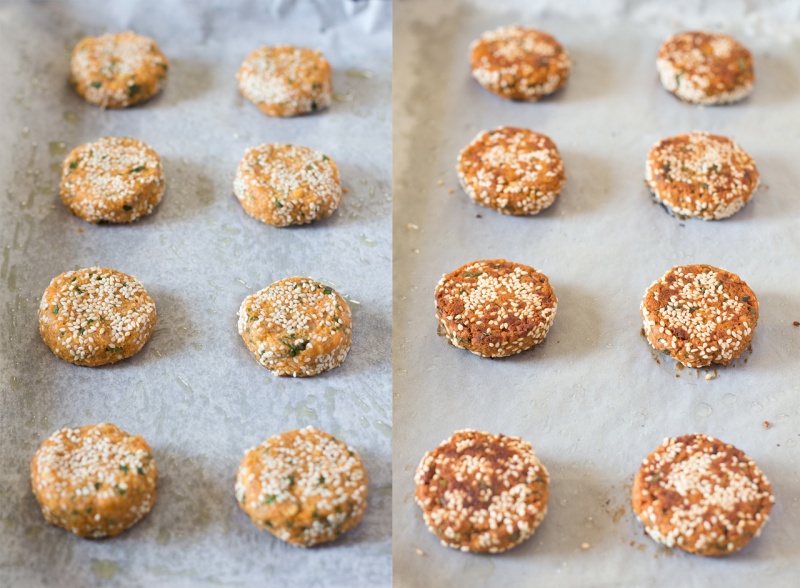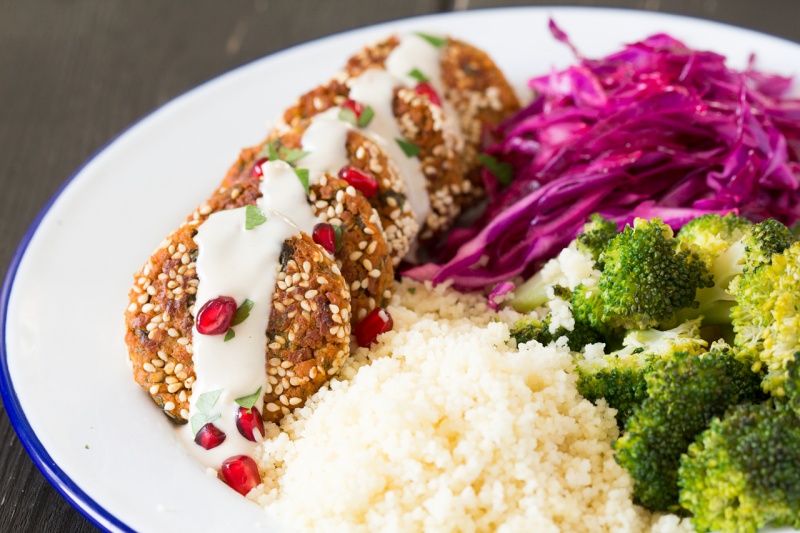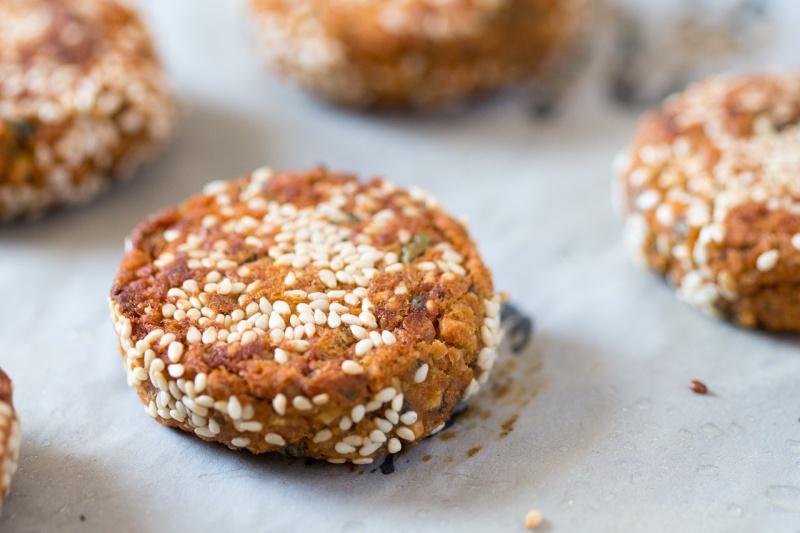 BAKED SWEET POTATO FALAFELS
1 x 400 g / 14 oz sweet potato
½ level cup of raw chickpeas, soaked overnight
¼ cup chickpea flour
1-2 garlic cloves, finely grated
1 level tsp salt
1 heaped tsp cumin
1 level tsp ground coriander
1 level tsp smoked paprika
½ level tsp hot chilli
¼ cup (packed) fresh coriander or parsley, chopped finely
sesame seeds, to coat
TAHINI SAUCE
2 tbsp tahini
½ lemon, juice only
1 small garlic clove, pressed
1 tsp maple syrup
salt & pepper to taste
water
METHOD
BAKED SWEET POTATO FALAFELS*
Put a whole potato into a 200° C / 390° F oven and roast it until soft, it takes about 1 hour (depending on size). Let it cool down, peel it and mash the flesh up with a fork.
Rinse your soaked chickpeas and grind them finely (they should resemble medium bulgur wheat after grinding) in a food processor.
In a large bowl, combine mashed potato, ground chickpeas, chickpea flour, garlic, herbs and spices. Mix it all very thoroughly and place in the fridge for several hours (or freezer for an hour) to firm up.
Put sesame seeds on a plate. Using your hands, form small falafels out of the mixture. Mine were 30 g each. The mixture will be fairly wet (that's good, it means that falafels won't end up dry after baking) so handle it carefully. Once shaped, dip your hand in sesame seeds and press them into the falafel with your fingers. Do that several times until the falafel is nicely coated on all sides.
Pre-heat the oven to 200° C / 390° F. Brush a bit of olive oil onto a baking tray and place falafels on it, making sure they do not touch. Bake for 15-20 minutes on one side, then using a spatula flip onto the other side and bake for another 15-20 minutes. They are done when the exterior is crispy and golden.
TAHINI SAUCE
In a bowl, mix tahini with lemon juice and a splash of water.
Add maple syrup, garlic and a bit more water to achieve pourable consistency. Season with salt and pepper.
NOTES
*It's best to prepare the mixture the day in advance as it makes it easier to shape falafels and the spices have had a chance to mingle.