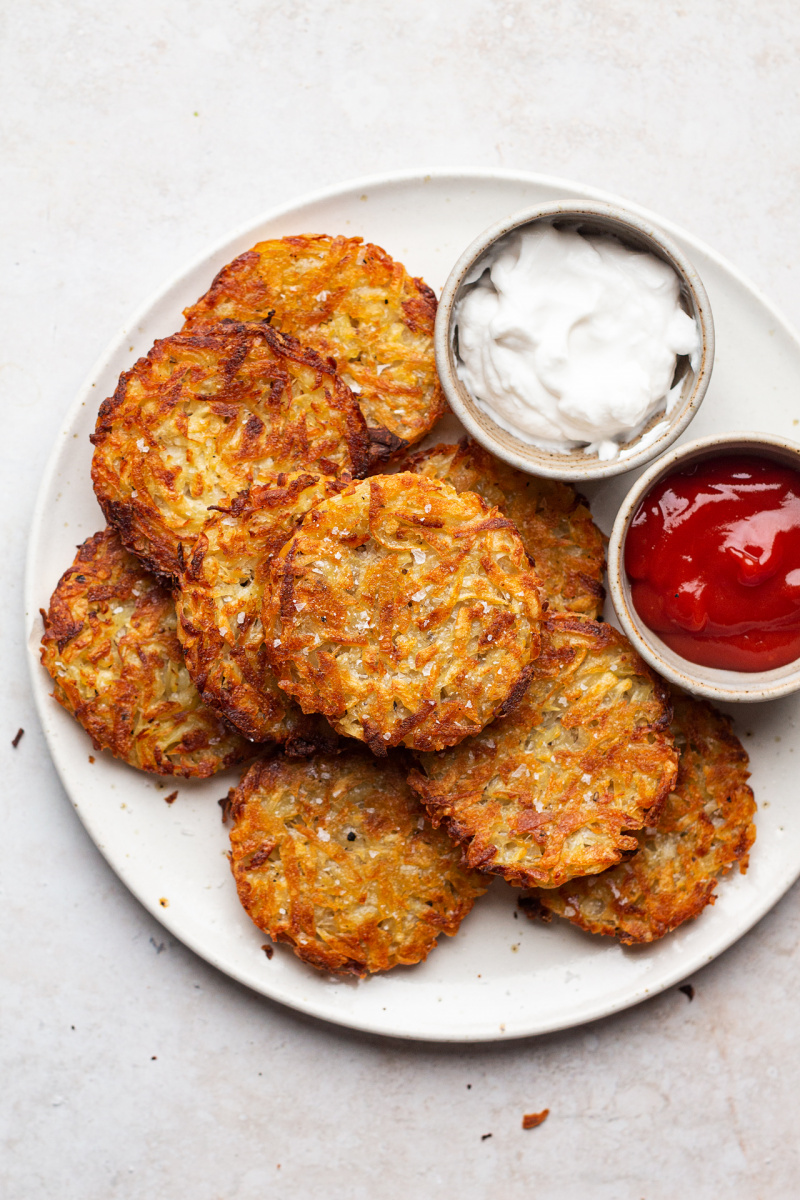 I'll be brief today as I am really not feeling my best and all I want to do is curl up in bed and sleep, if I am honest. I've been trying to resist getting a cold all through Xmas and I really thought I got away with it until now. Today I feel as though my head is full of spaghetti hoops (for the uninitiated, it's tinned pasta and tomato sauce), which I have never actually eaten. Call me a snob, but I would only consider eating that kind of thing in near apocalyptic circumstances…
Before I tuck myself in with a book and some paracetamol, I have a simple recipe for you that I've been working on before the symptoms got the better of me. I decided to come up with a fool proof way to make crispy hash browns stroke latkes (latkesh if you like 🙂 ) in the oven, using only a small amount of oil. While fried latkes are definitely to die for, frying things is a bit of a faff, plus as they are mightily addictive, they are certainly prone to wreck all your attempts at healthy January eating.
Over the past 2 days, I have made a ridiculous number of these potato cakes, two or three at a time, and consumed them for pretty much all of my meals – such is the joy of food blogging. While the ingredients could not be simpler, it took me many many attempts to arrive at the optimal oven temperature, decide if the mixture benefits from the addition of flour, aquafaba, ground flax or parboiling potatoes! Finally, I've settled on two versions below.
I roped Duncan into the final stages of taste testing and while he thinks (he hoovered them up too quickly to be sure 😉 ) he prefers the version with the raw potato mixture, I prefer the one with the parboiled potatoes, so I've decided to include both. They are both very crispy – surprisingly so given how little oil I've used and my preferred version is a touch softer / mashier inside. They go well with vegan sour cream, ketchup or guacamole. They will also make a fine vegan breakfast, served alongside some garlicky spinach and jammy, oven-roasted tomatoes, for example. Enjoy while I am off to have a nap…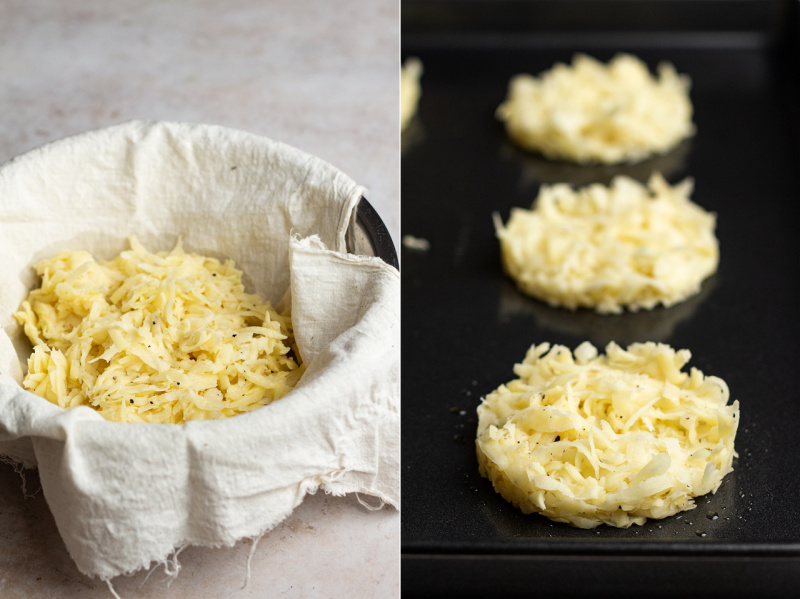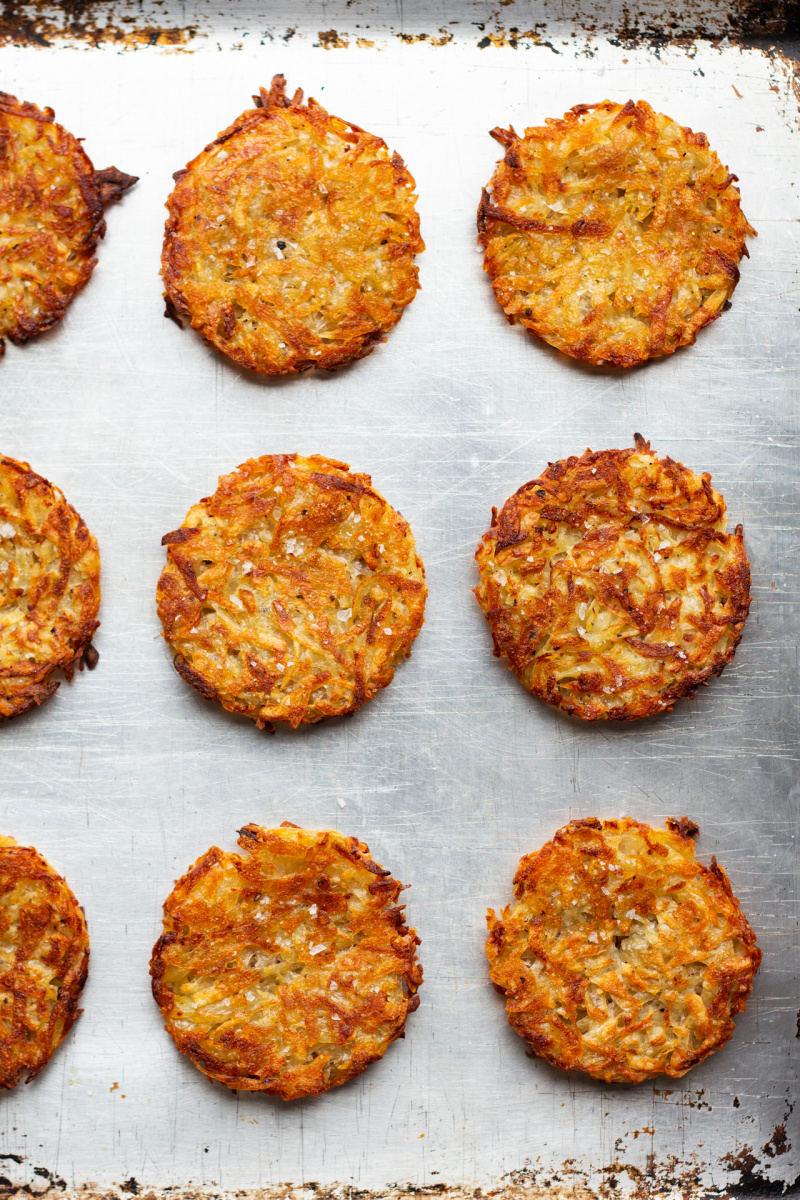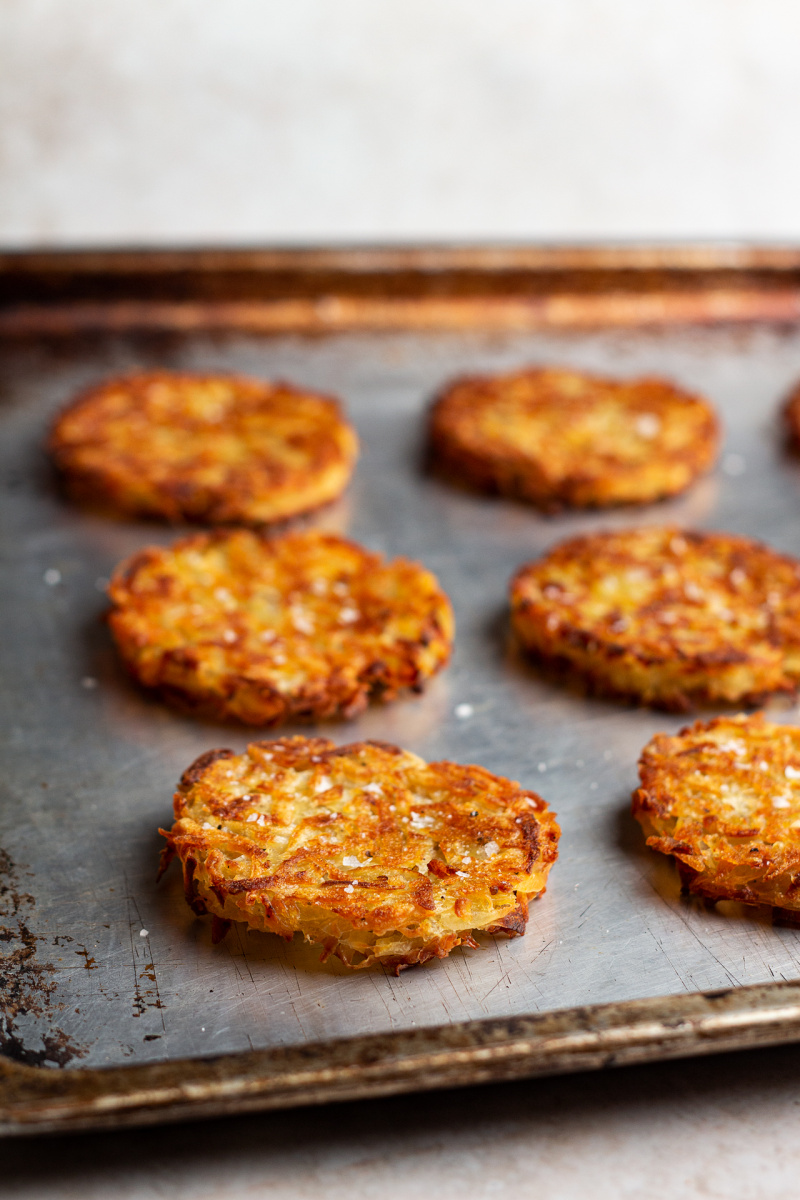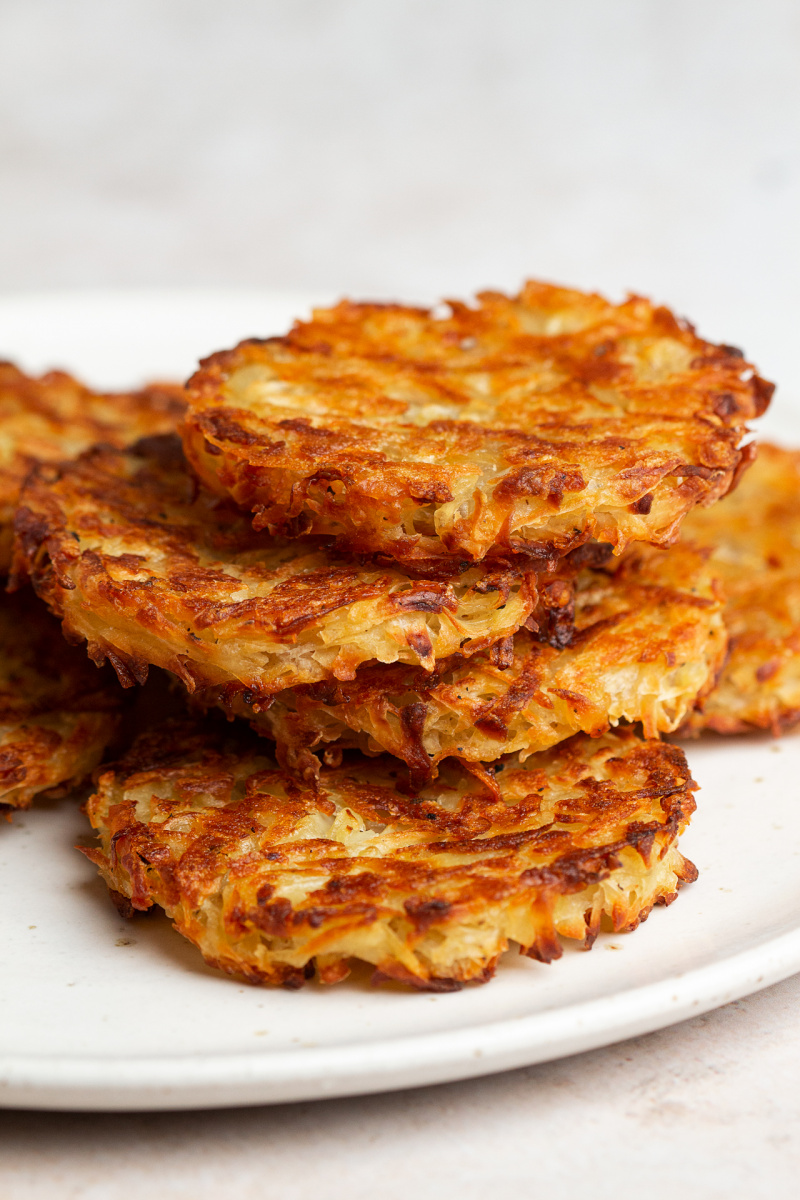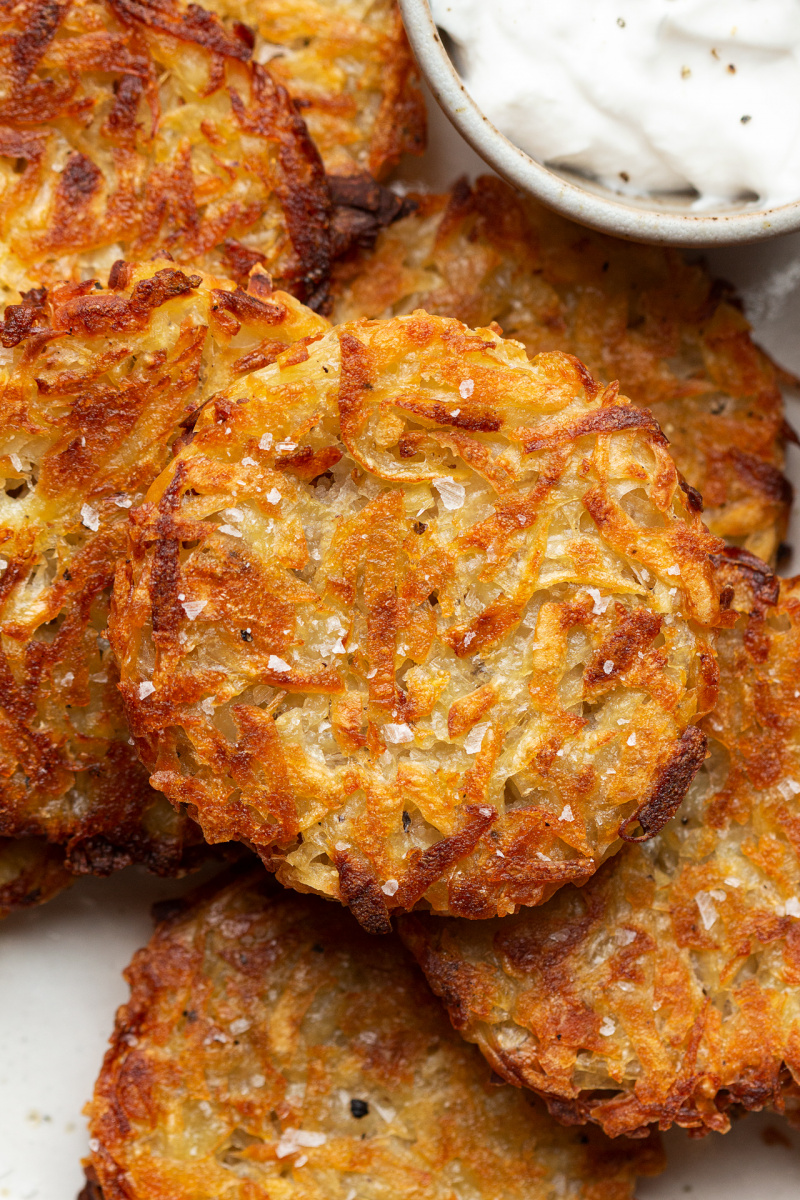 450 g / 1 lb starchy variety potatoes (I used Maris Piper), peeled
heaped ½ tsp salt
1 large shallot or ½ large onion, finely grated or chopped
a good grind of black pepper, adjust to taste
oil or oil spray
METHOD
If you want crispy hash browns with a softer interior, parboil medium* potatoes for 5 minutes, drain and allow them to cool completely. It's not necessary though, you can also just use raw potatoes but they produce crispier hash browns with less softness inside. I've included both options below.
Grate raw or cooled parboiled potatoes coarsely in a food processor or using a manual grater.
Preheat the oven to 180° C / 355° F (no fan) for raw potato hash browns and 200° C / 390° F for par-boiled potato ones. Get a non-stick baking sheet and a round cookie cutter or an egg ring (mine was 8 cm / 3″ diameter) ready.
Place grated potatoes and remaining ingredients in a bowl. If using raw potatoes, set the mixture aside for 10 minutes. If using parboiled potatoes, there is no need to do that and skip the next step too!
After 10 minutes, place the raw potato mixture in the middle of a clean muslin cloth or kitchen towel and squeeze all the excess moisture out. Drain the water away and you will end up with potato starch stuck to the bottom of the bowl – it is the starch that makes for crispy hash browns so scoop it up and add it back to the mixture. Break compacted mixture up with a fork or your hands after squeezing the liquid out.
Using a brush or an oil spray, spread a bit of oil underneath each hash brown, place a cookie cutter on the oiled area and loosely pile the mixture inside the cookie cutter (to just under 1 cm / 0.35 " height), but DON'T COMPACT the mixture. Use a fork to ensure the mixture is spread fairly evenly and it goes all the way to the edges – make sure the mixture is piled up loosely – this way it will cook all the way through and the hash browns won't be tough. If you would rather freestyle, that's fine too – use a spoon, don't flatten the mixture too much and tidy the edges up with a knife to avoid them getting burnt.
Bake the raw potato hash browns for 20 minutes and parboil ones for about 10 then carefully detach from the tray using a flat spatula. Brush the surface of the baking tray with oil again and flip each hash brown making sure that it sits directly on the oiled patch. Bake for a further 15-20 minutes (raw potato hash browns) and 10-15 minutes (parboiled potato hash browns).
Serve straight away with vegan sour cream/creme fraiche or ketchup – whichever takes your fancy.
NOTES
*Large potatoes will take a minute or two more and small a minute or two less, of course.
For more indulgent hash browns (but not as healthy so I guess you might as well fry them), stir 1-2 tbsp of oil through the mixture before forming hash browns.