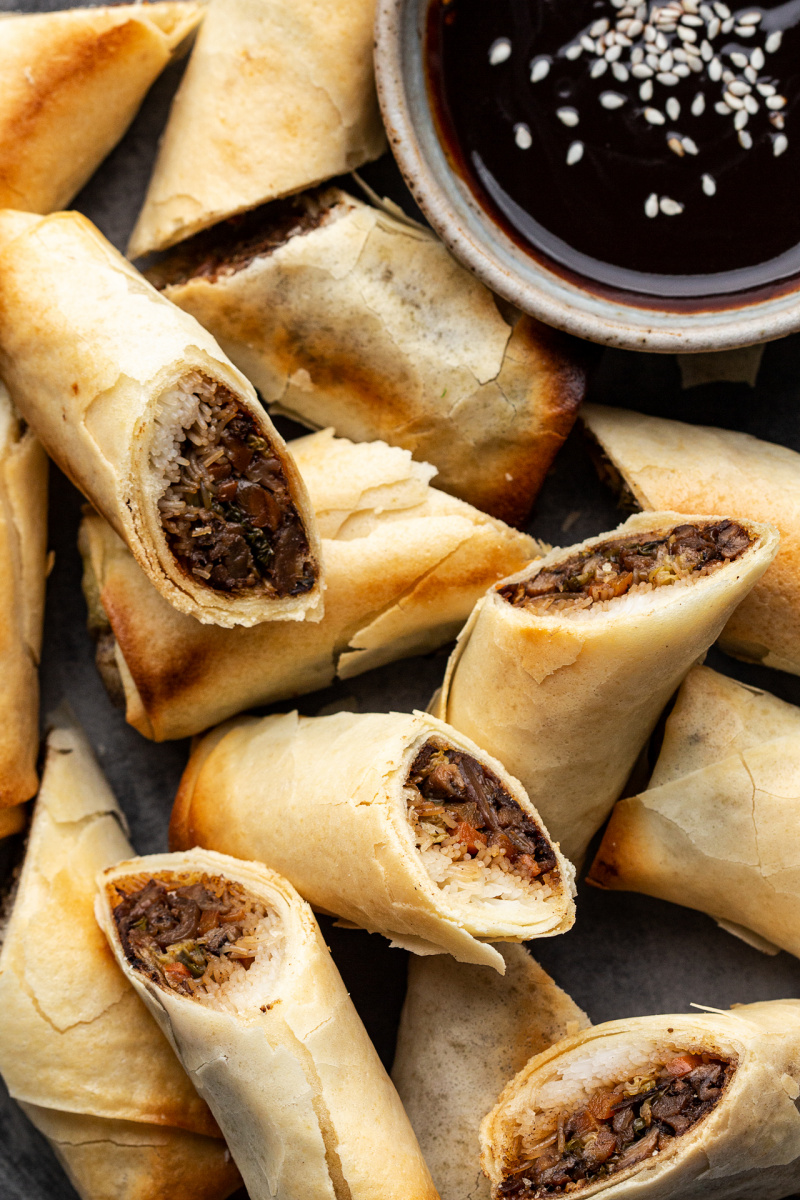 How ready are you to wave this terrible year goodbye, guys? Really! I know it's only symbolic as it's not like Covid will pack up and leave but I think it's psychologically important as it's been crazy tough yet has made us hopefully better, wiser and more philosophical individuals.
If I am honest, I am not a fan of going out for New Year's Eve. When I was in my twenties I could not imagine doing nothing for NYE as, like I've only just come to realise, I had an acute version of FOMO (there wasn't even a word for it back then 😉 ) and it was pretty much always all hype and the evening was always disappointing. Talking to friends, I am not alone. It's one if these things when you feel obligated to have soooo much fun and forcing fun never works, does it?
Last year, we decided to find a vantage point to watch the fireworks from, with a flask of warm cherry vodka to toast with. It wasn't a success either, the hill we picked was quite seedy and there was no one about because as it turned out we went there an hour too early – we just came back from visiting my family in Poland and I forgot to adjust the time (something I will never be able to live down…) It was way too cold to wait an hour so we had our toast and headed back.
This year, we plan to spend the evening on the couch, watching stand-up specials, drinking mulled wine and snacking. If you are in the same frame of mind and are looking for some finger food, I have a perfect recipe for you. These mock-duck spring rolls are baked, rather than fried, which, as well as being a healthier option also requires much less standing over the stove and no oily mess to clean up afterwards. Triple win in my book! Still they are crispy, easy to make, meaty (without any meat of course!), fragrant with Chinese five spice and deliciously addictive thanks to rich hoisin sauce.
Even though the ones you see in my photos are wrapped in traditional wheat flour spring roll wrappers, you can totally make these gluten-free too if you wish! To do that use tamari rather than soy sauce, make sure your hoisin sauce is gluten-free and use rehydrated rice papers (round or square) in the place of spring roll wrappers.
I love the flavours of these, they remind me of many delicious dinners in London's China Town. I have made a plant-based take on duck pancakes before using tinned jackfruit as a meat replacement so that's another option if you wanted to make these but do not like mushrooms. I hope you'll enjoy these as much as we have and HAPPY (or at least happier) 2021!!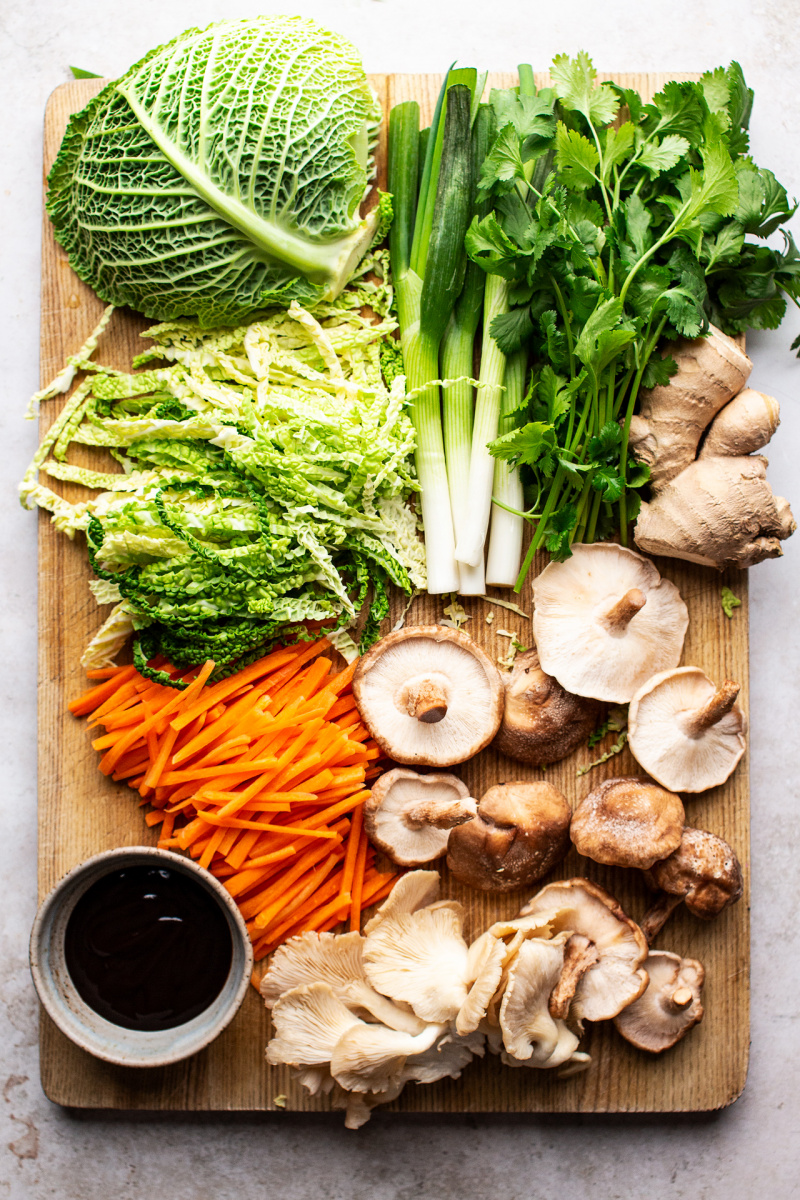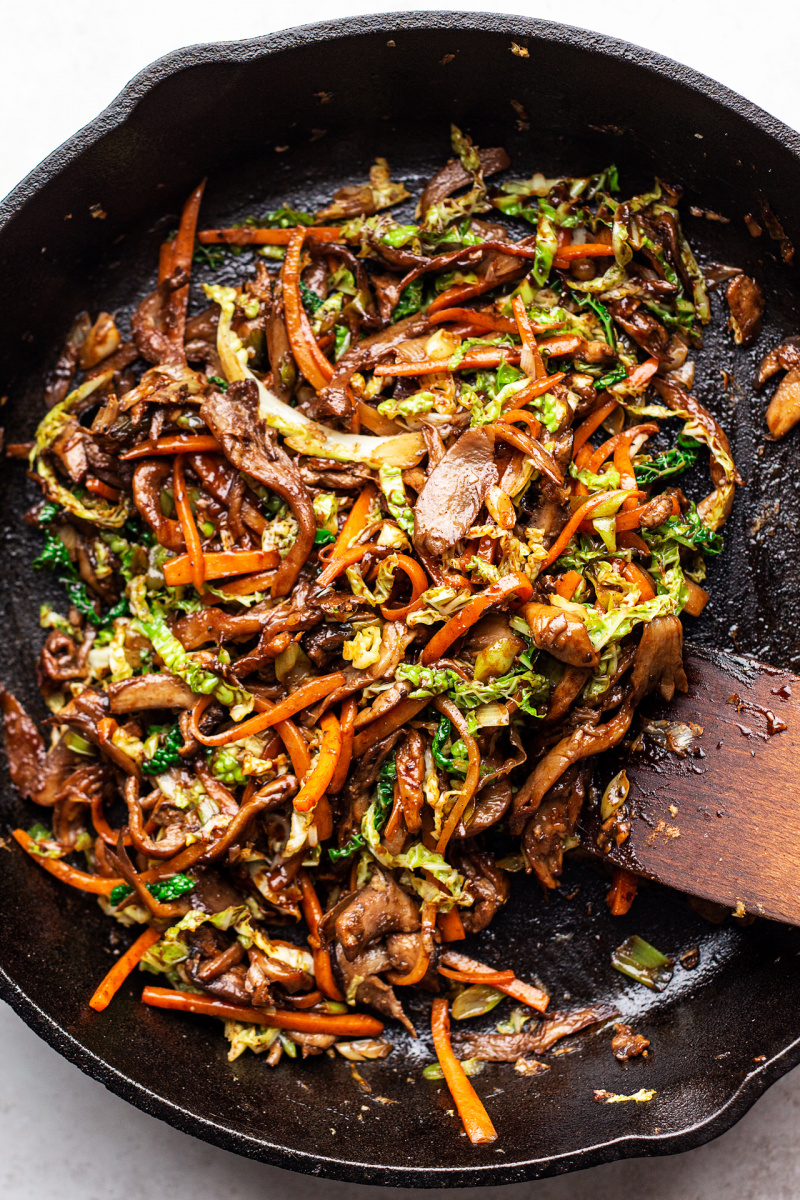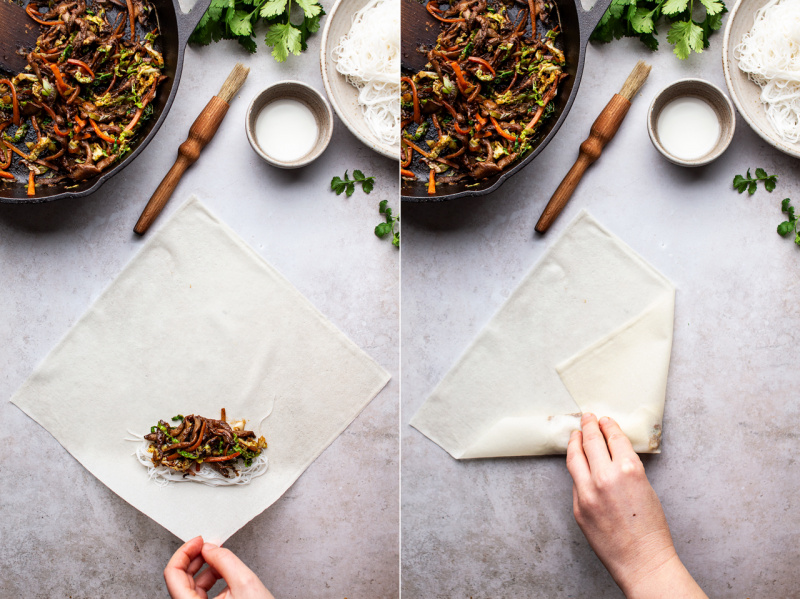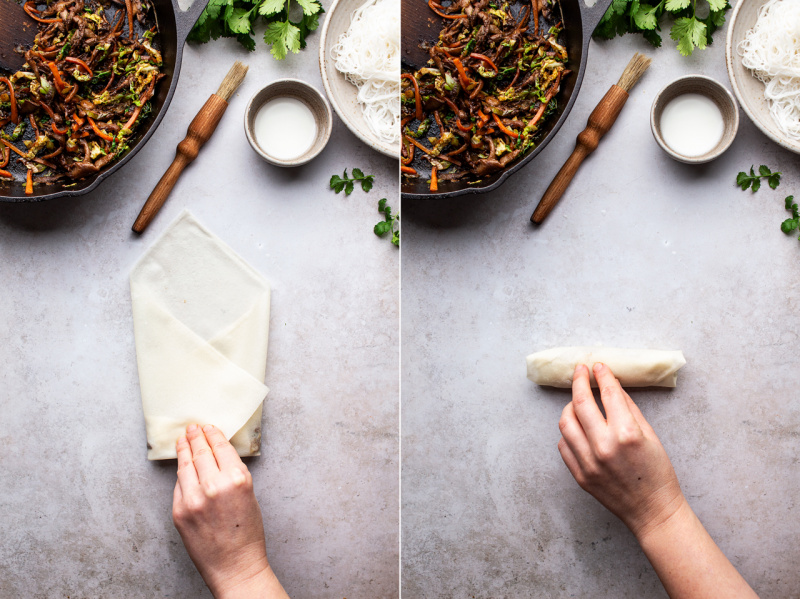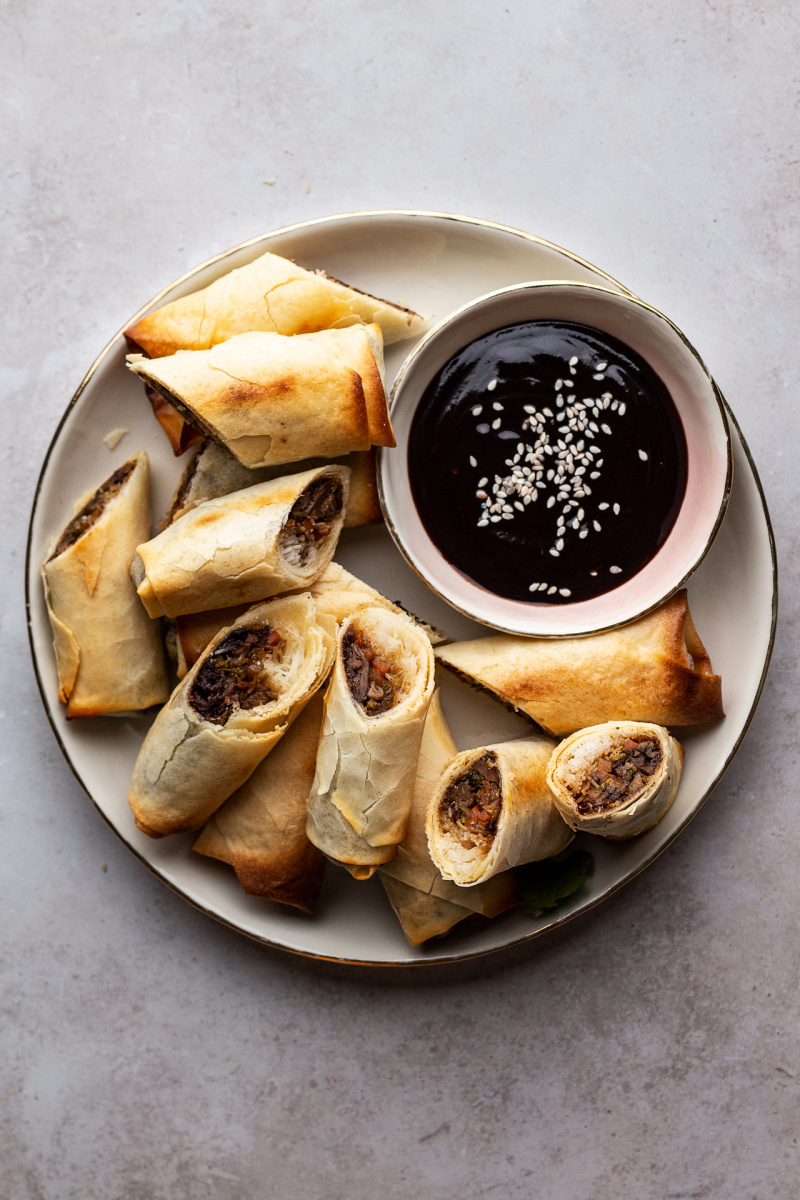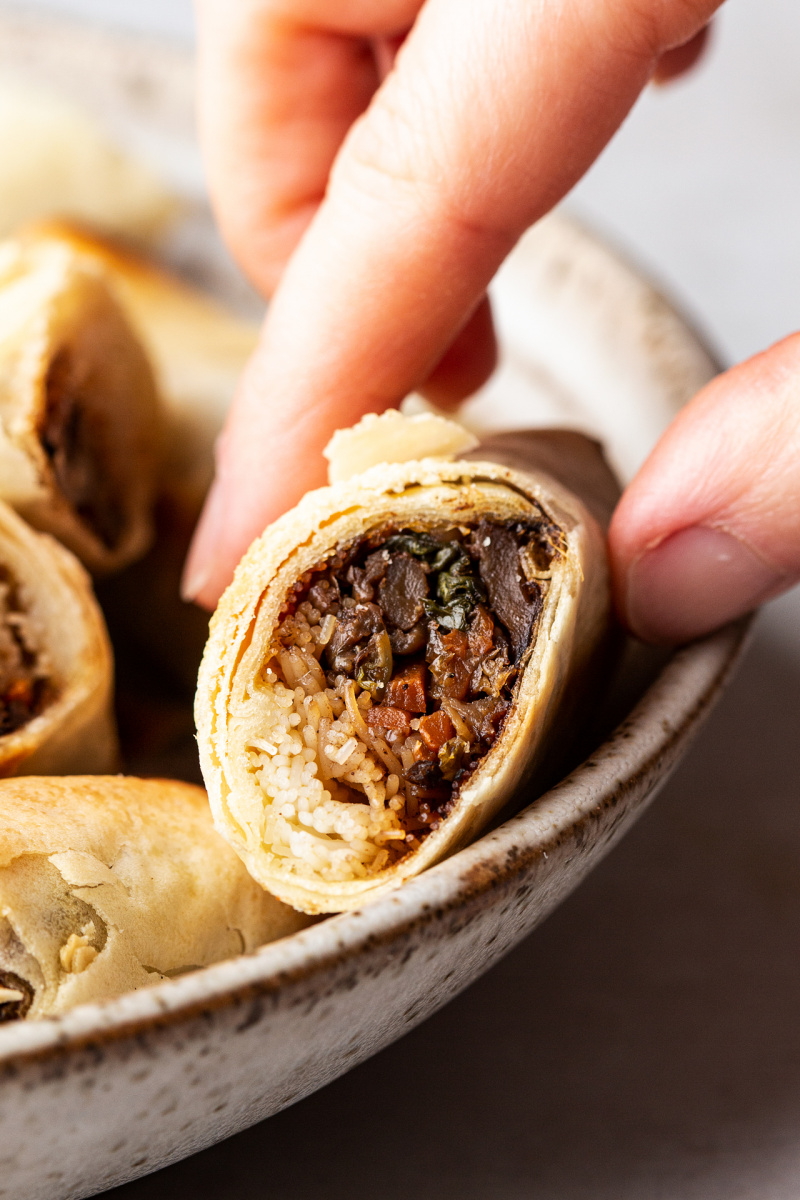 30 g / 1 oz vermicelli rice noodles
250 g / 9 oz shiitake or/and oyster mushrooms*
25 ml / 5 tsp vegetable oil, plus more for brushing
4 spring onions, white part only – thinly sliced
1 large carrot, julienned or shredded
a small wedge of cabbage, Savoy or napa ideally, finely shredded
heaped ½ tsp Chinese five spice powder
¼ tsp white (or black) pepper
30 ml / 2 tbsp soy sauce or tamari (for GF option)
1 garlic clove, finely shredded
1 tsp finely grated ginger
20 ml / 1½ tbsp hoisin sauce (GF if required), plus more for serving
1 tsp toasted sesame oil
8 spring roll wrappers**, thawed OR rehydrated rice papers (for GF option)
2 tsp cornflour mixed with 4 tsp water
METHOD
Prepare vermicelli noodles according to packet instructions. Slice shittake mushrooms thinly and shred oyster mushrooms with your hands.
Preheat the oven to 220° C / 430° F and line a baking tray with a piece of baking paper.
Heat up a heavy skillet or a wok in a medium heat. Add 15 ml / 1 tbsp of oil and once the oil is hot, add the mushrooms. Stir-fry the mushrooms until cooked and charred in places. If using a flat skillet, weigh the mushrooms down with a heavy lid / plate. Take the weight off from time to time to give the mushrooms a good stir. All the water must cook out before you get to the next step.
Remove the mushrooms from the pan (if you are using a skillet, you may need to wash it if the mushrooms get a bit stuck to it). Heat up a little more oil, add spring onion, carrots and cabbage. Stir fry until the vegetables are softened before returning mushrooms to the wok/pan first, then adding Chinese five spice, pepper and soy sauce.
Stir-fry for a few more seconds before stirring in minced garlic and ginger, hoisin sauce and toasted sesame oil. Stir-fry the entire filling is evenly coated. Switch the heat off and allow the filling to cool.
Place a single wrapper on the workbench so that one of the corners points in your direction (cover the remaining wrappers with another kitchen towel so that they don't dry). Place a bit of noodles at the bottom, then a stack of marinated vegetables and start rolling it up. Stop when you reach half way, fold the right and left corner in so that the roll looks like an open envelope. Brush a bit of cornflour mixture on the final corner and finish rolling. Place under a damp kitchen towel while you roll the rest.
Brush the rolls with a small amount of vegetable oil and place on a baking tray lined with a piece of baking parchment.
Bake for about 15 minutes on one side, then flip and bake for another 10-15 minutes on the other side, until the rolls are golden brown.
Cut rolls in half gently with a serrated knife and enjoy them warm dipped in the sauce. If you have some leftovers, you can make them crispy again by baking in a 200° C / 390° F oven for 10 minutes. To freeze, freeze raw rolls prior to baking.
NOTES
*You could also use shredded king oyster mushroom stems like in
this recipe
. I have not tried any other types of mushrooms and while I am sure that they will work, my recommendation is to use shiitake, oyster or king oyster mushrooms for the best 'duck-like' texture.
**Spring roll wrappers are paper thin pastry squares made of wheat flour, I found mine in the freezer section of my local (large) supermarket. You could also use a double or triple layer of phyllo pastry, but the end result will be a bit different. Be sure to apply oil between phyllo layers and bake at lower temperature (180° C / 355° F).
For a gluten-free option, use rehydrated rice paper wrappers like these. Once filled, bake them at 220° C / 425° F for about 25 minutes. The instructions on rehydrating them can be found under this recipe.