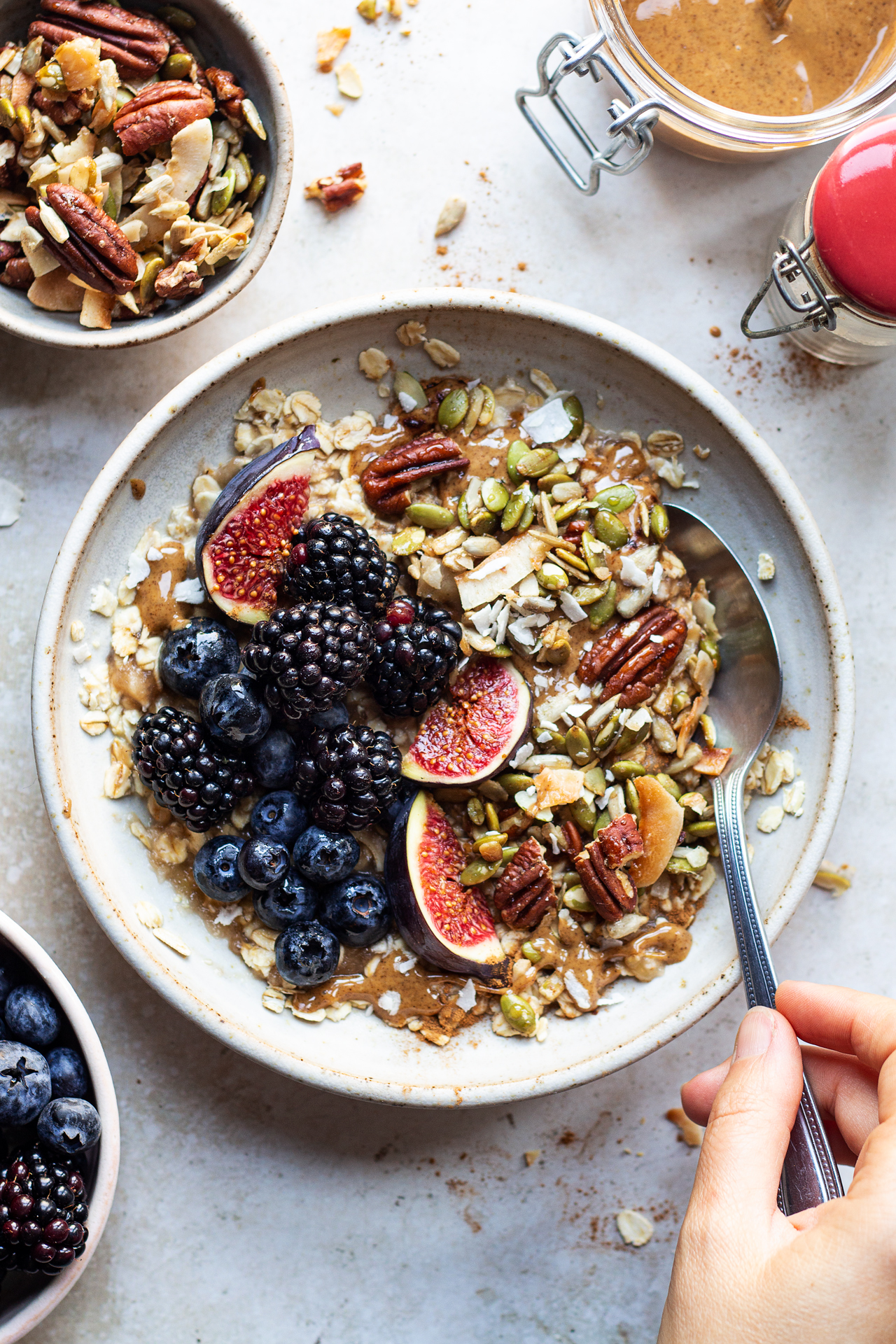 Greece, like most Mediterranean countries, isn't exactly known for its breakfast culture, so going out for breakfast, especially when you are vegan and a health nut (like me) is hard work and never really that satisfying. While I am happy to occasionally have a vegan pastry and a coffee to start my day, eating like this long term does make me feel crappy and ravenous an hour and a half later.
These overnight (more about that later) oats have kept us going for the entire time we spent travelling around Crete. They are ridiculously easy and quick to make, require no fancy ingredients or kitchen equipment so you could make them with ease (even in a tent) and they'll keep you full till lunchtime thanks to slow release carbohydrates (oats), fibre-rich bananas, highly satiating nut butter and whatever fruit you have to hand.
The day after we arrived in Heraklion, we spent an hour or two running around town looking for jumbo oats. While an array of processed breakfast cereals jostle for space on every shop's shelves, it is disproportionately difficult to find unprocessed oats. How crazy is that – don't even get me started on this! In the end, we had to settle for a mixture of minimally processed breakfast grains including oats, rye, bran etc. and they worked quite well.
Almond butter is super easy to find these days and Crete actually grows its own bananas (they are small and sweet) so we tried to buy those as much as possible. Their sweetness eliminates the need for any added sugar. Apart from that we used a sprinkle of cinnamon and a handful of seasonal fruit: figs, peaches, nectarines, plums and that's it. No chia seeds, no plant milk needed, no added sugar (unless you want to, of course). It has become my to-go breakfast now when I am travelling. I've just had it again during our mini-break in Wales, with foraged blackberries and cobnuts instead 🙂 .
Finally, I called them banana overnight oats, but really I find that there is no need to prepare them a night ahead at all. I tend to make them before I hop into the shower in the morning and that gives the oats plenty of time to soften without getting soggy as I hate soggy oats. It's your call so adjust the timing to your personal preference. Enjoy. x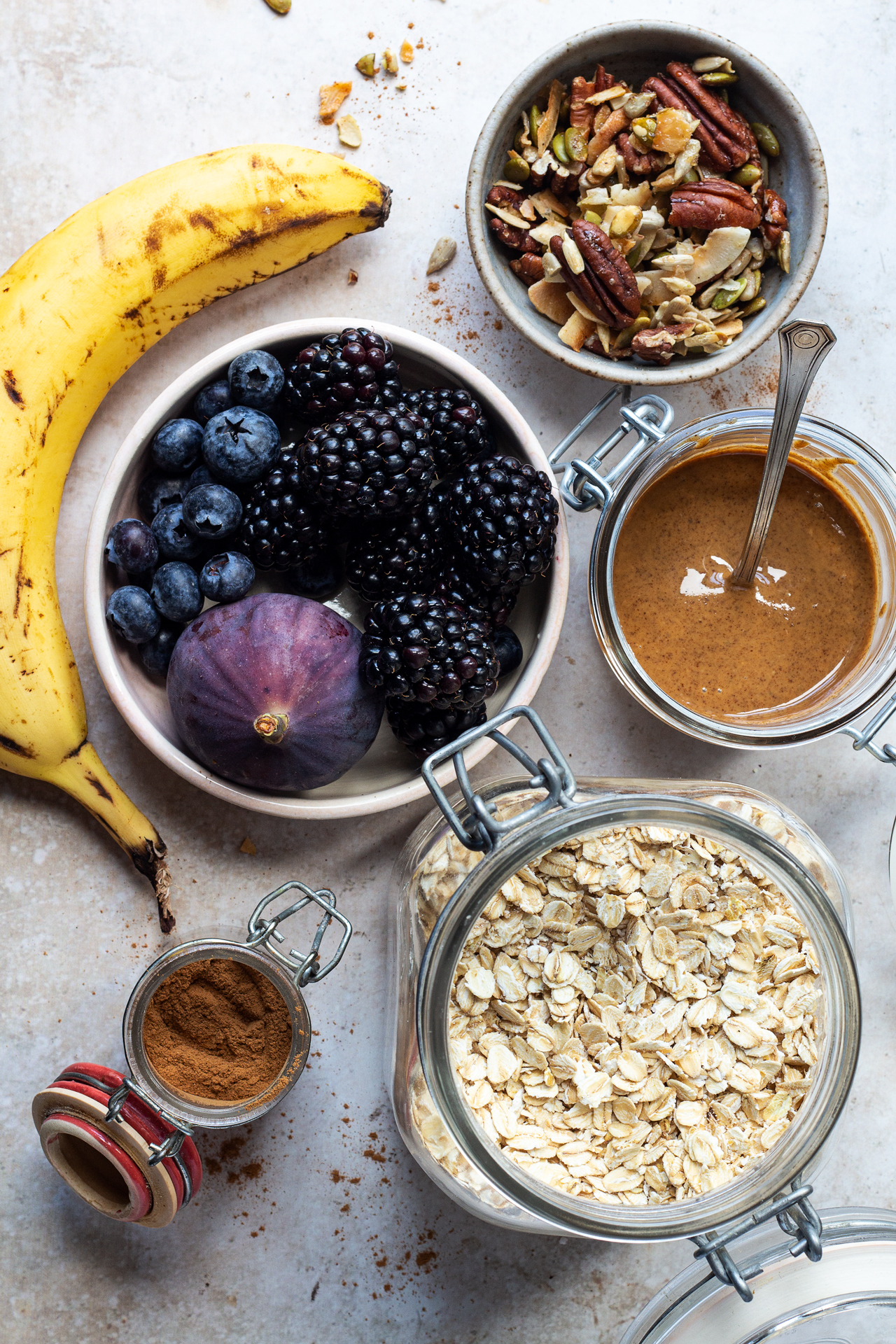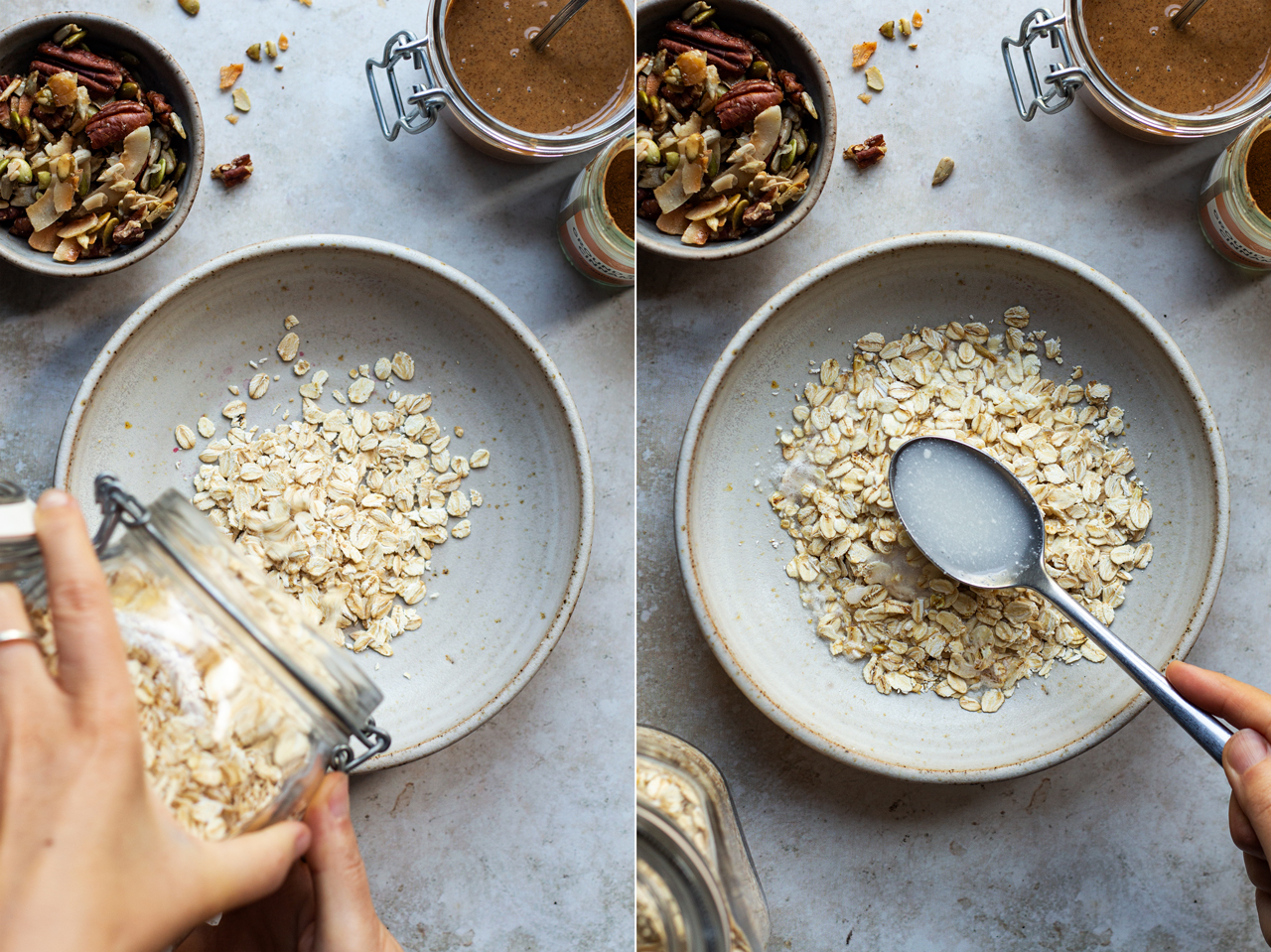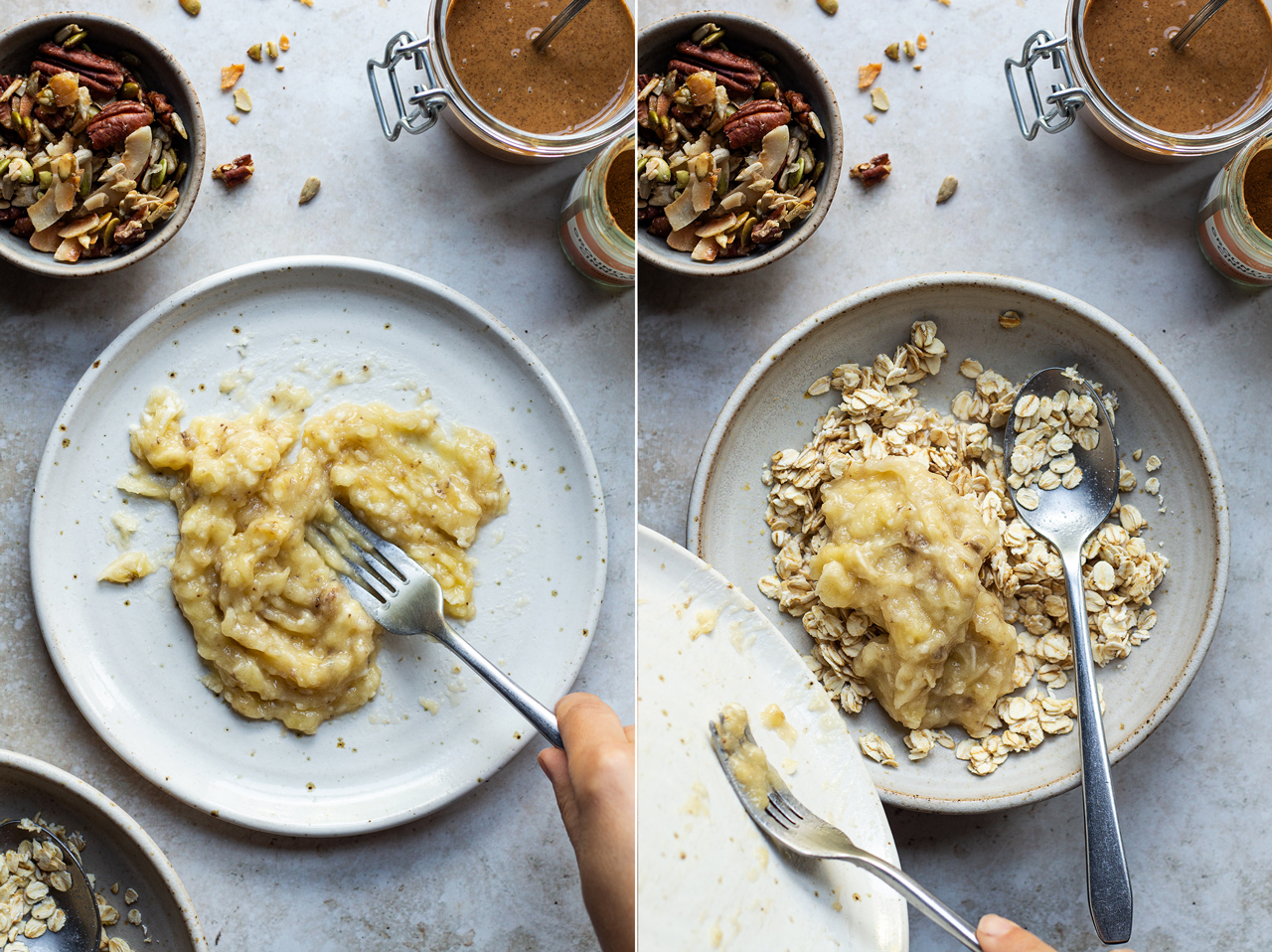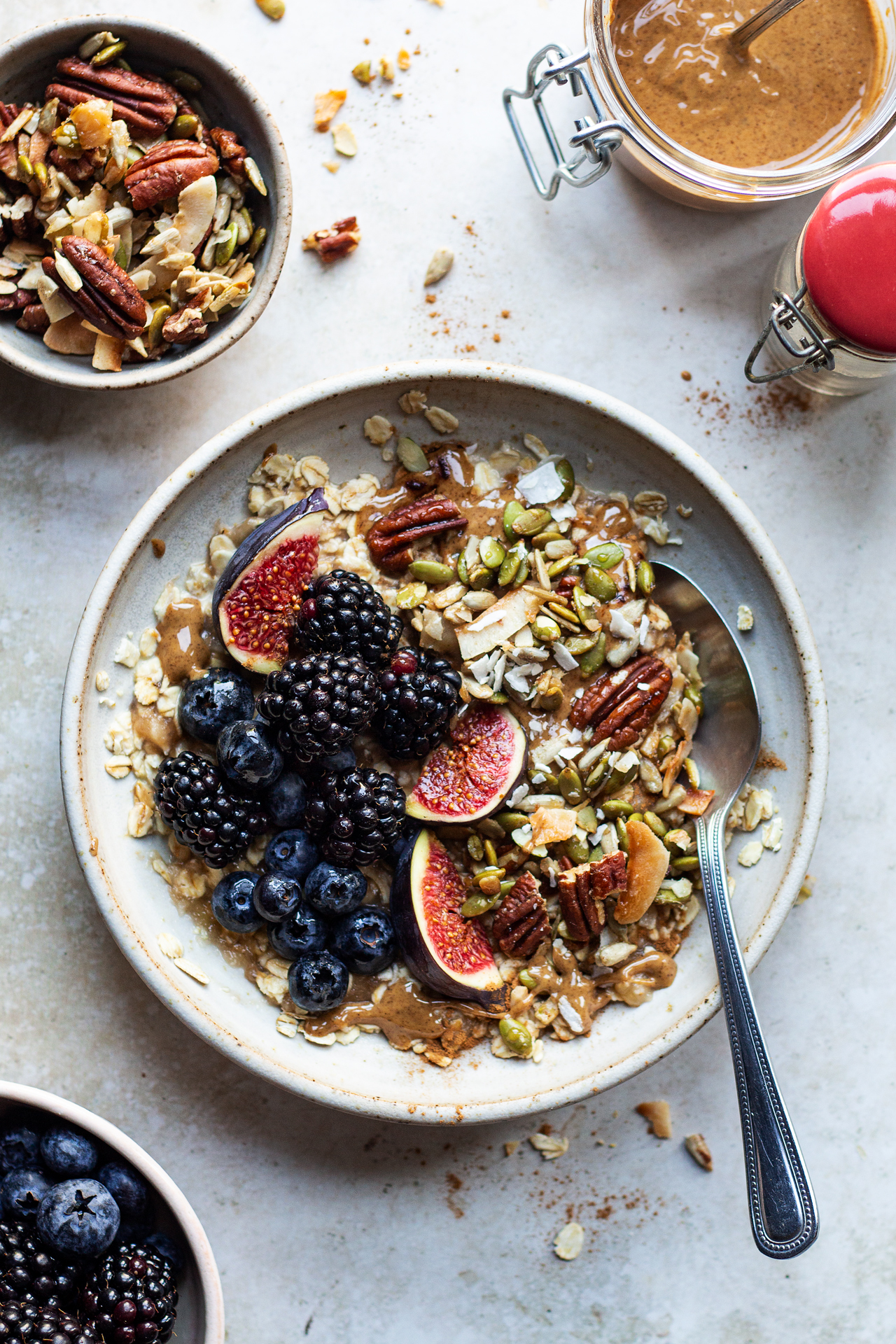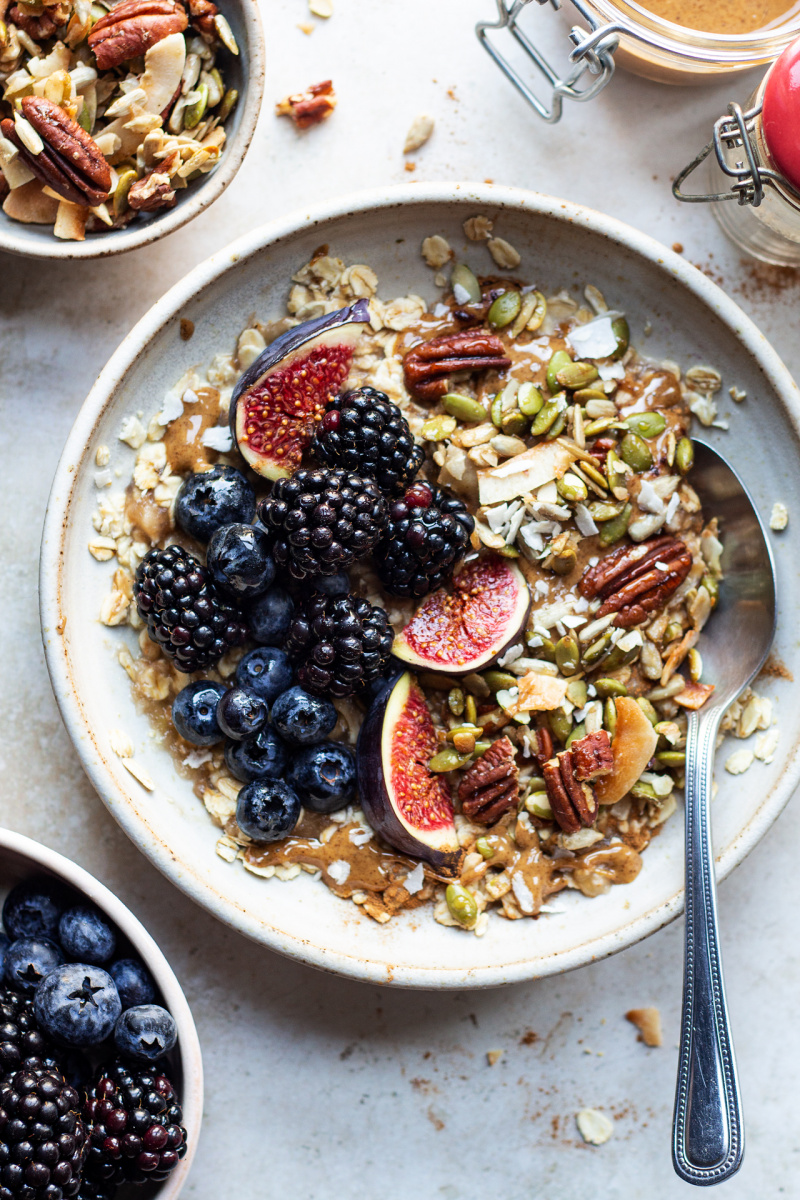 100 g / 1 heaped cup jumbo* rolled oats (GF certified if needed)
2 medium ripe bananas, mashed up with a fork
1-2 tbsp 100% natural almond butter (peanut butter or tahini will work well here too)
ground cinnamon, to taste
a handful of nuts, seeds or both
approx. 150 g / 5 oz seasonal fruit, per portion
METHOD
Divide oats between two bowls (or if you are a Duncan, that's just one portion) and stir approximately 2-3 tablespoons of water (you can use plant milk if you have it handy) into each bowl.
Add mashed up bananas and mix well to combine. Set aside for 10 minutes for the oats to soften.
Drizzle with nut butter and sprinkle with cinnamon.
Top with nuts and seeds and chopped fruit.
NOTES
*I do not recommend using quick oats as they turn into an unpleasant mush.