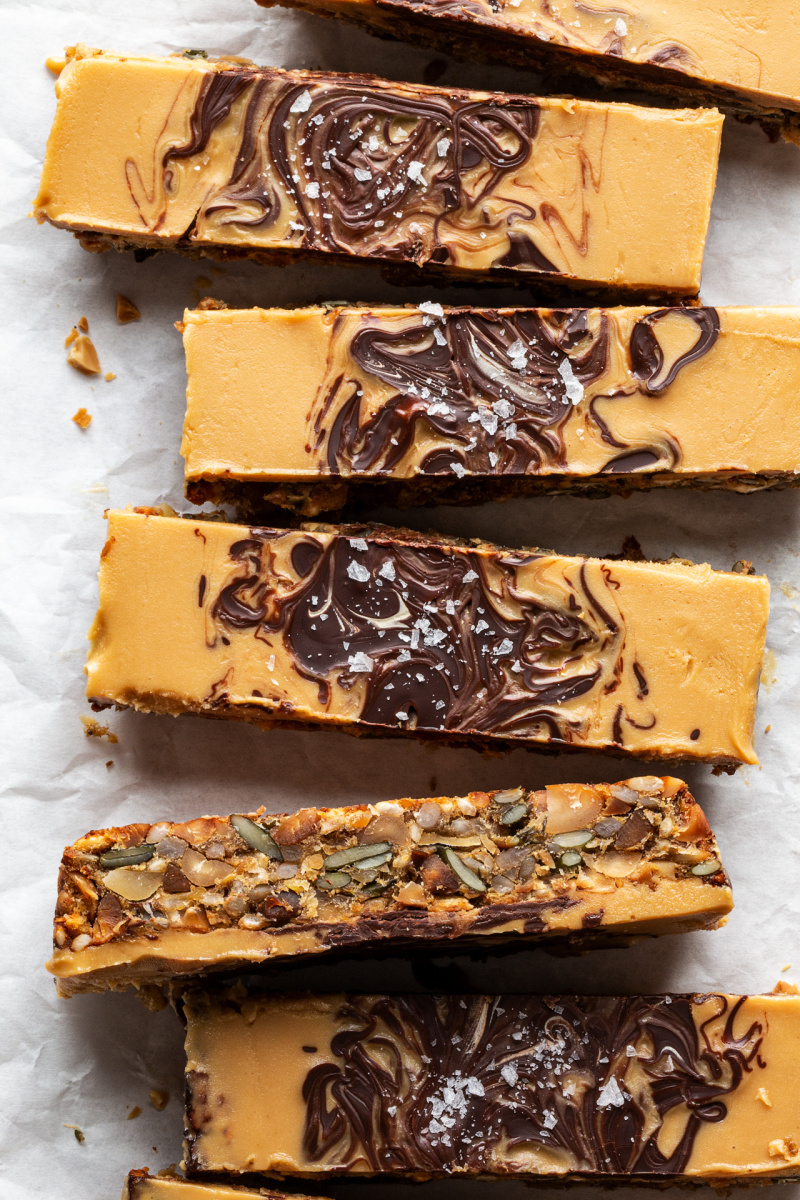 I'm 11 days into the renovation of my rental flat and there have been so many ups and downs already. Duncan came for a long weekend and has helped me a great deal but also lifted my spirits immensely as I was getting a bit down about the sheer amount of work that's still ahead of me and by how difficult it is to find a reasonable contractor in the middle of a pandemic. He is good like that, he sees the light at the end of a tunnel where all I can see is the tunnel itself. I don't cope with stress so well as I get overwhelmed easily and when I do I lose all faith in my own ability to overcome problems. It feels like they are all competing for attention and my brain seems unable to focus on one at a time.
We finished the living room, did most of the hall and today I spent a 2nd day on the bedroom. Cleaning, sanding, cleaning again and painting the walls. Tomorrow, I crack toxic wood paint open (I bought an oil-based paint by mistake!!) to paint the window frame, skirting boards, inbuilt cupboard and bedroom door. By the time the evening comes, I will be well intoxicated, I imagine. I'm also seeing two contractors tomorrow so that the big project of refurbishing the bathroom can hopefully start soon. That's by far my biggest blocker so I am really hoping that I will find someone soon.
Recipewise, I made some simple banana peanut bars. I've set out to make them completely sugar-free and while I was not sure I was going to like them without any sugar, both Duncan and myself found ourselves to enjoy their subtly savoury taste. As they have no sugar, their texture differs quite a bit from more traditional nut bars that are bound with some form of sugar so please be aware, but I think they are delicious, satisfying and make for a great, healthy snack, so here is the recipe in case you happen to like the sound of these too.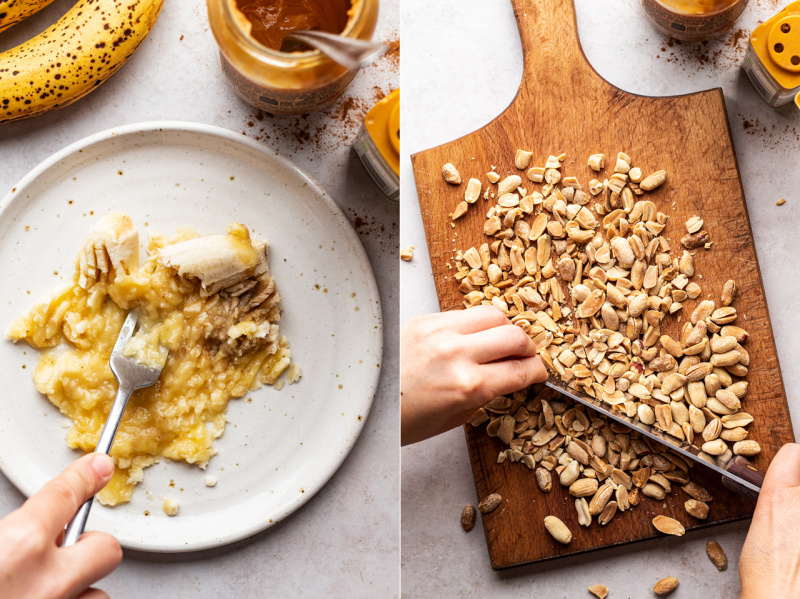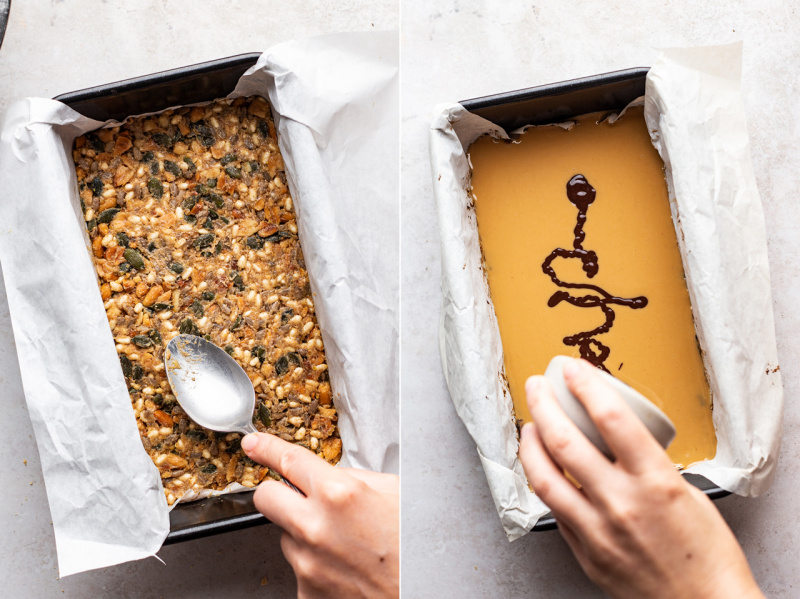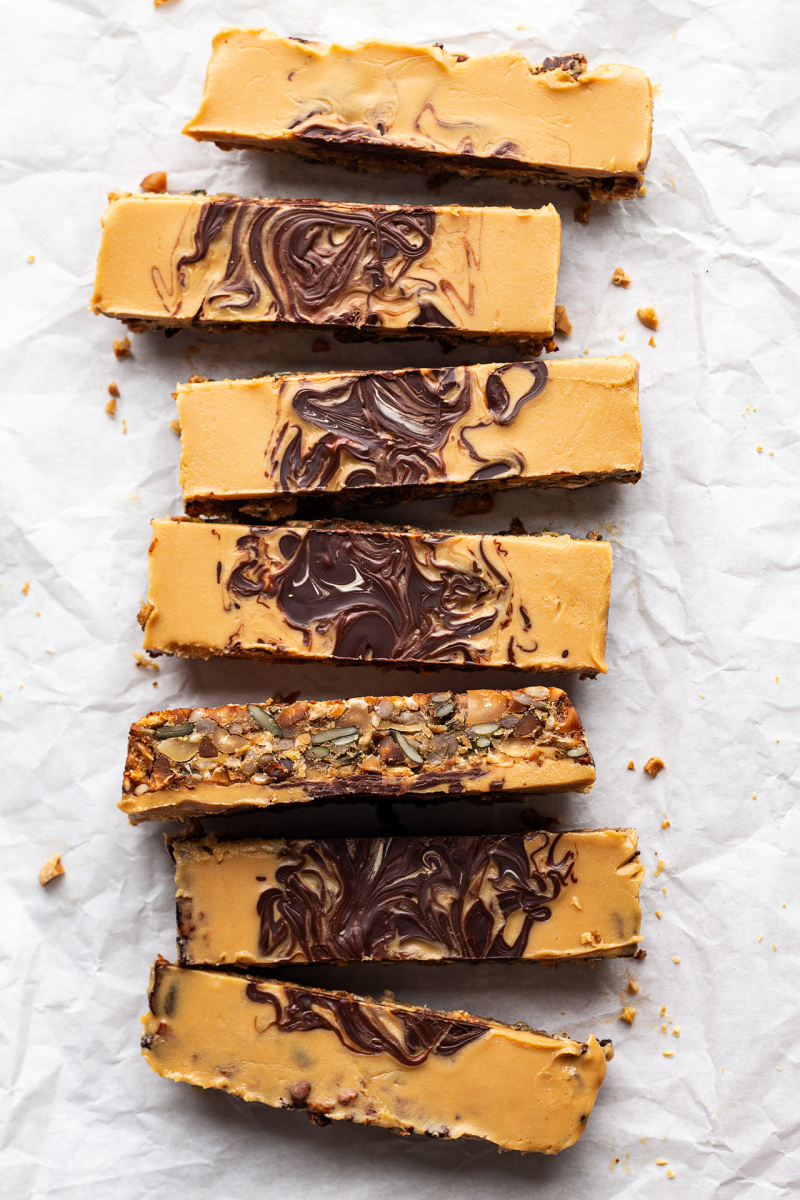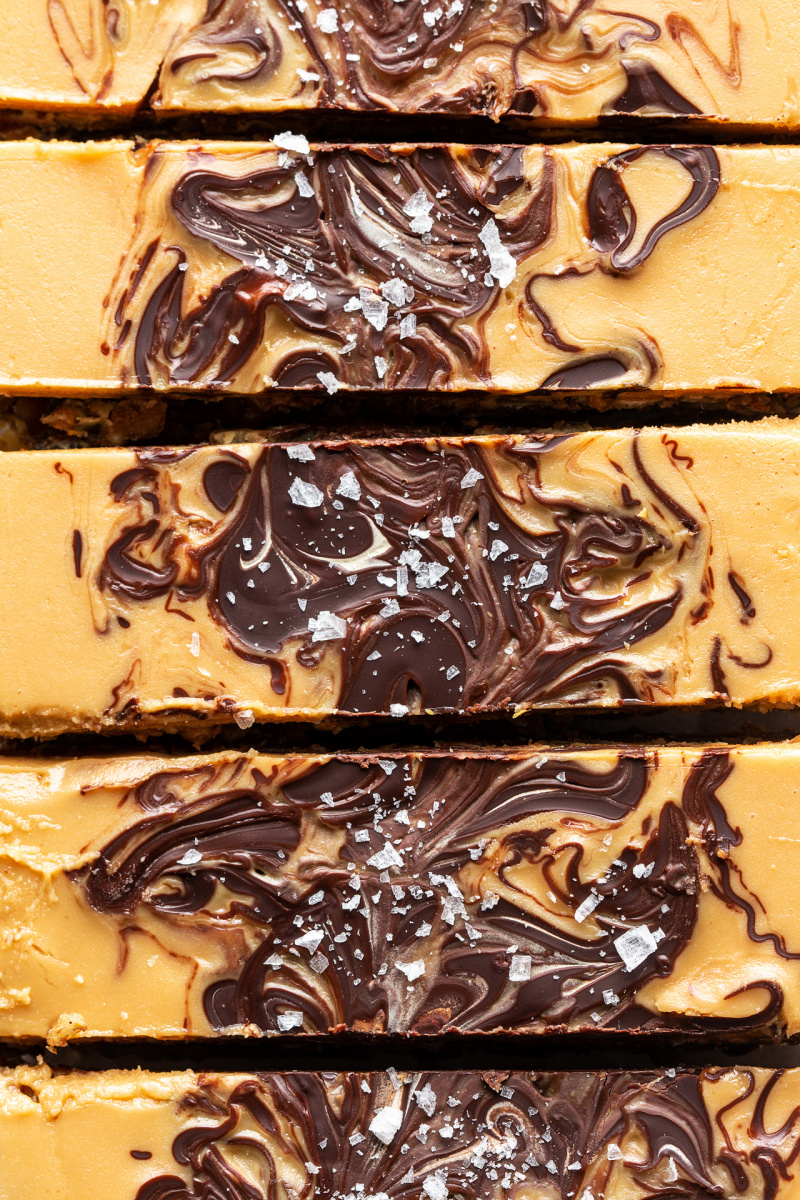 BARS
TOPPING
4 tbsp smooth peanut butter
35 g / 3 tbsp coconut oil, melted
40 g / 1.4 oz dark vegan chocolate, melted (optional)
METHOD
OPTIONAL: Preheat the oven to 180° C / 355° F. Place peanuts on a large roasting tray and toast them until lightly golden brown (about 8 minutes). Allow them to cool down completely.
Line a small baking tin (I used a 2lb / 900 g baking tin*) with a piece of baking paper and preheat the oven to 160° C / 320° F.
Chop the peanuts up small.
Mix mashed up banana and peanut butter in a large mixing bowl.
Next, add in flax seeds, pumpkin seeds, sunflower seeds, puffed rice, cinnamon, salt and chopped up peanuts.
Mix well until you get a uniform batter.
Spread the mixture on the paper-lined baking tin. Press the mixture down really well so that there are no gaps / air pockets and the bars hold together well. Use a piece of baking paper with a flat-bottomed glass on top to be able to pack the mixture better.
Bake for about 30-40 minutes, they should be browned, no longer super soft / raw to the touch.
Take out of the oven and compress the mixture again using the glass again. Then weigh it down with something heavy while the mixture is cooling down. Allow it to cool down completely before cutting or applying the topping.
Melt coconut oil and peanut butter on a low heat, stir together well until completely combined.
Pour the peanut glaze on top of the set bars. Decorate with melted chocolate (if using) and allow it to set in the freezer / fridge.
Cut into equal size pieces with a sharp knife. Store the bars in an airtight container.
NOTES
*I used a 2 lb / 900 g cake tin of the following dimensions: 18.5 cm / 7″ x 8 cm / 3″ x 6 cm / 2½". (I used one like
this
).
I set out to make these completely sugar-free, but adding some maple syrup (or other liquid sweetener) to the mixture and the topping is a great idea, I would add 30 ml / 2 tbsp of maple syrup (instead of some of the banana) to the mixture and approx. 15 ml / 1 tbsp to the topping.