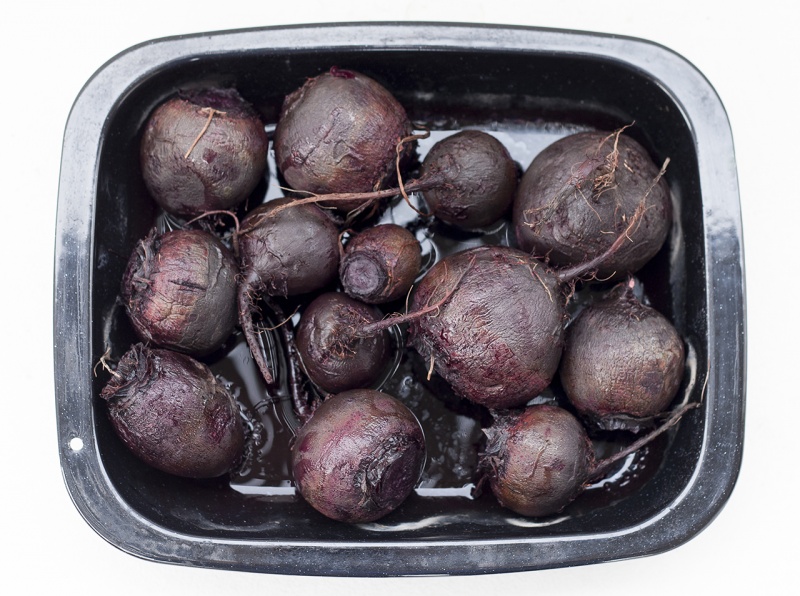 I think I might have mentioned that I used to hate beets as a child. Even though that's true, barszcz was definitely an exception. I loved it, especially the Christmas version which is served with wild mushroom filled ravioli called 'uszka' (which literally means 'little ears'). In Poland, Xmas eve dinner typically features twelve dishes including 'barszcz' (Polish beetroot broth)  and 'uszka' as a starter. When we were kids, myself and my little brother used to stuff our faces with so many uszka that we couldn't fit anything else in (until the sweets of course). Mum was happy enough that we are getting so many good nutrients in us that she let us get away with it. I don't think she suspected that half of the reason why we did that was that we weren't so keen on some of the other traditional dishes that followed (like carp – that mum used to keep in the bath).
This barszcz recipe needs a wee bit of work in advance, but the taste is really worth it. First you need to make a vegetable stock and a wild mushroom stock, both of which can be made a day ahead. Wild mushroom stock shouldn't be skipped as it really enhances the overall flavour – it imparts a subtle note of earthiness and marries really well with our main hero: Mr Beetroot (as Jamie Oliver would, no doubt, call it).
This recipe yields a clear, aromatic broth that packs a punch of flavour. It is best enjoyed hot, in your favourite mug, with a side of Mini Wild Mushroom Calzones to nibble on.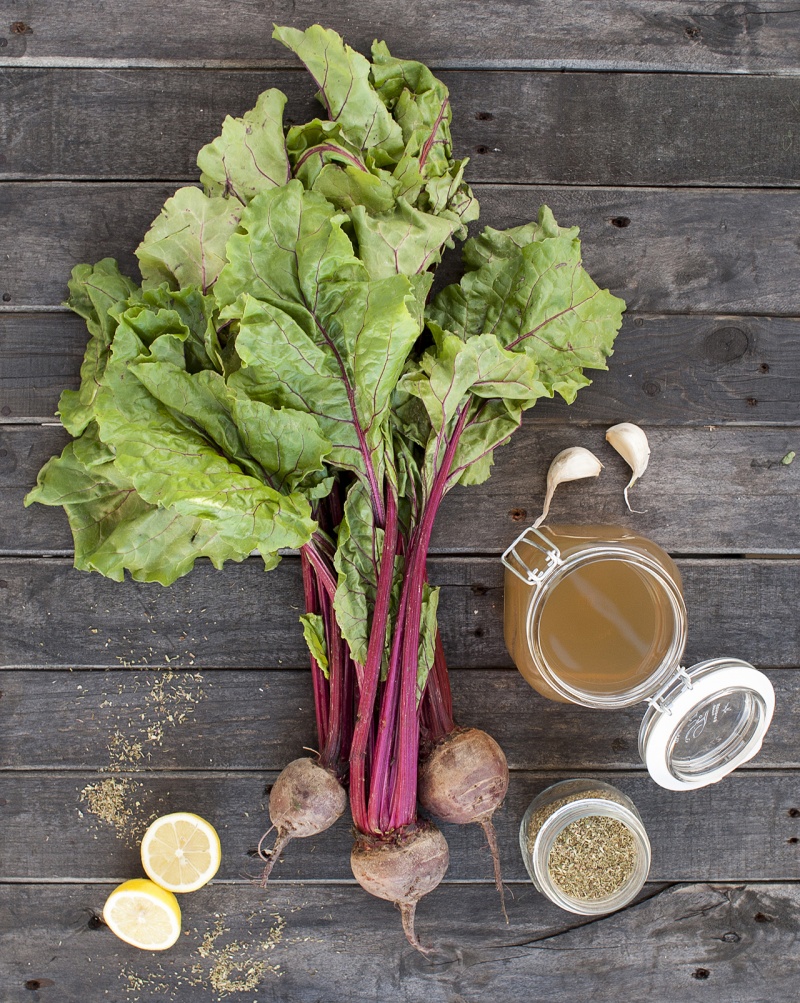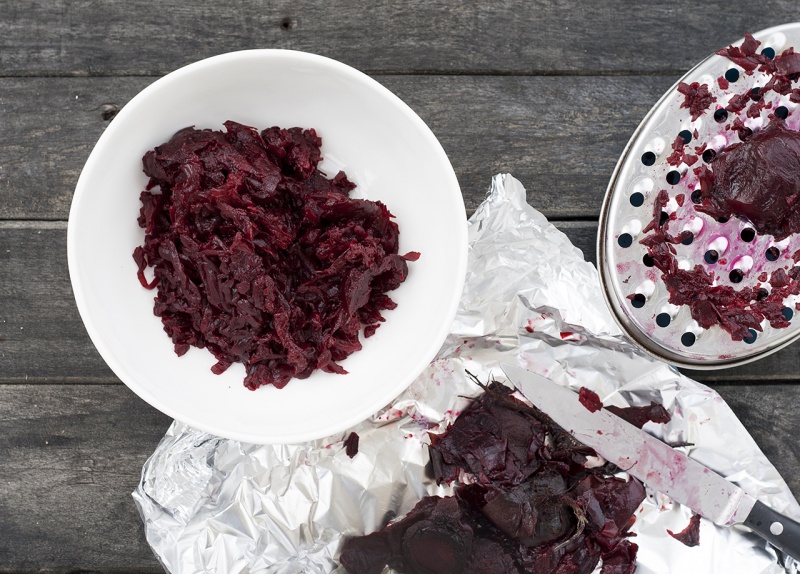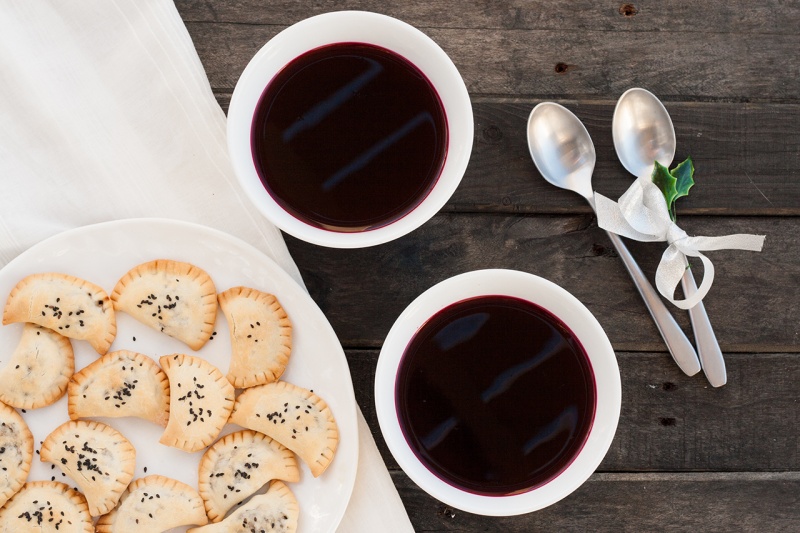 2 litres of homemade salt-free vegetable stock
8 medium beetroots
½ cup of wild mushroom stock, made from 20 g of dried wild mushrooms
½ – 1 garlic clove, peeled and crushed with an edge of knife
1 bay leaf
3 whole all spice berries
6 whole peppercorns
Juice of ½ – 1 lemon, to taste
1 tsp of dried marjoram
1 tsp salt, adjust to taste
Ground pepper to taste
METHOD
For the wild mushroom stock, rinse 20 g of wild mushrooms well. Once the mushrooms are clean, pour cold water over them (just enough to cover them.) Leave to soak overnight. Next day, bring the mixture to a boil and simmer gently until the mushrooms are soft. Take out the mushrooms and reserve for another use (you can use them to make these puppies to go with your barszcz), keep the broth and add it to the barszcz later.
Pre-heat the oven to 200° C. Cut off beetroot leaves, wash the beetroot bulbs and put them in an oven-proof tray. Pour a bit of water to the bottom of the tray so that beetroots cook in their own steam. Cover the tray with a piece of aluminium foil so that it traps all the moisture inside. Bake it for about 60-90mins, depending on the size of the beetroot (the beetroots need to be soft enough to let a knife to go in easily). Once ready, set the beetroots aside until they are cool enough to handle. Peel the skin of the beetroots with your fingers and grate them using cheese grater or a food processor. The reason why you want your beets in small pieces is that they release all of its juice more easily in that form.
In a large pot, combine vegetable stock, grated beetroot and all of the juices, wild mushroom stock and all remaining ingredients.
Warm it all up, but don't bring it to the boil as once the soup boils it will lose its vibrant colour and start looking a bit dull.
The soup's  flavour develops further after a day in the fridge so make it one day in advance if you can. Before serving, put the soup through a sieve. Serve hot in pretty cups with a bunch of these mini calzone to munch on.