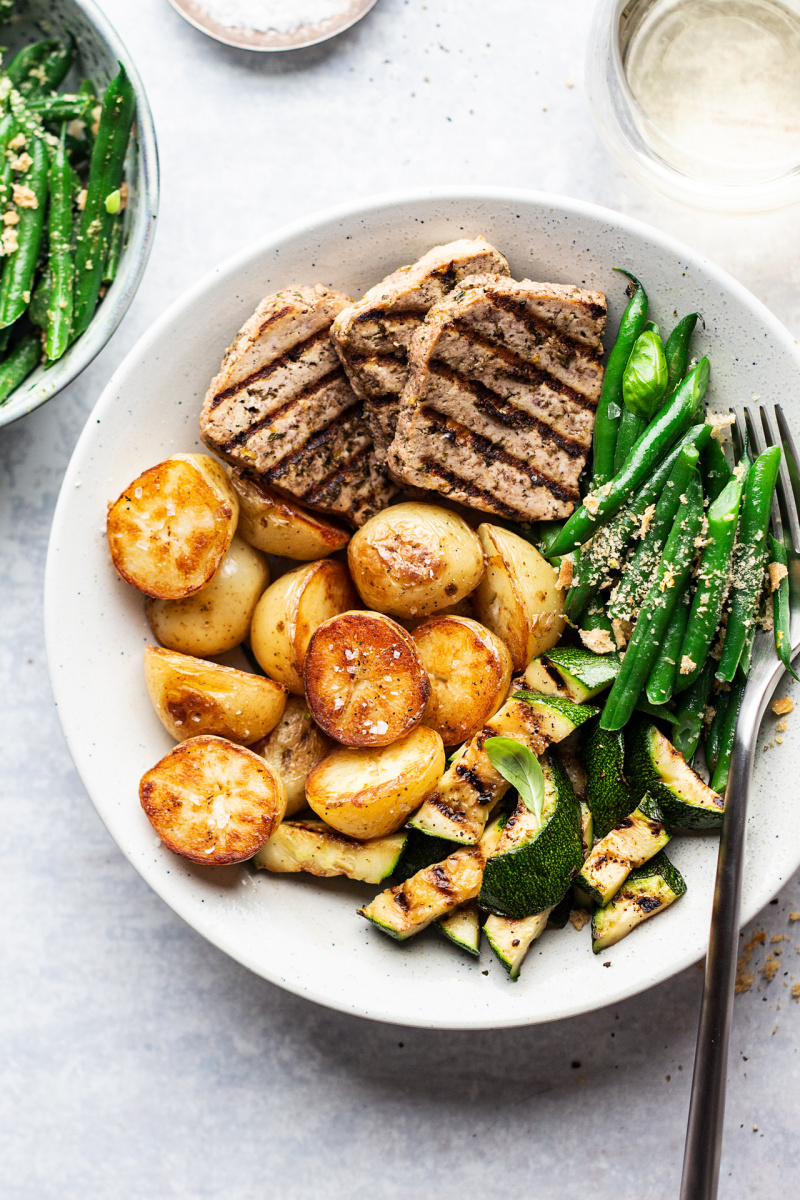 Don't panic, I have not stopped being vegan (and I'm happy to report that my brain appears to be working well enough despite eating vegan for 6 years now 😉 ) but I realise that this meal looks cunningly similar to a ubiquitous omni formula that most people from Western countries have grown up on – meat and two veg. And I would not be myself if I hadn't sneaked another veg in. I cannot help it, I am one of these annoying people that loves all veg and I have my health conscious mum to thank for that. Thanks mum ❤️.
So this meal has been inspired by my omni past and even though I stopped eating in this formulaic fashion as soon as I moved to London in my early twenties and discovered the joy of multi-culturalism, I did have a fair share of meals like this one during my childhood and teenage years and on some basic, nostalgic level, I miss them occasionally.
This simple meal is an example of what you can fairly quickly put together if have a jar of pesto and some leftover potatoes in your fridge. What sparked this idea was a large quantity of leftover baby potatoes and some vegan pesto I had in my freezer. I tend to make pesto once every few weeks, freeze it in a dedicated ice cube tray and defrost one or two cubes as needed. Not only does it minimise waste but it also provides a much needed injection of flavour to an impromptu meal with limited fresh ingredients. It enlivens a bowl of pasta, boiled or pan-fried potatoes and it also makes a great salad dressing, a soup , or a sandwich topper.
Making a double batch of pesto is a habit that has served me well for a while as, like everybody, despite what you may expect, I also sometimes get stuck and totally uninspired when it comes to cooking. You know those days when everything feels like too much effort and I am bored of everything that my brain is frantically trying to concoct to help me out? This is where a cube or two of thawed pesto is a real life saver so I thought I would pass it on, in case you are looking for waste conscious solutions that will aid you in creating something delicious with minimal effort. Enjoy!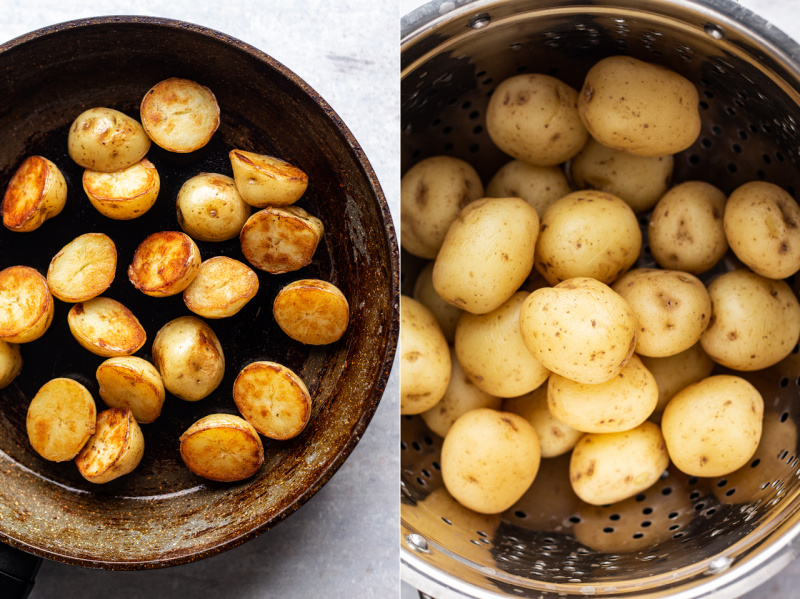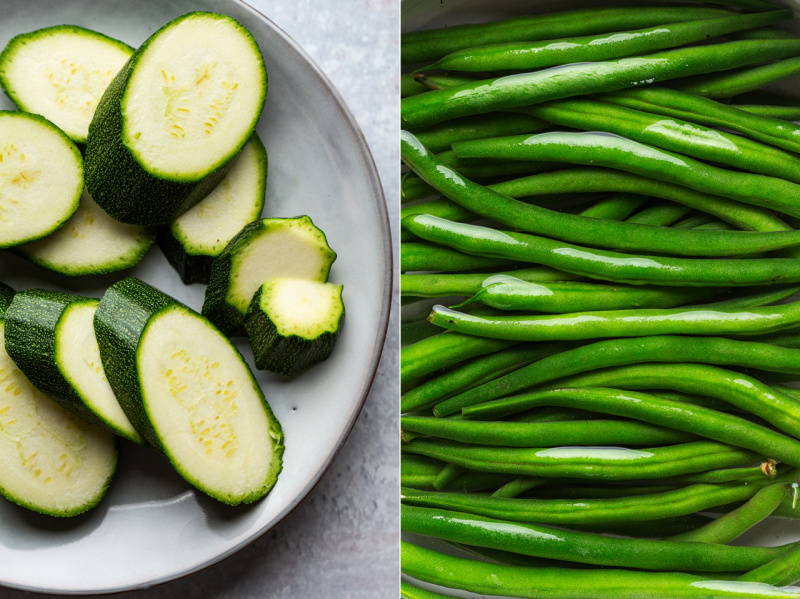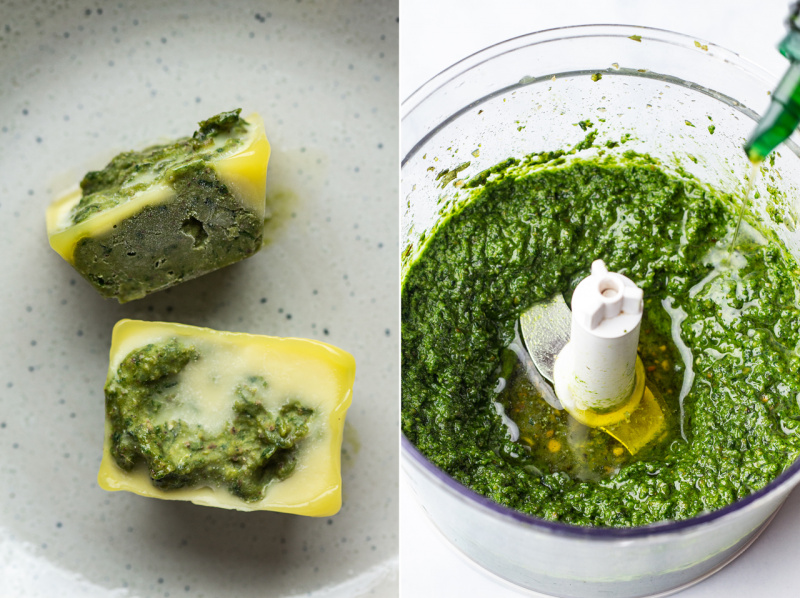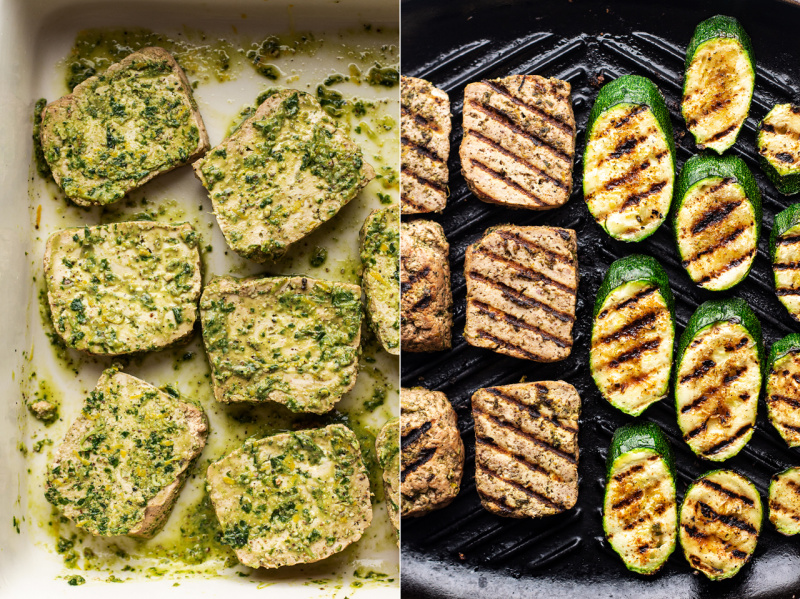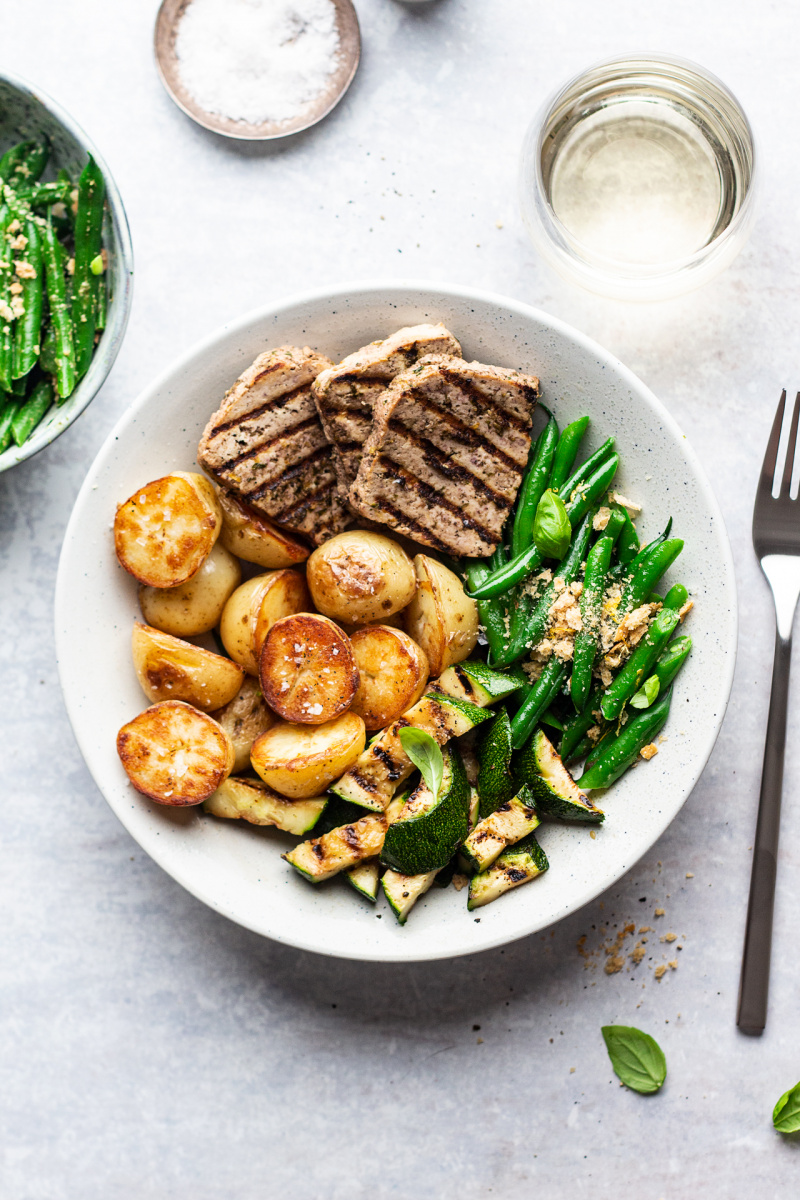 200 g / 7 oz firm smoked or neutral tofu, pressed*
¾ tsp fine sea salt
2 tbsp lemon juice + zest of 1 lemon
1 garlic clove, minced
1 heaped tbsp vegan pesto + more to coat the beans
¼ tsp black pepper
1 large zucchini
1 tsp Italian seasoning**
1-3 tsp olive oil
100 g / 3½ oz green beans, topped and tailed
400 g / 14 oz boiled, cold baby potatoes
1-2 tbsp toasted coarse breadcrumbs (optional)
METHOD
Cut pressed tofu into 1.25 cm / ½" slices. Arrange them in a single layer in a large baking dish.
Dissolve salt in 2 tbsp of warm water. Add in lemon juice, lemon zest, minced garlic, vegan pesto and black pepper. Mix well and spoon over the tofu. Allow the tofu to marinate for as long as you can, flipping the tofu pieces to the other side now and again.
Once you are ready to cook your meal, preheat a heavy griddle pan – a well-seasoned cast iron skillet should work well too but you'll need to use some oil and you won't get those nice char lines.
Slice the zucchini into 1.25 cm / ½" slices on the diagonal. Brush both sides with olive oil and season with Italian seasoning.
Arrange seasoned zucchini slices and marinated tofu steaks on a hot griddle pan with tofu steaks in the middle of the pan as that's where the heat is most effective.
Allow them to char (start checking after about 2 minutes) before flipping to the other side.
Cut cold potatoes in half. Heat up a tablespoon of olive oil in a medium, non-stick pan. Once hot, place the potatoes cut side down. Leave undisturbed, until the potatoes get golden, then turn to the other side.
While you pan fry the potatoes, boil your green beans for about 3 minutes – until cooked through but still a touch crunchy. Drain and refresh under a cold tap or plunge into a bowl of ice-water to retain the colour. Stir a bit of pesto through the beans.
Combine all four elements on two plates. Sprinkle the beans with toasted breadcrumbs (if using).
NOTES
*This is the
tofu press
I use.
**Or use a mixture of salt, pepper, coriander, garlic power, oregano, chilli and smoked paprika.