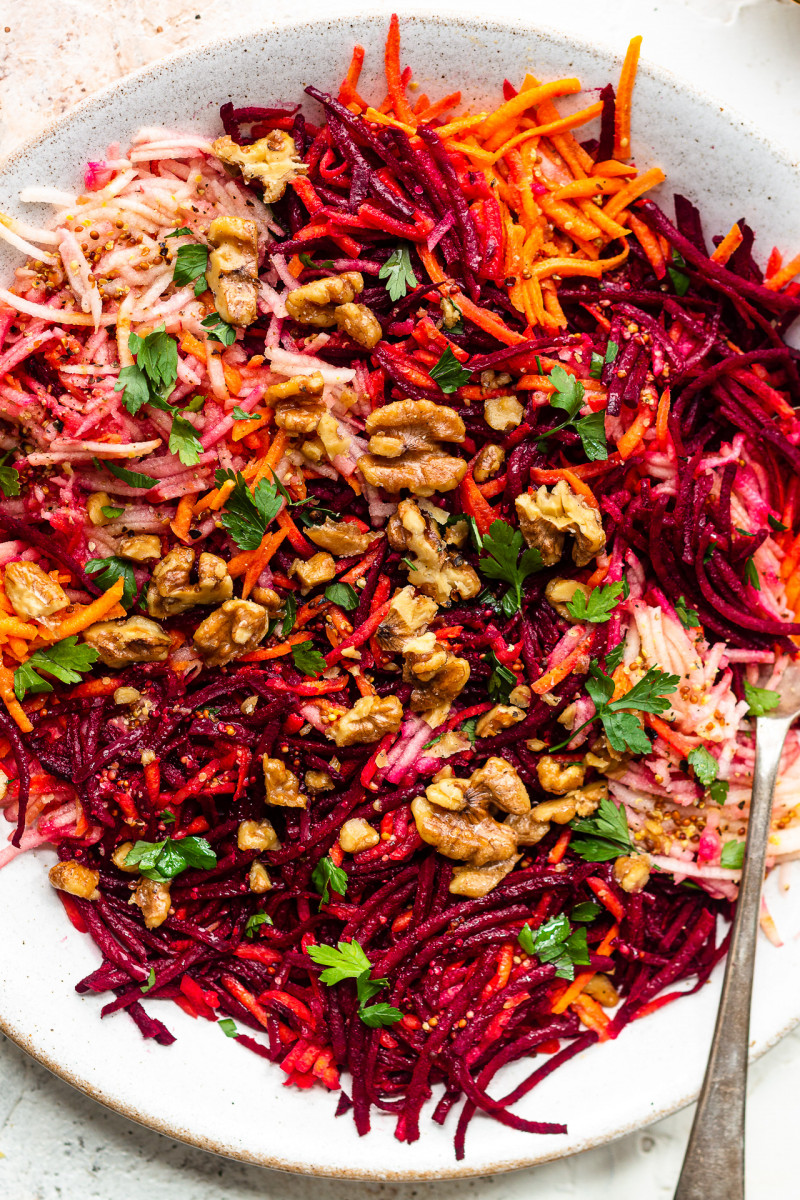 It's starting to feel like autumn, doesn't it? I am certainly getting into the autumn mood lately and our staple lunch has shifted in time with the change in weather. This simple autumn-inspired beetroot salad has been on our menu a lot lately. It may sound counterintuitive, given the nature of my job, but I am prone to making the same dish, day in and day out for ages until I get bored with it completely and move on to something else.
I love coming up with new things, but when I am photographing and also have to take care of lunch prep for both of us – it makes sense as otherwise we argue over the mess my photographing and styling sessions create in the kitchen – I like to be able to fall back on something tried and tested and batch prepped. Throughout summer, we've lived on a variation of this vegan chicken burrito bowl and we are only just getting sick of it (me, Duncan is more content to eat the same thing again and again).
Slowly this autumn inspired salad is moving in to take the spot. What I like about it, other than the ease of prep, vibrant colours and flavour is how easy it is to make in advance. Since I grate all of the ingredients in a food processor – I used to do it by hand, but it's tedious and messy! – I make it worth my while.
I tend to make enough for 2-3 days and keep undressed salad in an air-tight box in the fridge, separate from the dressing. I also make a ton of hummus to go with it. On the day, all I need to do is to dress enough salad for both of us, slice some pickles (we enjoy Polish gerhkins on a side) and toast some bread and we are all set. If that sounds good, here is my recipe with an added bonus of maple walnuts, which while completely optional are so delicious that you may want to give them a go.
MORE ABOUT THE INGREDIENTS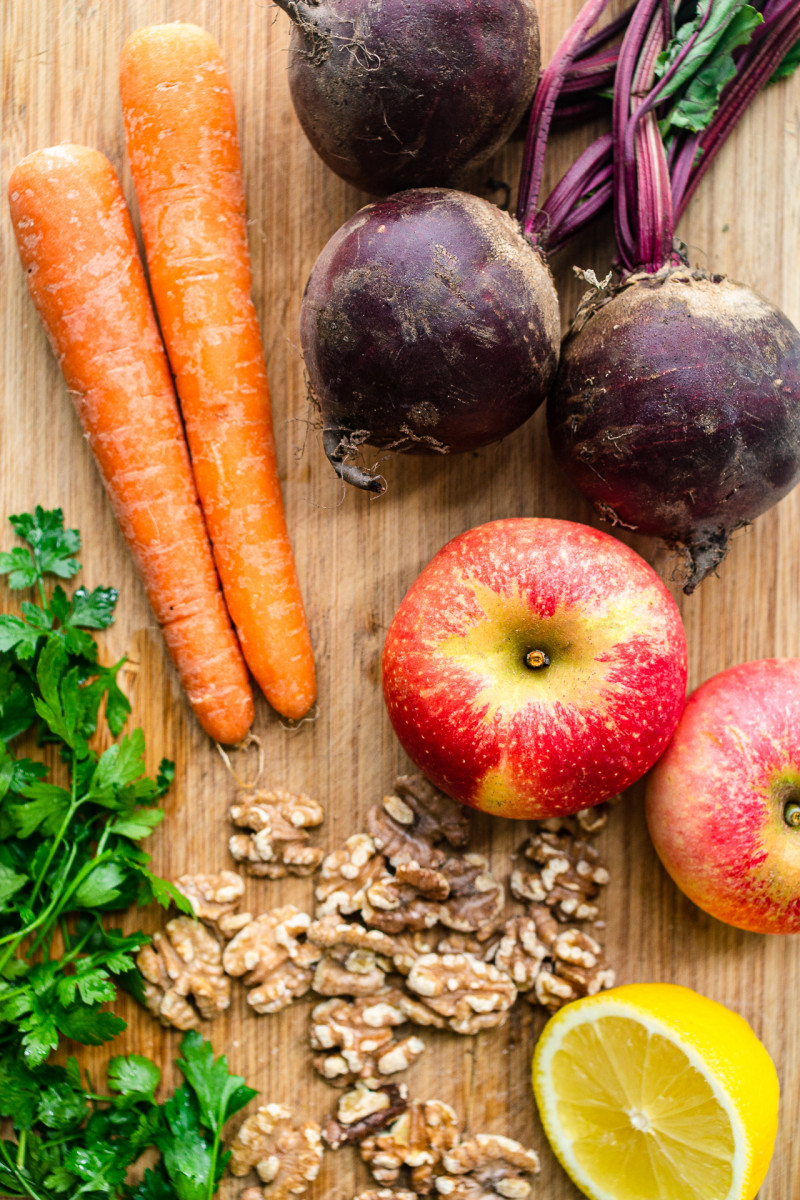 BEETROOTS: raw, coarsely grated beetroot gives this salad beautiful earthiness and its stunning pink colour. It is undeniably beautiful, but tends to stain all other veggies around, which is why I decided to keep some of it separate from the other two ingredients in my photos. In real life, I mix everything in before serving 🙂 .
CARROTS: another autumn vegetable feels right at home on this plate, it adds crunch, subtle sweetness and another vibrant colour to this stunning salad.
APPLES: apples add some juiciness and sweetness to this simple salad. I used apples from my garden and I have no idea what variety they are but they are sweet and with a light blush. I keep the skin on for extra nutrition and because it's less hassle. I recommend using crunchy and sweet apples, but any apples will do really. If yours are a little tart, simply dial down the amount of lemon juice in the dressing and perhaps add a touch more maple syrup.
PARSLEY: parsely works really well in this salad but coriander won't feel out of place either. If using corinader instead, you may want to add some toasted & crushed coriander seeds to the dressing and perhaps replace the mustard with a little bit of chilli heat.
LEMON: lemon juice is my favourite acid to use in this kind of salad, although you could use (probably a little less) apple cider vinegar here instead. It balances the sweetness of apples, root vegetables and maple walnuts really nicely.
WALNUT OIL: walnut oil is what I recommend for the dressing here as it goes so well with the flavours of this salad, but if you haven't got any on hand quality olive oil will work just as well.
WHOLEGRAIN MUSTARD: a bit of wholegrain mustard adds a layer of subtle heat here, but if you are not a fan, feel free to skip it. Check the label to make sure the brand you buy is definitely vegan as sometimes, rarely though, honey is used.
MAPLE SYRUP: I use a touch of maple syrup in the dressing, not a lot as I want lemon juice to shine, and a bit more to candy my toasted walnuts. While you may be tempted to skip making them, I urge you to reconsider 😉 as they are simply delicious and I guaratee you that you won't be able to leave them alone once you've had a taste…
WALNUTS: when I make this salad for us for lunch, I simply top it with toasted walnuts (I toast them in bulk and store in a jar). They provide a delicious crunch that goes so well with all of the ingredients in this salad. If you want to take this simple salad to the next level, however, I recommend coating toasted walnuts in maple caramel – you won't look back, I promise. If you are allergic to nuts, a mixture of toasted sunflower and pumpkin seeds (see STEP 6 of this recipe) will work just as beautifully.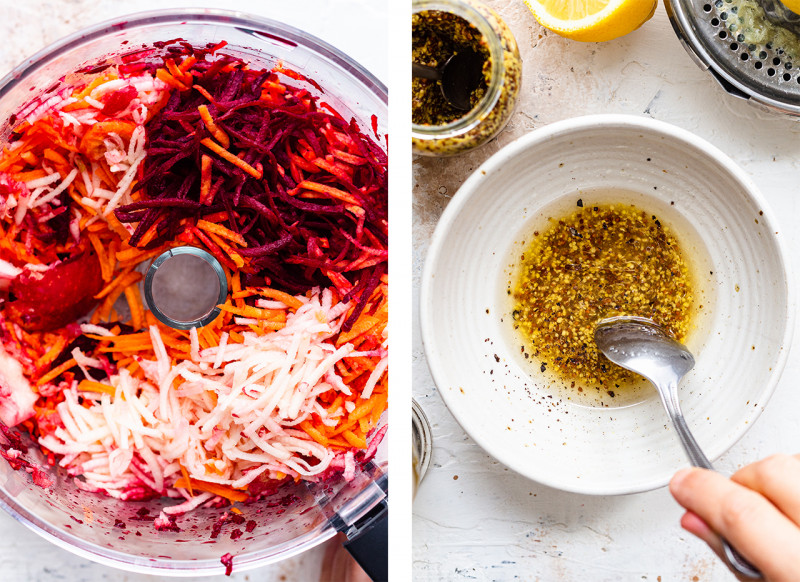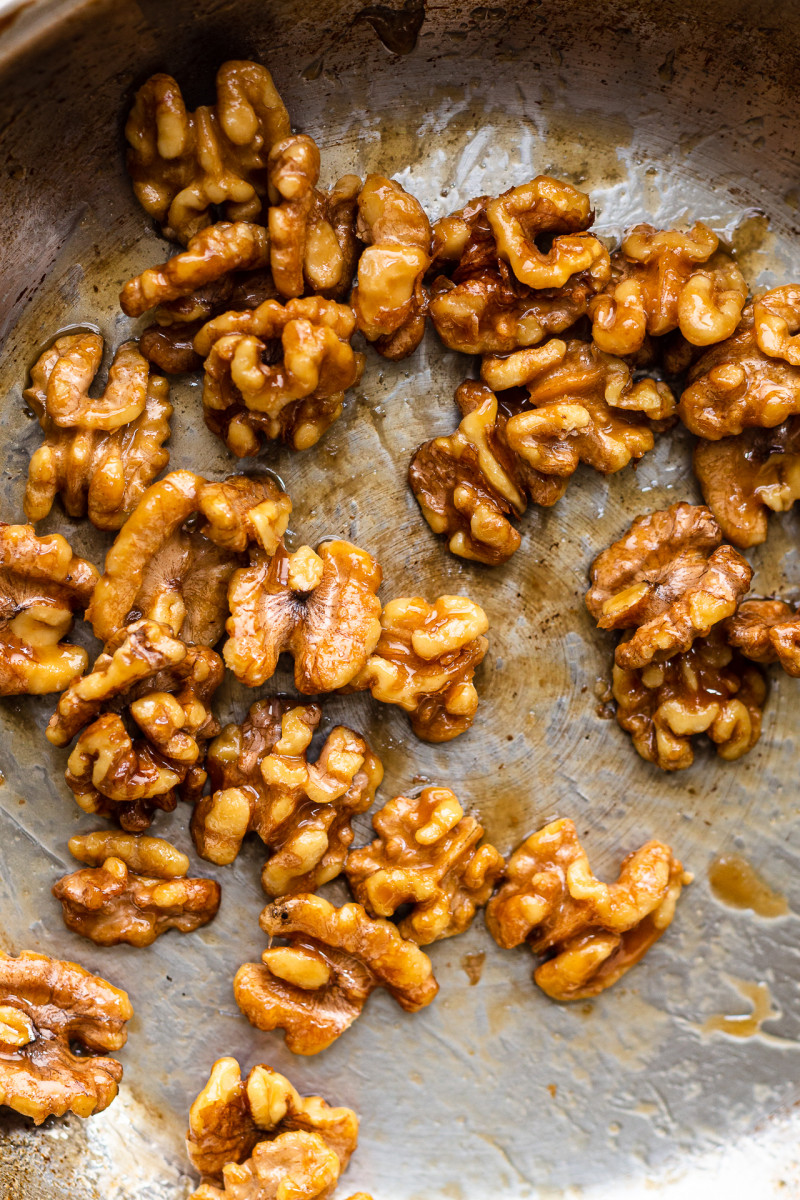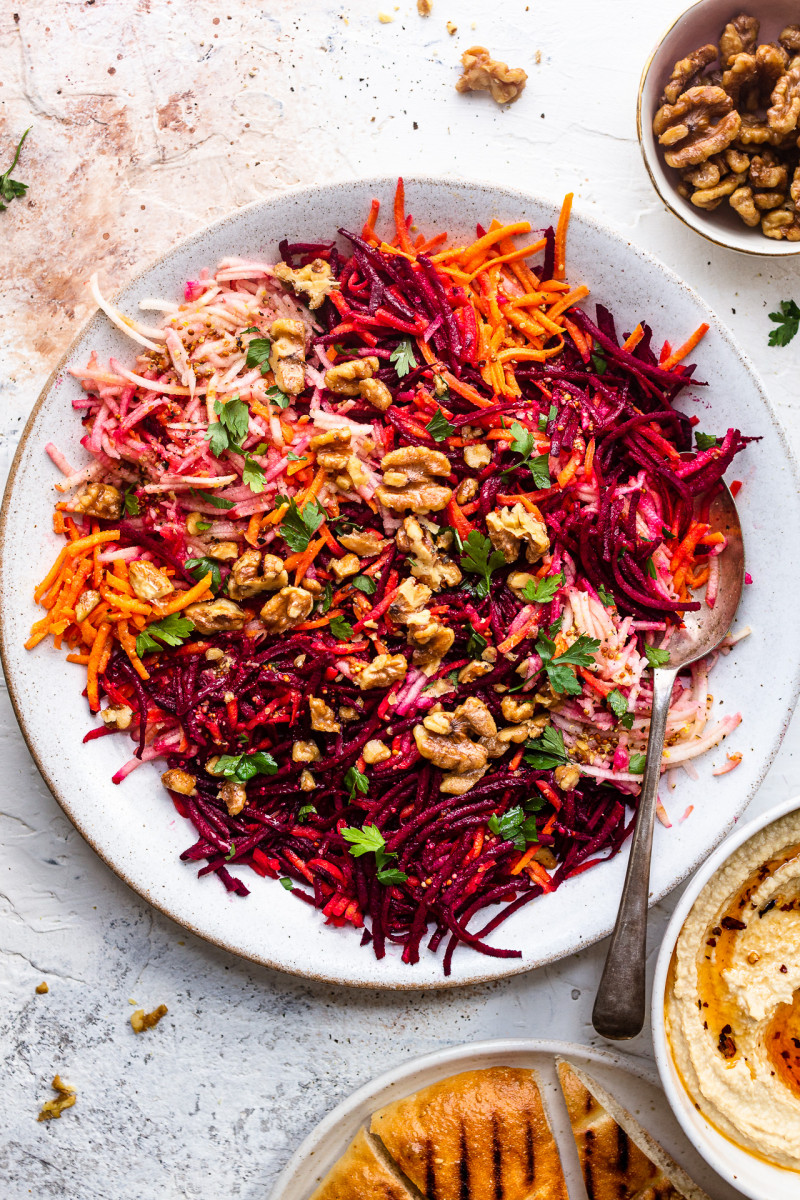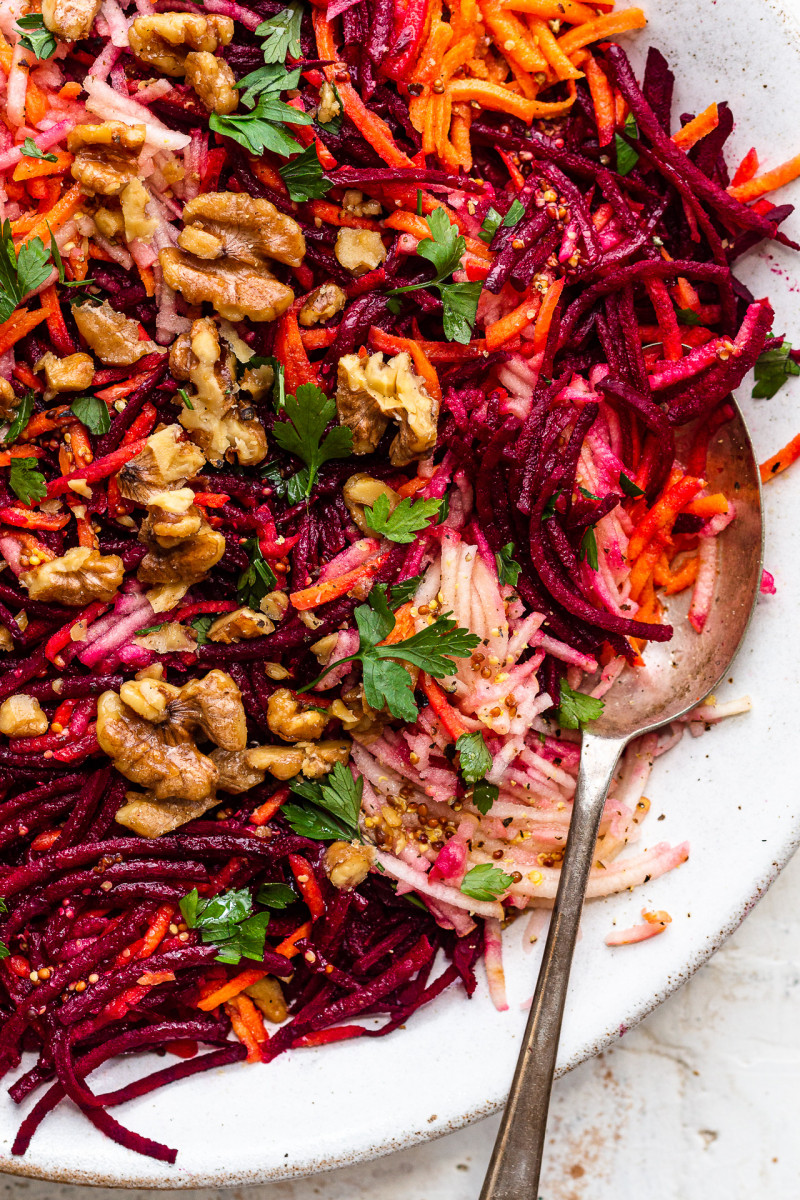 DRESSING
30 ml / 2 tbsp walnut oil (or extra virgin olive oil)
30 ml / 2 tbsp lemon juice
10 ml / 2 tsp maple syrup
2-3 tsp wholegrain mustard
salt and pepper, to taste
SALAD
2 medium beetroots (about 300 g / 10.5 oz)
2 medium carrots (about 150 g / 5.25 oz)
1½ sweet apples (about 150 g / 5.25 oz)
a large handful of flat leave parsley, well chopped
75 g / 1 scant cup walnuts
MAPLE WALNUTS (optional)
8 g / 2 tsp coconut oil or vegan butter block
30 ml / 2 tbsp maple syrup
a good pinch of fine sea salt
METHOD
DRESSING
Mix all of the dressing ingredients in a small bowl. I intended for the dressing to be quite tangy as both veggies and apples especially (plus maple walnuts too, if using) bring a lot of sweetness.
Season with salt and pepper to taste. Set aside.
SALAD
Peel beetroots and carrots – although if the skin is thin and the veggies are organic you may want to leave most of the tender skin on.
Quarter and core the apples – there is need to peel them.
Use a shredding attachment on your food processor and shred all three ingredients coarsely. If you don't have a food processor, you could grate them by hand but it will take longer.
Toast walnuts in a small frying pan – tossing frequently – or in a 160° C / 320° F oven until for about 8-10 minutes – until fragrant and golden. You can use them toasted or use them as a base for MAPLE WALNUTS (see below).
Combine grated ingredients and chopped parsley in a large bowl, stir the dressing through. Serve with chopped toasted walnuts (or maple walnuts) on top.
MAPLE WALNUTS (optional)
Add coconut oil and maple syrup to a small frying pan. Place on low heat.
Stir them both together and allow them to heat up until there are lots of little bubbles all over.
Stir in toasted walnuts (step 4 of the SALAD method) coating them in the maple caramel, sprinkle with a little salt and allow them simmer lightly for 3 more minutes, stirring the whole time.
Transfer to a piece of baking paper and cool down before using.
NUTRITIONAL INFO
*per 1 out of 4 portions (with toasted walnuts)