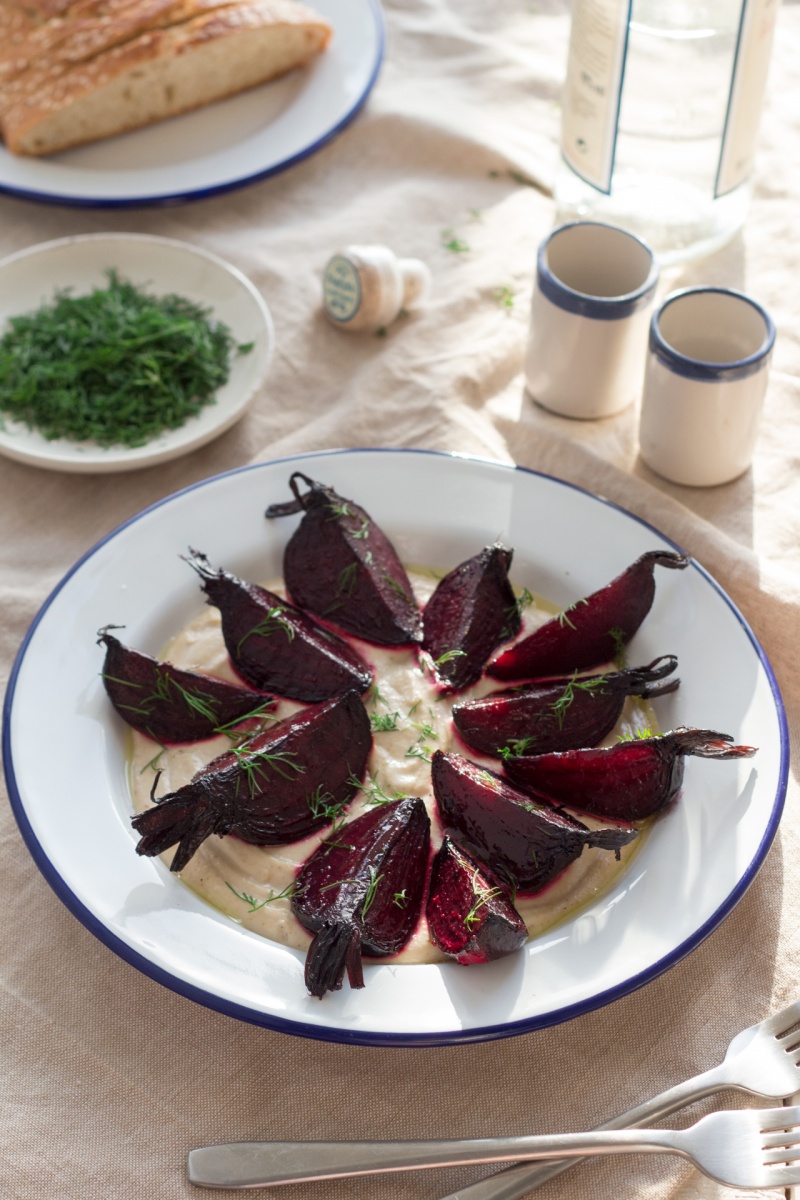 Today's recipe is another Greek classic and one of my absolute favourites! In the course of my life, I went from hating beetroot to being a complete and utter beetroot fiend. I love its slightly sweet and yet earthy flavour. I was in luck when I decided to move to Greece as Greeks make this beautiful yet simple dish, which elevates this humble veg to a new level. Skordalia is a slightly tangy, very garlicky dip that complements sweet beetroot extremely well. Every time we go out for mezze here, beetroot with skordalia is my first choice. Skordalia is one of these dishes that has so many different versions that you would be hard pressed when looking for the original recipe. Some cooks use floury mashed potatoes as a base, others use stale white bread, yet others swear by using nuts (either almonds or less often walnuts). There are also endless versions that combine two out of the three bases so I would say that the best way is to experiment to find a texture that suits your palate most. My favourite is the almond base as it has, in my opinion, a nicer texture than the potato and bread versions and roasting the almonds gently adds another flavour dimension.
While the cooks may differ on what forms the best skordalia base, there is one aspect that all skordalias have in common: they are laced with lots and lots of raw garlic (4-6 garlic cloves isn't uncommon). This may be a selling point for some, but I realise that it may put some people off. If you are not bothered about vampires and are a bit uneasy about using so much raw garlic, you can oven roast your garlic whilst roasting your beetroots and use this toned-down roasted version instead. Or you could sauté the garlic in the pan before incorporating into the dip to take the edge off. Whichever way you do it, don't miss out on trying this dip – when paired with roasted beetroots, it is simply heavenly and a little goes a long way.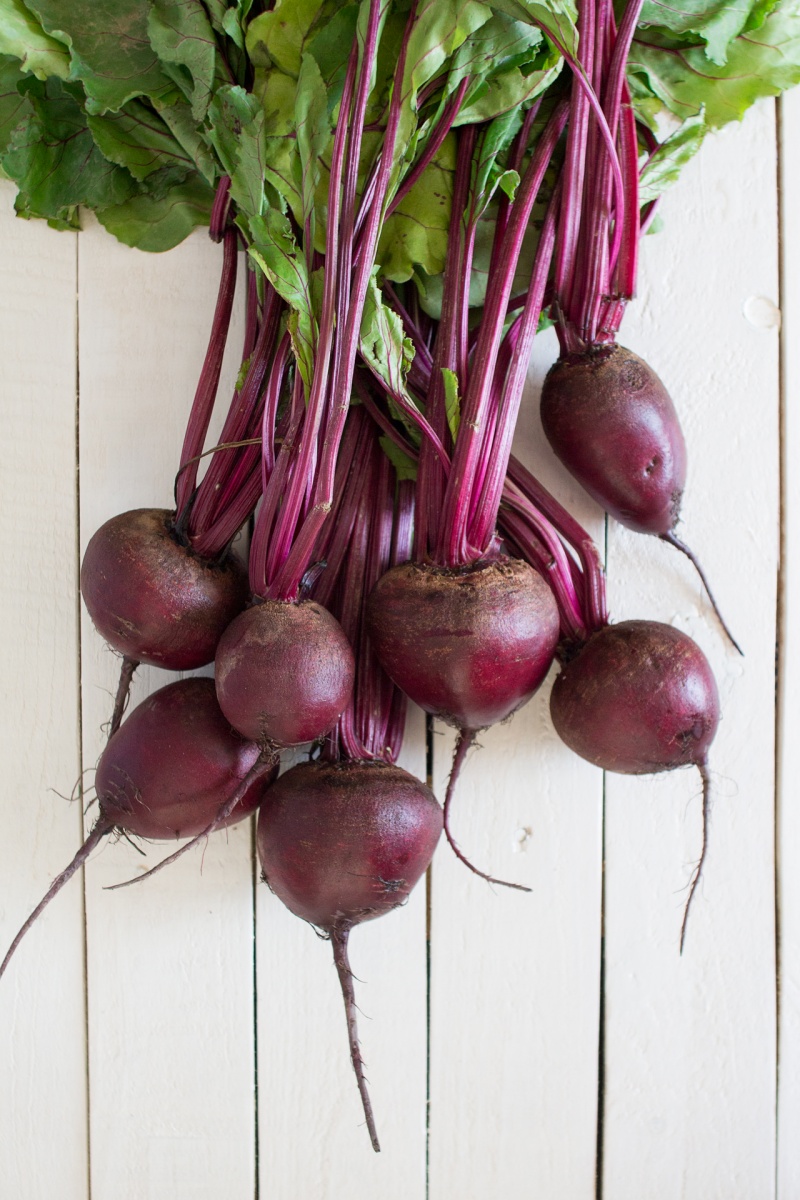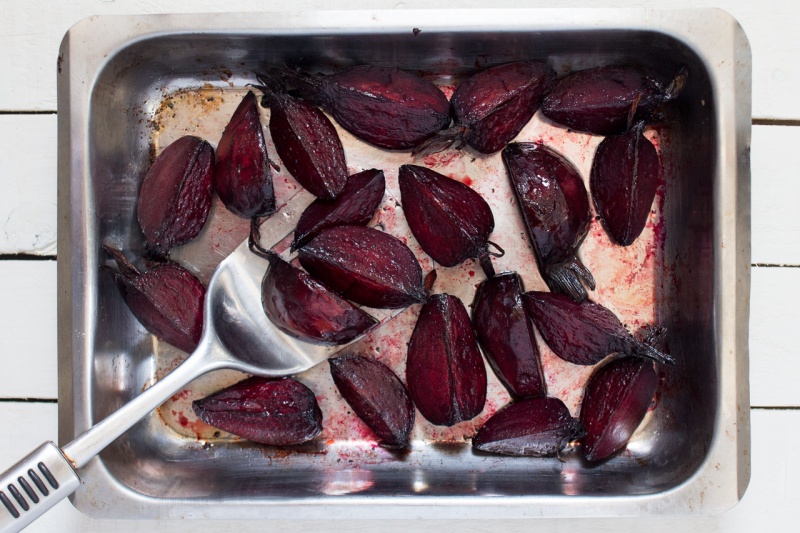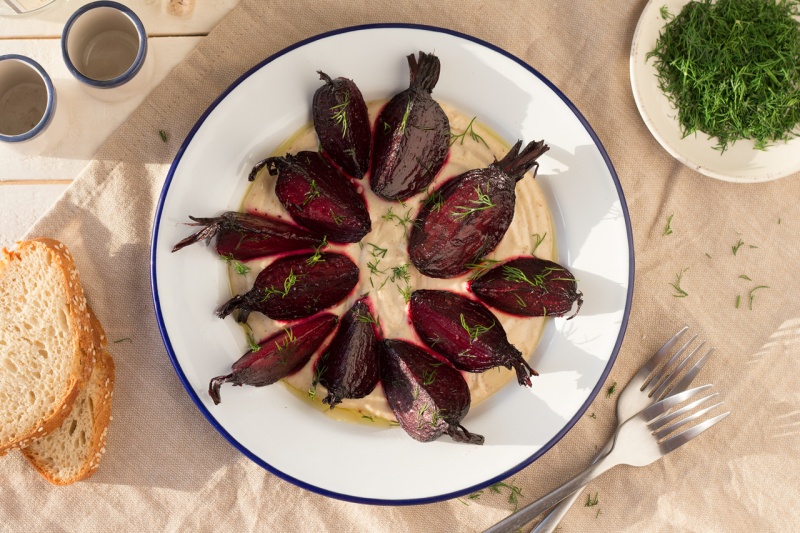 700 g of beetroot
1 tbsp olive oil
salt & pepper
SKORDALIA (makes ½ cup / 120 ml)
½ cup / 45 g almond flakes
2-3 cloves of garlic / 1 bulb (if roasting)
1/3 level tsp salt
good grind of white pepper
20 ml / 1½ tbsp lemon juice
2 tbsp / 30 ml olive oil
fresh dill, to serve (optional)
METHOD
Preheat the oven to 200° C / 400° F. Cut off beetroots stalks, clean the beetroots, peel them and cut into similar size pieces. I chopped mine into quarters.
IF YOU PREFER ROAST GARLIC: Take a whole bulb of garlic, chop 1 cm off the top to expose the flesh of individual cloves. Drizzle exposed cloves with 1 tbsp of olive oil, let the oil sink into the cloves and wrap the bulb in a piece of kitchen foil. Put it into the oven with the beets for about 40-60 min (depending on the size of the bulb). Check up on it in about 40 mins, garlic is ready when the cloves are very soft.
Coat beetroots with 1 tbsp of olive oil, sprinkle with a little salt and pepper and transfer into a roasting tin. Roast for about 45-60 min (depending on the size of your pieces) turning them twice during roasting. Beets are ready when their flesh can be pierced easily.
Gently dry roast almond flakes on a dry skillet, stir them often as they burn very easily. You want them to turn golden not brown.
Blend roasted almond flakes, garlic (raw or roasted*), salt and lemon juice using a hand blender and about 50 ml water. While blending trickle in olive oil to emulsify the mixture. Season with white pepper. Traditionally, this sauce is pretty thick, like a dip, but you can always thin it with a bit more water if you prefer.
NOTES
*If going with roasted garlic, adjust number of cloves to your taste. I used half a large bulb.