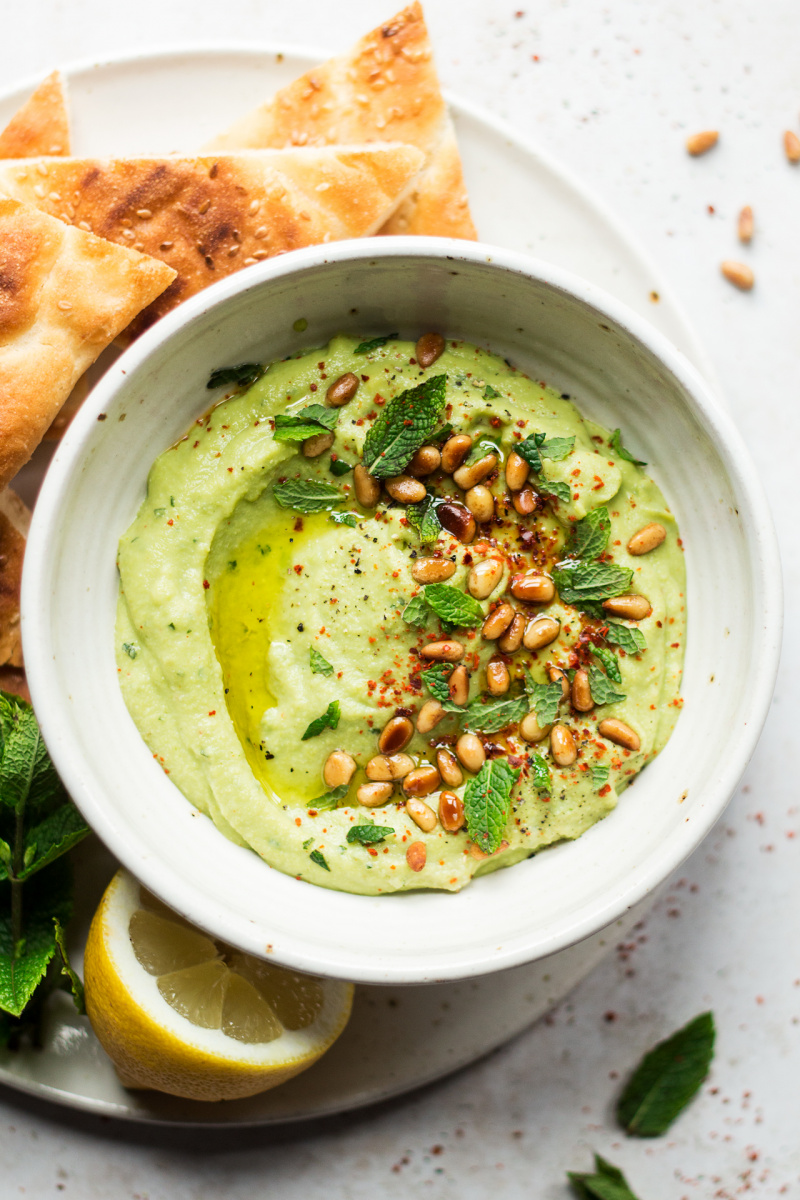 I don't seem to have the best timing lately… I waited with my last recipe for vegan quiche with asparagus for so long that asparagus was almost out of season by the time I published the recipe. This recipe on the other hand appears to be quite the opposite. According to many online seasonal veggie calendars, broad beans should be in season here in the UK from May onwards, for about 4 months.
Well, this year appears to be different. I had trouble finding fresh pods in town, but I put that down to a high demand as broad beans are a summer favourite in the UK. I finally did find them and bought almost a kilo, which turned out to be only enough for half a portion of my dip – I needed almost two cups of podded beans in total! Turns out that my estimate was wrong because the pods inside were unusually small. When I used to buy broad beans in Greece, nearly the same weight of pods would yield triple the volume of podded beans, as they were substantially larger.
I made another trip into town and bought some more and it suddenly dawned on me that the season must be delayed this year – probably because we've had an unseasonably cold spring – which would explain why it was hard to find them and why the pods look a little underdeveloped (so to speak). Oh well. It was too late to change the recipe and I had 2 kilos of broad beans sitting on my kitchen counter, so here is my broad bean recipe. If you live in a broad bean desert, save it for later in the year or use green peas (frozen are okay too) instead.
While Europe is going through a major heatwave this week, even the UK is going to get a few degrees warmer apparently. The sun is supposedly meant to show its face for a few days in a row towards the end of this week – which is never 100% guaranteed with several major weather fronts battling it out daily, but something most of us, sun-loving peeps, anticipate with excitement.
I enjoy moderately hot weather and as it's such a rarity here in the UK, whenever it does happen, it is always my excuse to spend as little time as possible in the kitchen. I am sure you are on the same wavelength as me? Dips, served alongside mounds of exciting salad, some decent bread and fresh fruit, are ideal heatwave food – which is why I am guessing that they all originate from countries that do hot weather rather well.
I made this vibrant green, minty dip hoping that the forecasted sunny 25° C (77° F) will happen later on this week. If it does, I am planning to sit in my garden, hoovering up photoshoot leftovers for lunch, alongside pitchers of iced strawberry milk and iced coffees. Apart from 2 kilos of broad beans, I also bought 5 punnets of strawberries and prepared an excessive amount of ice cubes, so I am sincerely hoping that the weather forecaster got it right this time. 🙂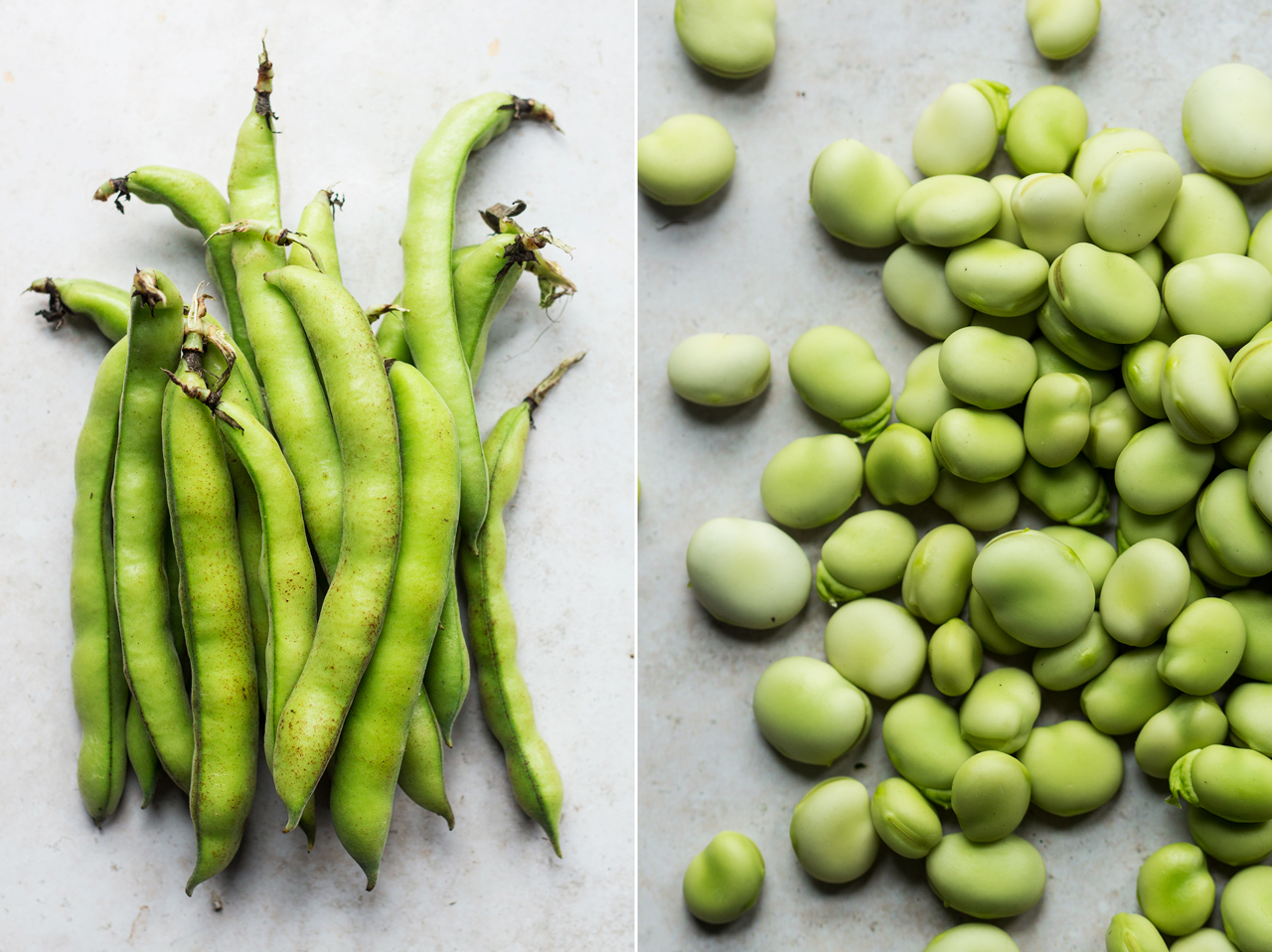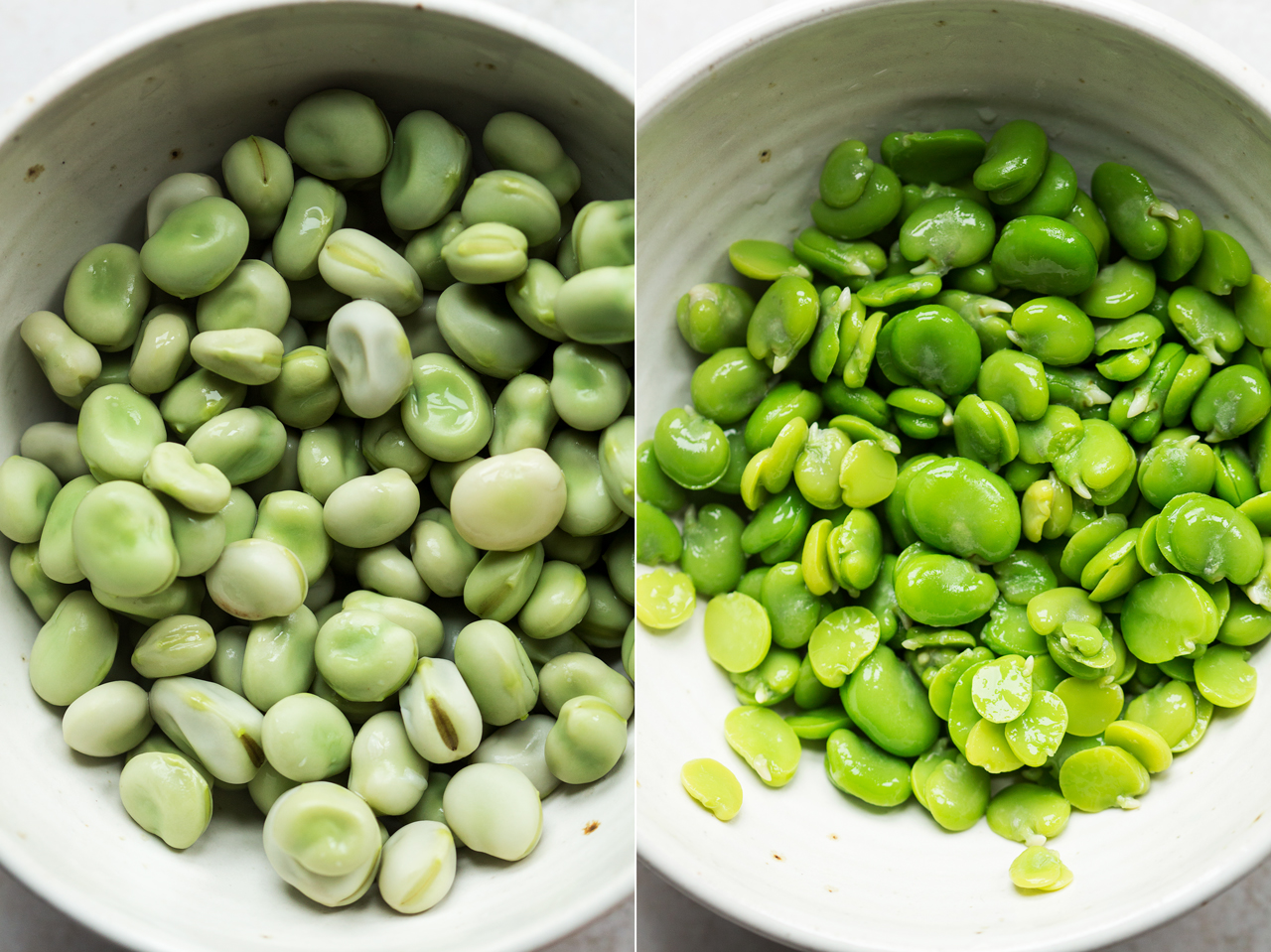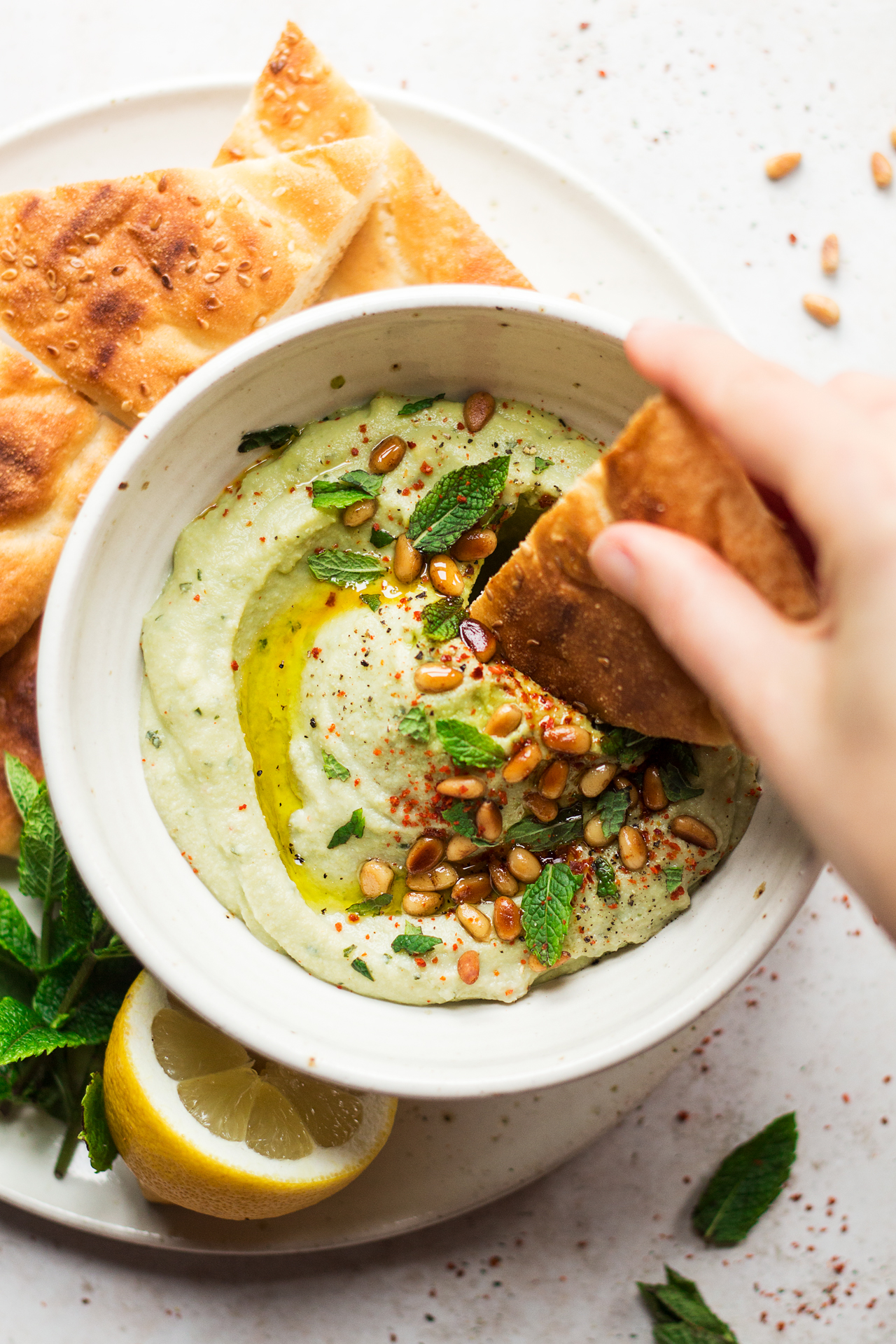 250 g / 1½ cups podded and optionally shelled* broad beans**
1 small garlic clove
1½ tbsp lemon juice (or 2 for a more lemony taste)
½ ripe avocado (or 2 tbsp extra virgin olive oil)
fresh mint or basil leaves (I used 15 medium mint leaves)
½ tsp fine sea salt
freshly ground pepper, to taste
fine chilli flakes, to taste (optional)
METHOD
Boil a pot of water on the stove. Put podded and washed beans into boiling water and simmer for about 3-5 minutes (depending on the size of the pods). Test one to make sure the inside is cooked.
While your beans are cooking, put a few ice cubes into a bowl of cold tap water. As soon as the beans are ready, drain them and then chuck them into the bowl with the icy water. This step isn't necessary, but it will ensure that the beans keep their vibrant colour.
For a bright green dip, shell the beans by making a tiny incision at the top of the bean and pressing the inside out.
Place shelled beans, garlic, lemon juice, avocado, mint leaves, half of the salt and a grind of pepper into a food processor. Blend until smooth. Add a touch of cold water if the dip is too thick.
Taste and adjust seasoning to your taste. If you wish, serve with a bit of extra virgin olive oil drizzled on top – it will make it look pretty and prevent the spread from drying up once served.
NOTES
*Young broad beans do not necessarily require shelling but I did this to keep the dip vibrantly green.
**If you cannot get hold of broad beans, but like the concept – feel free to use green peas instead – they will make a just as delicious base for this creamy dip.