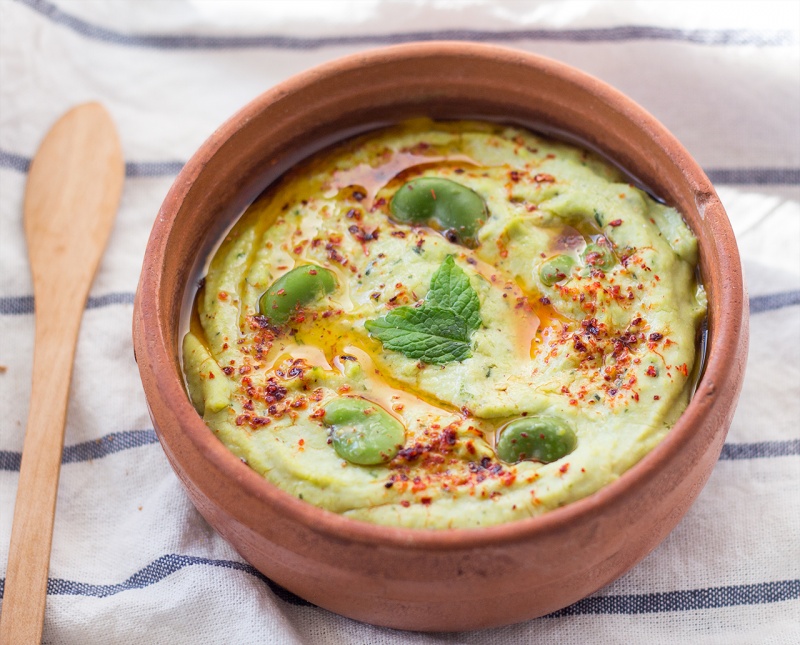 It was meant to be a sweet post today, but I came to my senses. I realised that if I post dessert recipes as often as I would like to, I will have to exercise twice as much as I do now. Still, I wasn't quite sure what to do, loads of ideas where banging around in my head. I went to my local green grocers to get inspired. As soon as I saw a pile of young broad beans (still in their pods) I couldn't resist getting shedloads of them. Firstly, because when you buy them in pods, it's actually quite tricky to gauge how much edible stuff you will end up with and secondly, because I really like them. They remind me of my childhood summers when my brother, my two cousins and I used to stuff our faces with them. My gran would cook a huge pot of broad beans and then give them to us as an afternoon snack (I know – how healthy were we?). We loved podding these little guys and popping them straight into our mouths. They tasted so good. I miss being a kid sometimes…
I don't know about you, but my ideal Springtime lunch is heaps of crunchy salad, nice bread and a selection of bread spreads. Not only are they delicious, healthy and easy to make but they also make your table look amazing. All these bright colours: bright pink, yellow and, ahem…murky beige…To add a splash of bright green to the mix, I decided to make hummus out of my broad beans. I'm not sure if I'm right to be calling it 'hummus' as I did not use tahini paste in this one, but other than that the idea behind it and method of preparation is similar to hummus. Thanks to young broad beans, mint and a pinch of chilli, the taste is very different. In Duncan's words 'it tastes like Spring' and judging by how quickly it disappeared, I'm confident that it was a hit.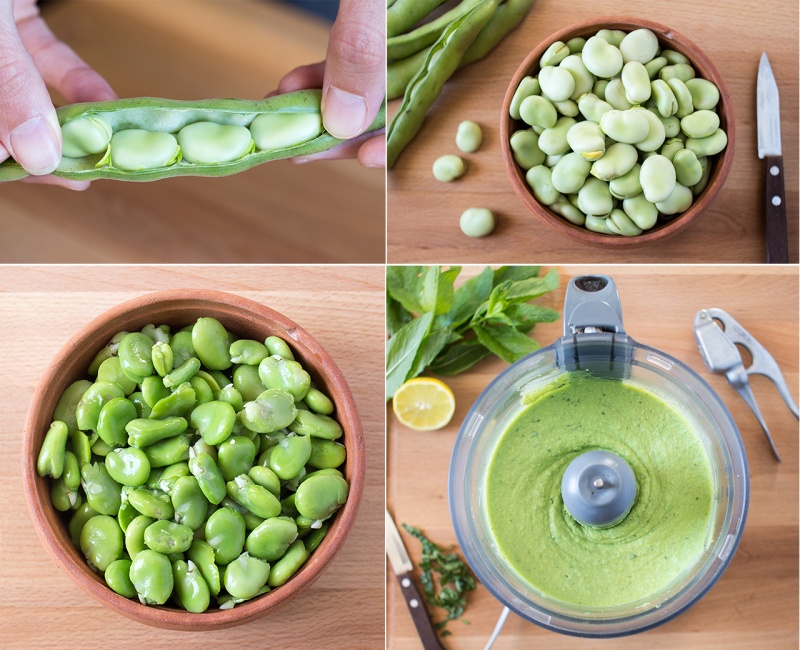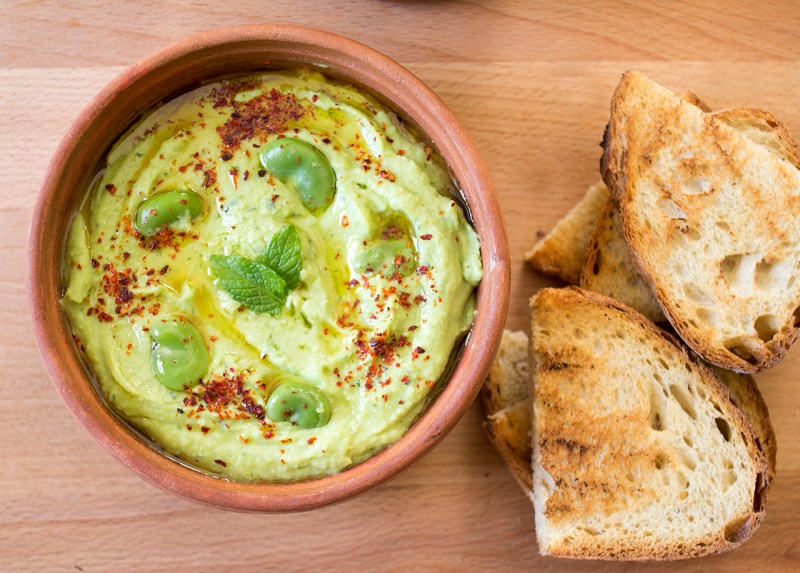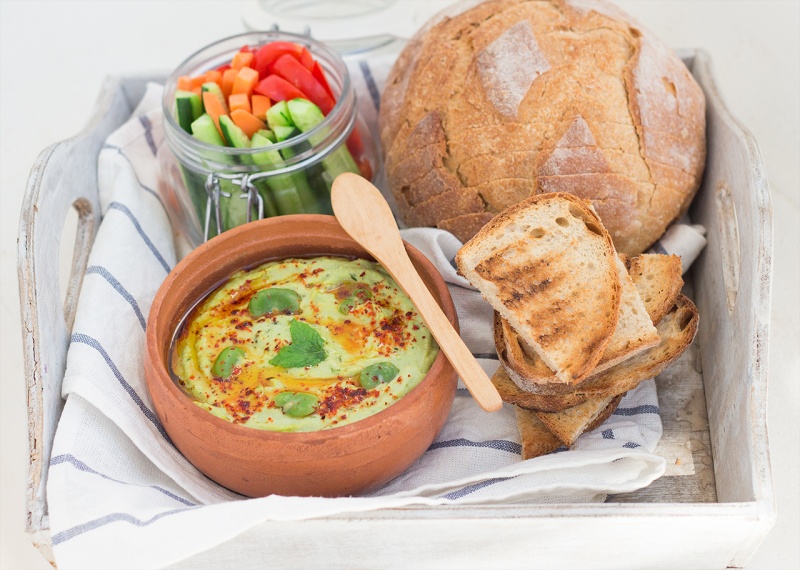 550 g / 3 cups podded beans (=400 g / 2 cups of shelled one)
approx. 80 ml of water
3 and ½ tbsp lemon juice
1 garlic clove, pressed
1 level tsp of fine sea salt
about 12 fresh mint leaves
a few grinds of fresh pepper
a few pinches of hot chilli (optional)
2 tbsp extra virgin olive oil (optional)
METHOD
Boil a pot of water on the stove. Put podded and washed beans into boiling water and simmer for about 5 minutes. Test one to make sure the inside is cooked.
While your beans are cooking, put a few ice-cubes into a bowl of cold tap water. As soon as the beans are ready, drain them and then chuck them into the bowl with icy water. This step isn't necessary, but it will ensure that the beans keep their vibrant colour.
Shell the beans (ie remove the outer shell) by making a tiny incision at the top of the bean and pressing the inside out.
Place shelled beans (you should get about 400 g or 2 cups), minced garlic, lemon juice, mint leaves, salt, pepper and chilli (if using) into a food processor.
As the processor is churning the mixture, gradually add cold water (about 80 ml) until the mixture loosens up. Add 1 tbsp of olive oil, although you can skip it if you want.
Taste and adjust seasoning if necessary. Serve with a bit of extra virgin olive oil (1 tbsp) on top – it will prevent the spread from drying up once served. Serve with bread and chopped up veg sticks.