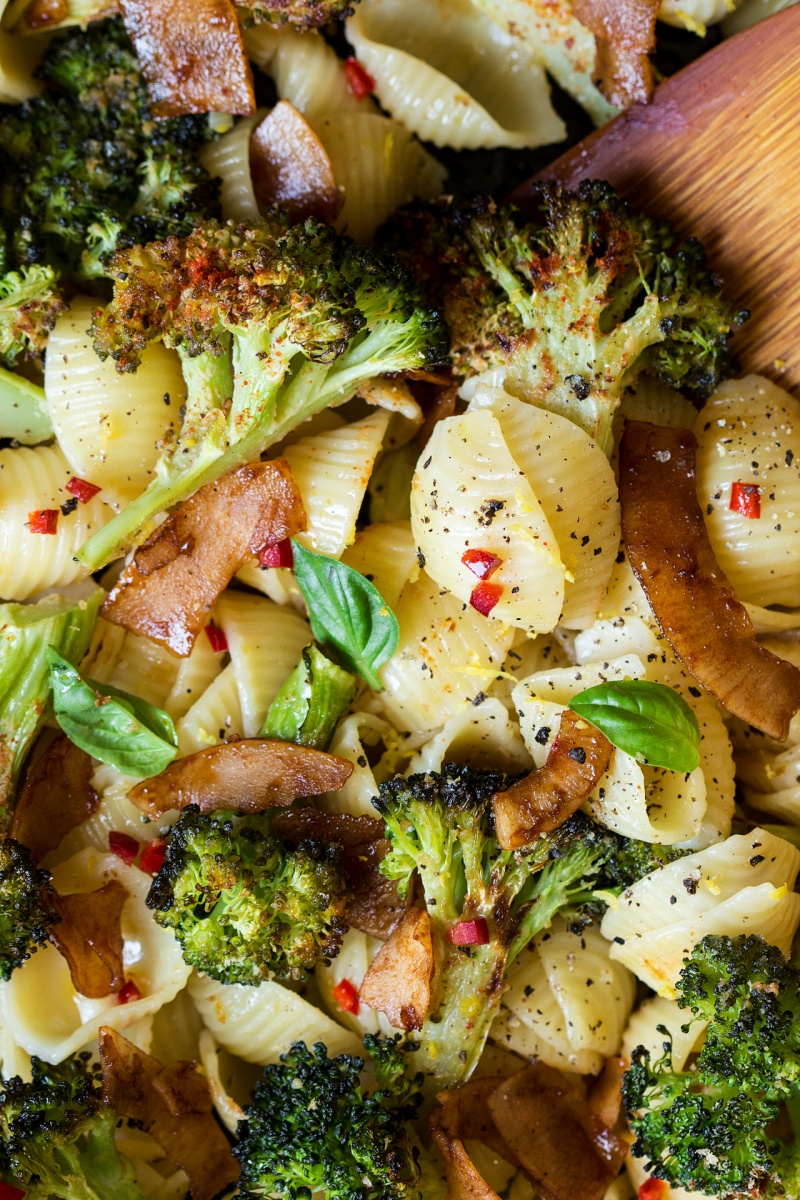 Today's dish is a light yet satisfying pasta – an ideal midweek supper. It's my vegan take on orecchiette with broccoli and bacon, except that I could not find orecchiette anywhere on the island so I have had to settle for small pasta shells instead. I do hope I don't get any death threats off the back of it 😉 .
This pasta is as simple as it gets, but it's really delicious! Lightly charred, well seasoned broccoli goes so well with salty-sweet and crunchy bits of coconut bacon against the background notes of garlic, chilli and lemon. It's my latest favourite!
One thing I have noticed living here is that cooking pasta isn't possibly a Greek thing. Pretty much every time I've ordered pasta while eating out, I ended up getting it overcooked to the point of falling apart. Then I noticed that all Greek pasta brands always massively overestimate (by a good 3-5 minutes!) the cooking time.
Once or twice, I let my guard down and followed the timing on the packet and the result was inedible. Perhaps that's how they like their pasta? I'm not sure, I admit I'm a bit puzzled! This experience has taught me to wait with my pasta cravings until I have a chance to visit Italy and stick to Greek mezedes instead, which I know I will love.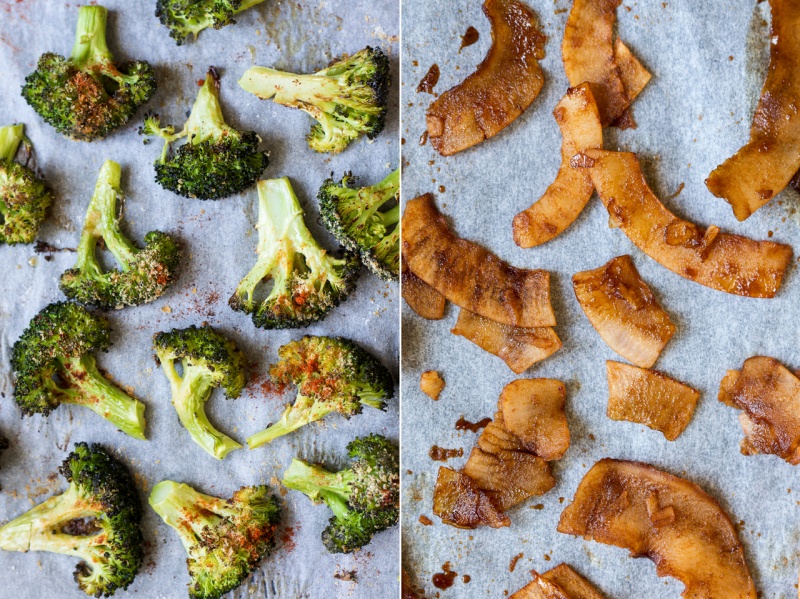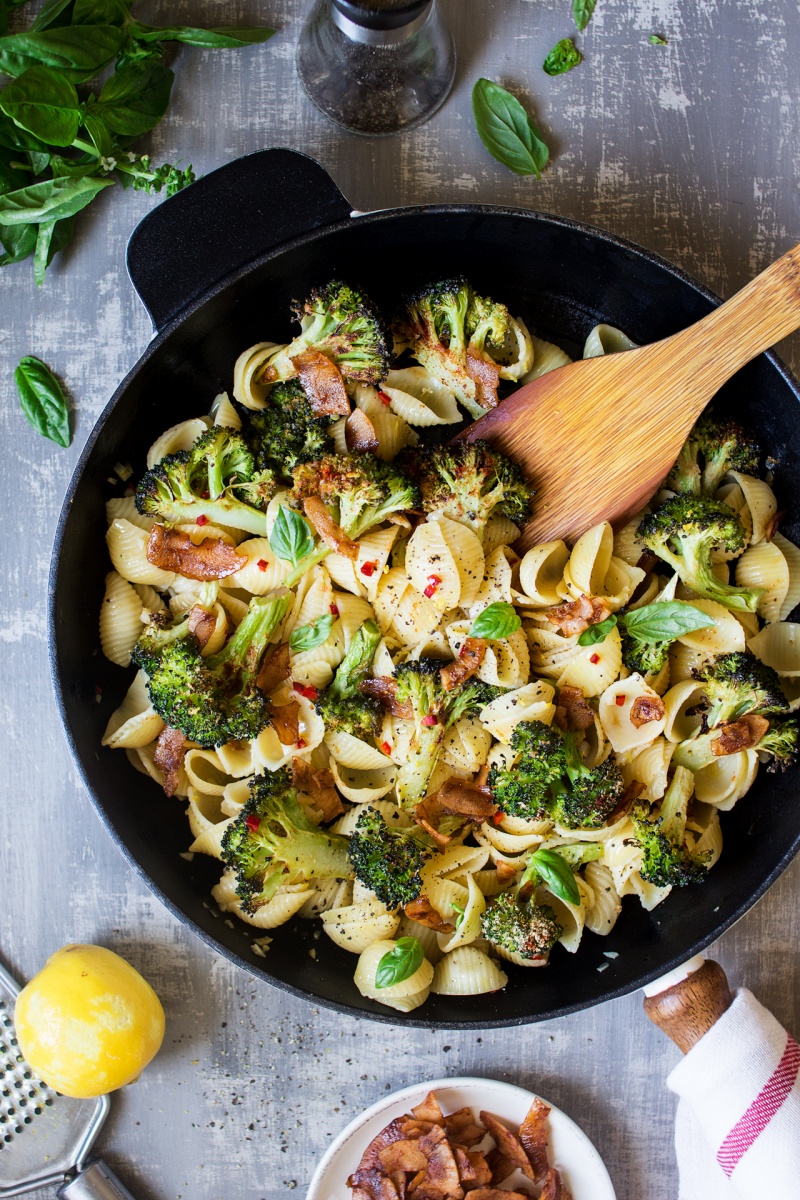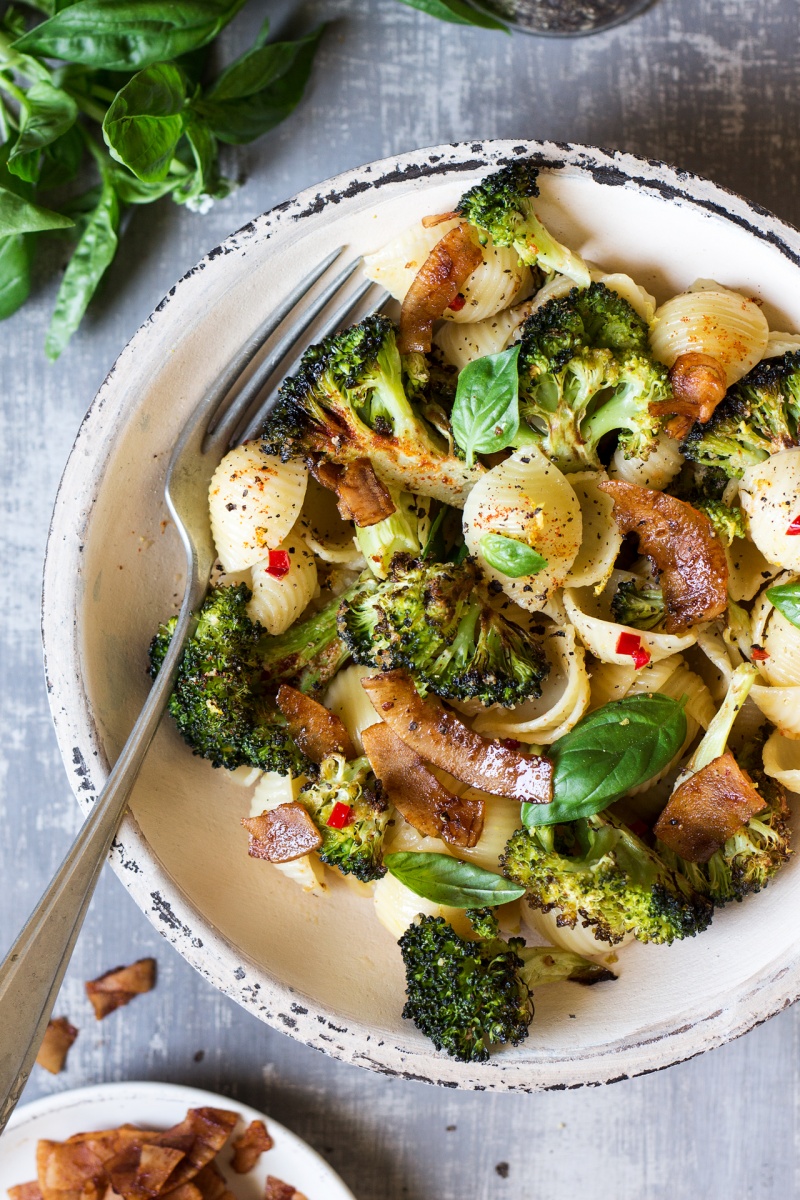 COCONUT BACON
½ cup (loosely packed) raw coconut flakes
1 tsp olive oil
1 tsp maple syrup
¼ tsp liquid smoke (I use hickory flavour)
1 tbsp tamari (if GF) or all purpose soy sauce
½ tsp tomato paste
BROCCOLI AND PASTA
200 g / 7 oz orecchiette pasta or small pasta shells (GF if required)
1 small broccoli
1 tbsp nutritional yeast
a few pinches of hot chilli powder (optional)
3 tbsp olive oil
2-3 tbsp lemon juice
2 garlic cloves, finely diced
½ hot red chilli, seeded and finely diced
zest of one unwaxed lemon
freshly ground pepper, to taste
fine sea salt, to taste
fresh basil, to decorate (optional)
METHOD
COCONUT BACON
Heat up the oven to 100° C / 210° F and line a baking tray with a piece of baking paper.
In a bowl, mix olive oil, maple syrup, liquid smoke, tomato paste and tamari (or soy sauce) together.
Coat coconut flakes in the marinade and marinate for 10-20 minutes.
Spread marinated coconut flakes on the prepared baking tray making sure individual pieces do not overlap or touch (as much as possible). The more room they have, the more crispy they will be.
Bake for about 15-20 minutes. 'Bacon' flakes will get more crispy as they cool down. Keep the oven on for the broccoli.
BROCCOLI AND PASTA
Increase the oven temperature to 200° C / 390° F and line a baking tray with a piece of baking paper.
Chop broccoli into same size florets. Place in a large bowl and coat with 1-2 tbsp of olive oil, season with 1 tbsp of nutritional yeast, a few pinches of hot chilli powder and a touch of salt.
Arrange the broccoli florets on the prepared baking tray ensuring they have some space in between them. Bake them for about 15 minutes, until tender and slightly charred.
While the broccoli is baking, put your pasta on to boil. Cook it for 1 minute less than you would normally.
While the pasta is cooking, heat up 2 tbsp of olive oil in a heavy-bottomed pan on a low-medium heat. Add finely diced garlic and chilli. Fry, stirring the whole time on a low heat, until garlic becomes soft and fragrant (about 2 minutes).
Add drained pasta. Stir around well so that the pasta gets coated in the garlicky olive oil. Season with zest of one lemon, lemon juice, salt and pepper to taste and mix in charred broccoli.
Divide the pasta between two bowls. Serve topped with coconut bacon and some fresh basil.