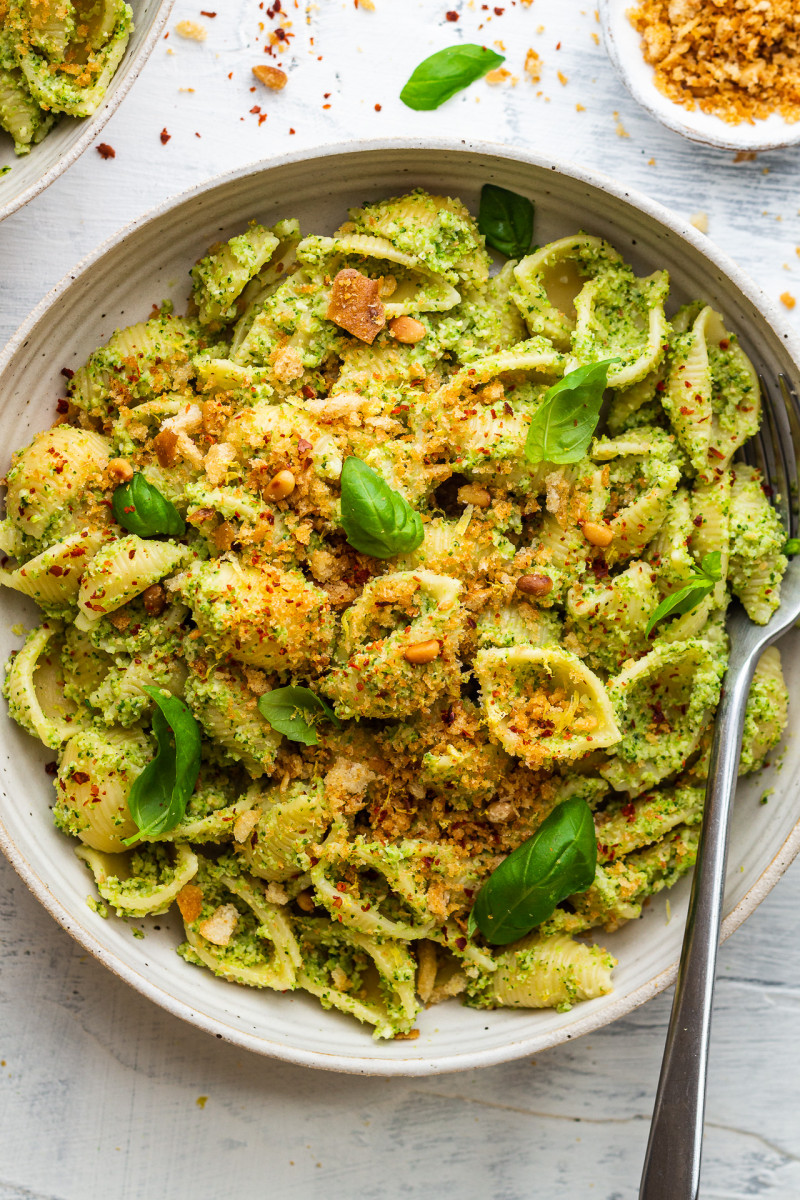 Happy weekend, hope the sun is shining in your part of the world. Ours is, as usual, a bit of a mixed bag. The weather is very underwhelming given that we've just traversed into June.
Now that it's summer and everyone is relaxing a bit more, I'm making an effort to take some more time off for myself too. With this in mind, I made a simple, quick, healthy and delicious pasta recipe that will allow you to smuggle more green cruciferous vegetables into your meals without much pain or effort.
I am personally a massive broccoli fan and since I am in charge of practically all meals in my house, we tend to eat it 3-4 times a week at least. Duncan is on board so it's all good. I will typically steam it or stir-fry it and add into tofu bowls or bake it in the oven to add to salads and pastas, but if you are not a fan, perhaps this recipe might convert you.
You first steam your broccoli lightly, then place it in a food processor together with toasted pine nuts, a handful of basil, fragrant lemon zest, lemon juice, a few tablespoons of nutritional yeast, salt and pepper and a good glug of olive oil and process until everything is finely chopped and the flavour is well balanced.
You then use a generous amount of pasta cooking water to thin the sauce and make it cling to your pasta better. I also like to stir some finely chopped capers through the dish for extra pops of flavour and I serve it with a dusting of fried breadcrumbs for some extra texture but both of these are optional extras. We really enjoy this simple midweek pasta – it's both delicious and nutritious and really easy to make too – and I hope you will too.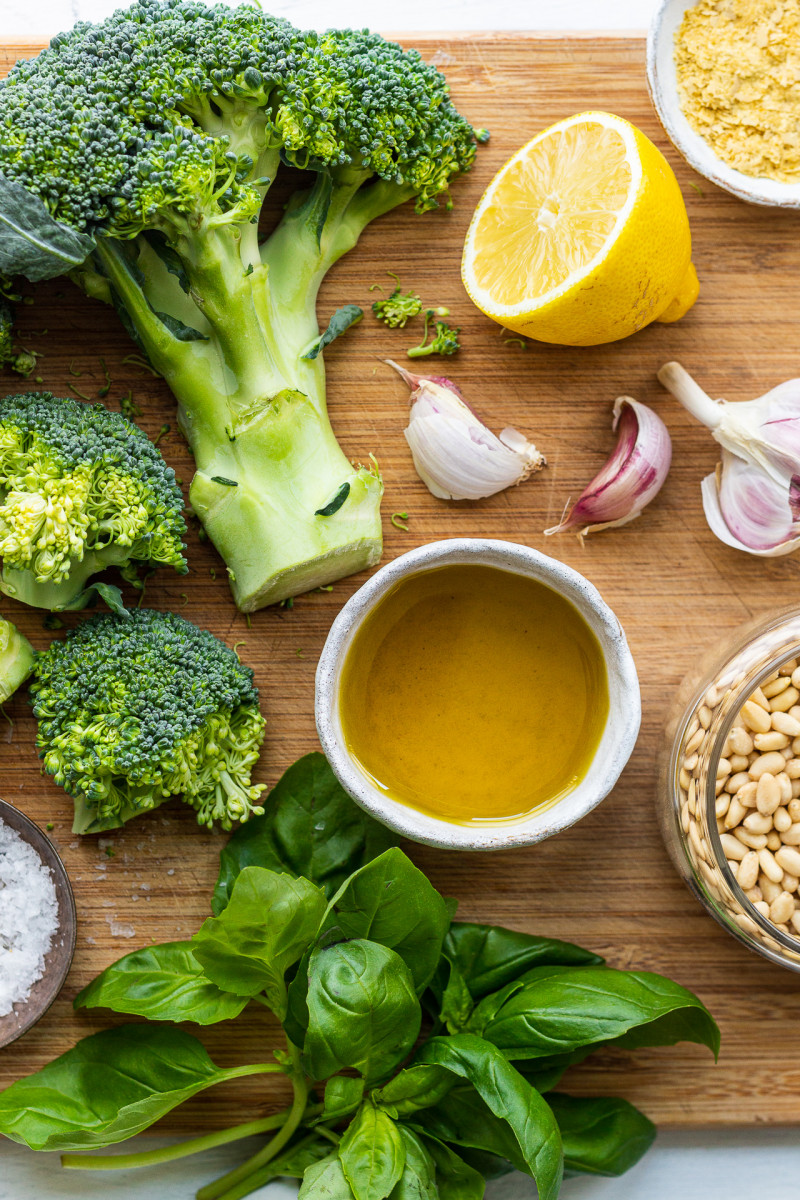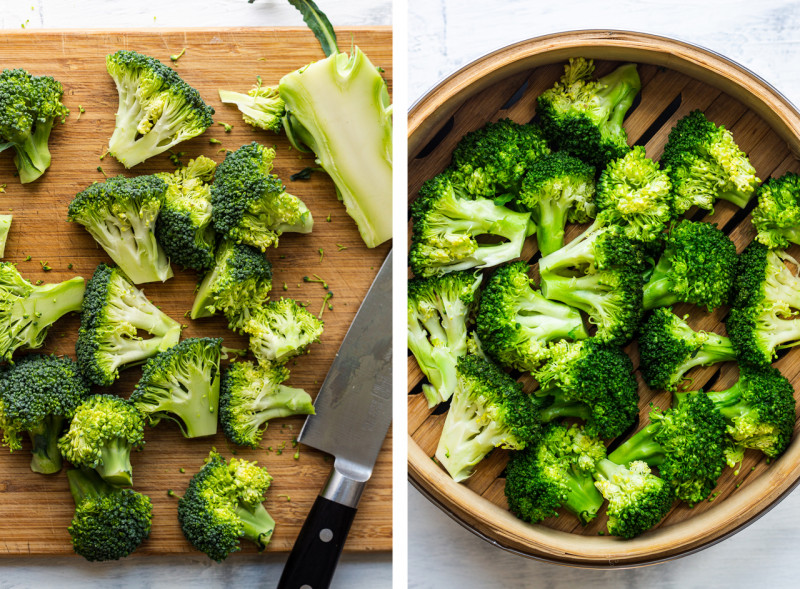 Steam your broccoli florets until just cooked over the pot of water you'll boil your pasta in later to minimise washing up.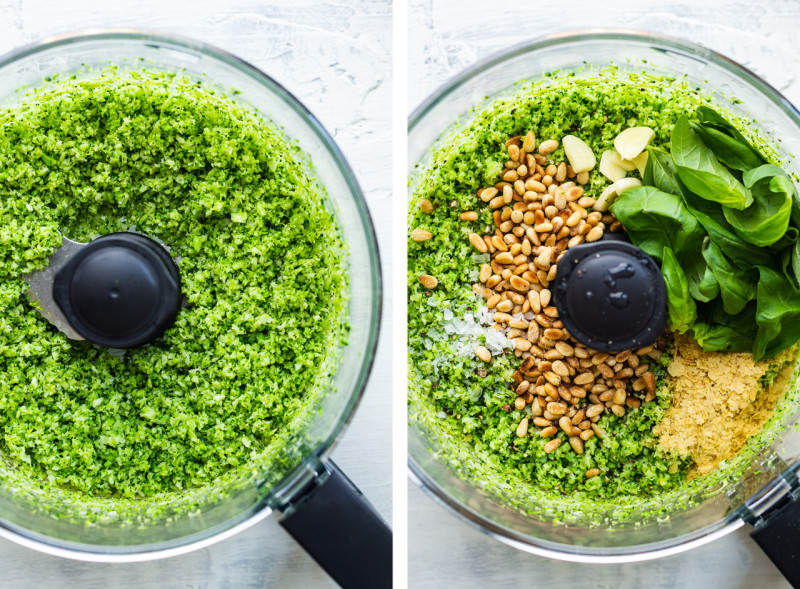 While the pasta is simmering away, pop steamed broccoli florets into a food processor. Give them a bit of a head start, then add all of the flavour building ingredients – pine nuts, basil leaves, lemon zest, lemon juice, garlic and nutritional yeast – and whizz it all up once more.
Finally, season to taste and add a glug of olive oil. Stir through some warm pasta and enjoy. Add chopped capers and fried breadcrumbs to take it to the next level.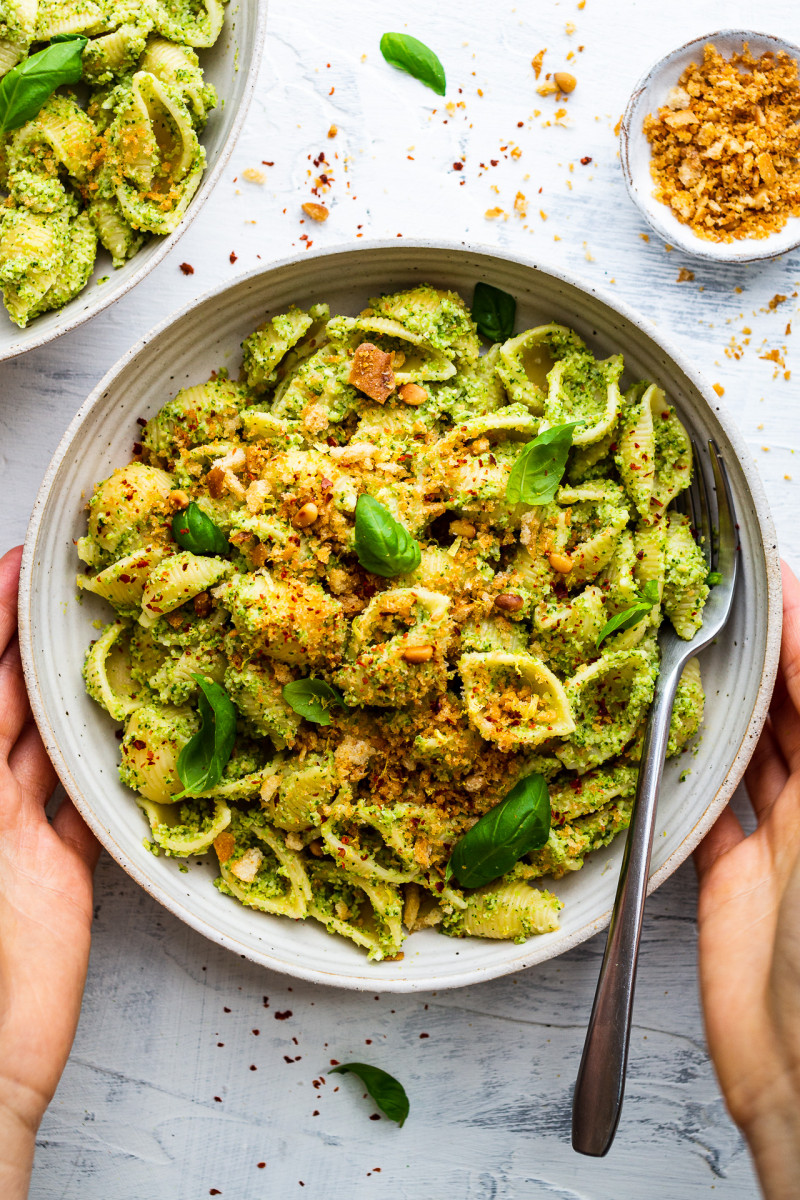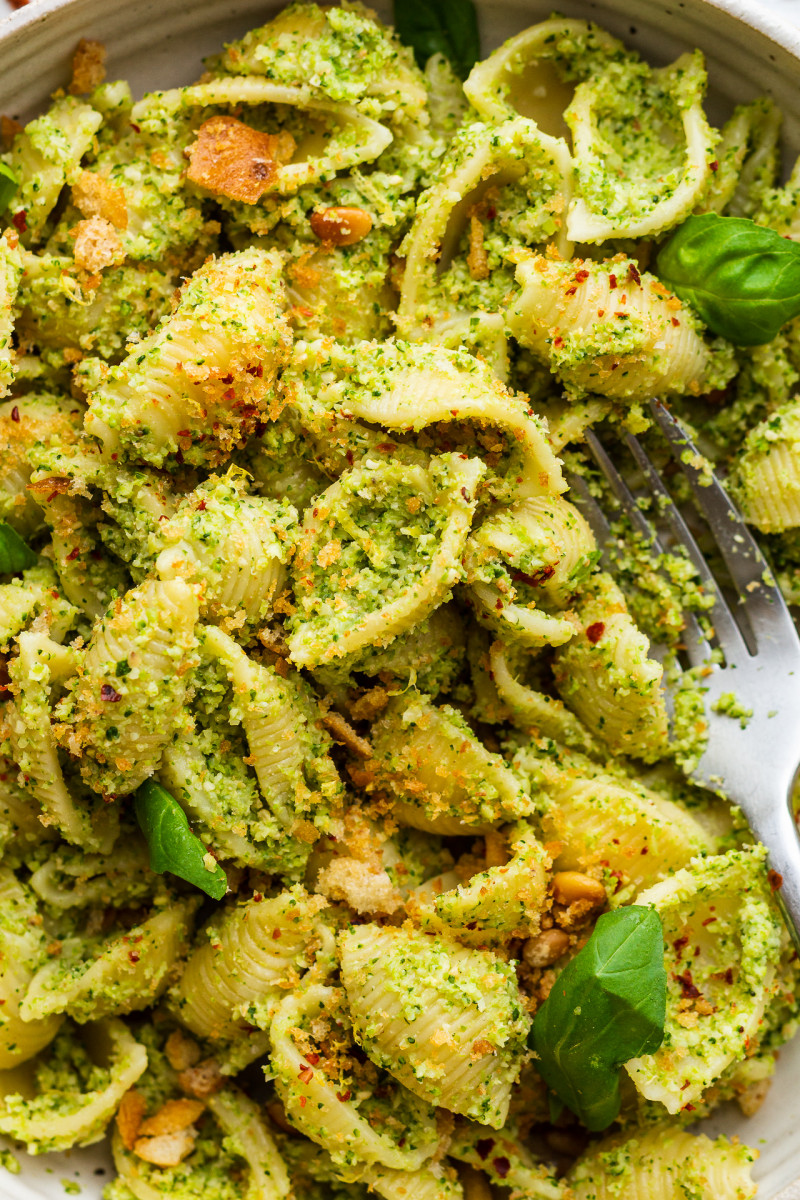 BROCCOLI PESTO
35 g / ¼ cup pine nuts, plus extra to serve*
350 g / 12.3 oz broccoli (1 medium head)
30 g / 1 oz fresh basil leaves
1 garlic clove
30 ml / 2 tbsp lemon juice + zest of ½-1 lemon
4 tbsp nutritional yeast* (optional)
salt and black pepper, to taste
60 ml / ¼ cup extra virgin olive oil*, optional but recommended
OTHER INGREDIENTS
300 g / 10.5 oz orecchiette or similar pasta
2 tbsp capers, finely chopped
fried breadcrumbs, optional
METHOD
Heat up a small pan in on a low heat. Add pine nuts and dry roast them until golden and fragrant, stirring regularly – keep an eye on them at all times – they tend to burn easily.
Divide broccoli into small florets (keep the sweet stem for snacking or shred into salads).
Bring a large pot of water to a boil and grab a large steamer that sits well on top.
Arrange broccoli florets in the steamer and steam for about 4 minutes, until cooked but not soft and falling apart. Take the steamer off the heat.
Add some salt and pasta to the boiling water. Cover the pot with a lid and simmer the pasta until done to your liking. Before you drain your pasta, reserve approximately ½ cup / 120 ml (or more if not using oil) of pasta cooking water.
Place steamed florets in a food processor, pulse them a few times until chopped small.
Add in toasted pine nuts, basil leaves, garlic, lemon juice, zest, nutritional yeast, a generous grind of pepper and salt, before you pulse the mixture some more. Finally trickle in some olive oil (or pasta cooking water) and process again.
Stir pesto through drained pasta, using some reserved pasta water to help with coating. Stir chopped capers through, adjust the seasoning. Serve sprinkled with fried breadcrumbs, if desired.
NOTES
*PINE NUTS – you can use pretty much any nuts or seeds instead. My favourites are toasted almonds (whole or flaked almonds) or toasted pumpkin seeds for a nut-free version.
*OLIVE OIL – if you wish to make this dish without oil, you could use an avocado instead and some more pasta cooking water, or pasta cooking water and a spoonful of tahini for example.
*NUTRITIONAL YEAST – if you don't like it or cannot have it for whatever reason – a spoonful or so of shiro miso (white miso) or a few sun-dried tomatoes (both in oil or without oil) are both good substitutes.
*FREEZING – this pesto freezes well. Freeze in ice-cube trays, once frozen gently remove the cubes by sliding a butter (blunt) knife along one of the sides and store in a freezer bag/container. Deforst as many cubes as you need by letting them thaw on the kitchen counter or in the fridge overnight.