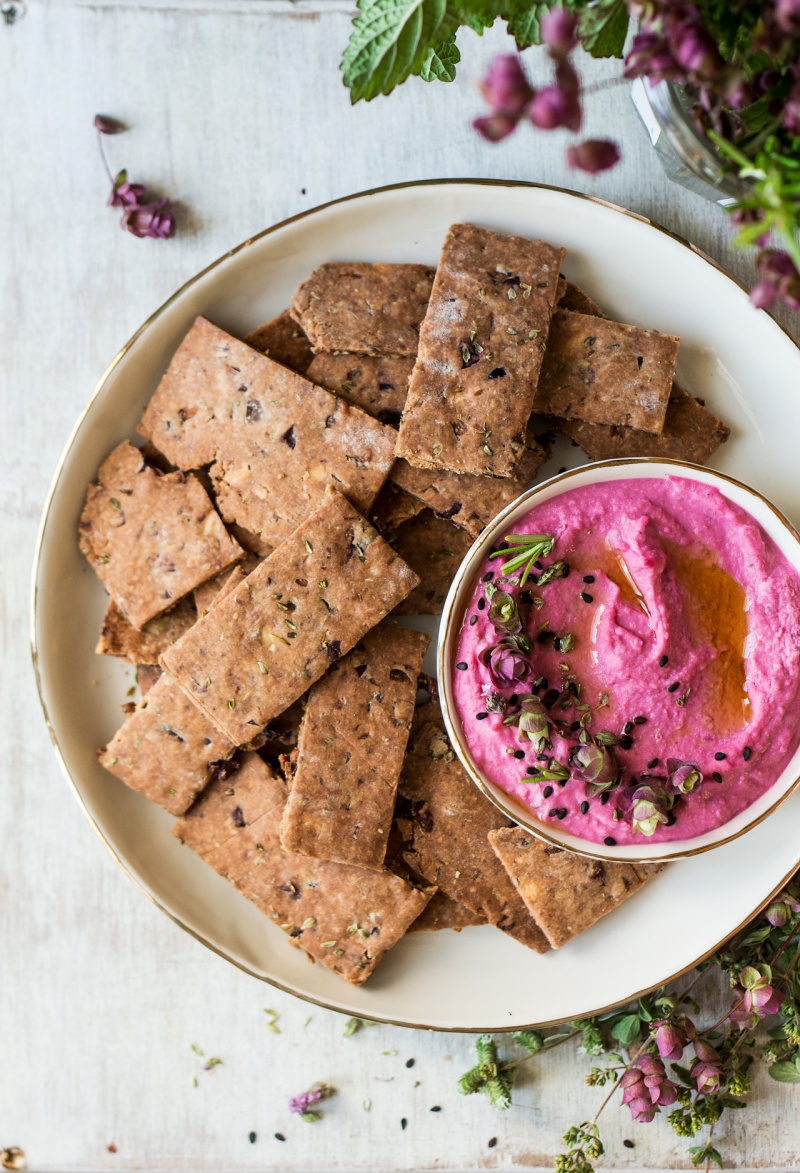 Last week, Duncan and myself decided to check out a local organic farm, Kamarantho, in the search of some quality produce. We had a bit of trouble finding the place as it really is off the beaten track, but we were so glad we did.
From the very outset, we were welcomed by super friendly and enthusiastic Elena, who runs the place and is a well of knowledge when it comes to plants and their intricate ways…
She showed us around her greenhouse with an eclectic mix of plants, ranging from several different species of kale to miniature bananas that she got from a fellow farm in Crete. Then we had a tour of the open air garden with some beautiful sun-kissed varieties of tomatoes, zucchinis, eggplants, watermelons and pumpkins.
The rest of the farm is lots and lots of olive trees and an impressive array of herbs dotted here and there. Herbs are harvested by hand and dried in one of two ways. The more fragile ones are dried on a giant drying rack and the more hardy ones go into natural sacks, which are hung in a cute little 'house' made up of hay bales that create a perfect environment for drying herbs gently.
It's these beautiful fragrant herbs and gorgeous Greek olives (which I never get sick of) that have inspired today's recipe. I started off wanting to make simple, gluten-free olive crackers that would make a perfect accompaniment to hummus (and beetroot hummus in particular). Both dried rosemary and thyme that I got from the farm were ideal (as they go with olives and with beetroot equally well), so they cinched the deal.
My other objective with this recipe was to use up my almond milk pulp, which we often have left over after making almond milk and these crackers offer a straightforward way to get rid of it. No need to dry it out or dehydrate it first, it goes into the mixture as is. It works a treat, making the crackers a little less dense.
I am really happy with how these little snacks have turned out. I've been making them with different flours and ground nuts and seeds all week as they are really quite addictive. So if you don't have almonds to hand, use ground up walnuts or pumpkin seeds instead – both work well. And if you are not as keen on buckwheat flour as I am, a mixture of chickpea and brown rice flour works well too.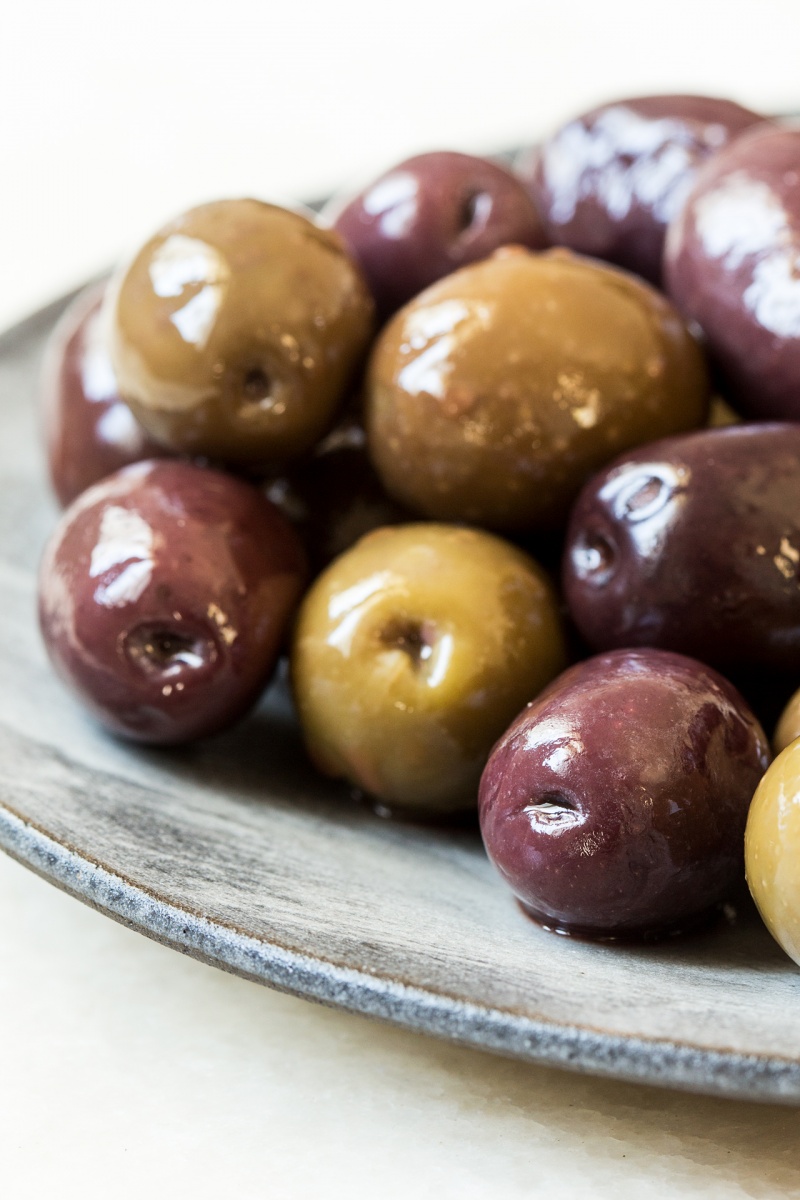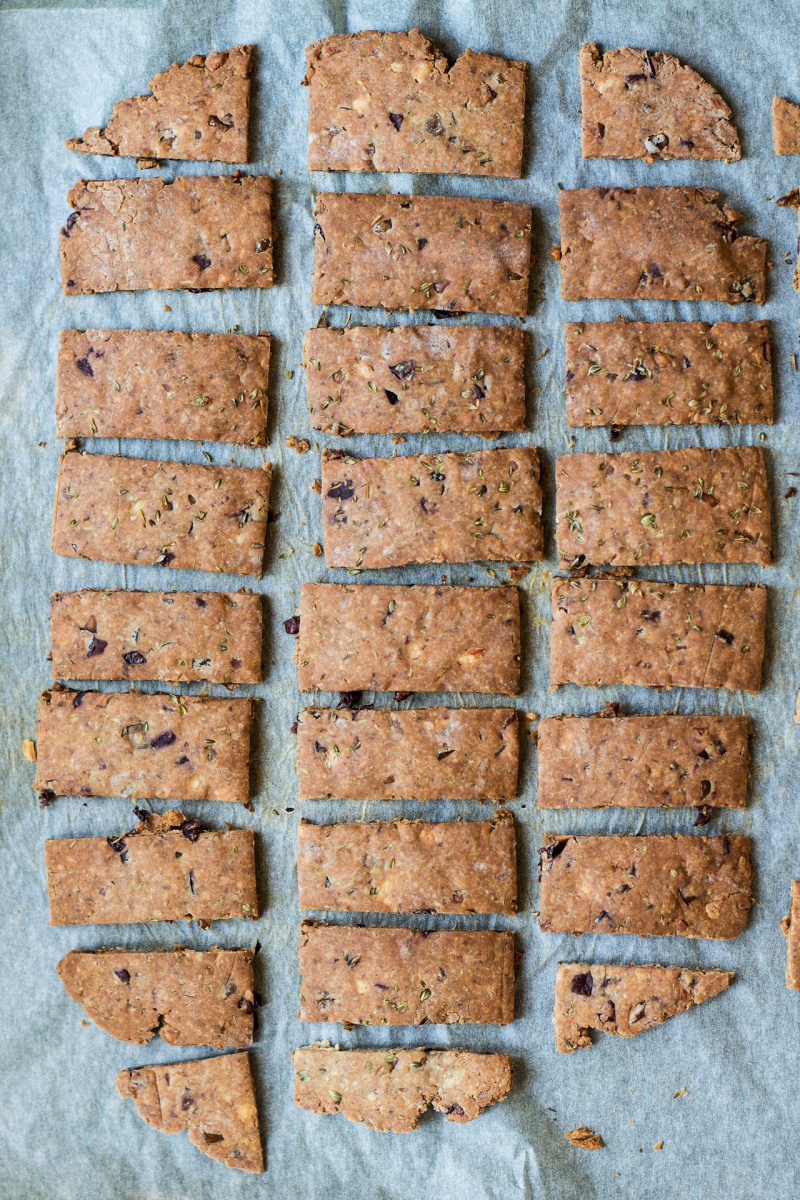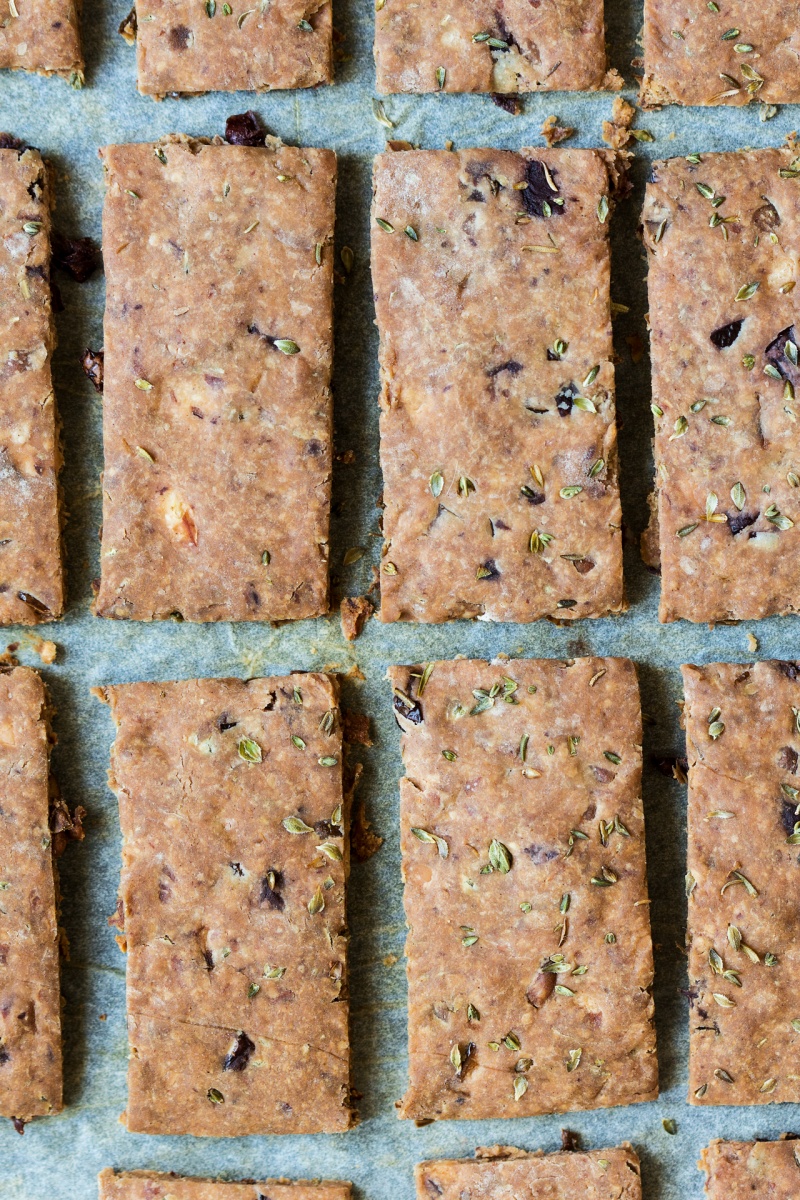 100 g / 1 cup buckwheat flour*
½ packed cup almond pulp or ¾ cup finely ground almonds**
¾ tsp fine sea salt (I used smoky Messolonghi salt)
1 garlic clove, very finely grated
10 Kalamata olives, very finely chopped (I used black and green)
1 tsp dry rosemary (crushed in a pestle and mortar)
1 tsp dried thyme
½ tsp baking powder
1 tbsp nutritional yeast
30-45 ml / 2-3 tbsp olive oil
METHOD
Combine buckwheat flour, well wrought-out almond pulp, salt, rosemary, thyme, nutritional yeast, baking powder and grated garlic clove in a large bowl. Mix very well.
Add finely chopped olives. Mix well.
Add olive oil (use 2 tablespoons for a healthier version and 3 for a more indulgent version) and rub it into the dry ingredients with your hands.
Finally add water – be careful, do it very gradually – how much water you'll need depends on how absorbent your flour is and whether you've used almond pulp or dry almond flour. I added just over 1 tbsp. Combine all the ingredients into a dough. It shouldn't be either too dry or too sticky. If too dry add a touch more water, if too sticky dust with some extra buckwheat flour.
Preheat your oven to 175° C fan forced / 350° F fan forced (or 195° C / 380° F on the regular setting).
Place your dough on a large sheet of baking paper. Spread it with your fingers until fairly flat, then cover with another piece of baking paper and roll into a very thin (2 mm / 0.08″ ) sheet with a rolling pin. Pay attention to the middle as it tends to be thicker than the sides.
Take the top layer of the baking paper off and cut the dough into similar size pieces with a knife or a pizza cutter.
Bake for about 15-22 minutes. The edge pieces are going to be ready sooner (about 15-17 min) while the middle ones will take a little bit longer. I tend to remove the edge ones earlier (they will be very hot, so be careful) and spread the middle ones out a little so that they bake faster. They are done when golden – don't let them brown too much though as they will become hard. Cool and keep in an airtight container.
NOTES
*If you don't like / don't have buckwheat flour, I've also made a batch with 50% chickpea and 50% brown rice flour and it also worked well.
**If you have a nut allergy, use ground up (hulled i.e. without the white exterior) pepitas / pumpkin seeds instead.