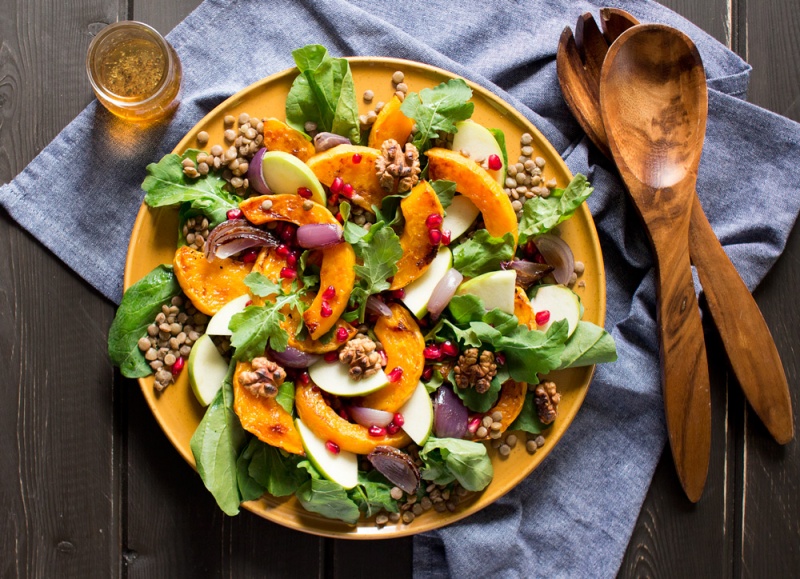 Butternut squash is one of my favourite pumpkin varieties. It's less sweet than most pumpkins and its flesh is a bit denser, which gives it a bit more of a bite. I use it in soups, curries or salads. This warm butternut squash salad with walnut dressing makes a great autumn lunch or a light dinner. The addition of lentils is optional but they certainly make it a bit more substantial. The sweet squash marries up rather well with tangy Granny Smith apples, earthy walnuts and walnut dressing, bitter rocket and roast red onion. Pretty little gems of pomegranate seeds punctuate the dish with nice bursts of unexpected sourness.
The salad is really quite easy and quick to make, apart from the time you spend roasting the veg, which is mostly passive time anyway. Just be sure to use a sharp knife to cut this baby open or else you will end up with a slightly hatcheted cut (like in my photo!). My knife clearly needs some TLC. Finally a word of warning (based on personal experience), raw butternut squash is likely to irritate the skin on your hands so you may want to wear kitchen gloves while you peel and cut it up into pieces or else your hands may feel a bit chapped and dry for a few hours.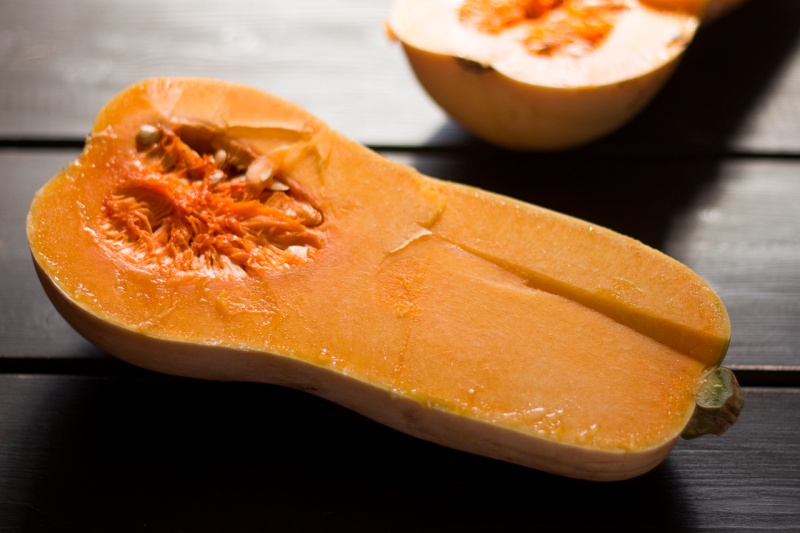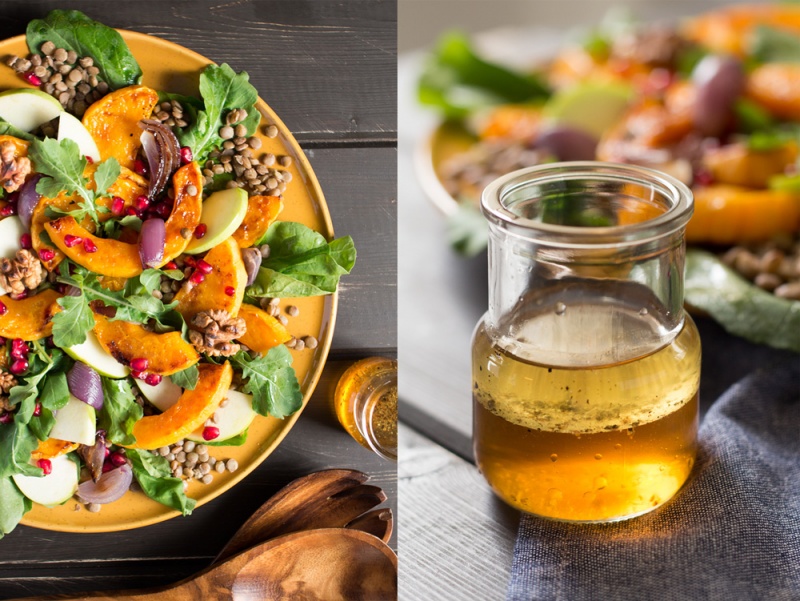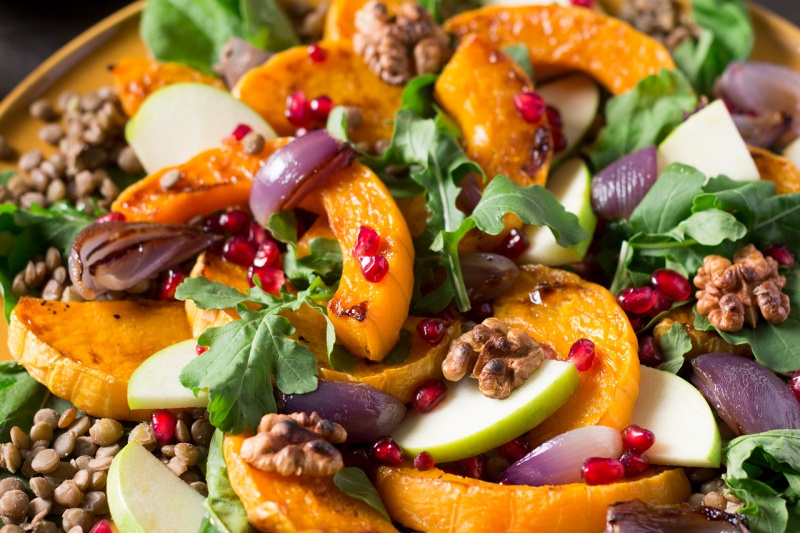 SALAD
1 cup of dry green or Puy lentils (optional)
½ butternut squash (I used bottom part only)
2 small red onions
1 Granny Smith apple, sliced thinly
small bunch of rocket, chopped
arils from ½ pomegranate (optional)
handful of walnuts
WALNUT DRESSING
2 tbsp walnut oil*
1 tbsp apple cider vinegar
1 tbsp maple syrup
1 tsp salt, more to taste
black pepper, to taste
METHOD
Pre-heat the oven to 225° C / 435° F. Cook lentils until al-dente by following packet instructions.
Cut squash in half, peel it and cut off the bottom part of both halves. Scoop out the seeds and cut the flesh into 2 cm / ½ in half rings. You can also simply dice one entire half if you don't care about the shape that much. Peel the onions and cut into eights.
Place squash and onions on a baking tray, coat with a bit of olive oil, season with salt and roast until soft and lightly caramelised. Depending on the size and shape of your butternut squash pieces, roasting may take anywhere between 25-45 min. Check up on the onions about 15 mins in and remove them from the oven as soon as they are done as they will need less time than the squash.
While the squash and onions are roasting, roast your walnuts in a dry frying pan (on low-medium heat) until they are slightly browned and release a beautiful aroma. Move them around the pan frequently as they can burn easily.
Assemble the salad on a large plate by arranging rocket leaves, roasted squash, onion, apple slices, lentils and nuts.
Put all the dressing ingredients in a jar and shake it well a few times. Pour the dressing over the salad and sprinkle with pomegranate seeds (if using).
NOTES
*You can substitute with olive oil, but your dressing won't have the subtle walnut taste that the walnut oil imparts.