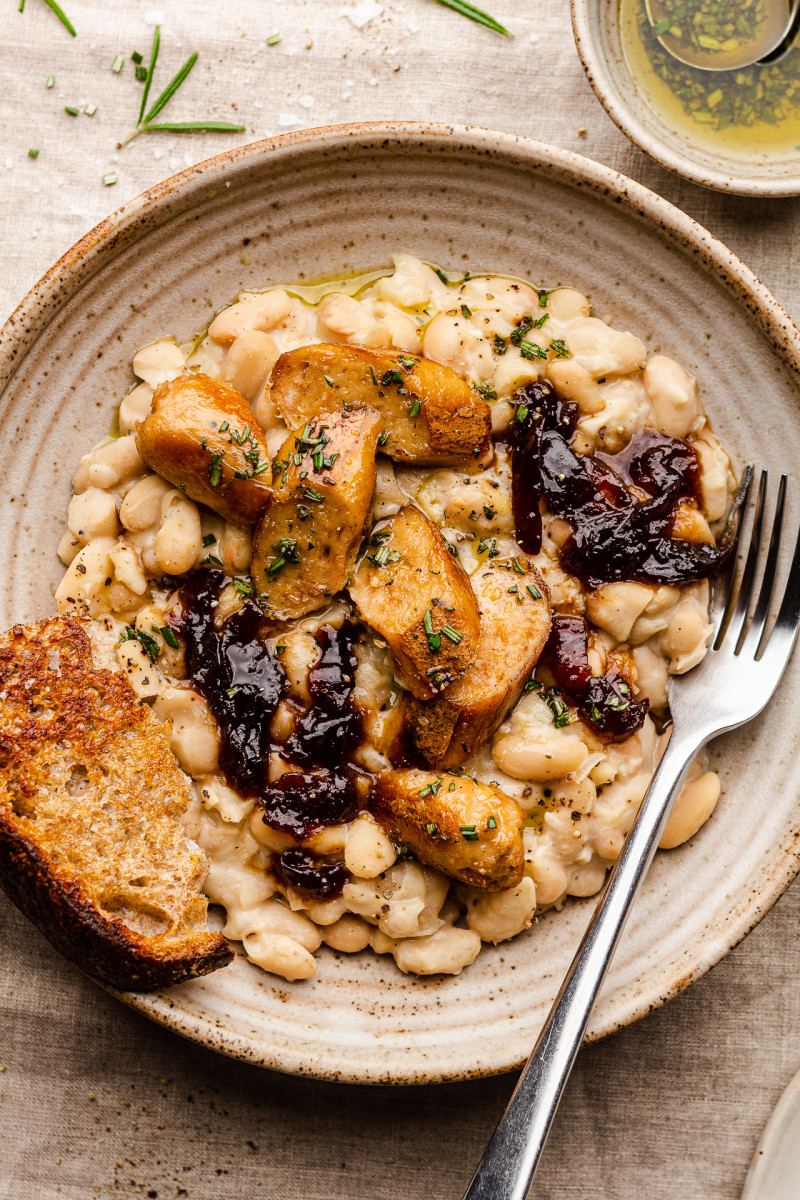 Winter is coming, it's drizzly, gloomy, windy and cold outside and so comfort meals are gaining more and more relevance by the day. As beans are one of the healthiest sources of protein as shown in the recent Netflix documentary on Blue Zones, I have a super easy and cosy autumnal dish for you today – cannellini beans with rosemary oil, vegan sausage and onion chutney. It's easy and quick, yet super comforting and if my local pub had something this nutritious and comforting on their vegan menu, I would be there is a flash.
I am a bit fan of cannellini beans and pulses in general and consume them in various forms throughout the week as part of my wholefood vegan diet. They make delicious salads, soups, dips and snacks (bean crisps anyone? I haven't done a recipe for them yet but they are staple snack at my house). This simple bean stew is another, simple and quick way to enjoy cannellini beans.
I cooked them until soft and creamy in olive oil flavoured with garlic and onion, then top them with fried vegan sausage (mushrooms or roasted beets would also be beautiful), then just a spoonful of tangy onion chutney sauce and a drizzle of fragrant rosemary oil takes this dish to a whole new level. I love it with a couple of slices of my favourite bread on a side.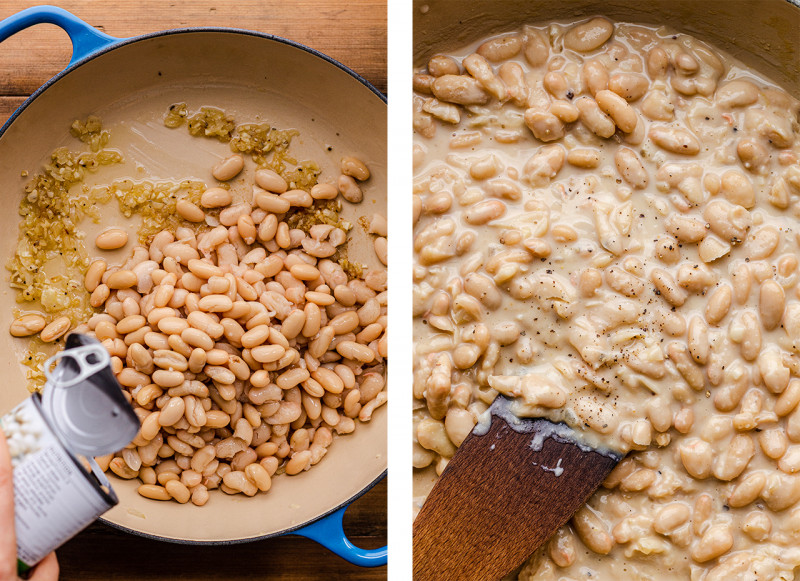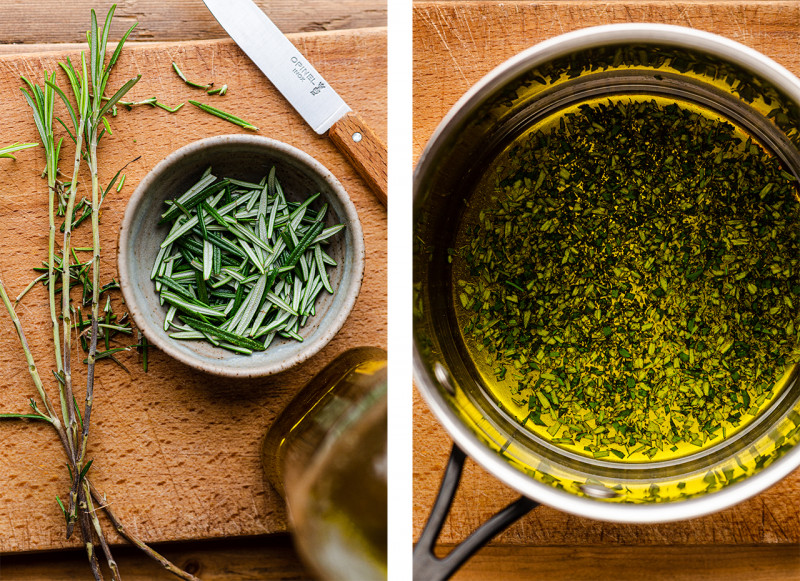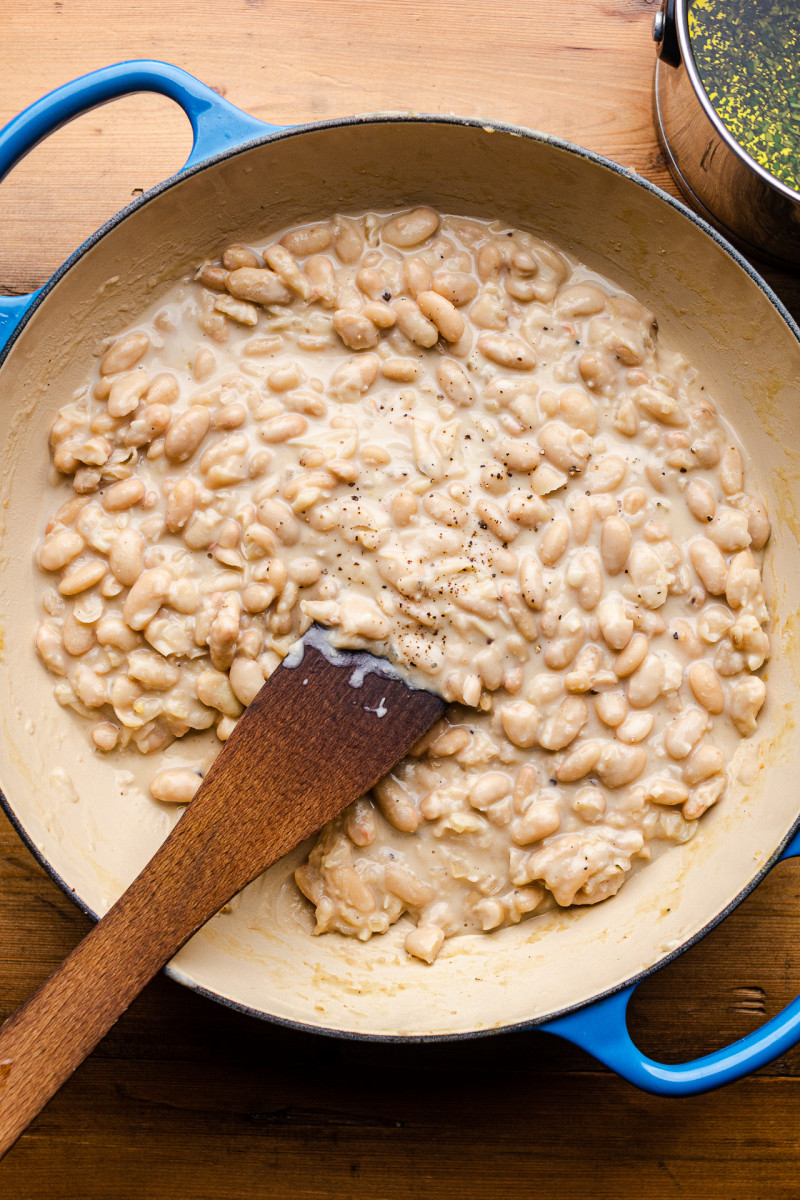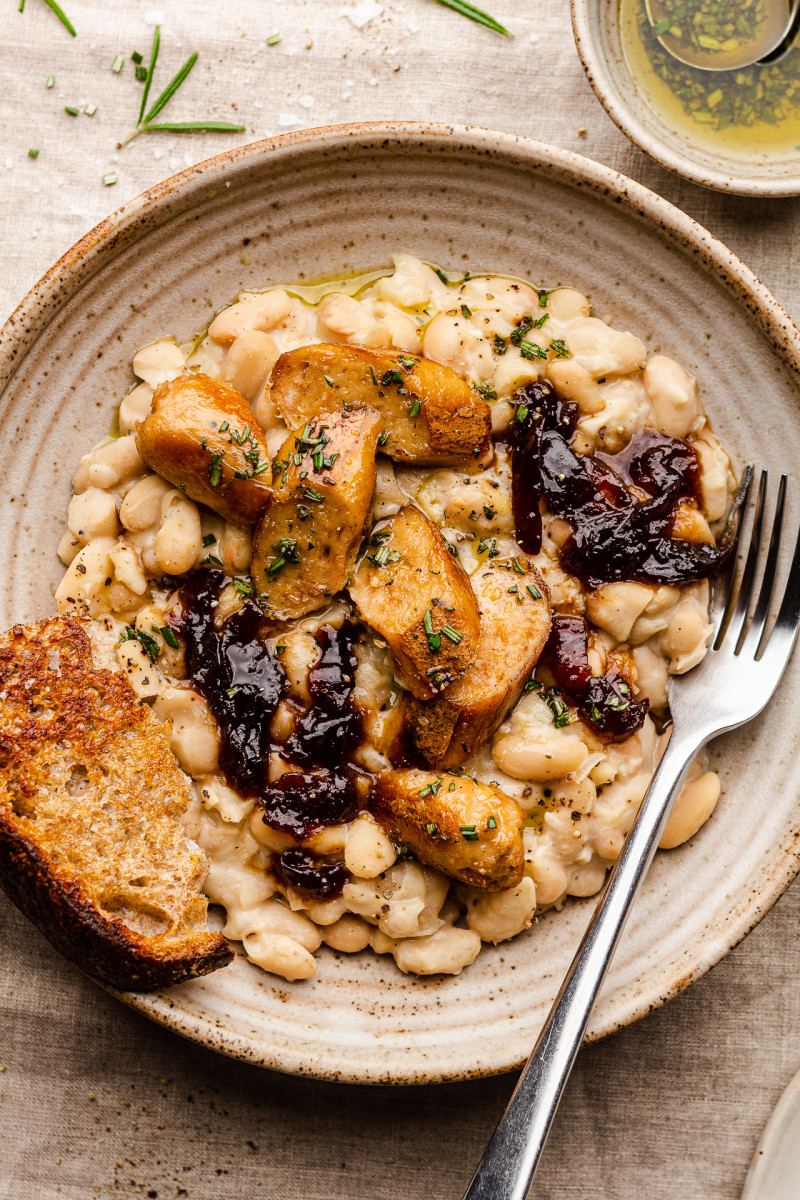 2-3 tbsp / 30-45 ml olive oil, divided
1 small onion, finely diced
4 garlic* cloves, finely diced
3 x 400 g / 14 oz cans of cannellini beans*
240 ml / 1 cup soy (or other) milk
2 tbsp nutritional yeast (optional)
salt and black pepper, to taste
½ cup shop-bought onion chutney (I used this one)
2 tbsp / 30 ml quality balsamic
2 tsp / 10 ml maple syrup
4 vegan sausages* (optional)
ROSEMARY OIL
80 ml / 1/3 cup extra virgin olive oil
8 g / 0.3 oz rosemary leaves (from 4 sprigs)
METHOD
Heat up two tablespoons of oil in a large frying pan, add diced onion and 5-10 minutes later garlic. Sauté on low-medium heat, stirring frequently, until softened and fragrant but not browned.
Season with salt and pepper, then add drained beans – squash a portion of the beans with a fork for a creamier texture -, soy milk and nutritional yeast (if using). Season again.
Simmer on low-medium heat, stirring frequently, until creamy and thickened.
While the beans are simmering, heat up 1 tsp of olive oil in a heavy skillet. Slice vegan sausages on the diagonal into 1.25 cm / ½" pieces and pan-fry it until lightly charred on all sides.
Once sausages are done, remove them from the pan. Add onion chutney, balsamic vinegar and maple syrup to the pan. Season and simmer for a few minutes until thickened and caramelise.
Divide hot beans between bowls. Top with fried sausages, a spoonful of onion chutney sauce and a drizzle of rosemary oil. Enjoy with a slice of crusty bread (I love it with my easy rye sourdough).
ROSEMARY OIL
Pick rosemary leaves, cut the hard ends off and chop the leaves into very fine pieces using a herb cutter, sharp knife or a mini food chopper.
Heat up olive oil in a small pot until the oil has small ripples on the surface, then take off the heat and throw all of the chopped rosemary in – rosemary should sizzle as it hits the oil but it should not turn brown (this means that the oil is too hot – test with only a couple of pieces of rosemary to be sure first).
Transfer to a small jar, and keep on the kitchen counter – use to top cooked beans, soups, pasta and hummus etc.
NOTES
*GARLIC – if you prefer a mellower taste of garlic, you can add some roasted garlic cloves blended into the beans. To roast a garlic head, cut the top off, drizzle exposed cloves with a teaspoon of olive oil, wrap the entire head in kitchen foil / baking parchment and roast at 200° C / 390° F for about 30 minutes.
*CANNELLINI beans (aka white kidney beans): you can use dry beans instead of canned. You'll need approximately 700 g / 25 oz of cooked beans as each can is about 240 g / 8.5 oz drained weight. Cook them in plenty of water, after an overnight soak, with a piece of kombu to make them easier to digest.
*VEGAN SAUSAGE – I used M&S Vegan Posh Dogs in this recipe. If you are not keen on vegan sausages, why not top the beans with grilled garlicky medley of mushrooms.