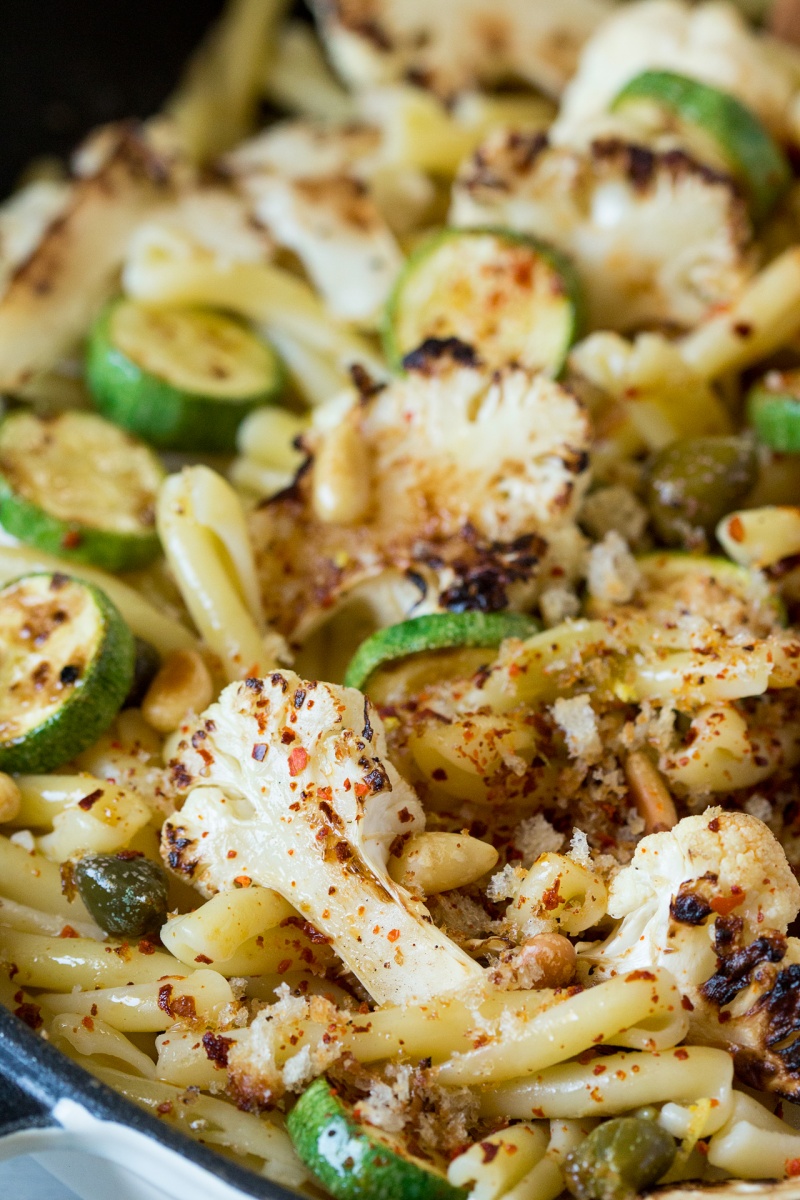 I'm continuing with my Italian-inspired theme today and made a bowl of caramelised cauliflower pasta for lunch. It's easy to make and a pleasure to eat! It features a combination I remember well from my childhood – cauliflower garnished with crispy breadcrumbs (and melted butter – bad vegan!). Did your mum used to make cauliflower like this too? Even though I like the original combination, this cauliflower is a bit more exciting as instead being boiled to within an inch of its life, it is nicely charred on a griddle pan and seasoned with smoked salt to reinforce subtle BBQ flavours. It goes super well with a tangy and garlicky caper 'butter' seasoned with a bit of chilli for good measure. As soon as I made it, it got a big thumbs up from my taster-in-chief, Duncan, so I'm hoping you'll like it too!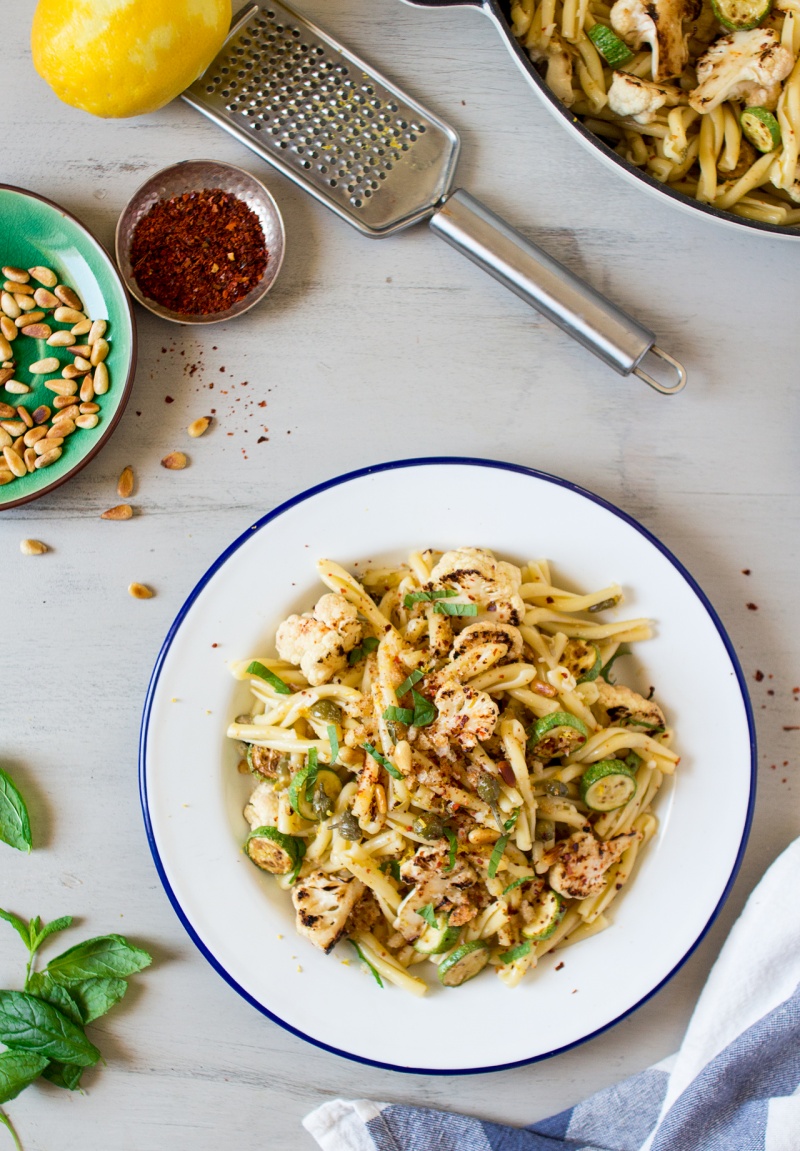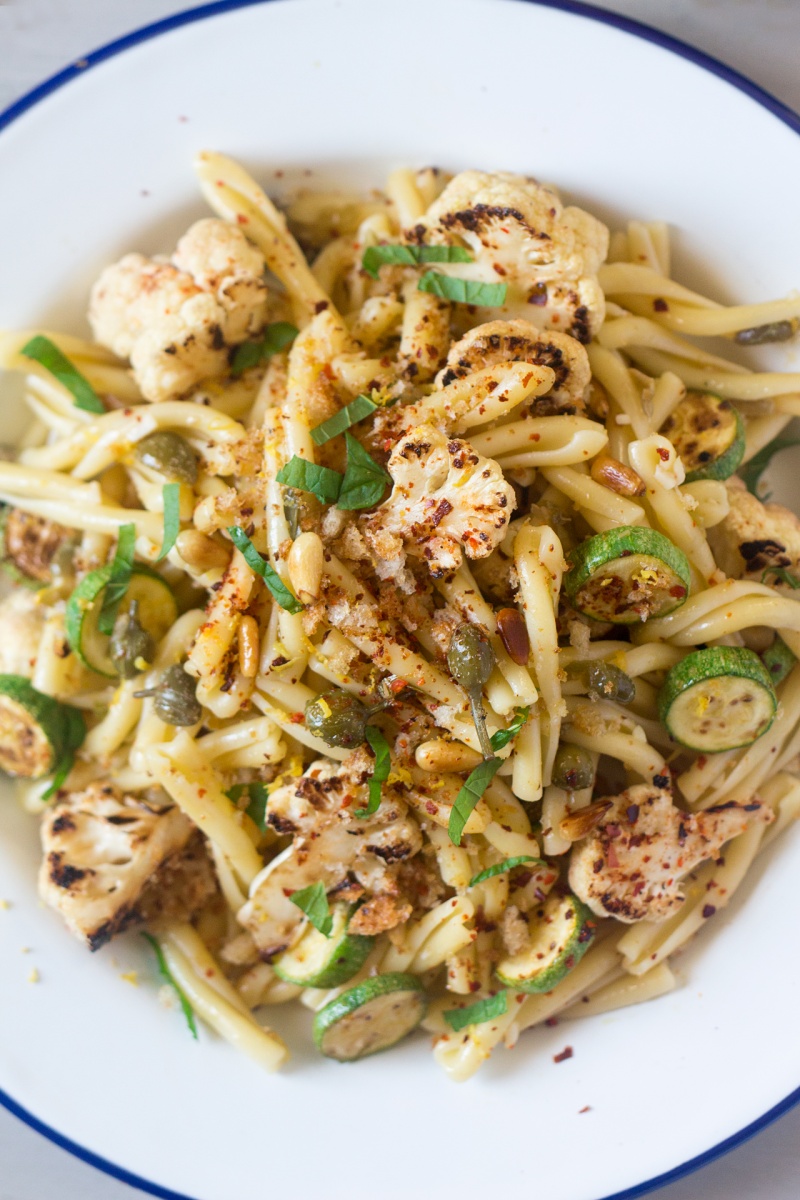 200 g of pasta*, I used strozzapreti (gluten-free if needed)
½ large cauliflower, divided into florets
4 baby zucchini (optional), sliced
2 garlic cloves, very finely diced
2-3 tbsp extra virgin olive oil + more to grill vegetables
3 tbsp capers, chopped finely + a few whole to decorate
3 tbsp lemon juice + zest
smoked salt, to taste
black pepper, to taste
mild-heat chilli flakes (I used Turkish pul biber)
2 tsbp of toasted breadcrumbs from crusty white bread**, seasoned with salt
a handful of fresh mint leaves
1 tbsp pine nuts, toasted on a dry pan
METHOD
Heat up a griddle pan on the stove (you can also use a BBQ for this or an oven at 400° F / 200° C). Cut cauliflower florets into halves. Brush them with a bit of olive oil and season with smoked salt. Arrange cauliflower pieces cut side down on a hot pan and do not turn over until they caramelise nicely. Then pop them to the other side for a few minutes. They will end up with a bit of a crunch but won't be raw. Do the same with your zucchini slices (if using). Set aside.
Cook pasta al dente and drain.
In a small bowl, combine chopped capers with 2 tbsp of lemon juice and 1 tbsp of olive oil. Season with salt and pepper and mix well.
Warm up the remaining tablespoon (or two if you don't mind a bit more oil) of olive oil on a medium size pan. Once warm, add finely diced garlic and let it cook for 1-2 minutes. Make sure you stir it all the time as garlic burns easily, especially when chopped that finely. Turn off the heat and add caper 'butter' mixture to the sautéed garlic. Stir well.
Add drained pasta to the pan and mix it around well to coat it in the caper 'butter'. Add grilled vegetables and mix well.
Serve with a sprinkling of toasted pine nuts, lemon zest, chilli flakes, breadcrumbs and fresh mint.
NOTES
*As this dish isn't one of those with a large amount of sauce, it is best to use the type of pasta which has fairly large and smooth surface area like: strozzapreti, farfelle, penne, rigatoni or pappardelle.
**I made my breadcrumbs by slicing 2 day old crusty bread into very thin slices and then toasting them on a hot griddle pan brushed with a bit of olive oil. I toasted them on both sides until nicely browned, cooled them and then crushed them in a pestle and mortar.