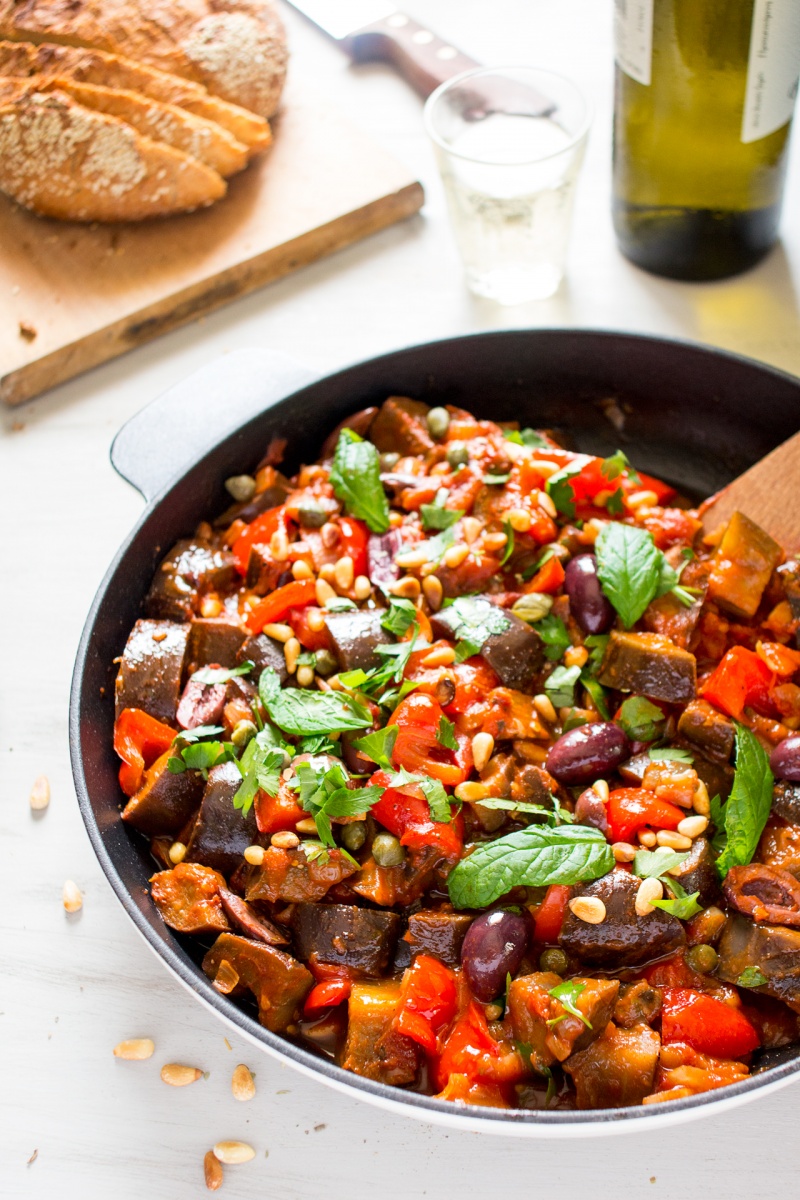 The summer is upon us. We've been melting here for the past few days and spending our afternoons lying on the nearby beach.
The veggie shops on the island have an abundance of summer produce including aubergines, tomatoes and peppers – an ideal trio for a Sicilian aubergine stew – caponata Siciliana!
For me it's a dish that screams 'SUMMER', plus I love its simplicity and rustic nature. When paired up with some crispy bread, pasta or even couscous, it makes a delicious, light dinner bursting with tonnes of flavour.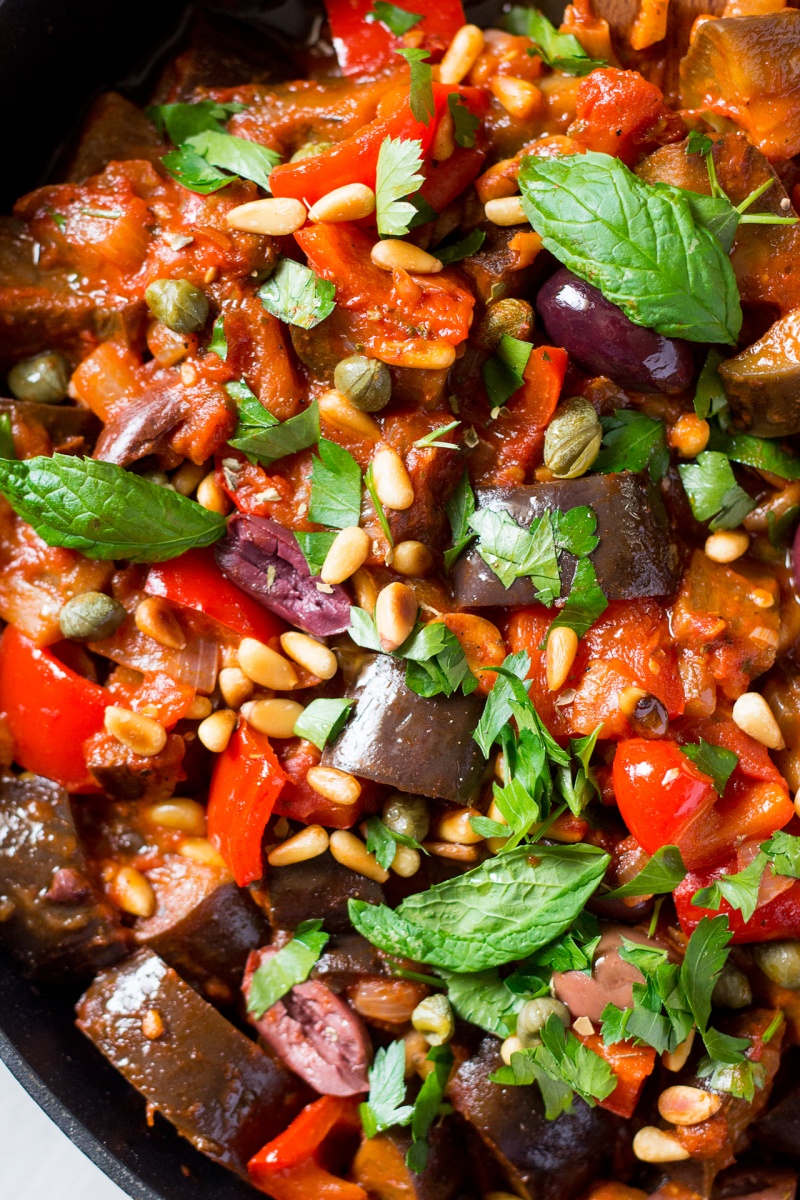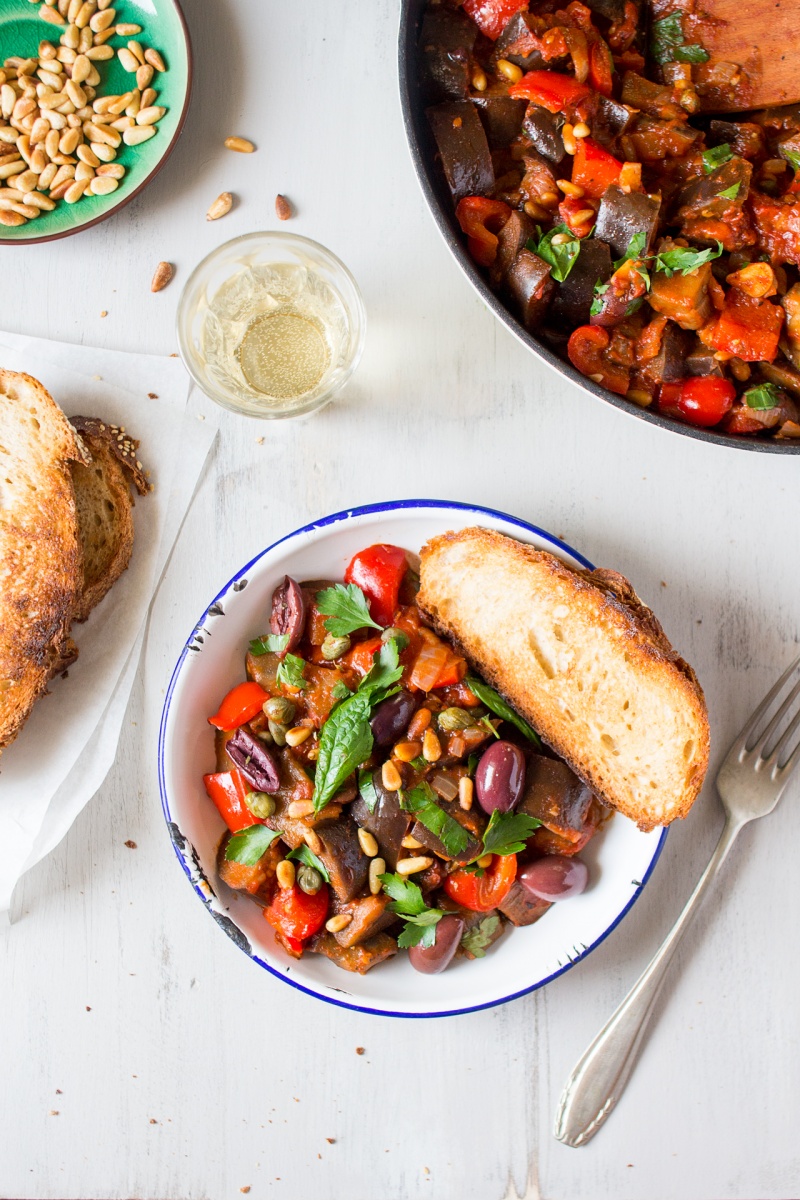 3-4 tbsp olive oil
4 garlic cloves, finely chopped
1 medium onion, finely chopped
600 g / 21 oz aubergines, chopped into chunks
600 g / 21 oz tomatoes, peeled & chopped
1 red bell pepper, chopped into chunks
generous amount of black pepper
1 tbsp fresh parsley, finely chopped
1 tbsp fresh mint, finely chopped
1 tbsp basil, finely chopped
2 tbsp capers
15 olives, pitted (I used Kalamata olives)
2 tbsp tomato paste
2 tbsp pine nuts, roasted
2 tbsp sultanas
1 tsp salt, more to taste
½ tsp chilli powder (optional)
2-3 tsp sugar
METHOD
Heat up 2 tablespoons of olive oil in a heavy-bottomed pot. Add chopped aubergine (you may need to do it in two batches) and brown it on medium-heat, stirring the whole time. Once aubergine is caramelised, transfer it to a plate and set aside.
In the same pot, heat up a bit more oil. Once oil is warm, add chopped onion and fry it on low-medium heat, stirring frequently, until soft and translucent.
Add chopped garlic. Fry together with onions until onions are lightly caramelised and garlic turns soft.
Now, chuck in chopped tomatoes, bell pepper, tomato paste, capers, olives, sultanas and return caramelised aubergine back to the pan.
Stew the vegetables uncovered on a low heat until tomato sauce thickens, aubergine and pepper becomes tender but does not fall apart.
Add chopped up herbs and season with salt, sugar (especially if your tomatoes lack sweetness), black pepper and chilli if you like a bit of a kick.
Sprinkle with fresh herbs and pine nuts before serving. Serve with grilled bread, small pasta shapes or couscous.