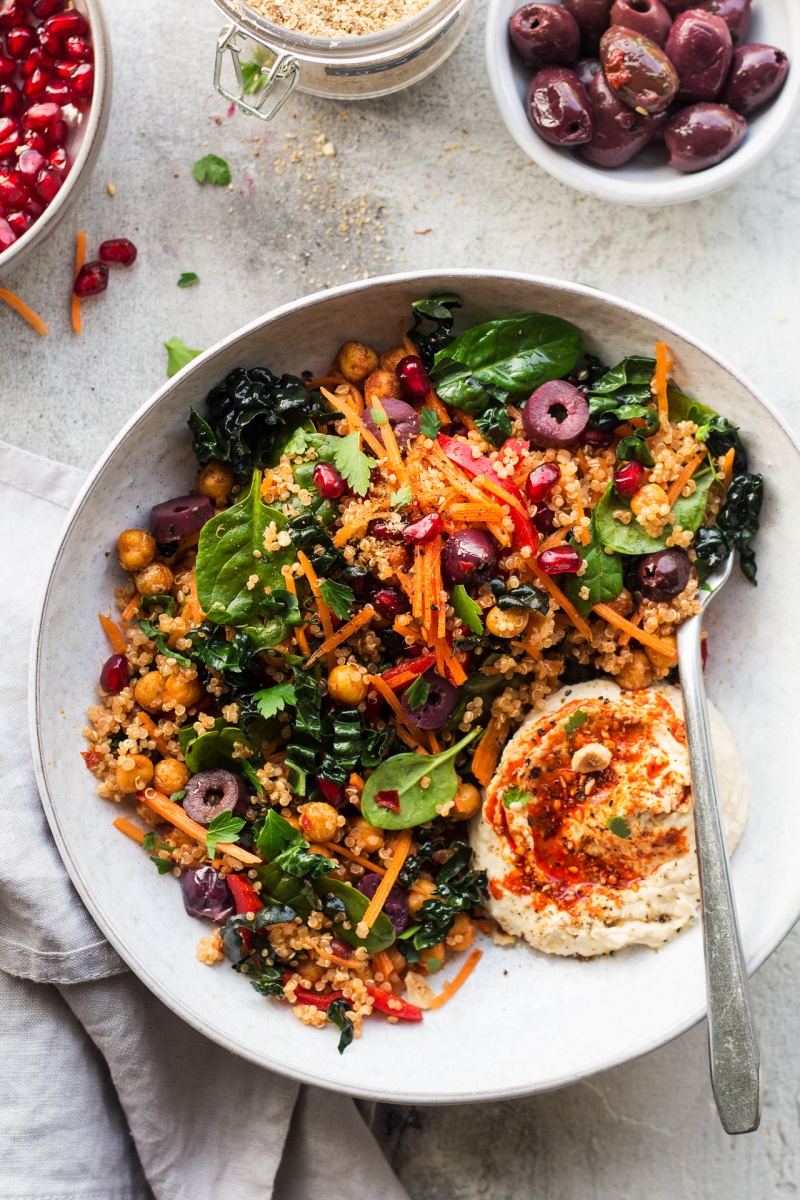 Hope are having a peachy week, guys! Mine has been good so far. Mainly because my mental health has improved considerably and everything else has followed suit. It's only Wednesday and I've already shot two new recipes and I have a strong idea for the third one. I am trusting my instincts more this week instead of talking myself out of things and second guessing myself like I tend to do when my self-confidence dips and negative self talk takes over.
I feel much more in control and at peace with myself. I credit this improvement to much more regular running. Instead of running every other day, or sometimes even every third day, I managed to stick to five runs per week since last week, even if that means running two days in a row. Not only am I becoming a much stronger runner – a hill that used to leave me gasping for air does not feel like a challenge anymore – but it makes my head feel clearer. The negative thoughts do not resurface as often as they used to, so that's a powerful motivator to keep going.
Today's recipe is a simple midweek salad bowl inspired by one of my favourite ingredients recently – harissa paste. This bowl has been my lunch for the past two weeks, so I've decided it's high time for it to make an appearance on the blog. As a food blogger I tend to get periodically obsessed with an ingredient. I use say, half a jar, and then while playing unavoidable fridge jenga, which I tend to do daily (small fridge, big appetite), I inadvertently push it to the back of the fridge and forget all about it until I find it again, 2 months later, mouldy.
Food waste stresses me out, so this time I've decided not to let that happen. After I opened a new jar of harissa for when I was making this soup (have you tried it? I cannot get enough of it), I've been ploughing through it daily. A little goes a long way so I still have a fair amount left, but I'm getting there and enjoying the ride too.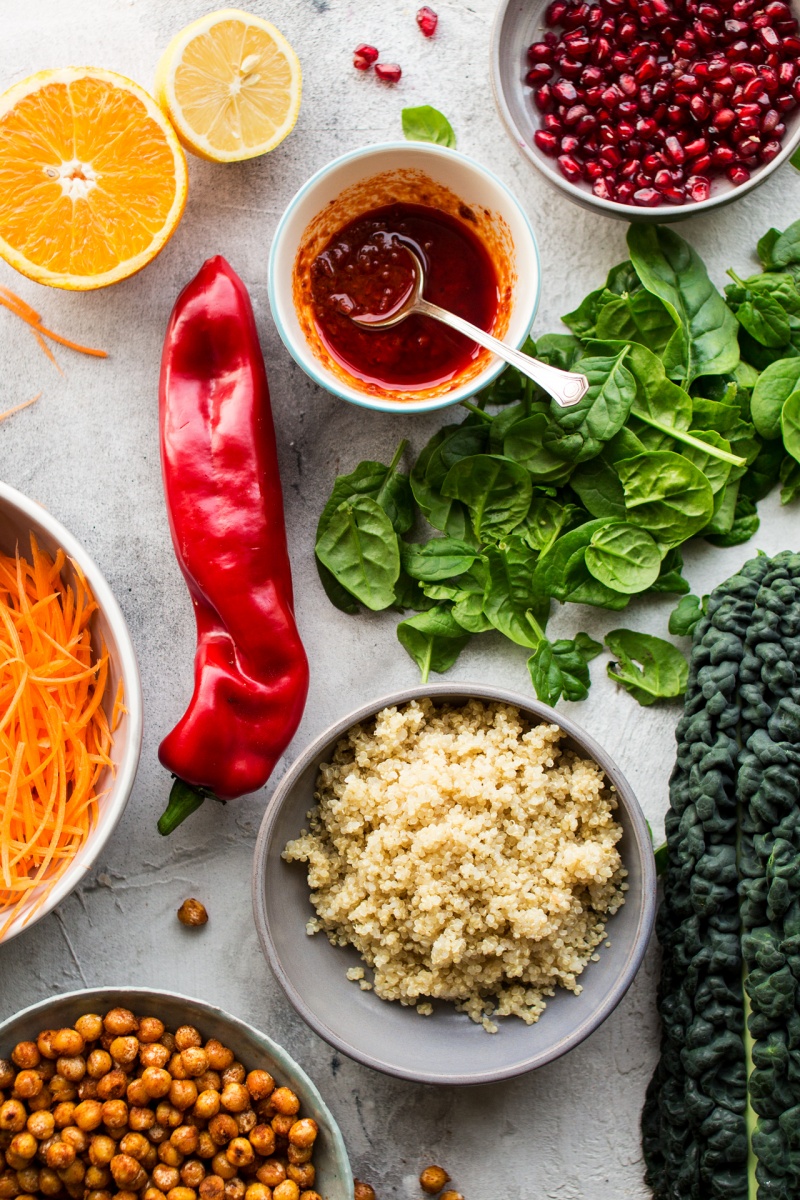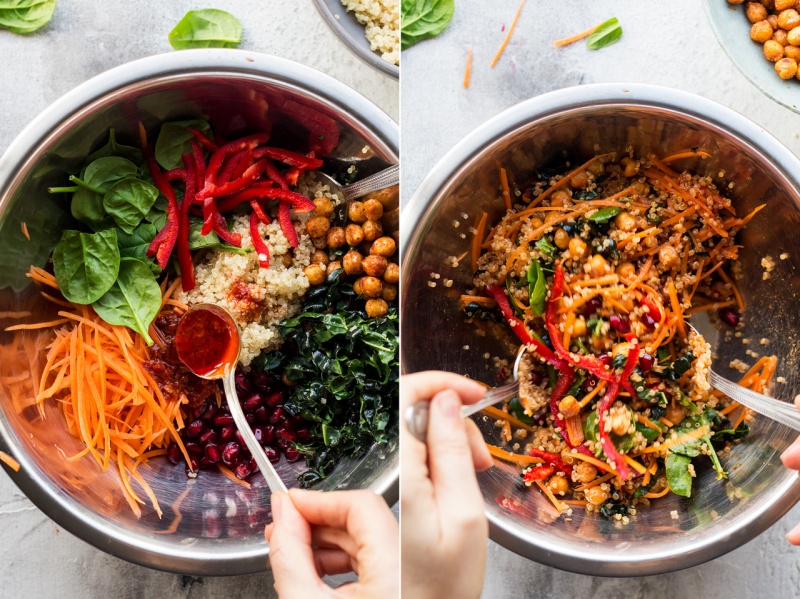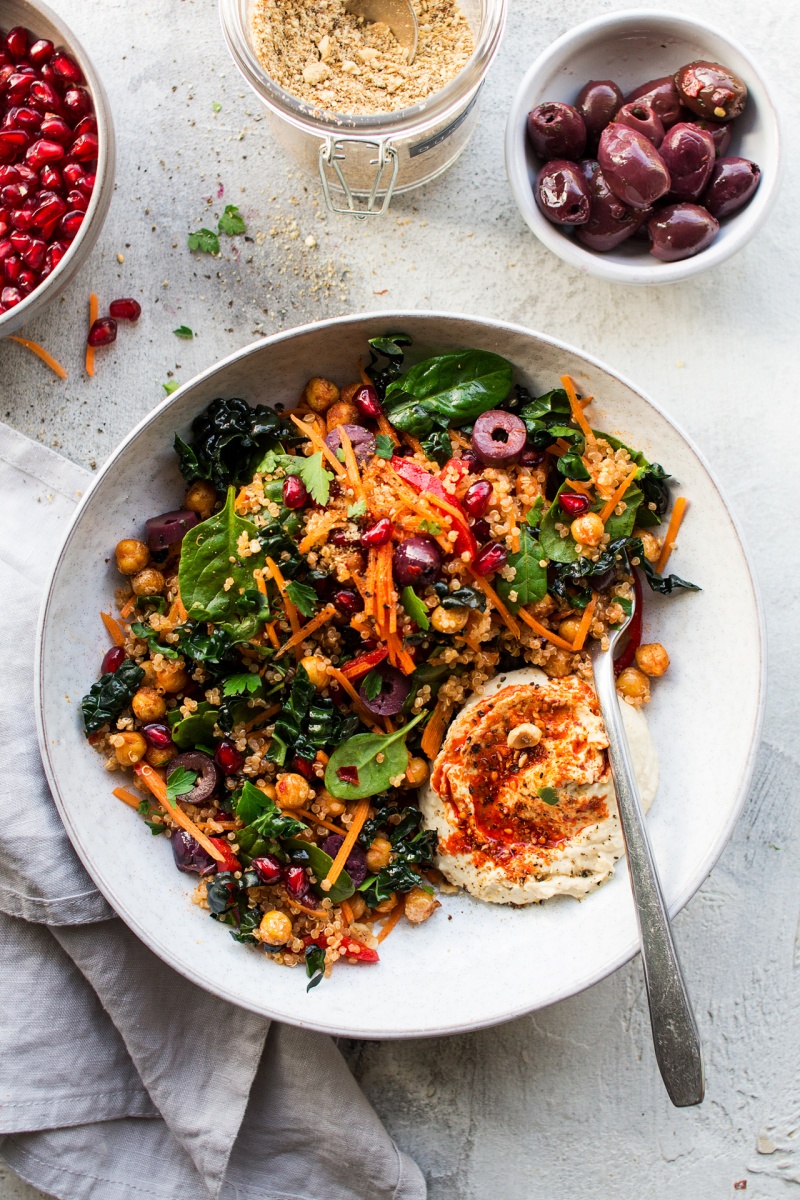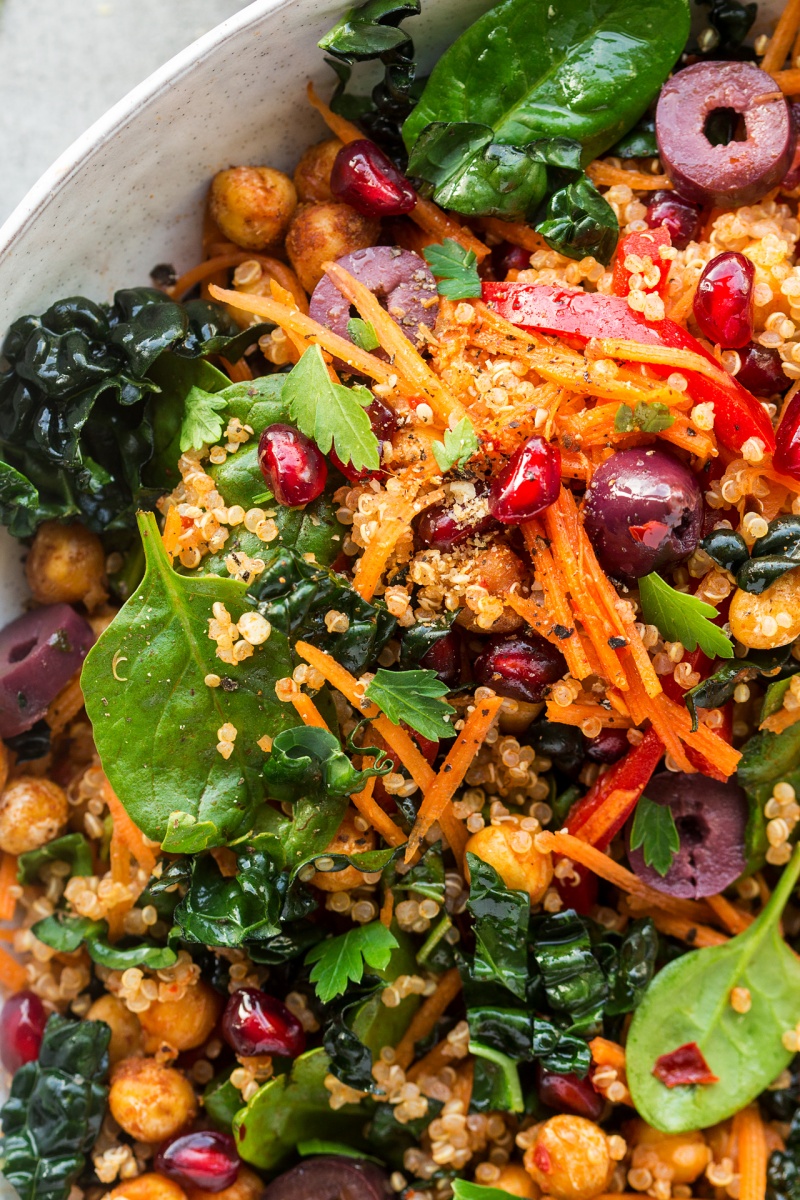 ROASTED CHICKPEAS
2 cups cooked chickpeas
1 tbsp olive oil
1 tsp ground cumin
1 tsp smoked paprika
½ tsp garlic salt
DRESSING
2 tsp harissa paste, adjust to taste (some brands are spicier than others)
1 tsp extra virgin olive oil, plus 1 tsp for the kale
1 tbsp orange juice
1 tbsp lemon juice
salt and pepper, to taste
SALAD
2 leaves of kale (I used Cavolo Nero, aka lacinato / dragon kale)
1 cup cumin-spiced chickpeas (see above)
1½ cups cooked quinoa* (or couscous** if not GF)
2 carrots, coarsely grated or julienned
1 Romano pepper, sliced thinly
50 g / 1.5 oz baby spinach
¼ cup pomegranate seeds
10 black Kalamata olives, sliced
100 g / 3 oz plain hummus (I used shop-bought, but you can also make your own)
2 tsbp fresh parsley or coriander, chopped finely
dukkah (optional)
METHOD
ROASTED CHICKPEAS
Drain the chickpeas well. Spread them on a large plate or tray and allow them to air dry, if you have time (I tend to let them air dry overnight). If you are in a rush, blot them on a clean kitchen or paper towel.
Heat up a heavy-bottomed pan on a medium-high heat. Pour 1 tablespoon of olive oil in the hot pan and wait a few seconds for the oil to heat up.
Chuck the drained chickpeas into the hot oil, they should sizzle when they hit the pan.
Let the chickpeas roast slowly, giving them a stir from time to time so that they don't burn (a little char here and there is nice).
Take the pan off the heat and sprinkle the chickpeas with the spices and salt. Mix to coat evenly. Keep on stirring on a few seconds – the spices will toast gently in the residual heat.
DRESSING
Mix all the dressing ingredients in a medium mixing bowl.
Season with salt and pepper to taste.
SALAD
Cut the thick stems off the kale and massage a little bit of olive oil into the leaves to soften them. Set aside for a few minutes.
In a mixing bowl combine the chickpeas, quinoa, carrots, red pepper, spinach, pomegranate seeds and olives.
Chop the softened kale finely and add it to the rest of the ingredients.
Stir the dressing through the salad. Taste and adjust the seasoning as required.
Divide between two bowls, add a dollop of hummus to each bowl and sprinkle with fresh parsley and dukkah (if using).
NOTES
*To cook quinoa, rinse it well and put it in a pot with a lid. Cover with water (1 part quinoa : 1½ parts water) and put the lid on. Simmer on a low-medium heat until all of the water has been absorbed. Once the water has been absorbed, switch the heat off and allow it to rest, covered, for a further 5 minutes.
**To cook couscous, place it in a bowl and cover with boiling water (1 part couscous : 1.35 parts water). Cover firmly with a matching lid or an upside down plate and allow it to stand for 10 minutes.