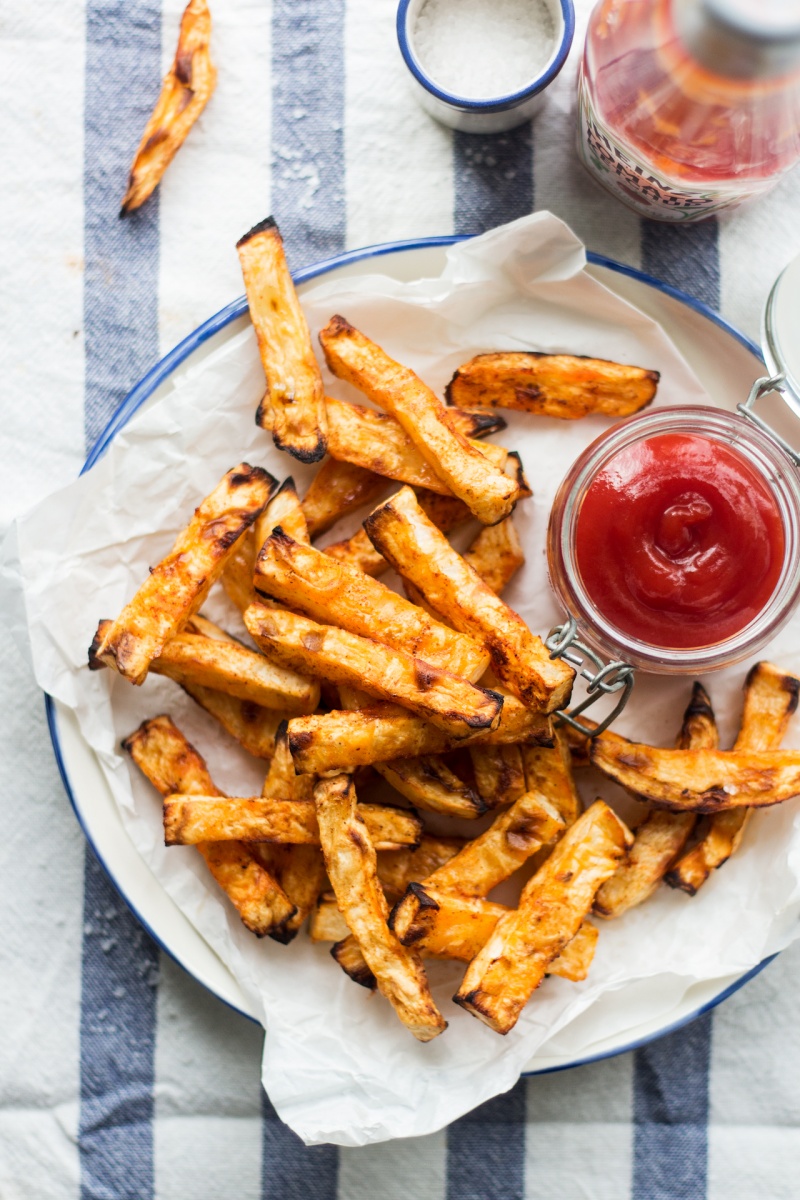 Finish the following phrase for me please: fish and … Did I hear you say 'chips'? Yes, I thought so 😉 . It's such an instant association, isn't it? At least for me. Well, since on Friday I treated you to vegan fish finger sandwiches, today I thought I would follow up with a simple crowd pleaser! Chips! Although these aren't just regular chips, they are celeriac chips! Say what??!
Celeriac…you might have seen it on your greengrocer's shelves before, kind of an ugly, extra-terrestrial looking bulb that doesn't look appetising in the slightest. But if you've never gone beyond the hairy and gnarled exterior, you are missing out! This crunchy (when raw) root vegetable has a mildly sweet and aniseedy flavour. It goes very well with mayo and walnuts for some reason and this is how my mum used to prepare it when we were kids.
But it wasn't until I was making mash for this recipe that I tried roasting it in the oven for the first time. The result was so delicious that both Duncan and myself inhaled the entire tray of roasted celeriac cubes before I managed to put it to its intended use. This got me thinking that I should probably share this little insight with you guys, but I wasn't sure how marketable 'celeriac cubes' would be, so I turned cubes into chips. Cunning, eh? It's for your own good, promise!
As I want you to be happy with the outcome, I should probably add a disclaimer. Unlike potato chips, these don't ever get that crispy, I'm afraid. I'm not a chemist, but I think that's because celeriac is fairly low in starch in comparison to potatoes. Despite this minor drawback, celeriac chips are delicious and utterly addictive, so it is still a vegetable that is totally worth getting intimately acquainted with.
Celeriac is low in calories, contains several compounds that are believed to offer protection from certain types of cancer (colon and lymphoblastic leukaemia). It's extremely rich in vitamin K (300 g, which is half a tray of these chips, contains 100% of your recommended daily intake). Vitamin K improves bone mineralisation and protects your heart and cardiovascular system. It's an excellent source of phosphorus, iron, calcium, copper, and manganese and valuable B-complex vitamins such as pyridoxine, pantothenic acid, niacin, riboflavin, and thiamine.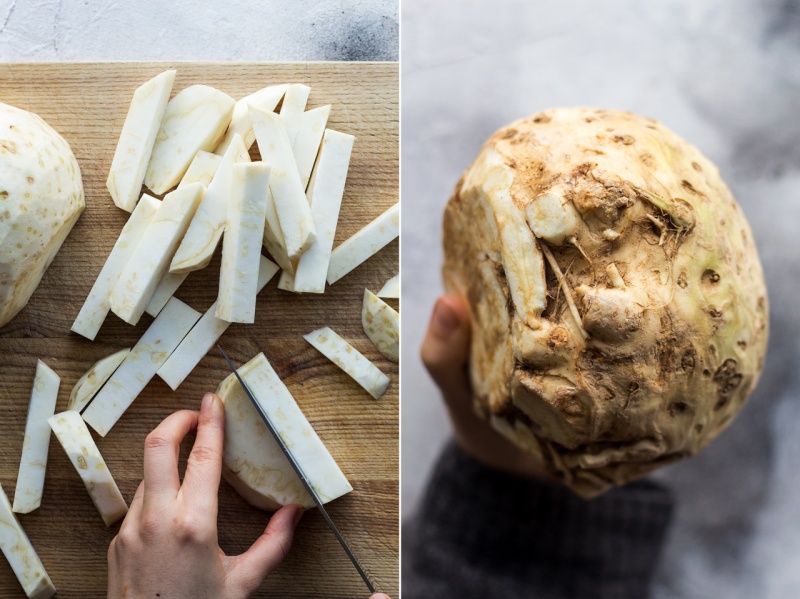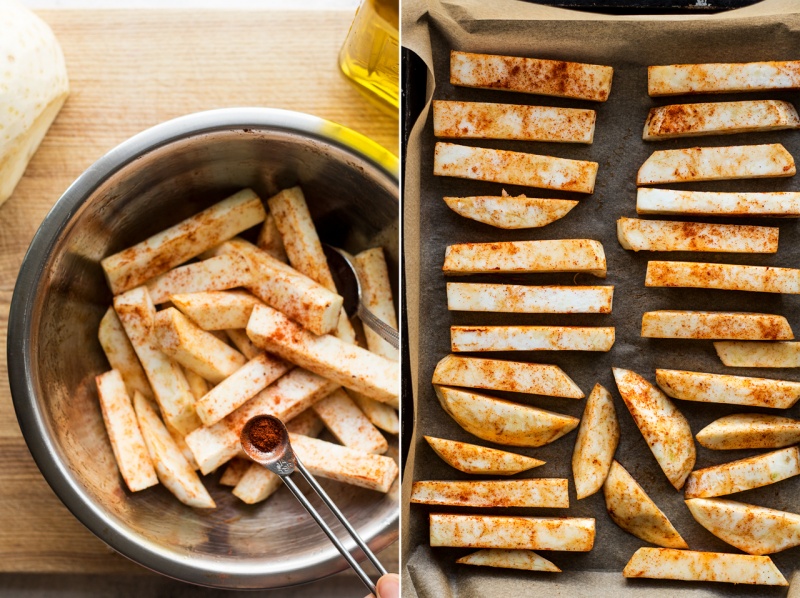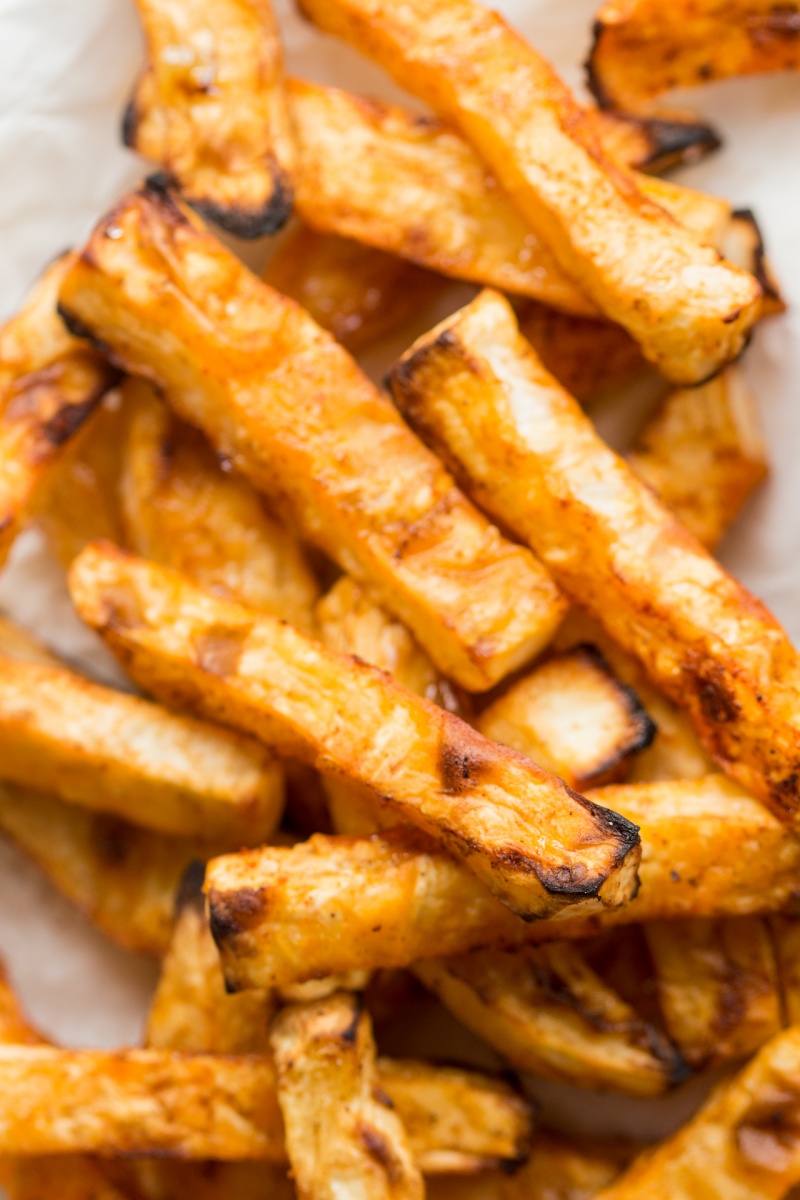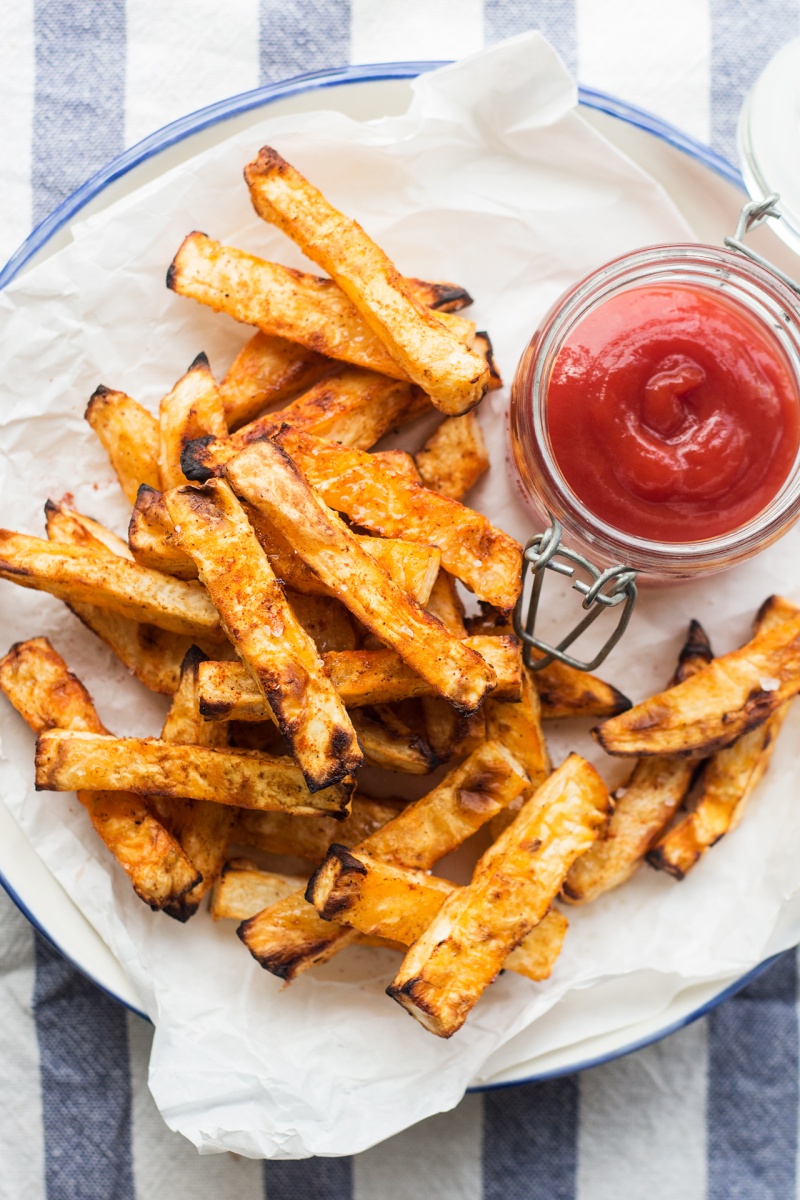 1 celeriac (mine was 600 g / 21 oz)
1 tbsp olive oil
½ tsp smoky paprika
coarse sea salt
ketchup, to serve (optional)
METHOD
Set the oven to 200° C / 390° F fan function (that's important, but if you don't have this function increase the temperature to 220° C / 430° F) and line a baking tray with a piece of baking paper.
Top and tail your celeriac and peel it with a speed peeler.
Cut the peeled celeriac in half and then cut each half into approx. 1 cm / 0.5″ thick slices.
Cut each slice into approx. 1 cm / 0.5″ thick batons.
Place the celeriac batons in a large bowl and coat in 1 tbsp of olive oil and smoky paprika. Hold off with salt until the chips have been baked.
Place the celeriac chips on the baking tray in a single layer making sure there is a bit of space around each chip.
Bake for about 15 minutes. After the time is up, remove the tray from the oven and carefully flip each fry to the other side and bake for another 10 minutes, until the tops are nicely blistered and lightly charred in places.
Sprinkle with salt and consume immediately.