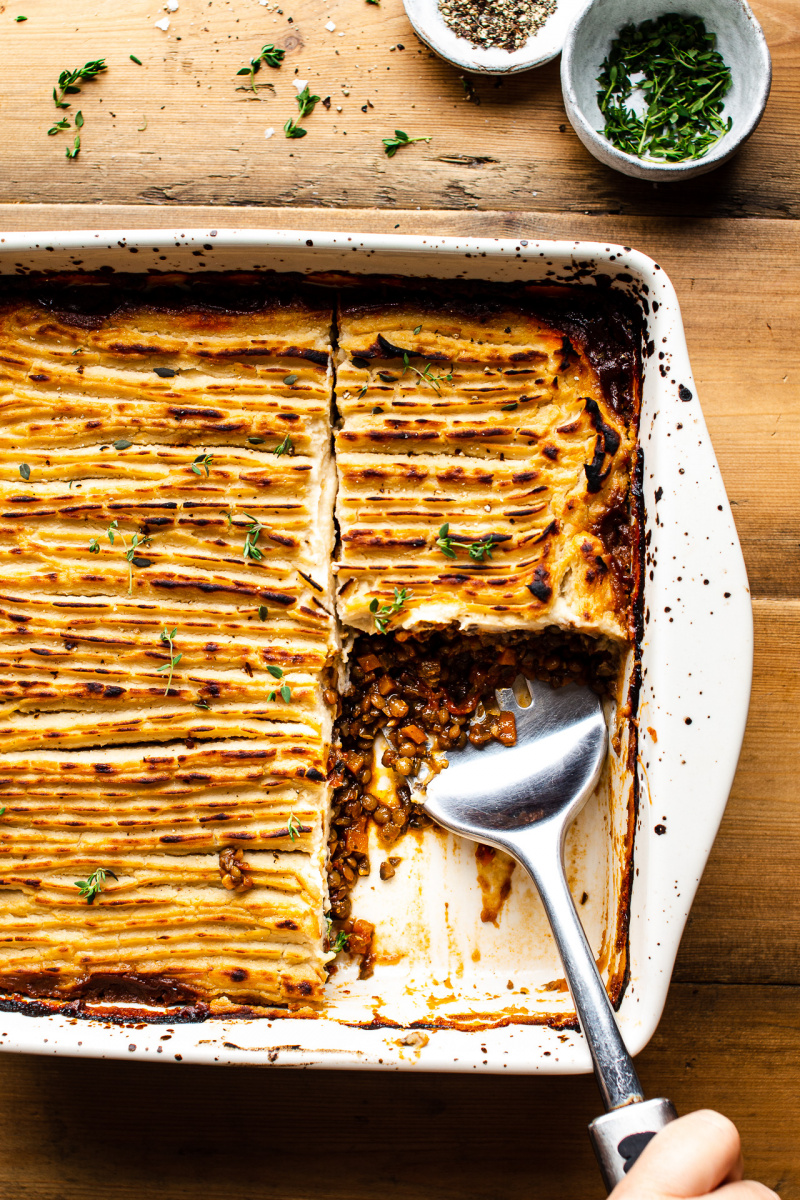 Aaaaaaand it's the weekend again at last! Hope you are doing things that make you relax and smile. I've had a pretty good week myself and my newly found (I've lost it more times than I can count) routine of yoga, meditation, running and eating mindfully has certainly played a major part in that.
Why is it that despite the fact that we all know what makes us feel good, we have such a hard time sticking to it? Surely, there should be a part of your brain that makes you crave things that do you good, right? Yes, I know, it's all about creating new neurological pathways (which is hard work for your inherently lazy brain) and eventually turning them into long lasting habits before your brain becomes your ally in the pursuit of things that make you feel good, not in the moment, but in the long term. Well, I'm working on making these pathways…
As it's the season for all things cosy, I've concocted a super cosy oven bake based on a British classic – shepherd's pie. I already have a shepherd's pie recipe up on the blog so if you are after a traditional taste, check it out. This one is a bit different as instead of a potato mash, it is crowned with a creamy layer of celeriac mash. Being possibly the ugliest vegetable on Earth, celeriac doesn't get much attention as it's so easy for curvaceous, orange pumpkins to steal the show, but I don't think that's entirely fair as it tastes better than it looks. Once you cut through the ugly, knobbly and hairy exterior, a lots of delicious possibilities await.
It may be because I grew up on it, but I am rather fond of it. My mum used to turn it into a delicious raw celeriac, apple and walnut salad that I used to enjoy but when I started cooking for myself, I discovered that celeriac is even more beautiful when baked – I find celeriac 'chips' dusted with smoked paprika most addictive – and that it also makes a mean mash (like in this recipe, which I love). It's great in soups and hash browns too, which I don't have any recipes for yet, but I am planning to rectify that at some point.
In my celeriac shepherd's pie, a silky smooth and creamy celeriac layer hides away a beautiful, umami-rich vegan 'mince'. I packed it with deliciously savoury mushrooms, roasted walnuts, miso, mushroom stock and tomatoes and bulked it up with hearty and protein rich lentils. It's delicious, full of texture and filling. The slight sweetness of the base complements the deeply savoury celeriac pillow above.
Not only is celeriac super healthy, rich in blood and bone healthy vitamin K, it is also a great alternative to carbs. While I am a big proponent of carbs (I could live on pasta!), if you are after a low-carb alternative to mash, this recipe won't disappoint you, promise. This dish, like most dishes of this type, requires some effort, but (unless you live with a hungry horse-type person like I do, who can demolish half a tray in one sitting), it will keep you fed and nourished for days.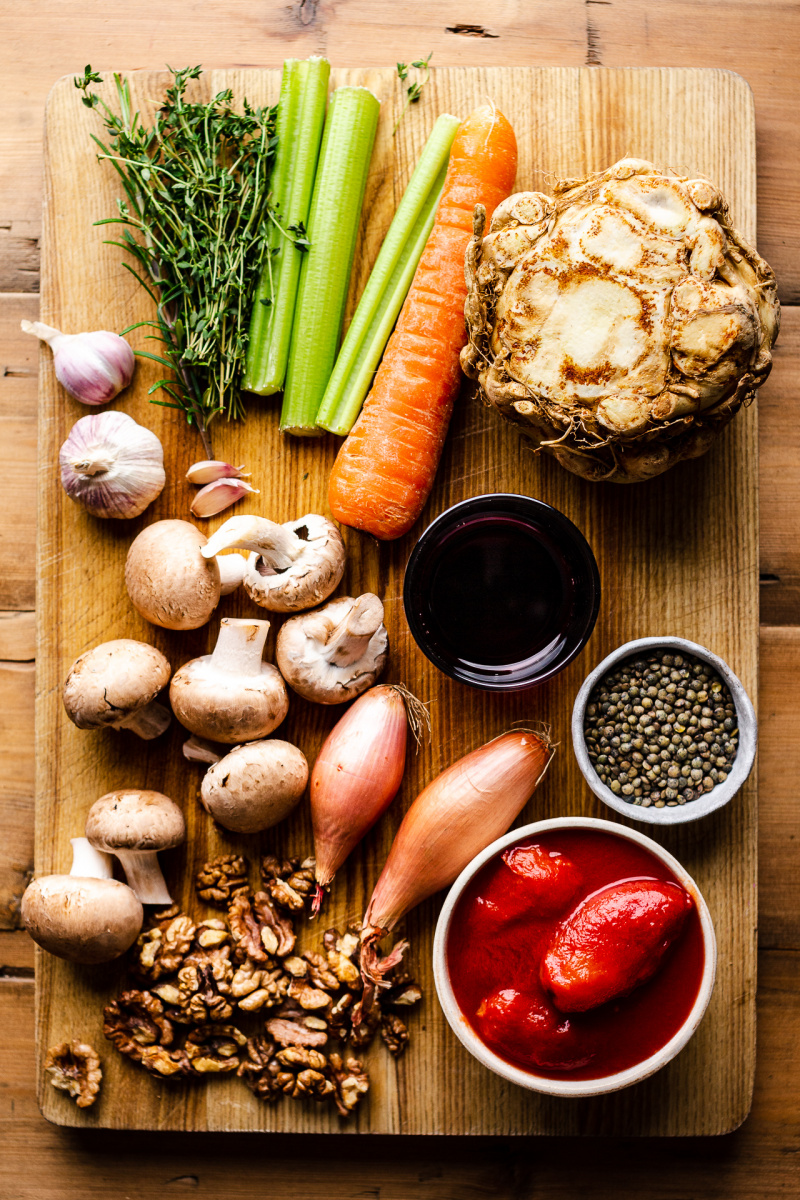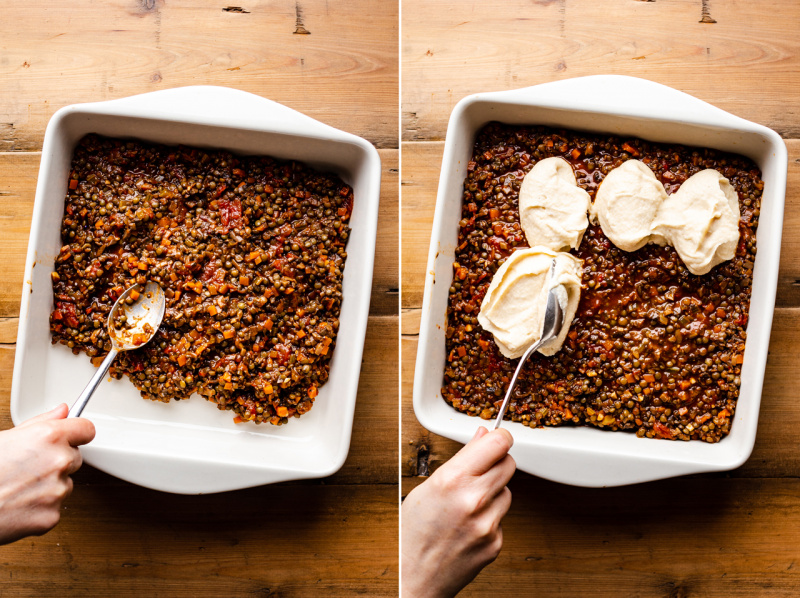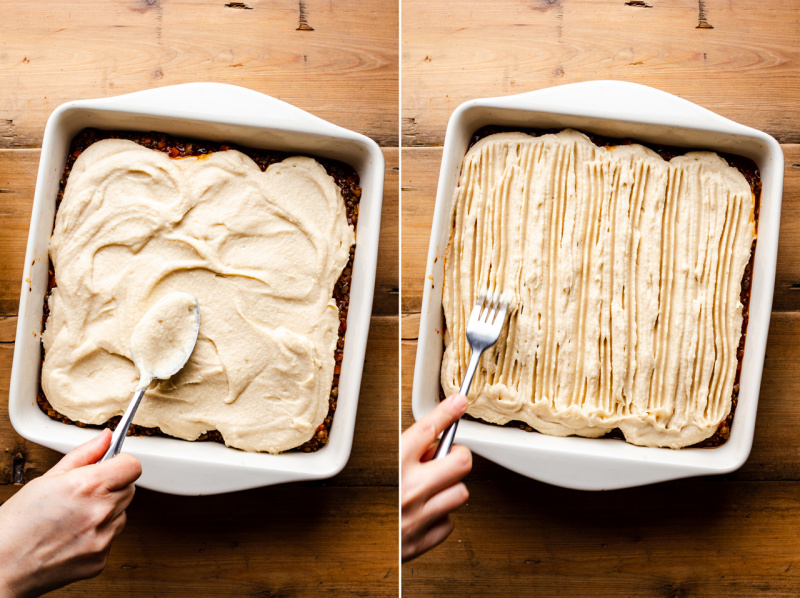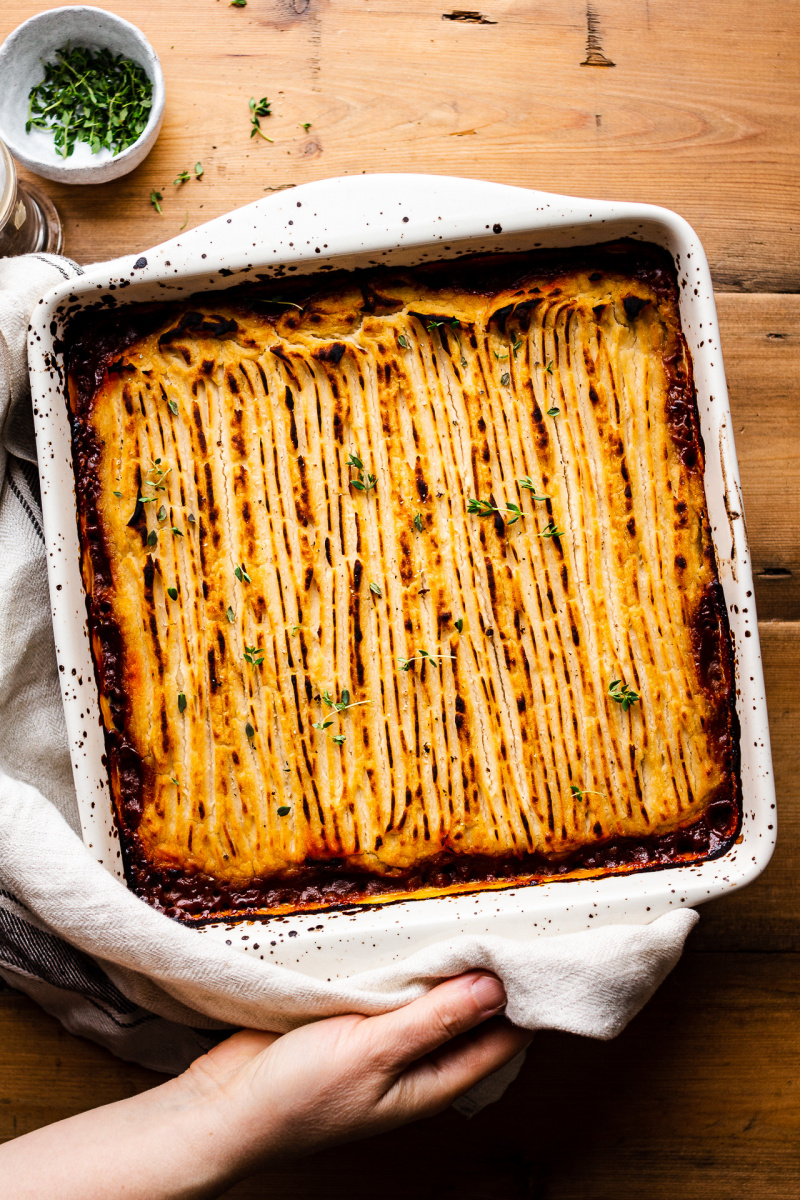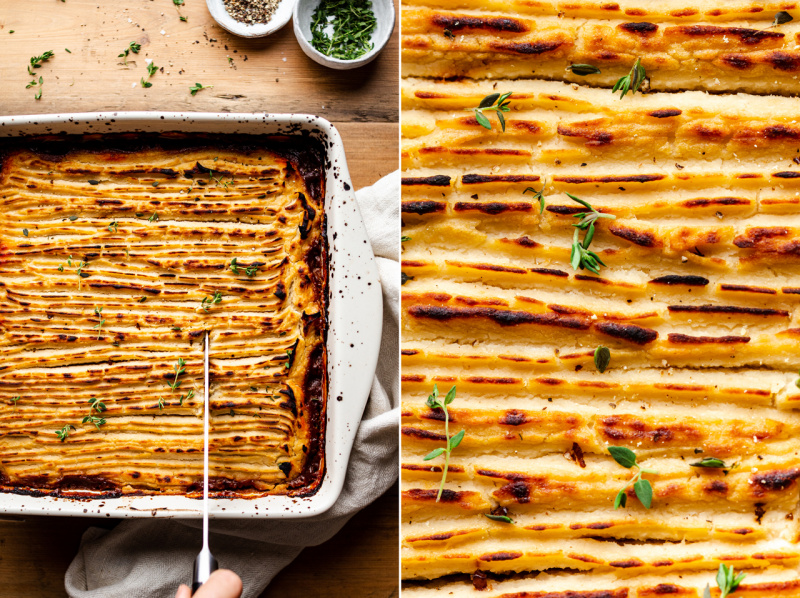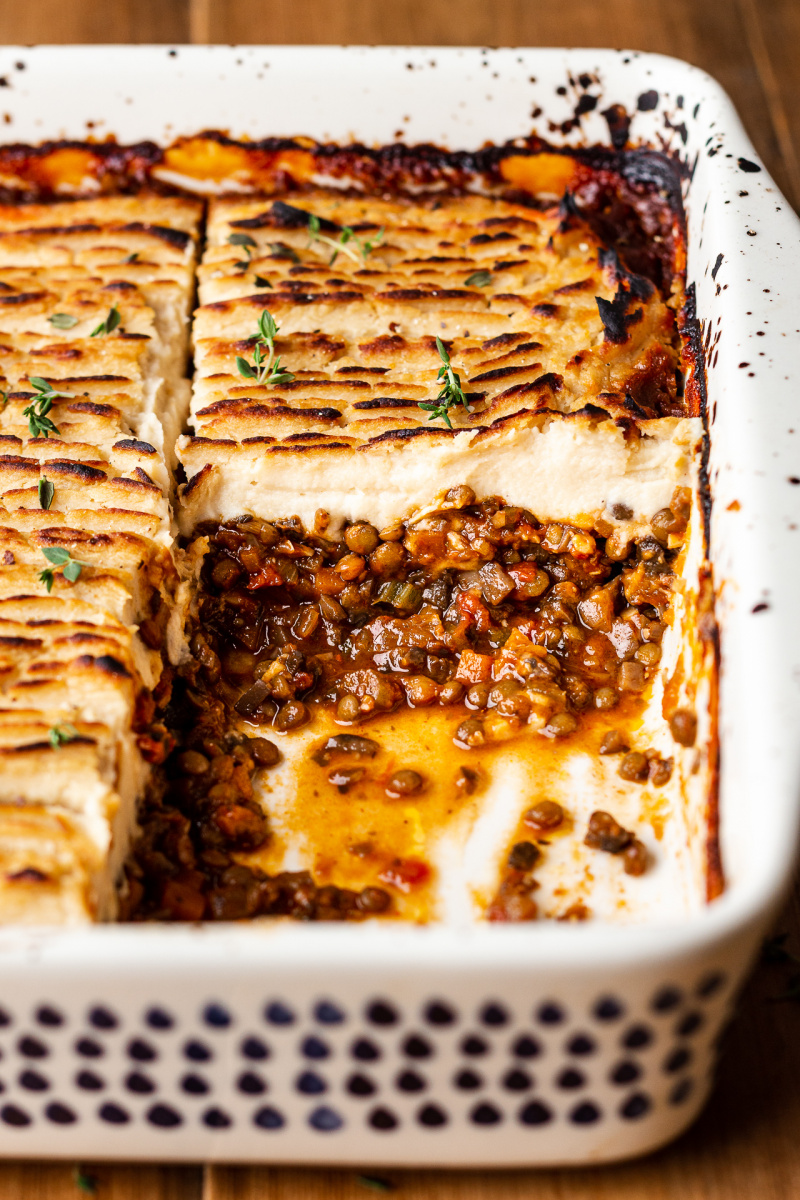 MINCE LAYER
2 tbsp / 30 ml olive oil
2 large banana shallots OR 1 onion, finely diced
5 large garlic cloves, finely diced
250 g / 8¾ oz chestnut mushrooms, finely diced
2 sprigs rosemary, leaves chopped finely
8 sprigs thyme, leaves picked
1 mushroom stock cube (or homemade porcini stock*)
1 tbsp red miso
1 large carrot, finely diced
2 celery stalks, finely diced
1 heaped tsp smoked paprika
a good pinch of chilli (optional)
salt, adjust to taste
black pepper, to taste
120 ml / ½ cup vegan red wine (or stock)
1 x 400 g / 7 oz tins quality peeled plum tomatoes
2 tbsp tomato paste / concentrate
2 bay leaves
100 g / 1 cup (ideally roasted*) walnuts, chopped
225 g / 1½ cups cooked firm lentils
10 ml / 2 tsp quality balsamic vinegar
5 ml / 1 tsp date syrup or sugar (optional)
CELERIAC MASH
1 kg / 35 oz celeriac
a head of roasted garlic*
2 tbsp white miso
approx. 80 ml / 1/3 cup plant milk
2 tbsp extra virgin olive oil or vegan butter
120 ml / ½ cup vegan cream
1/3 tsp freshly grated nutmeg, adjust to taste
fine sea salt, more to taste
black pepper, to taste
METHOD
MINCE LAYER
Heat up the olive oil in a heavy-bottomed pan. Add the diced shallots and sauté on a low heat until they are almost translucent, but not browned.
Add the chopped garlic and sauté for another 1-2 minutes.
Next add in diced mushrooms and herbs. Sauté, stirring frequently, until all the water cooks out (about 10 minutes).
Meanwhile, dilute mushroom stock cube and miso paste in 240 ml / 1 cup of warm water. Set aside.
Next add in diced carrots and celery and sauté until they both soften.
Stir smoked paprika, chilli (if using) and a good pinch of salt and pepper into the vegetables.
Add the wine and allow it to bubble gently for a few minutes so that the taste of alcohol cooks out.
Next, add in tomatoes, their juices, tomato paste and bay leaves.
Gently squash the tomatoes with a wooden spoon before adding dissolved mushroom-miso stock and another ½ cup (120 ml) of water to the pan.
Allow the mixture to bubble on a low-medium heat until the tomatoes have broken down fully (about 30 minutes).
Once the tomatoes have broken down, take the lid off and start reducing the sauce on a low-medium heat. If the pan is starting to look a bit too dry, add a bit more water and cook until you achieve the desired consistency – lentils and and walnuts will absorb some of the moisture as will the baking time so leave it a little loose. Give the sauce a good stir from time to time to ensure that it does not catch.
Stir in chopped walnuts and cooked lentils towards the end of the cooking time. Season the mixture with more salt, black pepper, balsamic and a touch of date syrup / sugar (to offer a contrast with bitter tasting celeriac). If the mixture is looking too dry, add a few tablespoons of water to compensate.
CELERIAC MASH
Peel and cut the celeriac into 2 cm / ¾" dice.
Steam it, boil it or roast it until soft. If roasting, coat it in olive oil and spread on a baking tray. Roast at 200° C / 390° F for about 30 minutes. Steaming takes 30 minutes and boiling approximately 20 minutes.
Transfer hot celeriac to a large mixing bowl or place it in a blender, together with squeezed out garlic cloves.
Dilute miso paste in the plant milk and work it into the celeriac and garlic mixture using a potato masher or in a blender.
Finally, work olive oil and vegan cream into the celeriac to help create a creamy mash. Add a touch more milk if the mash is too dry as it will lose some of the moisture in the oven.
Season with nutmeg, salt and pepper to taste.
ASSEMBLY
Preheat the oven to 225° C / 435° F.
Spread mince layer at the bottom of a baking dish and dot with the mashed celeriac mixture. Spread the mash evenly, brush the top with an extra tablespoon of olive oil (if liked) and then using the back of a fork, make grooves all over the mash in whatever pattern you see fit (no rules here).
Bake for about 20 minutes, then switch the oven to the grill / broil function and allow the top to brown further for another 10 minutes or so. For neater-looking slices allow the bake to cool a little before cutting.
NOTES
*ROASTED WALNUTS – spread walnuts on a large baking tray and roast in a 180° C / 355° F until golden (8-10 minutes). If not using walnuts, sub them with more lentils.
*ROASTED GARLIC – you can use 1-2 (minced) garlic cloves instead. To roast a garlic head, cut the top off, drizzle exposed cloves with a small amount of olive oil, wrap the entire head in kitchen foil / baking parchment and roast at 200° C / 390° F for about 30 minutes.
*MUSHROOM STOCK – what works even nicer than a mushroom stock cube is a cup (240 ml) of porcini stock, which cane be made by soaking cleaned dry porcini mushrooms (about 12 g / 0.4 oz) in hot water for at least a hour (or several if you can).