Vegan chana masala is a perfect dish for cold winter days when you feel like something comforting yet uncomplicated.
Long before I went vegan, I got invited to lunch by my Indian friend's vegan family. I did not know what to expect as I had never knowingly had any vegan food before. I did hear that Indian cuisine had a reputation for some fantastic meatless cooking though so I wasn't at all worried.
The lunch was a sensational, an intensely colourful feast full of exotic flavours and smells presented on tens of small metal bowls. I was amazed at the staggering range of flavours and textures that my friend's mum managed to charm out of fruit, vegetables, pulses, nuts and seeds. I couldn't stop eating as I wanted to try absolutely everything.
This was where I first tried chana masala. Its complex flavour and simplicity of preparation quickly made it my go-to weekday meal. If you have a big enough pot, make a massive batch of it and either freeze it or eat it slowly over the course of an entire week – you'll be grateful for this foresight when you get home from work late, cold and knackered one evening. It can be a real life saver!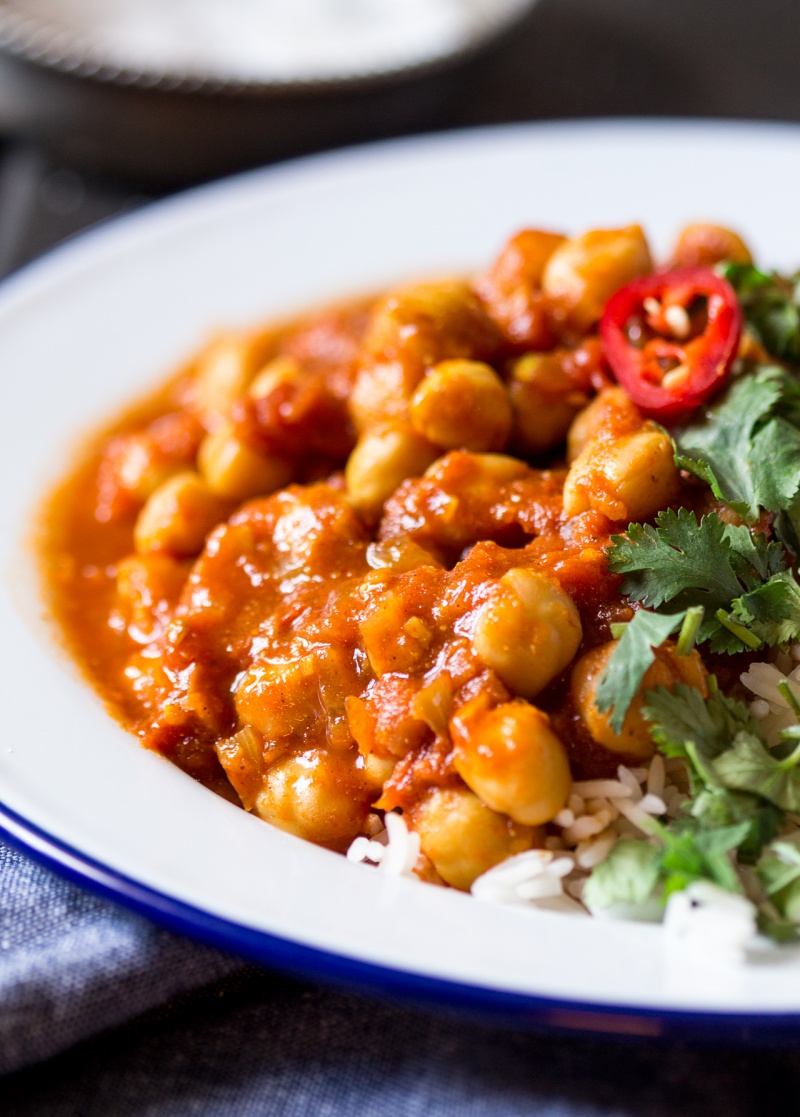 2 tbsp / 30 ml oil (I used olive oil)
2-3 garlic cloves, finely chopped
1 large onion, finely sliced
5 tsp of finely grated ginger
1-1½ tsp salt
2 tsp ground coriander
1-1½ tsp hot chilli powder (adjust to your liking)
4 tsp ground cumin
1½ ground turmeric
2 tsp garam masala
5 cups cooked chickpeas
2 x 400g tins of plum tomatoes
2 tsp sugar (especially if tinned tomatoes contain citric acid)
cooked basmati rice, to serve
fresh coriander, to serve
METHOD
Heat up the oil in a heavy bottom pot. Add chopped onion and fry on low heat until almost translucent, stirring frequently.
Add chopped garlic and grated ginger. Keep on stirring gently until the onion is translucent, garlic softens and ginger releases its aroma.
Add all the ground spices to the onion/garlic/ginger mixture and stir them around well. Fry them off gently for a minute or two stirring the whole time as they burn easily.
Add tinned tomatoes, chickpeas, half the salt and about 100-200 ml of water. Let the stew simmer gently for about 20-30 minutes for the sauce to thicken.
Taste and season with more salt and some sugar if needed. As in most cases, this curry tastes best the next day. Serve with some rice or crusty bread with heaps of fresh coriander on top.