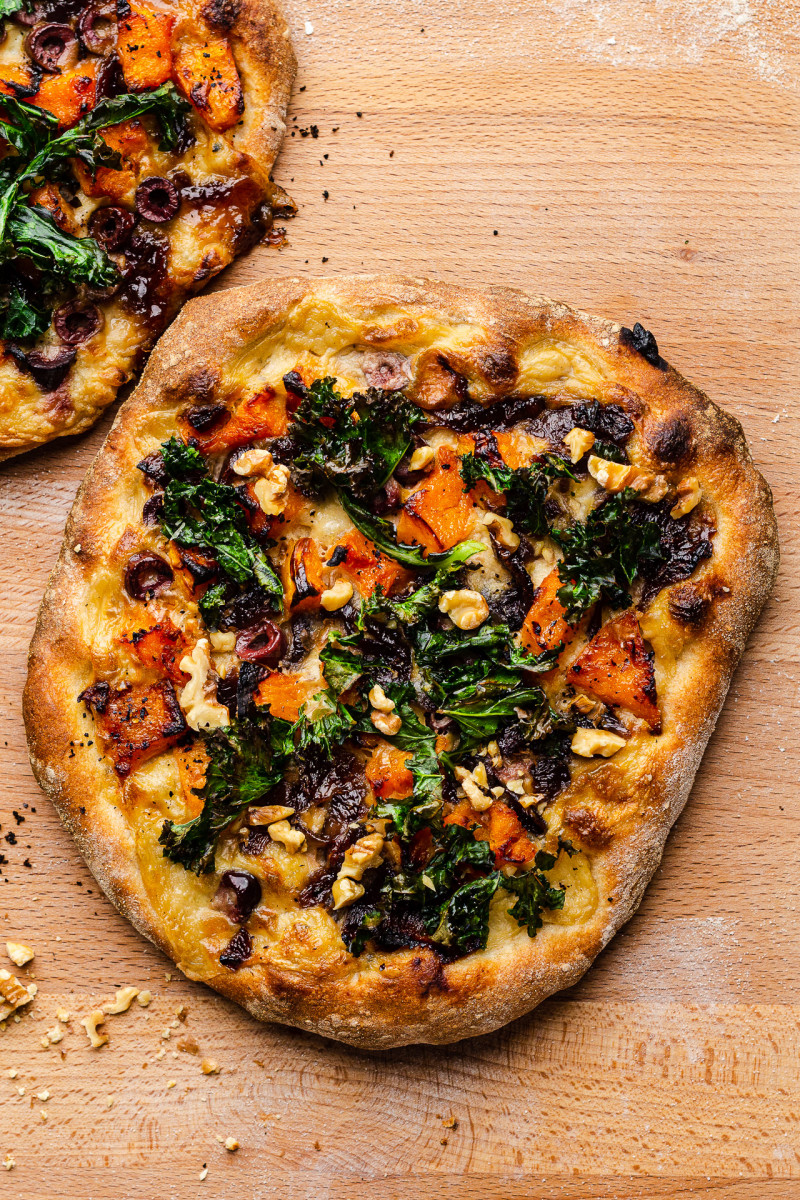 If you fancy a homemade pizza with the best of autumn's ingredients, I've got you! Recently, we've been stuffing our faces with this cheeseless pizza with pumpkin, balsamic onions, olives, walnuts and kale. It's really easy to make and soooo delicious.
It features cheesy (without any cheese) white base flavoured with roasted garlic, topped with sweet caramelised pumpkin, salty black olives, tangy balsamic onions, crunchy roasted walnuts and crispy, slightly bitter, kale. It's a delightful combination of flavours and textures that complement and contrast with each other really well.
To put this pizza on the table, I make a batch of this no knead dough the night before and keep it in the fridge overnight to do its thing. On the day all I have to do is roast the pumpkin and make the white sauce although both of these elements can be made ahead of time too, of course. To simplify things further, you could use shop-bought pizza dough if you wish, but this no knead dough adapted from Jim Lahey's recipe requires so little effort that you'll be amazed and it's so good too – I encourage you to give it a go.
Initally, I would make a big batch of balsamic onions to add some tang to this pizza, but lately I've discovered that a good red onion chutney works just as well and so I do that when I want to cut down on prep. I used a quintessentially British brand called Tiptree, but any red onion chutney that features balsamic vinegar on its ingredient list will work well and reduce your workload.
One thing I am not very happy about is that while this pizza is banging and I stand by it, I have not managed to take all photos of wanted – my apologies. The house is a bit of a flux as we (Duncan more precisely) are sanding an old wooden floor upstairs and we got into a bit of trouble with our hired sanding machine. I've had to help out at short notice so my photoshoot was rushed. The old me would have agonised over it so much and insisted on a reshoot, but the new me 🙂 knows that life is messy and sometimes things happen and so I am rolling with this recipe as is. I hope you'll enjoy it as much as we have.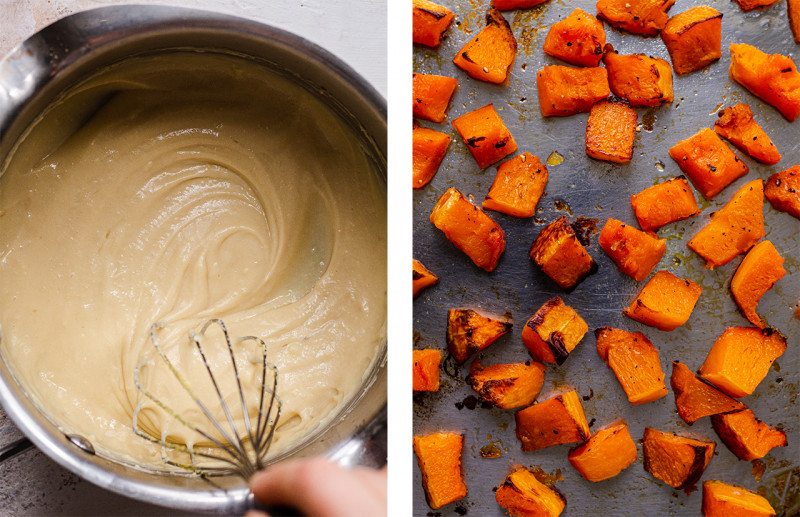 This cheeseless pizza is topped with a quick white sauce flavoured with aromatic and mellow roasted garlic, then topped with a generous amount of roasted pumpkin.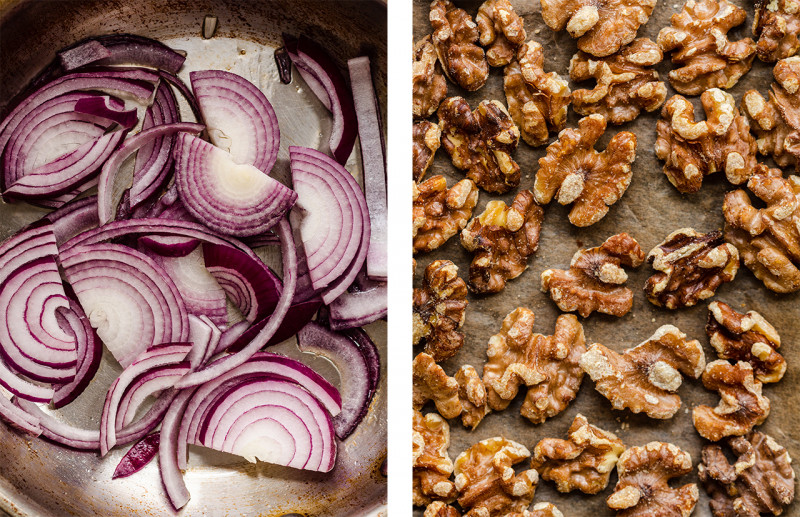 Balsamic onions or red onion chutney provide a nice tang and walnuts deliver a satisfying crunch.
MORE ABOUT THE COMPONENTS
PIZZA DOUGH: you can use shop-bought pizza dough or make your own. I opted for this super easy, no-knead dough that requires only a couple of stirs and can be proofed overnight, ready for baking the next day.
PUMPKIN: use any pumpkin you enjoy the taste of. I like butternut squash as its flesh is sweet and firm and it's very widely available where I live.
ONIONS: balsamic onion add much needed tang, which complements the sweetness of pumpkin rather well. You can make them at home (see below), but I have also used a shop-bought red onion chutney instead which is a great shortcut that reduces your workload nicely.
OLIVES: I personally really like black Kalamata olives on this pizza, but any olives or capers will work well.
KALE: I added a smattering of lightly dressed (in olive oil) kale towards the end of baking time for colour, texture and a hint of bitterness, which works well with sweet pumpkin and onion. If you are not a fan, simply add fresh rocket or wilted spinach on after baking.
WALNUTS: walnuts add a delicious crunch and pair really well with other autumn-inpired ingredients on this pizza, but you can also use hazelnuts or roasted pumpkin seeds.
CHILLI: I like a sprinkling of mild, fruity chilli at the end, but that's totally optional. I used smoky urfa chilli flakes, but use whatever chilli you enjoy. Alternatively, if you do not like spicy food, a dusting of sweet smoked paprika is a nice touch too.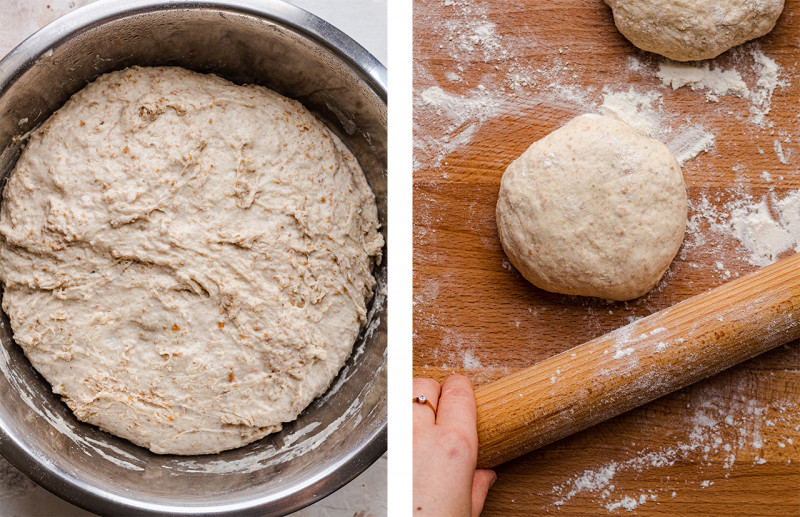 Use your favourite pizza dough – you can buy it or prepare it in advance. I made this easy no knead dough the night before.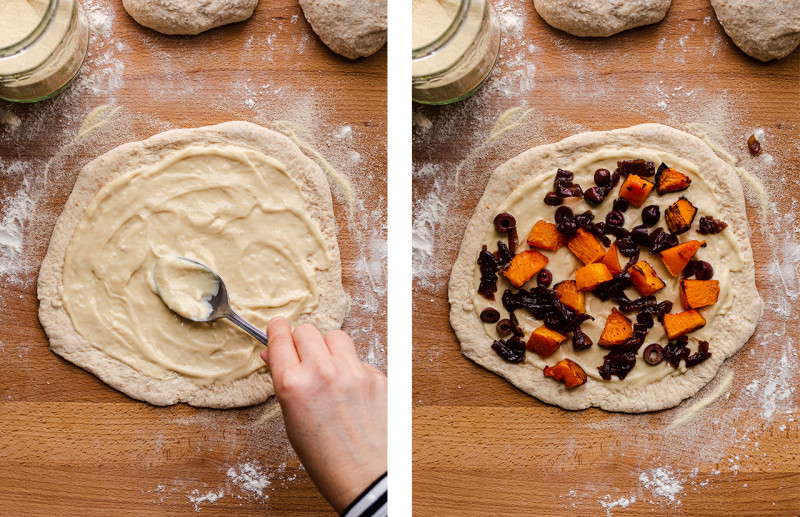 Once you portion the dough, roll it out thin on a well floured surface, top with the sauce, pumpkin cubes, onions and olives and you are ready to bake – kale and walnuts join in towards the end of the baking time.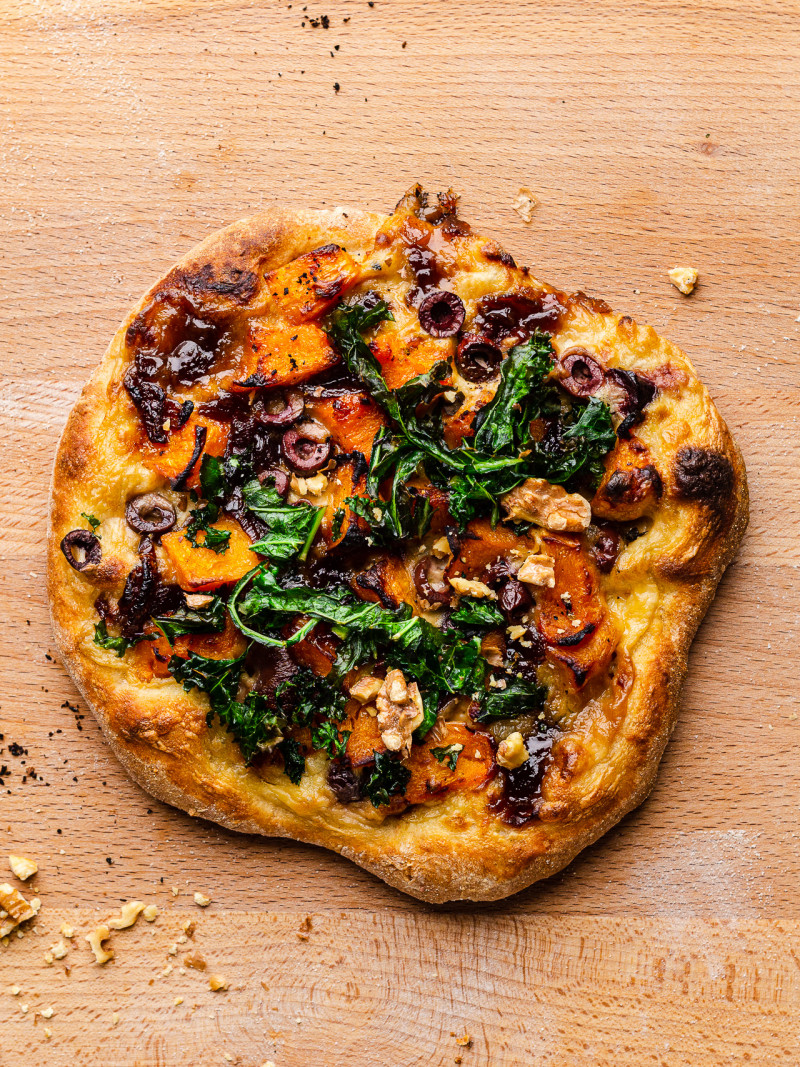 500 g / 17.6 oz cubed firm pumpkin
1 head of garlic
olive oil
semolina flour (for easier shaping, optional)
1 portion of pizza dough (I used no knead recipe)
4 tbsp red onion chutney (or balsamic onions)
12 Kalamata (or other) olives, sliced
25 g / ¼ cup walnuts, roughly chopped
50 g / 1.75 oz curly kale
a sprinkling of chilli flakes, if liked (I used smoky urfa chilli)
WHITE SAUCE
40 g / 1.4 oz / 3 tbsp vegan butter (or light olive oil)
25 g / 3 tbsp plain / all purpose flour
300 ml / 1¼ cups plant milk (I used almond)
2 tbsp nutritional yeast
salt & pepper, to taste
BALSAMIC ONIONS (optional)
2 medium red onions
30 ml / 2 tbsp olive oil
salt, to taste
15 g / 1 tbsp brown sugar
15-30 ml / 1-2 tbsp quality balsamic vinegar, to taste
METHOD
Place a pizza stone (or an upside down metal tray) on the middle shelf of your oven and pre-heat the oven to 200° C / 390° F.
Coat pumpkin cubes in 15 ml / 1 tbsp of olive oil in a medium bowl, season with salt and spread it on a baking tray leaving a little space on the side. Keep the bowl for step 5.
Cut off a portion of the garlic head to expose the top of the cloves. Drizzle exposed cloves with a teaspoon of oil and wrap the entire garlic head in a piece of kitchen foil. Place wrapped up garlic next to the pumpkin.
Bake for about 30-35 minutes – until garlic cloves are soft and semi-translucent and pumpkin is cooked and lightly charred. Flip pumpkin cubes to the other side after 15-20 minutes.
Place torn kale leaves (no stalks) in the bowl you saved in step 2. Using your fingers, coat kale leaves in the residual oil (add some more if needed) and then crumple the leaves in your hands to soften and make it more digestable.
Once pumpkin and garlic are ready, increase the temperature to 250° C / 480° F and crack on with the white sauce.
If you don't have a pizza peel or are not quite experienced in using one, you may want to place a piece of oven-proof paper underneath each pizza to use as a sling later.
Sprinkle the countertop or the paper laid on top of it with regular flour and semolina flour to prevent the dough from sticking.
Divide the dough into 4 equal portions. Shape a portion of the dough into a pizza using whatever technique you usually use. I like to stretch it with my hands in combination with using a pizza roller. I managed to stretch dough to roughly 22 cm / 9″.
Spread a layer of white sauce on top, then top the pizza with a quarter of pumpkin cubes, sliced olives and dollops of red onion chutney (or balsamic onions).
Using a pizza peel or the paper sling, carefully transfer each pizza to the oven.
Bake each pizza for about 12-13 minutes, then top with greased kale and chopped walnuts. Return to the oven for further 2 minutes – until the base is cooked and the crust and the toppings are gently charred.
Carry on the same way with the remaining three portions of dough.
WHITE SAUCE
Place plant milk in a smoothie maker, squeeze roasted garlic cloves (use fewer for a milder taste) into it and add nutritional yeast – blend until smooth.
Melt vegan butter in a heavy bottomed pot on low-heat.
Sprinkle in flour and whisk it into the melted butter. Allow the mixture to cook on a low heat for a minute or so whisking the whole time.
Gradually, whisk in plant milk mixture you made in step 1.
Simmer (whisking the whole time) for a few seconds just to thicken. You should end up with a spreadable white sauce, if it's too thick, add a small splash of plant milk to thin it out.
BALSAMIC ONIONS (OPTIONAL)
Slice your onions into uniform medium thickness slices.
Heat up olive oil in a medium size pan, on a low heat.
Add the onions and allow them to cook, on a really low heat giving them a good stir every 10 minutes or so.
Once the onions are completely soft and look translucent, add a small splash of water to deglaze the pan.
Next, season with a good pinch of salt, add sugar and balsamic vinegar. Cook the onions for a few more minutes for onions to become jammy.
NOTES
*WALNUTS: I tend to preroast a large amount of walnuts at 150° C / 390° F for about 10 minutes (until golden and fragrant), but you can also sprinkle them on raw. If using pre-roasted nuts, sprinkle them on after baking.
*SEMOLINA FLOUR: it's used to prevent raw pizza dough from sticking to the counter / pizza peel. Skip if you don't have it.
*PIZZA STONE: pizza stone is a great thing to own if you like making pizzas, flatbreads, galettes etc. as it makes sure the bottom cooks properly. If you don't own one, use an old-fashioned metal tray placed upside down. It won't need as much pre-heating so pop it into the oven 20 minutes before you are ready to bake.