Chickpea and vegetable soup with pesto
Chickpea and vegetable soup with pesto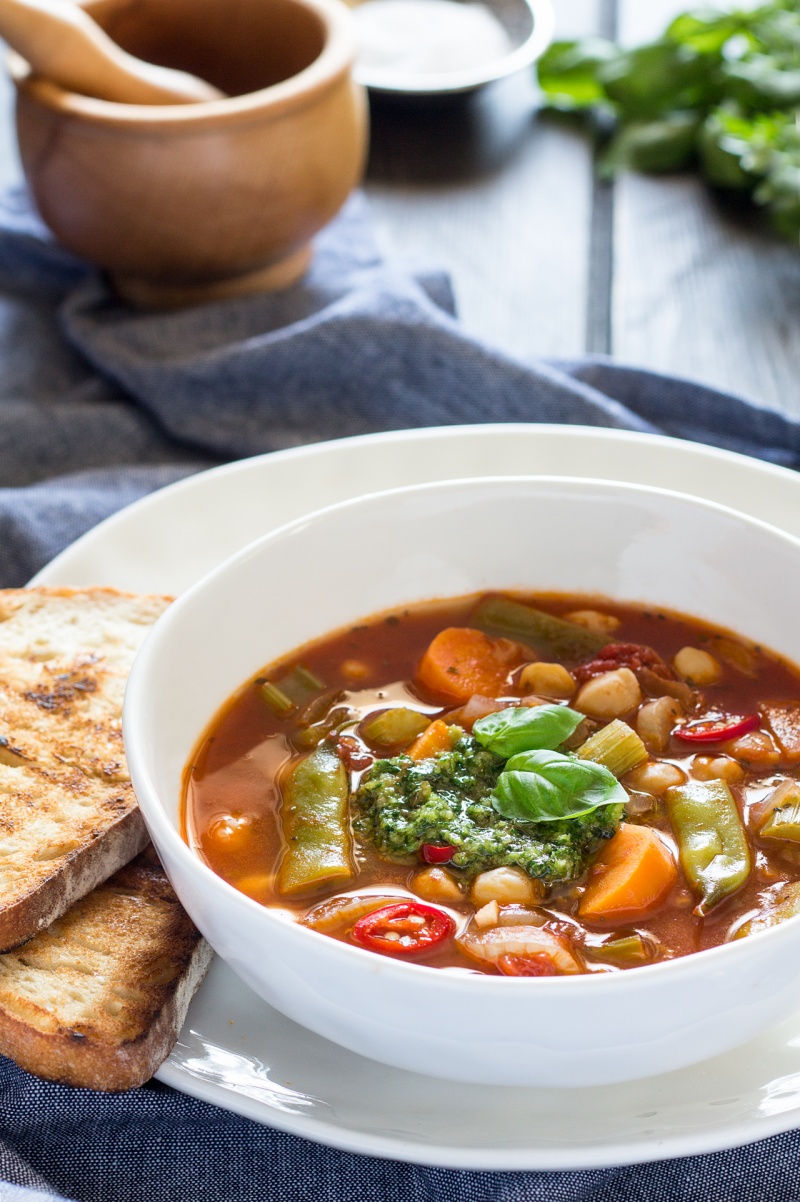 Following last Friday's indulgence of deep fried onion bhajis with a date chutney, I felt the need to start over and treat my body to something nourishing and healthy again. Bring on our chickpea and vegetable soup! As days are getting shorter and colder (yes, even Greek islands' weather gets rough over winter) a big pot of soup bubbling away on the stove suddenly feels like a great idea. It's funny how I think back to the relentless and seemingly endless summer heat when a mere thought of a bowl of soup was enough to make me break into an uncontrollable sweat. All this warmth is a distant memory now as we descend into a few months of ridiculously strong, cold winds. It's this windy weather that made me ditch my running routine last winter. I'm adamant that it won't get in the way this year as I try to cherry pick the 'not so bad days' to run on, which, let's face it, would never see me out of the house when I lived in London. This is when a bowl of warm and spicy soup comes in handy. There is nothing better than a bowl of comforting chickpea and vegetable soup after I've been out running, with the wind blowing so strongly it was if I was pushing against a giant invisible STOP sign hand in front of me. While living in Greece is dreamy in many ways, its extreme weather patterns tend to wreak havoc on your running unless you are prepared to suffer A LOT.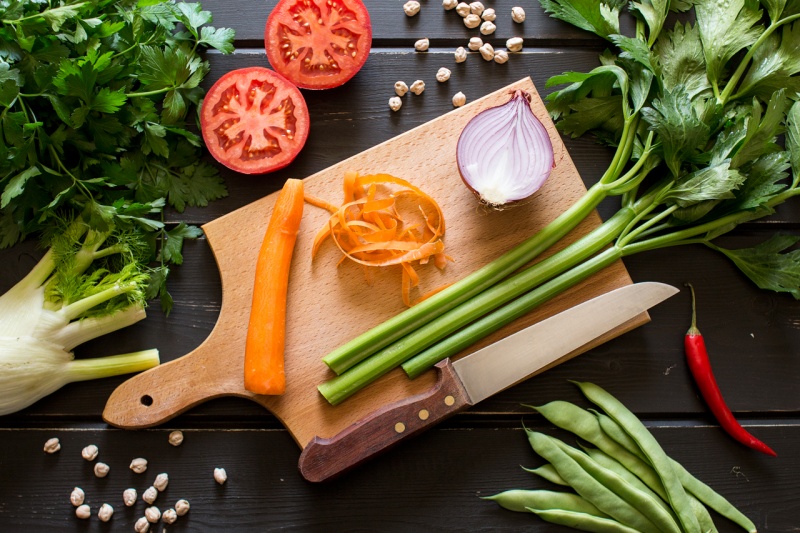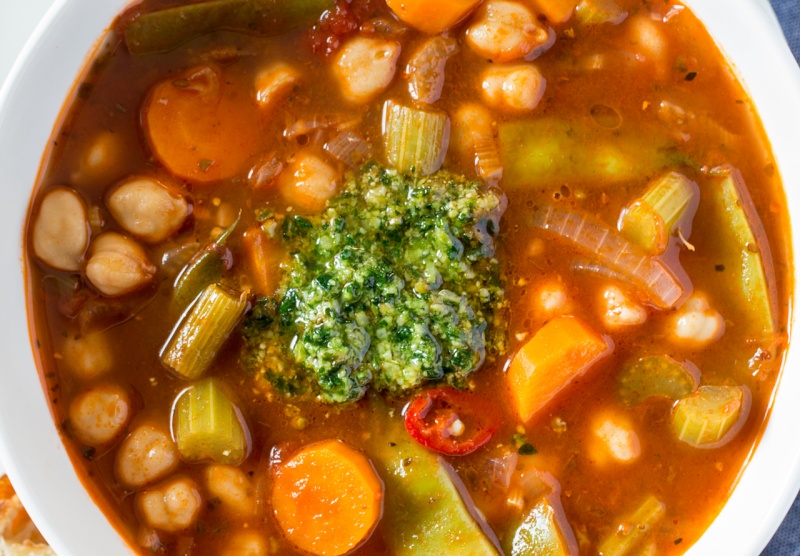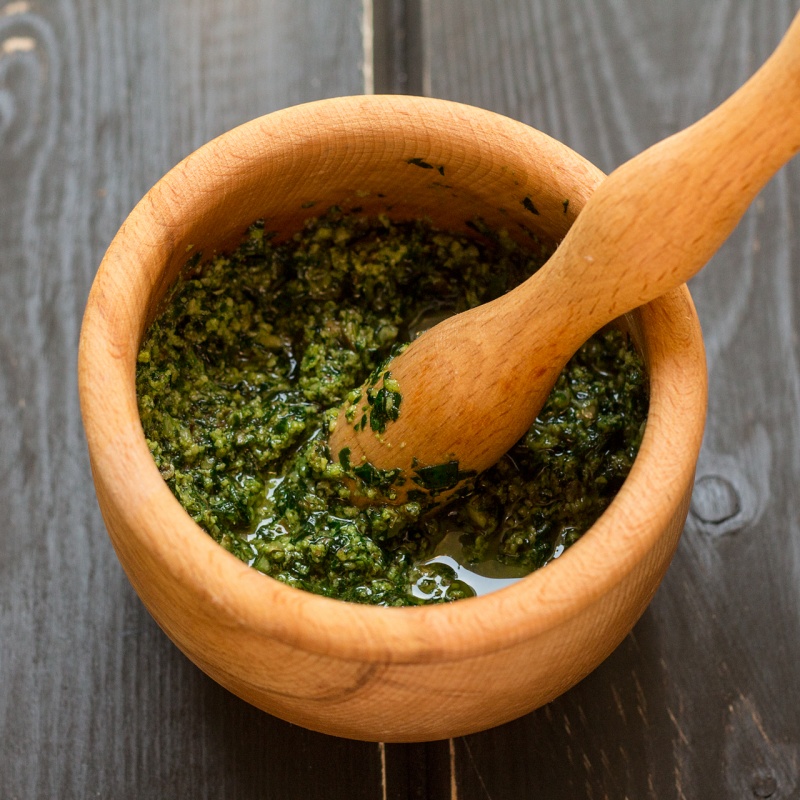 SOUP
2 tbsp / 30 ml olive oil
2 small garlic cloves, finley chopped
1 red onion, finely sliced
1 medium fennel bulb, finely sliced
2 carrots, sliced in 1 cm pieces
4 celery stalks, sliced in 2 cm pieces
a large handful of flat beans, cut into 3 cm pieces
2-3 cups of cooked chickpeas
1 tbsp / 15 ml tomato paste
¼-½ tsp of hot chilli powder (depending on tolerance)
about 1½ tsp salt
2 tsp sugar
good grind of black pepper
1 tsp dried thyme
2 tsp dried oregano
1 litre of vegetable stock, unsalted
1 x 400g tin of plum tomatoes
toasted sourdough bread, to serve (optional)
PARSLEY & BASIL PESTO
1 small garlic clove, sliced
2 tbsp fresh parsley leaves
2 tbsp fresh basil leaves
pinch of coarse salt
handful of walnuts
3 tbsp / 45 ml extra virgin olive oil
squeeze of lemon
grind of black pepper
METHOD
Heat up olive oil in a heavy bottom pot. Add garlic and fry it gently for a few minutes stirring regularly. Add sliced onion and fennel and fry, stirring frequently, until translucent.
Add 1 tbsp of tomato paste, salt (add less if your stock has salt it in already) and ¼ tsp of hot chilli powder. Once vegetables are coated in tomato paste, add tinned tomatoes, 1 litre of stock, chopped carrots, celery, sugar and dried herbs. Pop the lid back on and simmer, on low heat, for about 25 minutes. After 25 minutes, add flat beans and simmer for further 4-5 minutes until they are cooked.
Check the spicing, add more salt and chilli if needed. Add a good grind of black pepper. Before you are ready to serve the soup, pop cooked chickpeas in for a few minutes just to warm them through.
Serve with a dollop of pesto and a piece of toasted sourdough bread.
PARSLEY & BASIL PESTO
OPTIONAL STEP: roast walnuts gently on a dry pan, stirring frequently so they don't burn. They are ready when slightly browned and once they release a beautiful aroma.
Put garlic and a generous pinch of salt into a pestle and mortar. Add chopped (make sure they are not wet) herbs and pound them with the pestle until they are thoroughly minced.
Add a handful of dry roasted walnuts and work them into the herbs.
Finally, trickle down your olive oil and work it into the pesto. Season with pepper, a dash of lemon and extra salt if needed.
NOTES
This recipe is an adaptation of
this recipe
from Yotam Ottolenghi, my food hero.
DON'T MISS A SINGLE RECIPE
Join our mailing list and we we will let you know when we publish a new recipe. You'll receive our DELIGHTFUL DESSERTS E-BOOK as a thank you for supporting us.