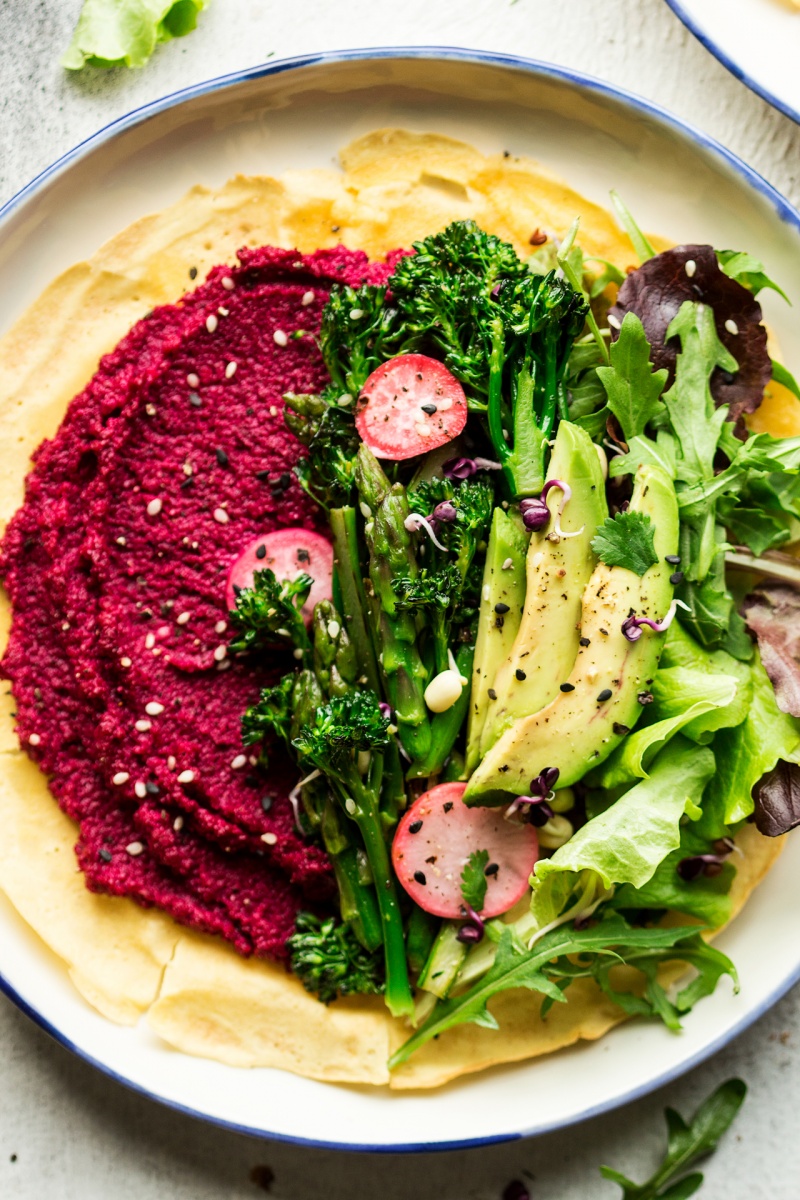 Hope you guys had a good weekend filled with sunshine, friendly faces and delicious food. Ours was great, we really enjoyed the beautiful sunshine that the weather gods have kindly bestowed on Bristol this weekend. It was also great going for a run in shorts and short sleeves, it's a shame it went back to being cold today…Oh well.
My slightly dreaded 10 km is looming near and only yesterday did I finally break into 6 km, so I'm feeling a touch anxious about the race day. I'm hoping to sustain this distance for the next 3 runs and then move on to 7 km the following week. I know that such a quick mileage increase isn't ideal really, but the race is in fewer than 3 weeks so I really need to get a move on.
What consoles me a little is that where I run now is fairly hilly and the race course is supposed to be flat, so I hope that if I can do 8 km on the hills comfortably, I won't blow up on race day. I'm not even aiming for any time in particular, I just want to be able to finish the race in one piece.
My relationship with running is a bit strange. Even though I've never ever not been glad that I have gone running, I find setting out the door so hard sometimes. I really don't get it, as my body always gives me good feedback after each and every run and the gist of it is that running does you good, yet there is a lazy gremlin dwelling deep within looking for an excuse not to go: too cold, too windy, too wet, too hot, too close to lunch, too hungry etc. Can you relate?
Apart from the obvious long term benefits of engaging in cardiovascular exercise, the biggest miracle of running for me is that it immediately gets me in a much better mood. Any dark or negative thoughts that might have been inhabiting the corners of my brain and fogging my perception of reality disperse as if by magic. As someone who has struggled with depression and anxiety in the past (and let's be honest, it's never too far away when life gets tough) that's no small feat, right? Well, hoping to stick to my schedule this time round.
Recipe-wise, this is the kind of thing I've been enjoying after my runs lately. Super easy chickpea crêpes with almond-beetroot cream, a heap of dark green veg, avo and a handful of home grown sprouts. Easy to make (you can prepare the crêpe batter and the beetroot filling in advance), delicious, full of texture and flavour. This is my idea of an exciting healthy lunch, who is with me?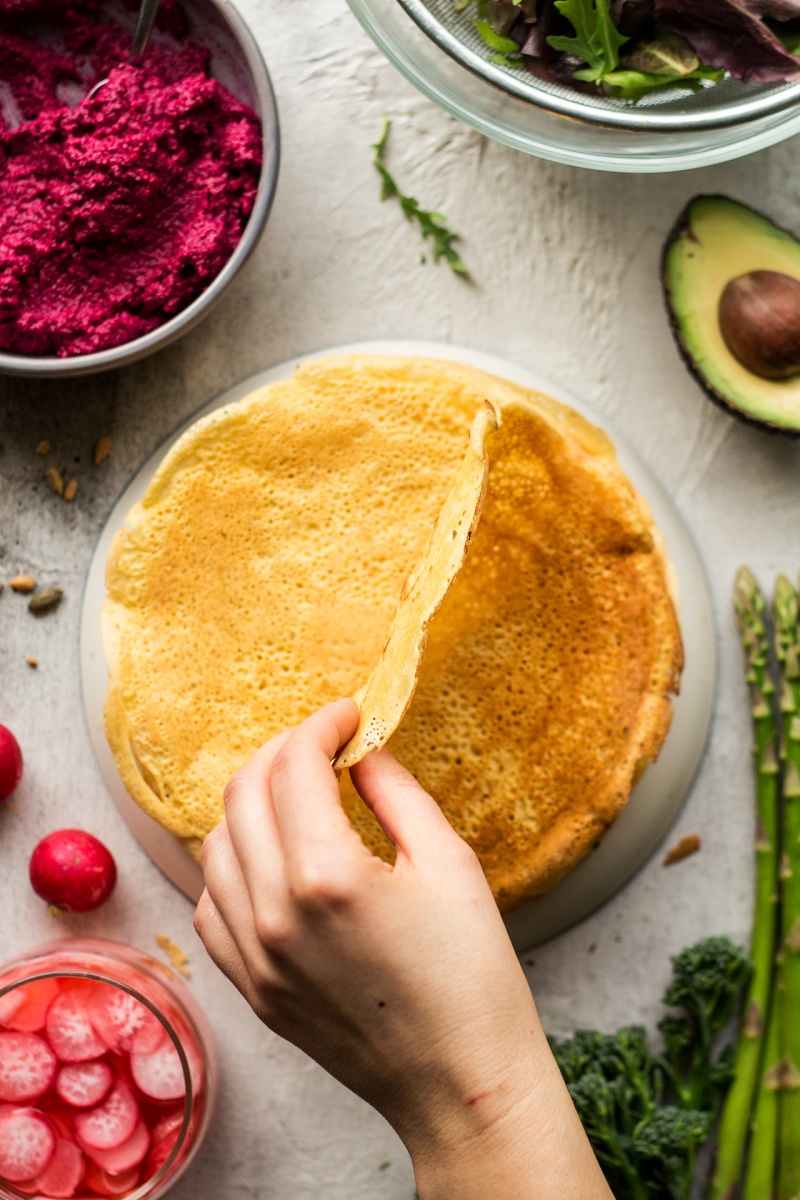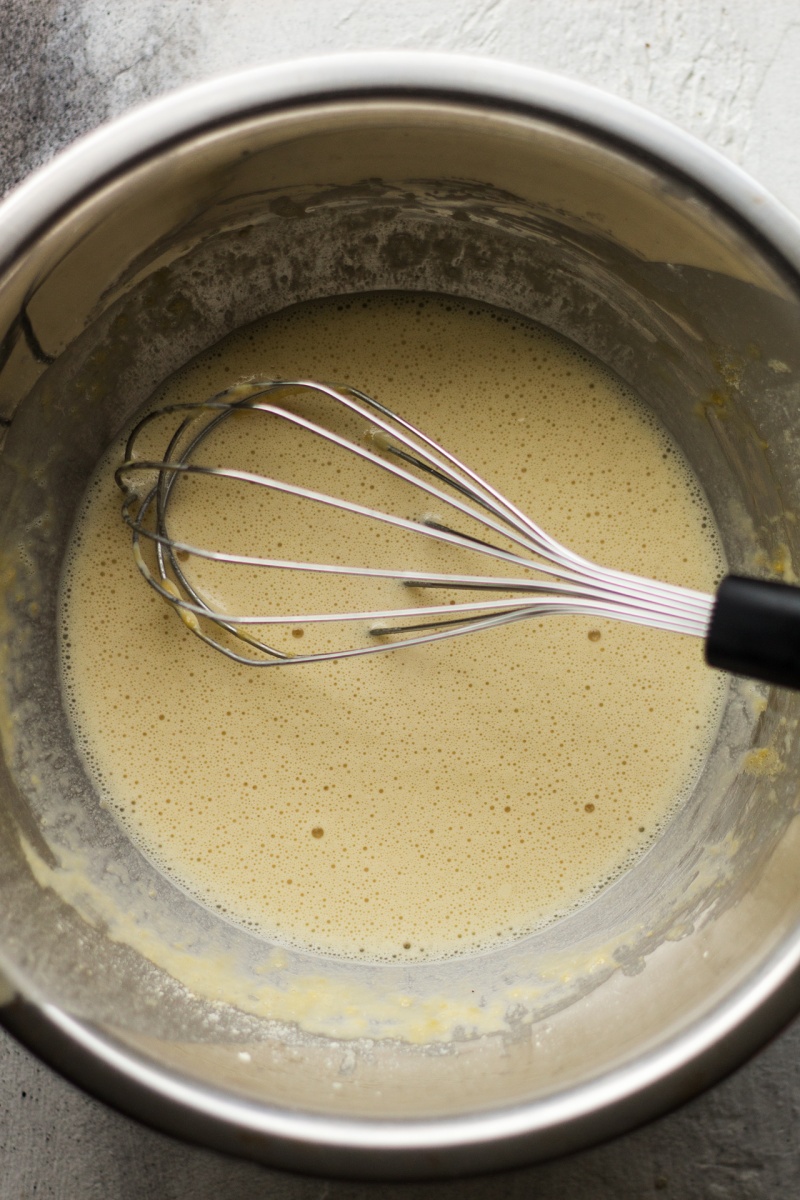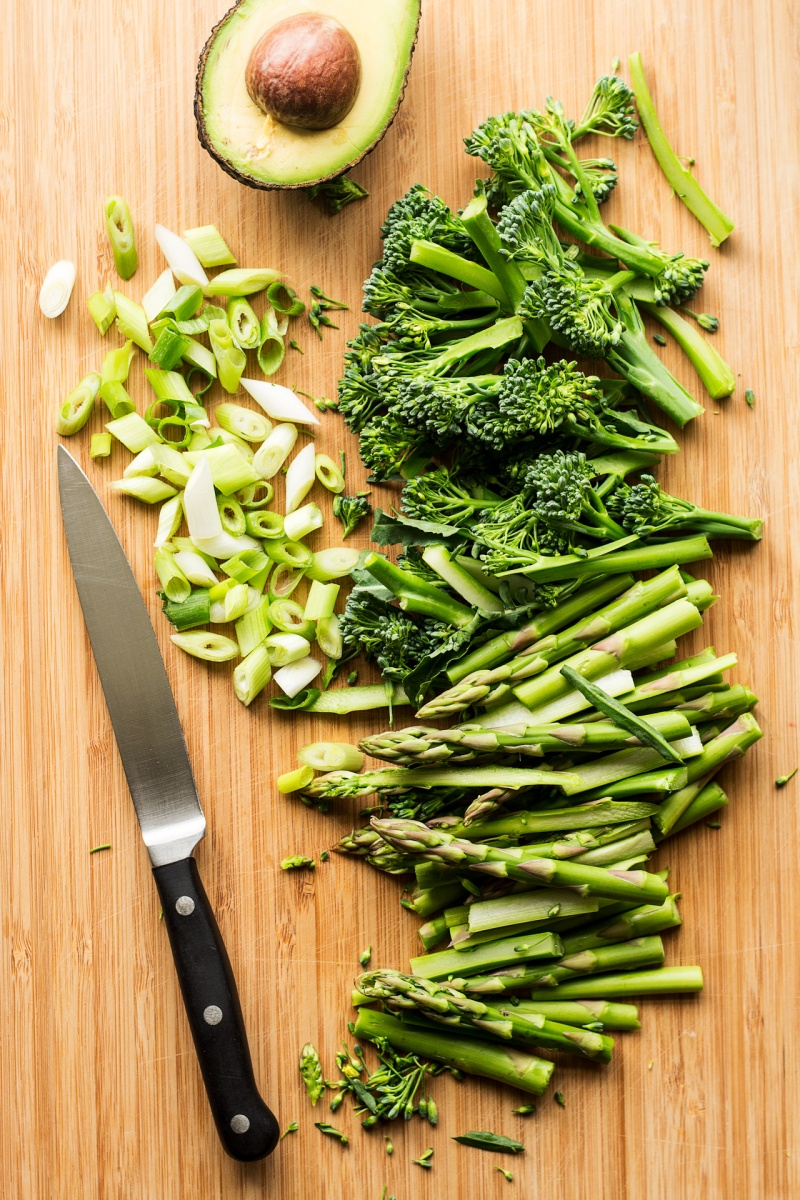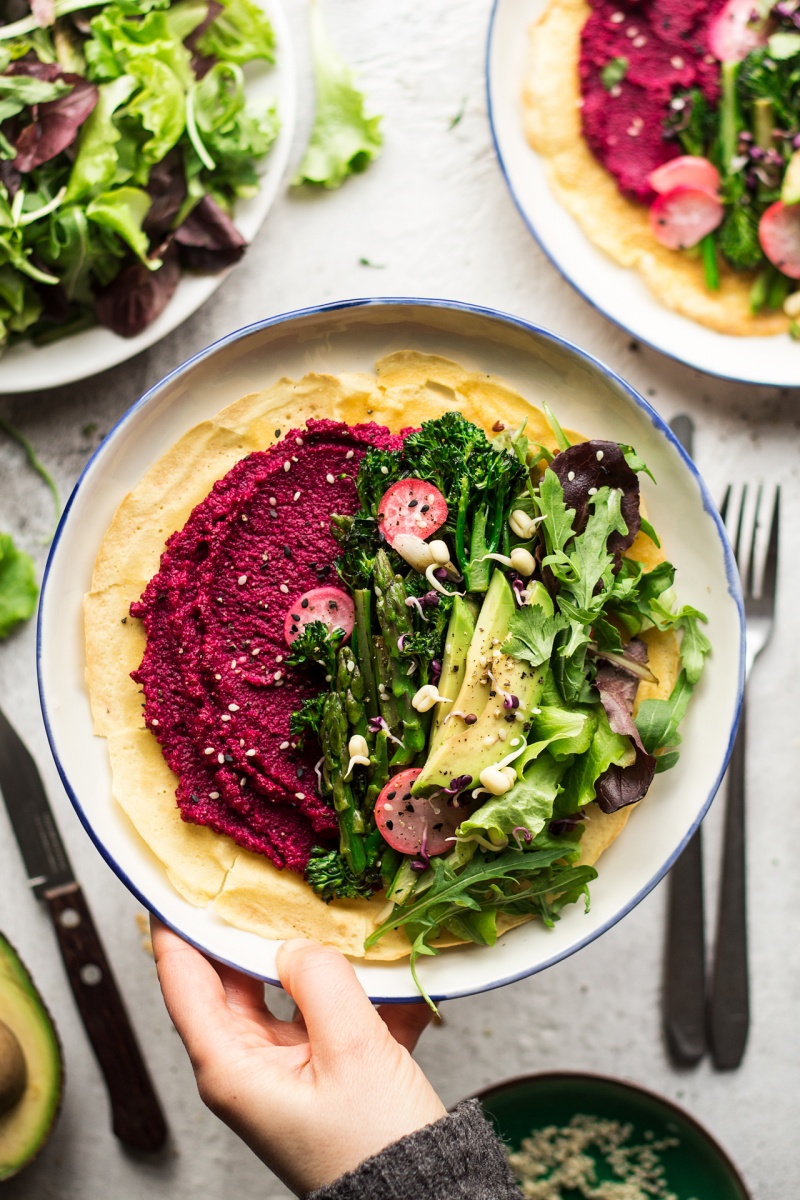 BEETROOT AND ALMOND FILLING
1 cup / 160 g almonds or (½ cup roasted almond butter)
4 roasted garlic cloves (or 1 large clove if unroasted)
2 cooked beetroots
2 tbsp lemon juice
½ tsp fine sea salt
black pepper, to taste
BATTER
90 g / 1 cup chickpea flour
just over ½ tsp fine sea salt
1 tbsp oil (optional), plus more for frying*
OTHER INGREDIENTS
100 g / 3.5 oz asparagus
100 g / 3.5 oz tenderstem broccoli
2 tsp oil, suitable for stir-frying (I used rice bran oil)
2 spring onions, sliced
radishes, fresh or pickled
assorted salad leaves
1 ripe avocado, sliced
sprouts (I used radish and mung bean sprouts)
½ lemon
white and black sesame seeds, to decorate (optional)
salt and pepper
METHOD
BEETROOT AND ALMOND FILLING
Set the oven to 180° C / 355° F. Place almonds on a baking tray and toast them in a hot oven for about 10 minutes – until lightly browned and fragrant. Remove the tray from the oven and set aside to cool.
Place four garlic cloves on the baking tray and place in the oven for about 10-15 minutes, until cooked but not browned. Allow them to cool.
Place the roasted almonds in a food processor and grind them up finely. For a creamier end result, you may want to keep going until they turn into an almond butter (about 10-15 minutes).
Add the cooked beetroots and roasted garlic cloves. Season with lemon juice, salt and pepper. Process until smooth, trickling in a bit of water to loosen the mixture up a bit – it should resemble hummus in consistency.
VEGGIES
Chop the asparagus and broccoli stalks into smaller pieces and cut into half lengthwise – basically you want more or less the same size bits so that they cook evenly.
Heat up 2 tsp of oil in a wok or a large frying pan. Throw in the asparagus and broccoli and stir-fry until no longer raw but still a bit crunchy (3-4 minutes). Add the spring onion after about 1 minute.
CRÊPES
Place flour and salt in a large bowl. Make a well in the centre and very gradually start adding in water (about 240 ml / 1 cup in total) whisking the whole time. Whisk well after each addition to ensure that there are no lumps in the batter. Initially the batter will look thick and gloopy, but it will start looking like a crêpe batter with every water addition. Whisk in oil if you wish, but the pancakes are also delicious without it.
Heat up a medium (I used 24 cm / 9.5 " pan) non-stick pan on a medium heat. Brush the pan with a small amount of oil to make sure that the pancakes do not stick. Take the pan into your hand (off the stove) and pour a thin layer of batter (I found that 80 ml / 1/3 cup of batter is optimal) into the pan and swivel it well to form a thin, round crêpe. Put the pan back on the stove and cook until the crêpe no longer sticks to the sides of the pan and can be flipped to the other side. Once flipped, cook the crêpe on the other side for another minute or so.
Put the cooked crêpes in a stack so that they do not dry out and become brittle.
Once ready to serve, fill each crêpe with the beetroot filling, stir-fried veggies, radishes, salad leaves, avocado slices and sprouts. Sprinkle with lemon juice, sesame seeds, salt and pepper.
NOTES
*You can skip the oil in the batter (or replace it with smooth almond butter, for example) but adding it produces a nicer result.