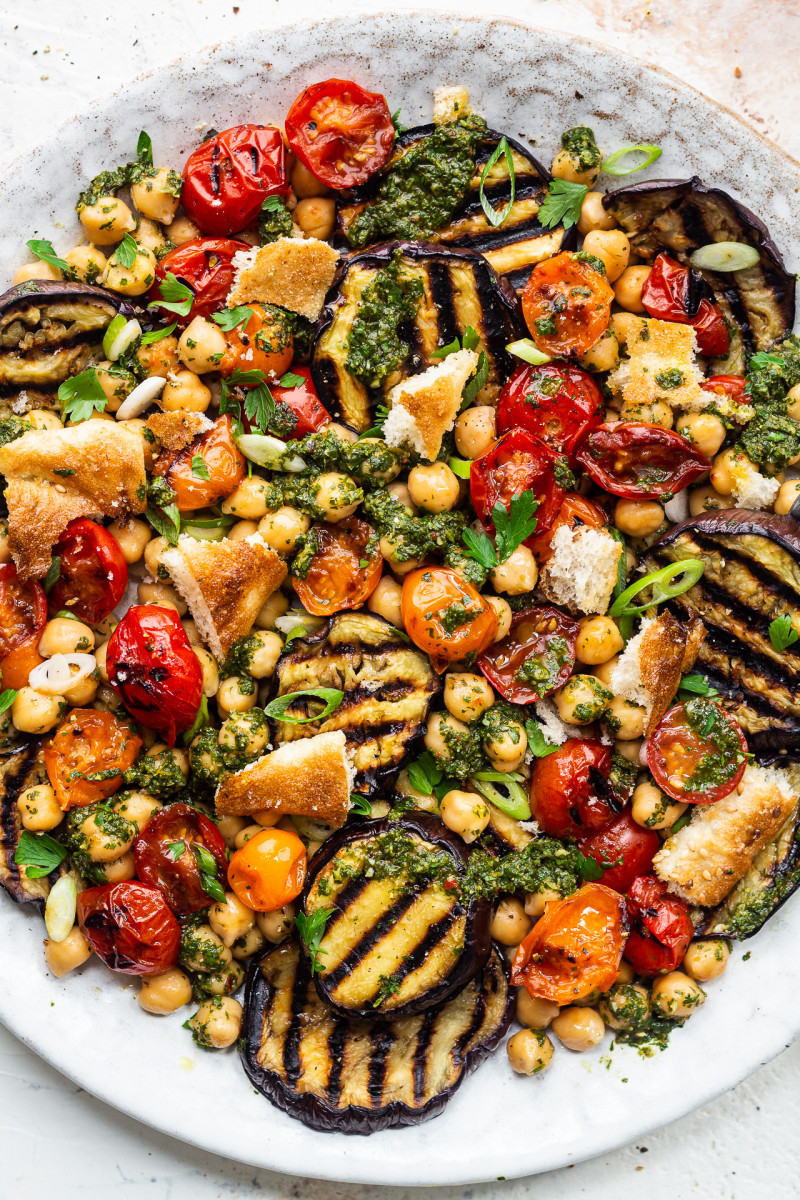 Some days all you want is a big bowl of satisfying yet simple to make salad to nourish your body and soul, am I right? If that's you, I have a simple summer salad recipe for you today, which my food obsessed brain concocted this week and I am hoping you will like it as much as I do! I made it using my trusted (and very loved) griddle pan, but this salad lends itself well to a BBQ cooking too.
It features plenty of plant goodness that's in abundance at this time of the year. Iron and protein rich chickpeas guarantee sought after satiety, charred aubergines lend meatiness and smokiness and lightly charred cherry tomatoes offer beautiful pops of colour and bursts of sweet juiciness to this salad.
A smattering of thinly sliced spring onion add a bit of savouriness and fried flatbread makes gorgeous oversized croutons that give this salad a satisfying crunch. The whole thing is brought together by a simple zhough inspired dressing that's fragrant with herbs, lemon zest and spices. It's been a winner in my house so I hope you'll enjoy it too.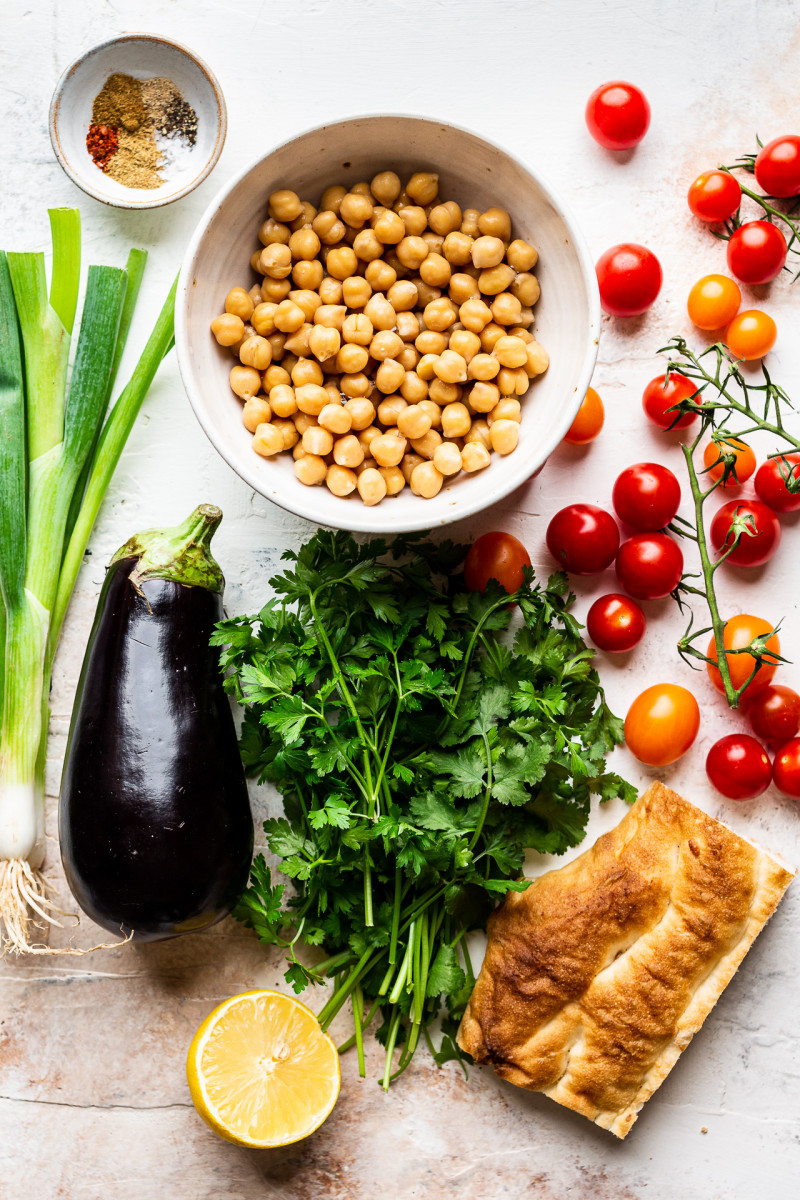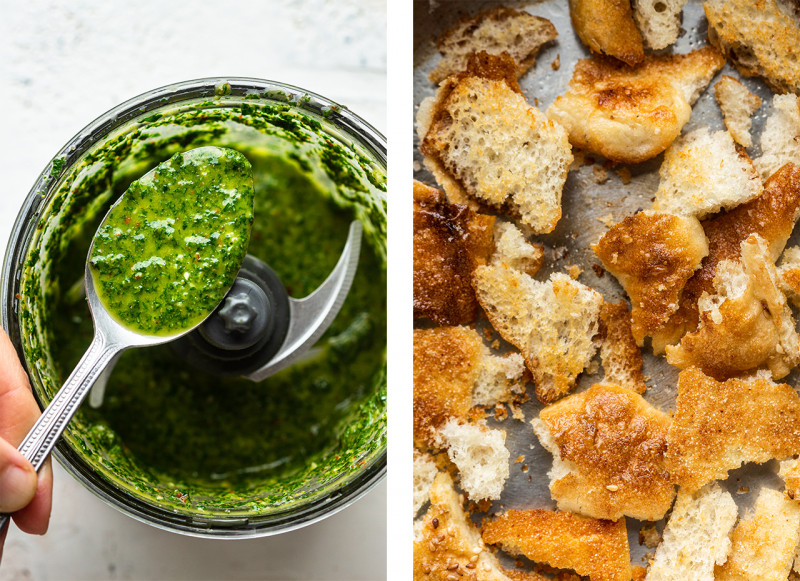 Blitz all of the dressing ingredients together in a mini food processor and pan-fry lightly greased pieces of flatbread (or pita) in a hot pan.
Chargrill aubergine slices and halved cherry toms on a pre-heated griddle pan or a BBQ if you happen to have one going already. Assemble all of the components on a single platter, adjust the seasoning and enjoy the taste of summer.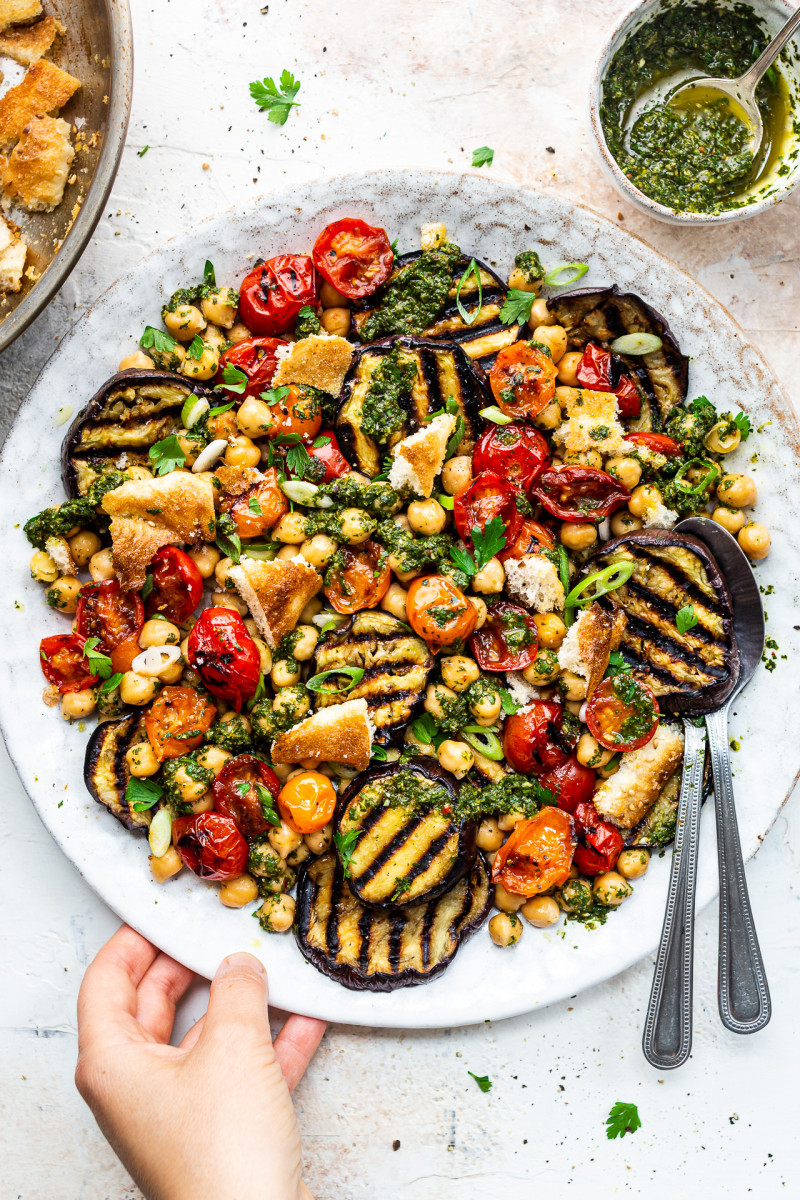 ZHOUGH DRESSING
20 g / 0.7 oz coriander / cilantro*
10 g / 0.35 oz flat leaf parsley*
1 garlic clove
1/8 tsp ground cardamom
¼ tsp ground cumin
¼ tsp ground coriander
a pinch of chilli flakes (I like fine Korean chilli flakes), to taste (optional)
60 ml / ¼ cup extra virgin olive oil*
20 ml / 1½ tbsp lemon juice + zest of 1 small lemon
salt and pepper, to taste
SALAD
1 large eggplant / aubergine
olive oil
300 g / 2 scant cups cooked chickpeas*
25 cherry tomatoes, halved
1 spring onion / scallion, finely sliced
50 g / 1.75 oz stale flatbread or 1 small stale pita* (optional)
METHOD
DRESSING
Place coriander and parsley leaves and thin stalks (large stems will add bitterness) and the rest of the dressing ingredients in a mini food processor or chopper.
Process until all of the ingredients are evenly and finely minced. Season with salt and pepper to taste. Set aside.
SALAD
Heat up a griddle pan (or a BBQ if you have one going) on a low-medium heat and slice eggplant / aubergine into 1.25 cm / 0.5″ thick slices. Brush them with olive oil.
Arrange sliced aubergine on the preheated gridle pan and leave undisturbed until deep char marks develop (about 5-6 minutes) – the slices in the middle of the pan are likely to be done quicker so start checking on them first.
Once done on one side, flip aubergine slices and grill until tender and charred on both sides. Transfer to a plate, season lightly and set aside.
Brush the skin of the tomato halves with oil and arrange them on the gridle pan cut side up. Grill until charred, then brush the cut sides with more oil and flip so that the cut side is touching the pan. Continue to grill for only a little longer, until softened and gently charred. Take off the pan and season lightly.
Cut flatbread or pita into medium size pieces and coat in olive oil lightly (10 ml / 2 tsp is enough). Toast on a preheated frying pan until golden and crispy, stirring from time to time. Season with salt.
Coat drained chickpeas in a couple of tablespoons or so of the dressing. Arrange dressed chickpeas on a platter with charred aubergines and tomatoes and sliced spring onion, drizzle with more dressing (you are likely to have leftovers).
Sprinkle with fresh coriander and flatbread / pita croutons (if using).
NOTES
*CORIANDER/PARSLEY: you could simply just use all coriander/cilantro or all parsley (only if you really like parsley! – for me personally it's too much). I like to mix parsley with mint though.
*CHICKPEAS: cannellini beans (white kidney beans) would work well too.
*FRIED FLATBREAD/PITA: flatbread / pita croutons are a good use of stale bread and add nice crunchy texture to the salad, but if you want to keep this dish gluten-free, fried salted almonds will make a great addition too, for example.
*OIL-FREE: if you would rather make this salad oil free, use ½ ripe avocado (and a dash of water) in the dressing. Spread aubergine slices on metal tray and bake in a 200° C / 390° F oven for about 25-30 minutes. Pop halved tomatoes into a tall baking tray and bake for about 15-20 minutes, giving them a stir half way through.