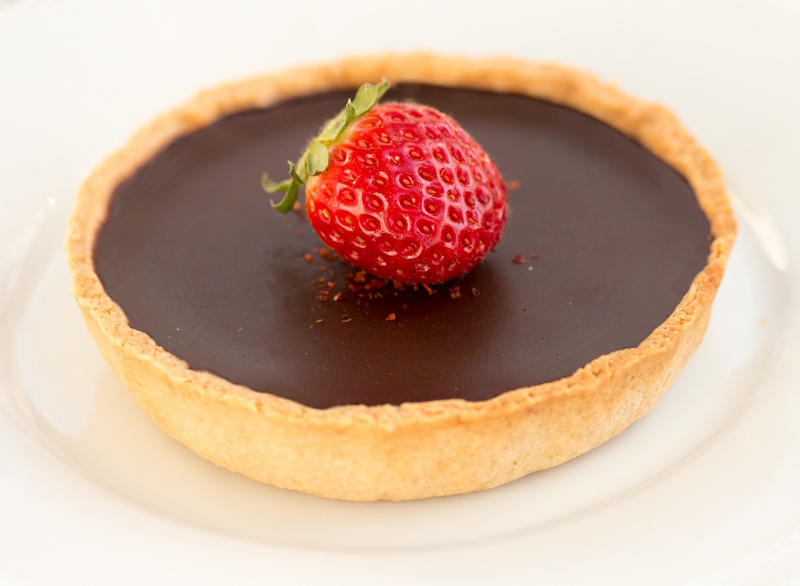 I cannot live without chocolate. I know it sounds rather dramatic, but chocolate is one thing that I just couldn't possibly imagine giving up.
This past year has seen me making the biggest dietary changes of my life: I gave up meat, fish, diary and eggs. Even though the prospect of it seemed very daunting to begin with, I did it for a good reason, and once I went through with it, I realised that it's not such a big deal. If anything I wish I had done it years ago.
Chocolate is different, I seem to be unable to go without this stuff for even a day or two. It doesn't have to be an indulgent, rich dessert, like the one you're about to read about, but a little bit of chocolate with my espresso puts me in a good mood. And since it's not harming anyone I see no reason to forsake this ritual of mine!
Once in a while, I feel like blowing my weekly chocolate allowance in one go and this is what this recipe is all about. If you are watching calories, look away NOW.
Despite being 100% vegan, this stuff isn't diet food, that's for sure. It delivers a rich, velvety, intensely chocolaty pleasure with a good amount of chilli kick, for good measure. I will be honest, you probably want to share one of these tarts (or find smaller ramekins) with someone you like as it is a challenge to eat an entire one by yourself (and my chocolate tolerance is probably higher than most people).
It is a grown-up dessert so don't be tempted to share it with minors or pets, they probably won't appreciate it anyway.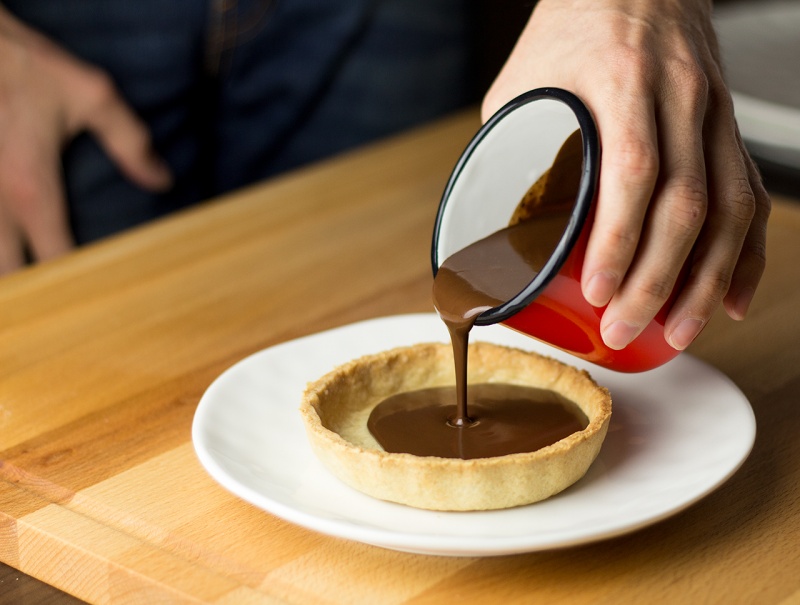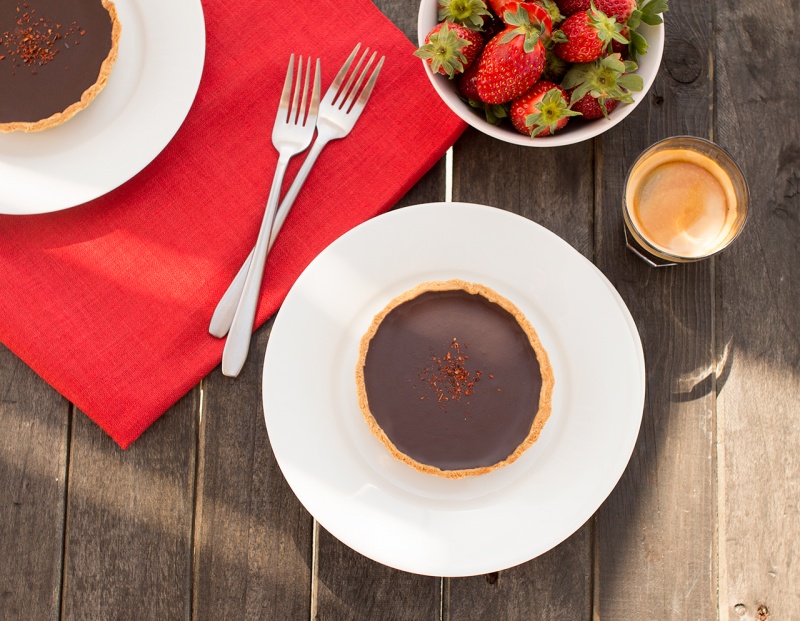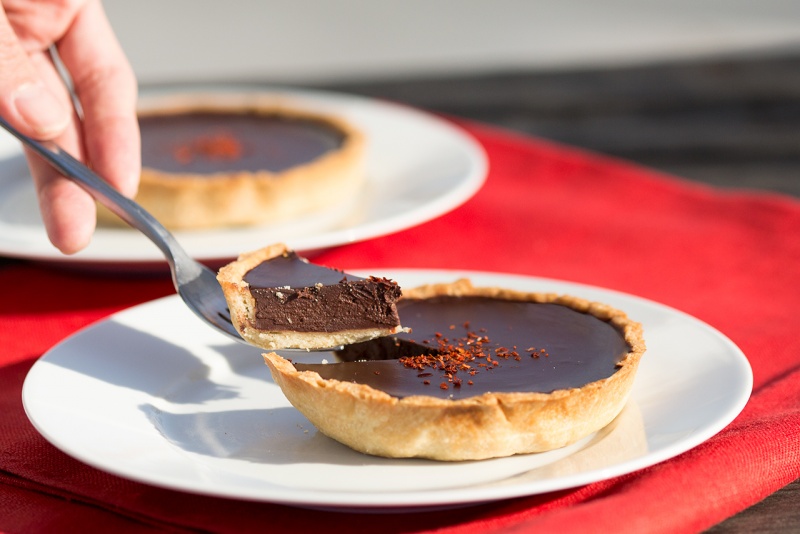 PASTRY
120 g white flour
2 pinches of salt
3 tsp brown sugar**
2 drops of vanilla essence (optional)
40 ml / 2½ tbsp olive oil
20-30 ml / 1½-2 tbsp water (at room temperature)
FILLING
METHOD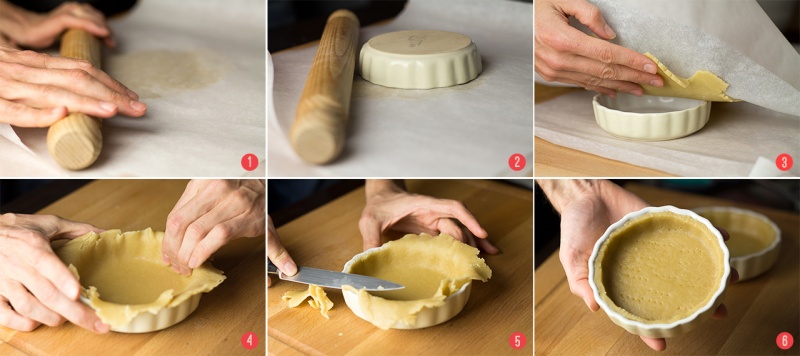 PASTRY
In a mixing bowl, combine flour, salt and sugar. Pour in vanilla essence and olive oil. Start working the dough with your hand adding about 1½-2 tbsp of water – enough to form pliable pastry. Divide pastry in half.
Form half of the pastry into a ball and place it between two sheets of baking paper for mess-free rolling (see photo 1 above).
Gently roll the pastry with a rolling pin (don't press too hard) so that it is big enough to cover the ramekin and its sides (see photo 2).
Put rolled-out pastry over the ramekin. Gently peel off the sheet of baking paper and work the pastry into the ramekin (photo 3 and 4).
Once you are happy with the coverage, trim off the excess pastry by running a knife blade along the edge of the ramekin (photo 5).
Prick the bottom of the pastry with a fork in a few places (photo 6).
Repeat steps 1-6 with the other half of the dough.
Preheat the oven to 175° C while you chill the pastry in the fridge for about 60 mins.
After 60 mins, blind bake the pastry for 20 mins and for another 5-10 mins with baking beads removed so that the pastry case gets a bit of colour.
Let the pastry cases cool down. Once cooled, gently remove them from the ramekins.
FILLING
Melt the chocolate over a water bath. Once melted, remove from heat, but keep the bowl with chocolate over the hot water. Start adding almond milk whisking gently the whole time. At this point the chocolate may seem to have seized a little due to almond milk's high water content, don't worry, keep on whisking gently and any lumps will eventually melt away.
Add in chilli powder, maple syrup and coconut oil, stirring gently after each addition.
Once you have a homogeneous ganache, let it cool off (but not harden) before pouring it into cool pastry cases. Let the ganache set at room temperature and then transfer to the fridge. If you put it into the fridge too early, the ganache may shrink and crack.
NOTES
*I used two 12.5 cm diameter ramekins, but this amount of dessert could easily serve 4 people if you have smaller ramekins you can use.
**I have ground my brown sugar in a coffee grinder for a smooth finish. If that's too much hassle, you can probably use icing sugar instead.
*** I used homemade almond milk, which was 1 cup of almonds to 3 cups of water. Not sure if shop-bought one will work as it usually has far more water so better and healthier to
make one yourself
.