As many of you know I live on a small Greek island called Paros. This year the wonderful Greek climate has been fighting against the chillier autumn weather and we've been lucky enough to enjoy warm and sunny weather… until now. As soon as November arrived, the days got shorter and we are starting to remember what it feels like to be cold. We've even had to start doing crazy Northern European things like wear socks and warm slippers.
The cat, who spent all of summer prowling outside and sleeping face down on cool marble floor tiles is sneaking up to our bed to sleep during the day. Autumn chill has officially arrived.
Two months ago the idea of a hot cup of tea would have brought cries of "are you kidding?!?" resonating throughout the household, but now hot tea seems like a wonderful idea. And what better accompaniment to tea than a nice biscuit?
So, taking all this into account, I decided to take one of my favourite recipes of last year, my tahini cookies, and elevate them by making them into chocolate tahini cookies. What biscuit isn't made better by the addition of chocolate?
These cookies are unbelievably easy to make, require only 6 ingredients and taste soooo good. They are vegan, gluten-free and refined sugar free so pretty much guilt-free too 😉 .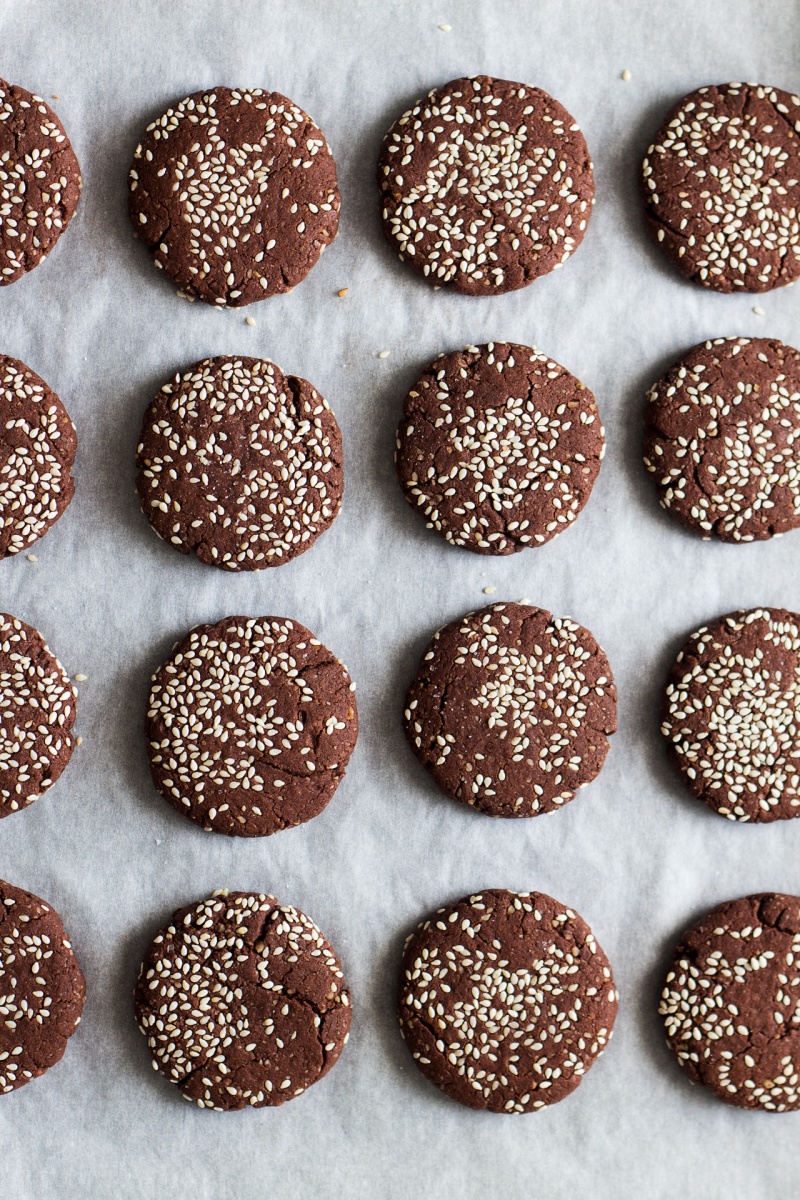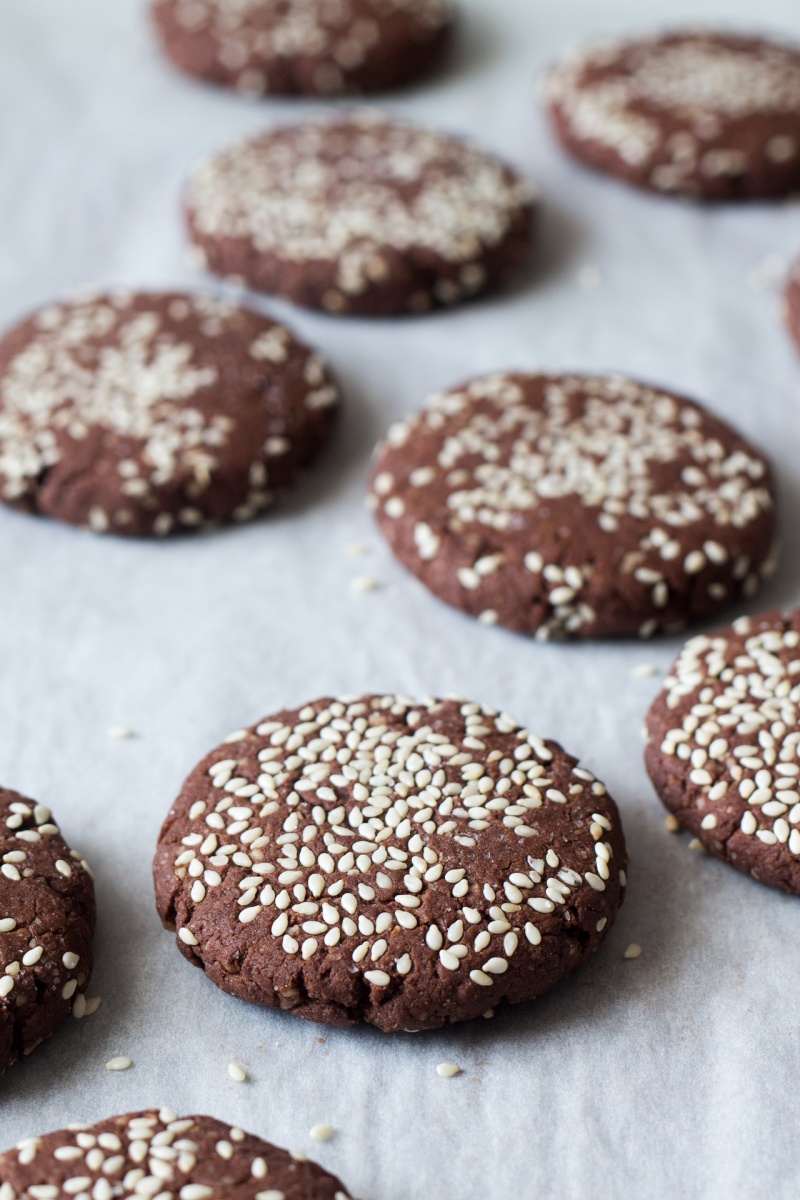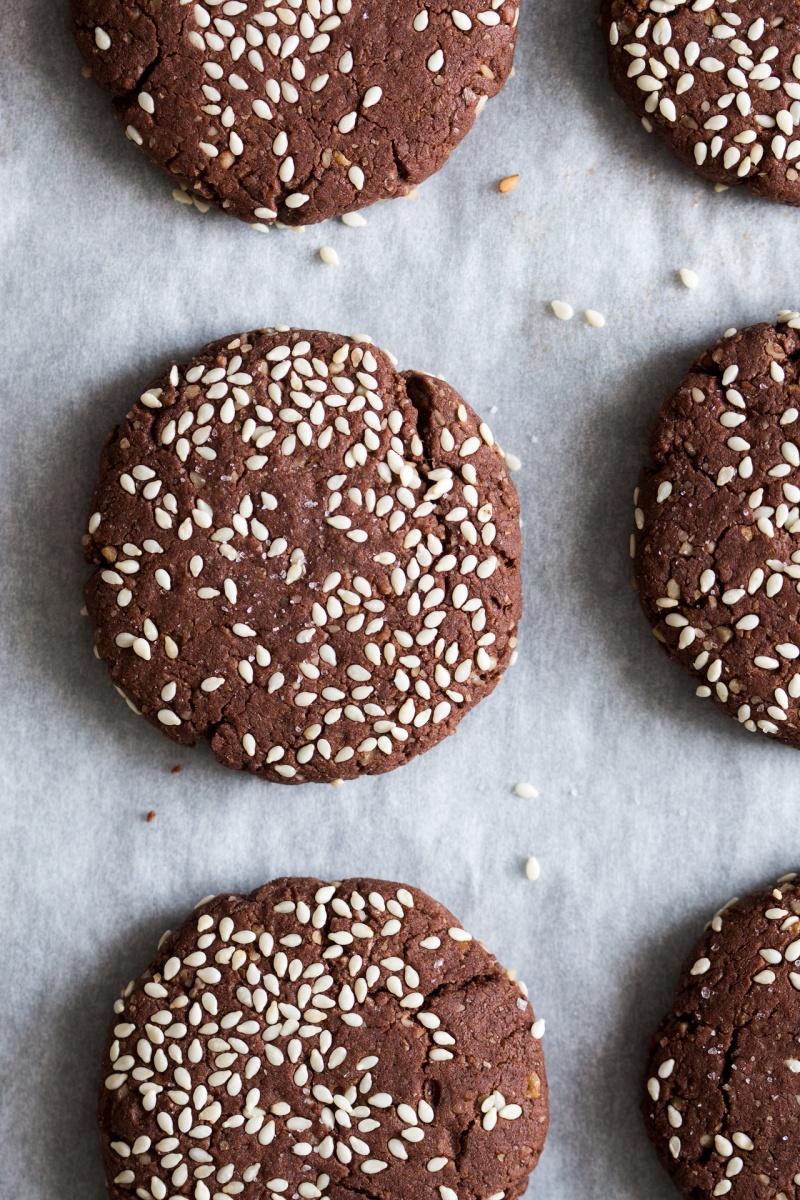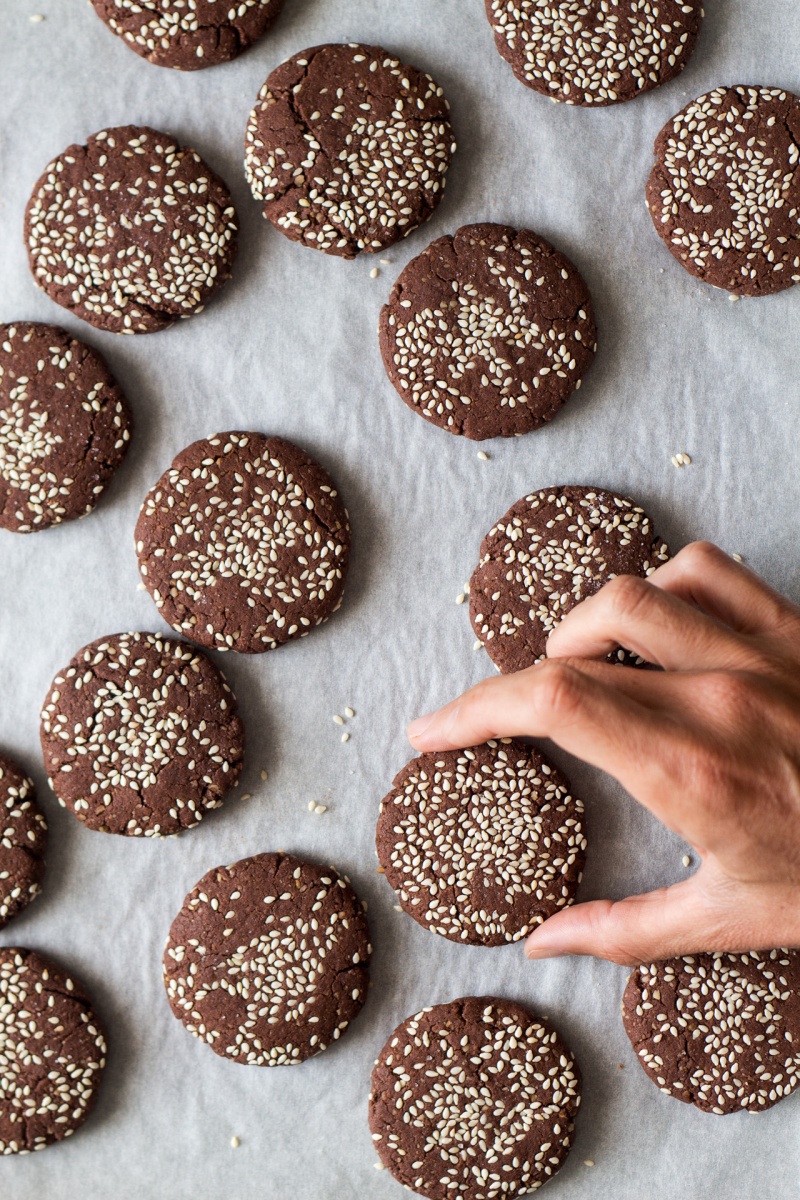 120 ml / ½ cup maple syrup*
90 ml / ¼ + 1/8 cup tahini**
90 gr / 1 cup walnut halves, ground finely (approx. ¾ cup ground walnuts)
135 gr / approx. 1 + ¼ cup buckwheat flour
heaped ½ tsp baking soda
4 level tbsp / ¼ cup cacao powder
fine sea salt (optional)
white sesame seeds to decorate (optional)
METHOD
In a bowl, whisk up maple syrup and tahini until fully combined and there are no lumps in your tahini.
Mix in ground walnuts until fully combined.
In a separate bowl, combine sifted flour, baking soda and cacao powder. Add it to the tahini mixture in 3 batches. The mixture will be thick and sticky so it's best to use your hands. (If you've swapped buckwheat flour for a gluten flour, be careful not to overmix the dough as the cookies will come out hard).
Weigh the dough and divide it into 16 even pieces. Roll each piece into a ball and dip it in a plate of sesame seeds mixed in with a bit of salt (if using), press the ball down with a bottom of a glass to create a ½ cm thick 5 cm (2 in) diameter disc.
Once you get all the discs coated in sesame seeds, put them into the fridge for about 40 min. 30 min in, pre-heat the oven to 175° C / 350° F.
Bake in a hot oven for 10-12 mins. Remove the biscuits from the oven, transfer them to a cooling rack and let them cool down completely before eating. Store in an airtight container.
NOTES
*These cookies aren't overly sweet. If you want them sweeter, add 2 tbsp of sugar (coconut or cane sugar, for example) to the dry ingredients before incorporating them into the tahini and maple syrup. You could also add more maple syrup to increase the sweetness but then you'll need to compensate with a bit more buckwheat flour for the dough to have the consistency of play dough.
**If your tahini has separated, make sure you stir the oil back in before using it in this recipe.
This recipe is based on my previous recipe for tahini cookies.