And it's this time of the year again, cookie baking time. As I've only just started, I am still enthused by it all although my healthy eating seems to have gone out of the window all of a sudden – can you relate? Oh well, at least I am back running again as my back injury has thankfully healed. I'm also sticking to a 30 minute back-centric yoga session every morning as my recent bout of pain reminded me if I don't like how back pain feels, I need to take preventative steps daily. As my job involves a lot of hunching over a countertop (pastry work, styling dishes, photographing), giving my back an opportunity to move in other directions and strengthen its core muscles seems like a wise thing to do.
So going back to cookies, today I have a tray of deliciously Xmassy biscotti cookies, which I have decided to make first as since they are already pretty dry, they keep for ages – unless, of course, your strong will melts at the mere sight of a cookie jar (mine does!!)… This version is very Xmassy, it includes flavours that make me instantly think of Xmas like orange rind, gingerbread spices, nuts, stem ginger and a glug of Amaretto, which you can substitute with more plant milk if you don't have it or don't fancy it.
I have also had an opportunity to test a gluten-free version of these puppies and a combination of a good gluten-free flour mix and some flax eggs passed the test with flying colours. Gluten doesn't do much heavy lifting in these and so they aren't in any way inferior to the wheat flour version at all, in my option. They also appear to be a touch gentler on the teeth than their regular counterparts so that's nice, but please execute the cutting the logs into slices with some extra care as gluten-free logs are a little bit fragile at that stage – it's a good idea to allow them to cool off fully. I hope you'll enjoy these cookies, they are really easy to make, perfect for dunking in hot beverages and keep for ages so there is lots to like.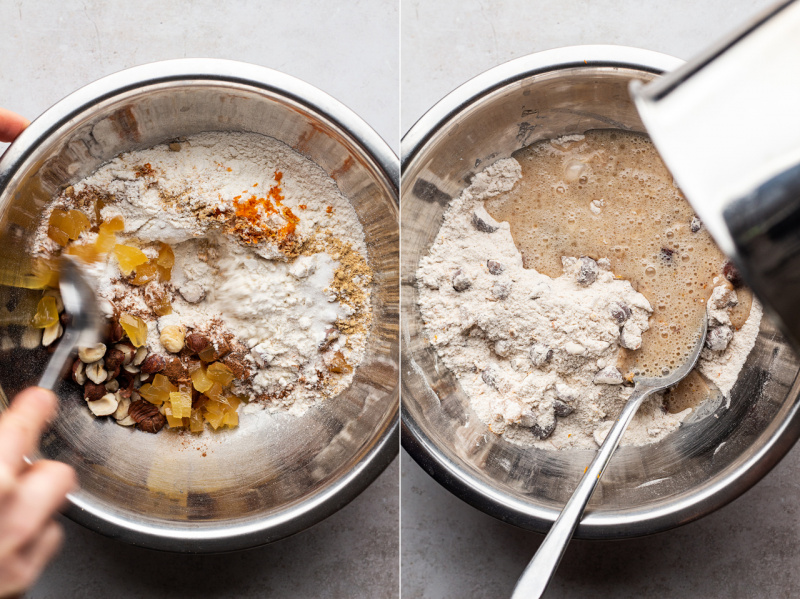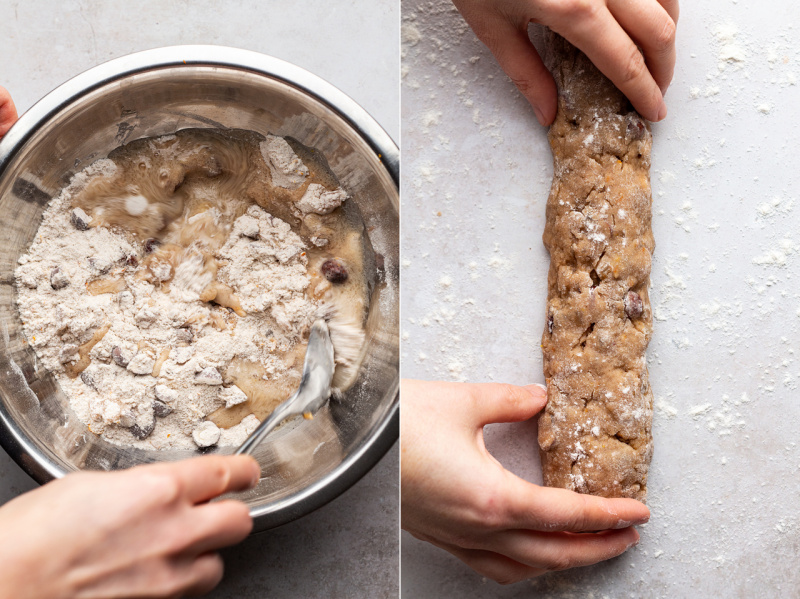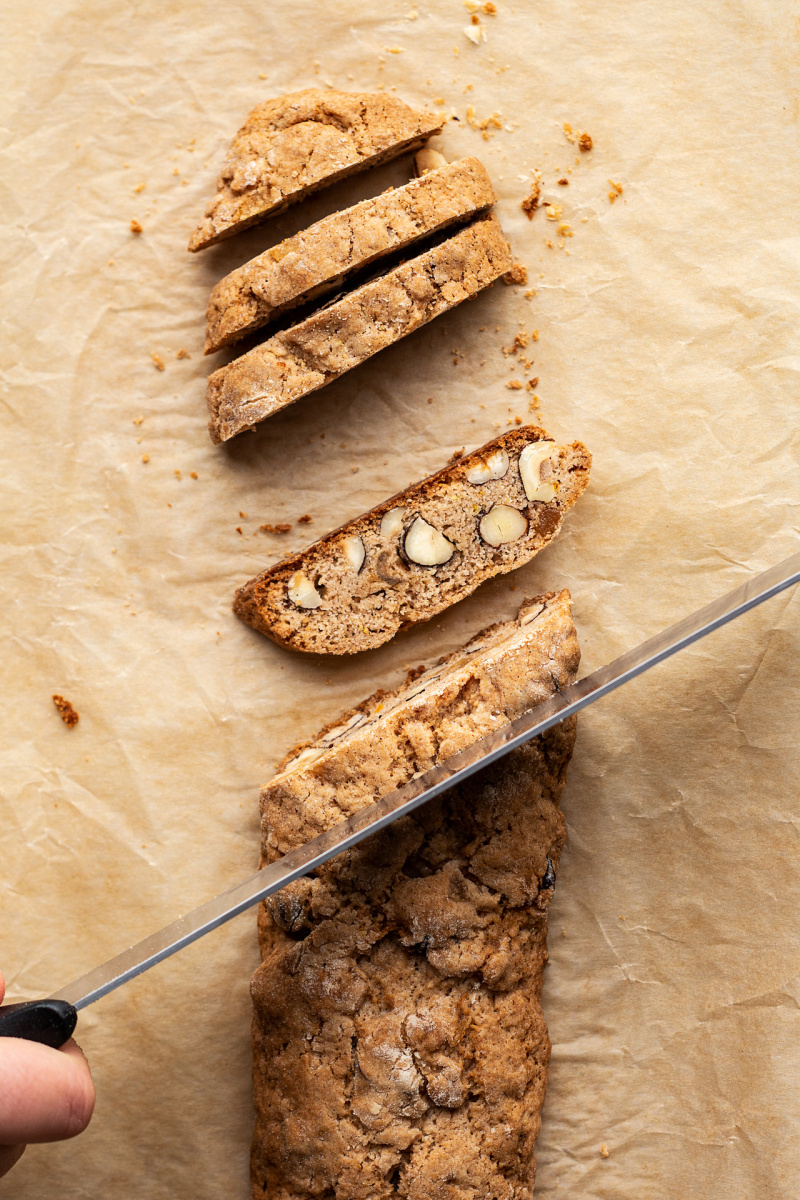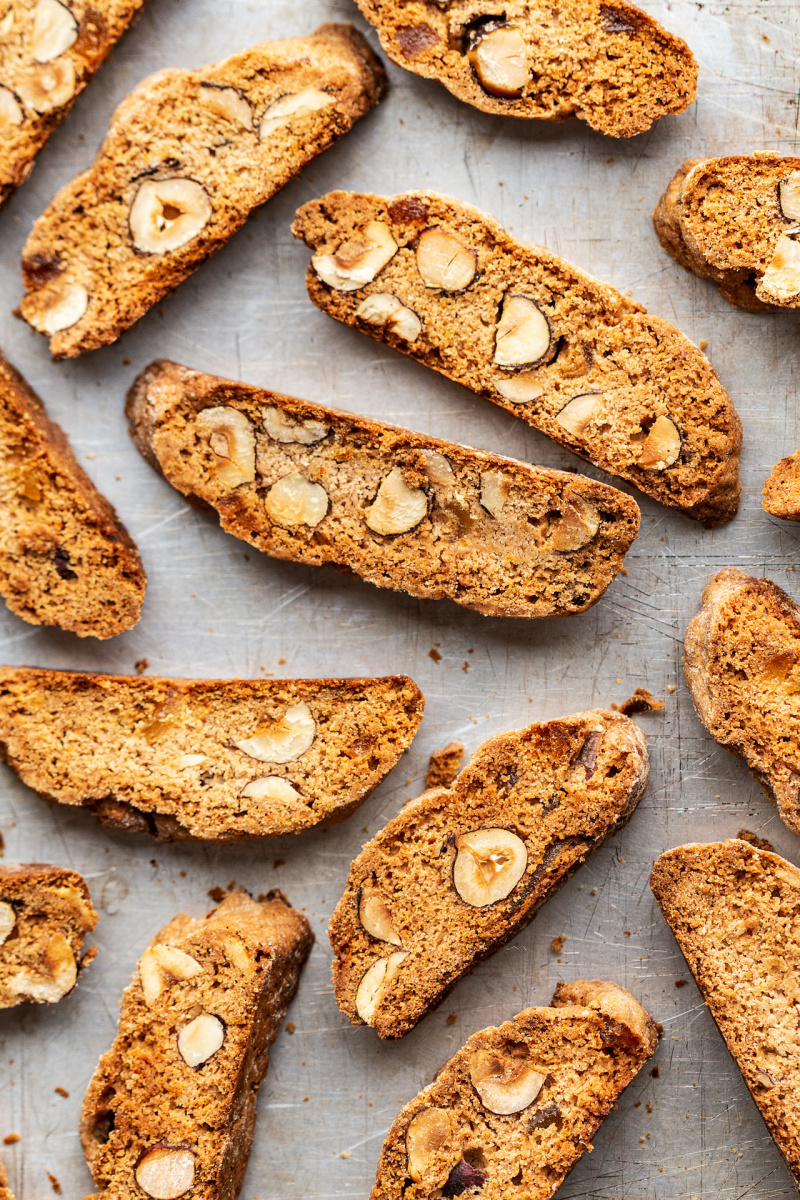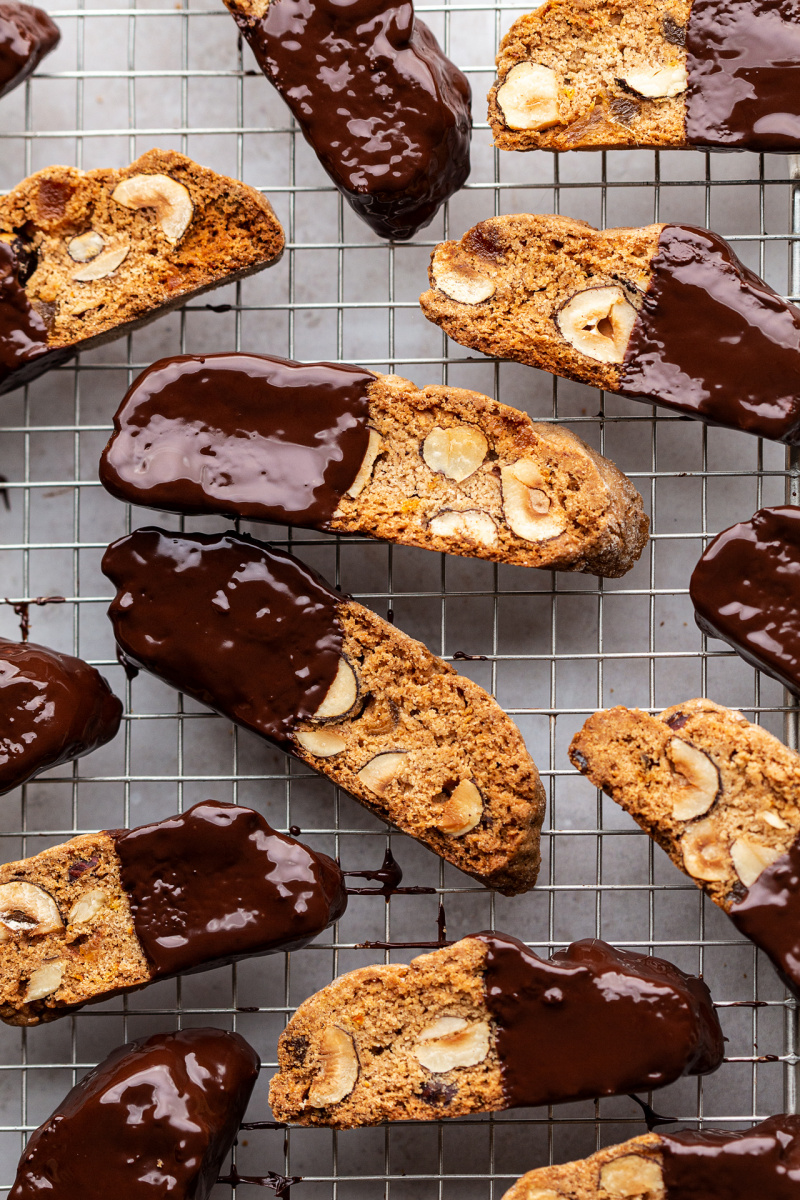 DRY INGREDIENTS
2 tbsp ground (I use golden) flax seeds (for GF version only)
250 g / 2 cups all purpose white flour or GF flour mix (I tested this one*)
140 g / scant ¾ cup caster sugar (or coconut sugar for unrefined sugar version)
1 tsp baking powder
1 tsp cinnamon
1 tsp ginger
½ tsp cardamom (optional)
½ tsp fine sea salt
zest 1 large (unwaxed) orange
100 g / ¾ cup hazelnuts or almonds, chopped roughly
5 stem ginger balls (in syrup), finely diced
WET INGREDIENTS
75 ml / ¼ cup + 1 tbsp soy or almond milk
50 g / ¼ cup coconut oil (I use the odourless one) or vegan butter, melted
60 ml / ¼ cup Amaretto liqueur (or more plant milk for alcohol-free version)
1½ tsp vanilla extract
DECORATION (optional)
100 g / 3½ oz vegan chocolate
METHOD
For gluten-free version only, mix ground flax with plant milk and set it aside to thicken.
Melt coconut oil / vegan butter gently over very low heat – switch the heat off before it has fully melted, it will continue to melt in the residual heat.
Set the oven to 170° C / 340° F (150° C / 300°F on a fan setting) and line a baking tray with a piece of baking paper.
Mix flour, sugar, baking powder, spices, salt, orange zest, chopped nuts and stem ginger in a large mixing bowl.
Combine all the wet ingredients together using a wire whisk. If making GF version, this will include the flax eggs we prepared in the first step – make sure they have thickened before adding the rest of the ingredients in.
Add the wet ingredients to the dry ingredients and bring the dough together gently (unless you are making them GF, in which case you don't need to worry about handling the dough too much). The dough should be not too dry or too sticky. If it's too dry, add a touch more (1 tsp to begin with) plant milk or a touch more flour, if it's too wet.
Divide the dough in half and roll each half into a long, thick log on a lightly floured surface.
Transfer the logs onto a large baking tray and flatten it into a 3-4 cm / 1-1½" wide and 25 cm / 10″ long log.
Place in the hot oven for about 30-35 minutes, until the log's surface is firm to a gentle pressure and lightly browned. Do not switch the oven off as these will need to be baked again. Turn the oven down a little, to 160° C / 320° F.
Let the logs cool down for 15-20 minutes before cutting them. Cut it into 1-1½ cm / 0.4-0.5″ slices with a serrated knife (that's a must) and a gentle back and forth sawing motion – be very gentle as the dough will still be quite fragile at this point. Place the slices on a baking tray cut side down and return them to the oven for the second bake. Bake for about 20-25 minutes, until your biscotti achieves the desired crispness and colour – remember the longer you bake them the harder they get.
Once cool, dip the biscotti in the melted chocolate if you wish (if making them a long time in advance, skip the chocolate until closer to the consumption time as it might spoil). Arrange them on a drying rack for the chocolate to harden. Keep them in an air-tight container for 3-4 weeks or freeze.
NOTES
 *This flour mix is made up of rice and buckwheat flour with the addition of tapioca, potato and corn starch. I am pretty sure that a similar mix will work just as well as long as it contains some starches.
This recipe is an adaptation of my previous biscotti recipe.