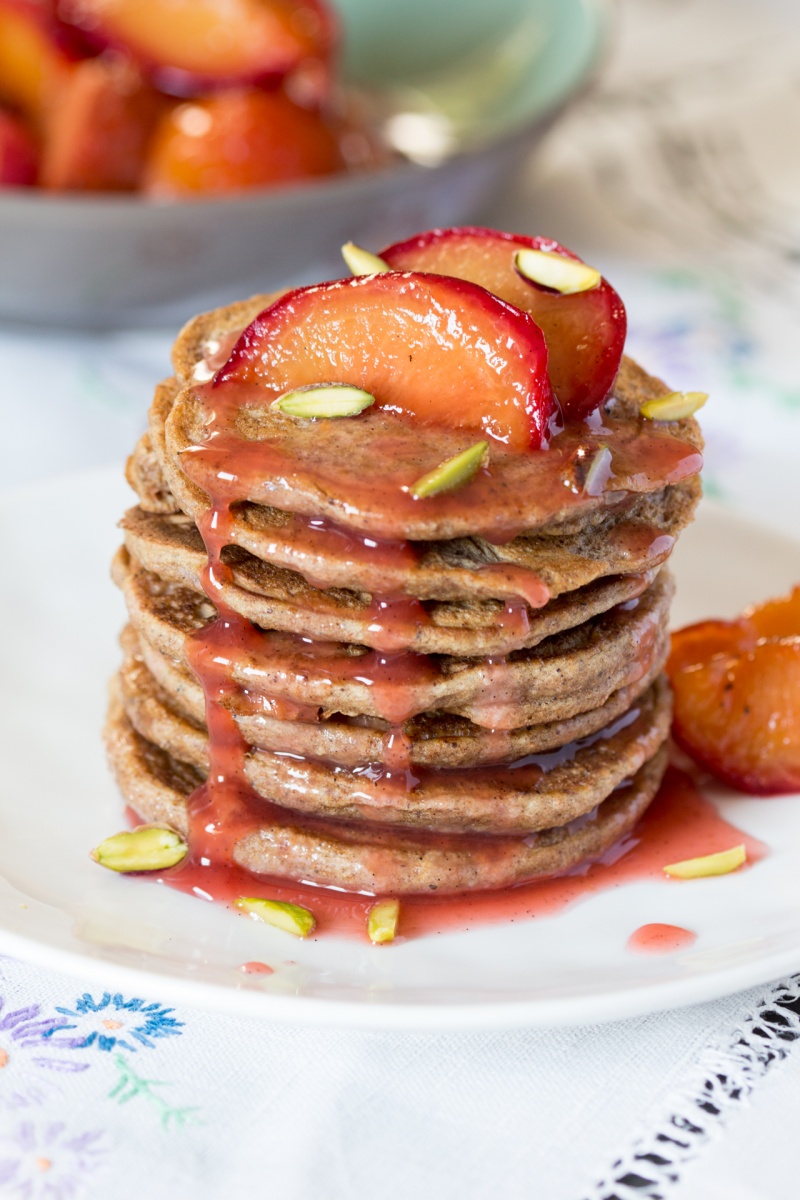 Today's recipe is inspired by my homesickness. You are right thinking that having sweet plum pancakes for breakfast isn't a very Polish thing, but fresh plums and all these aromatic spices make me think of autumn and I am missing Polish autumn big time. I miss the carpet of colourful leaves under my feet, I miss the faint smell of bonfires, I miss wearing oversized warm knits (even though Duncan calls me names when I do wear them) and I miss warm autumn light. I miss collecting chestnuts and acorns with my grandma as a child and coming home all excited cos I was going to make farm animals out of my finds and a box of matches! I suspect that my memory of warm Polish autumn is probably a tad idealised (last time I spoke to my mum she was saying it was cold already and it's only October!), but isn't that memories' prerogative?
Nothing says autumn to me as much as the fragrance of cinnamon, so I've decided to dial the cinnamon up in these plum pancakes and what better way to make them even more autumnal than add sweet, soft plums stewed in a bit of maple syrup and a handful of spices? They are easy to make and waking up to a warm stack of these spiced plum pancakes with cinnamon will definitely make your morning. The only thing is you'll need to talk someone into making them for you:).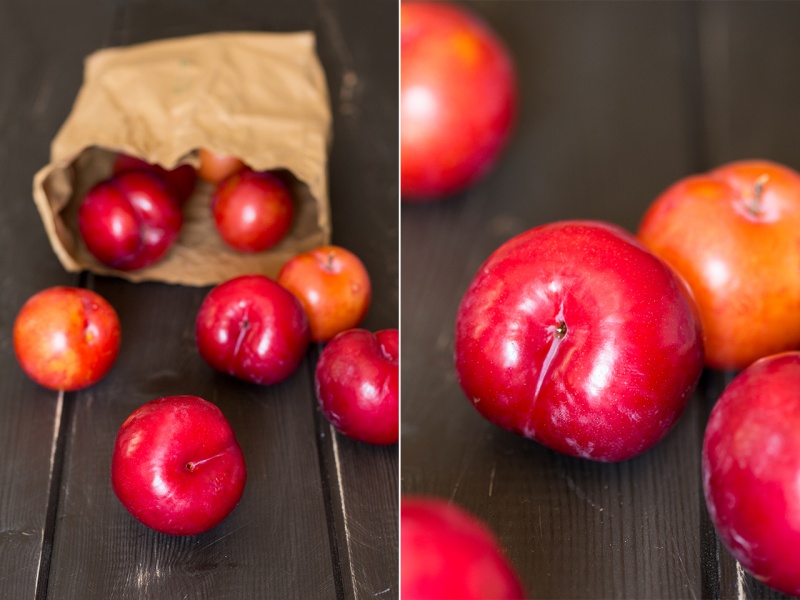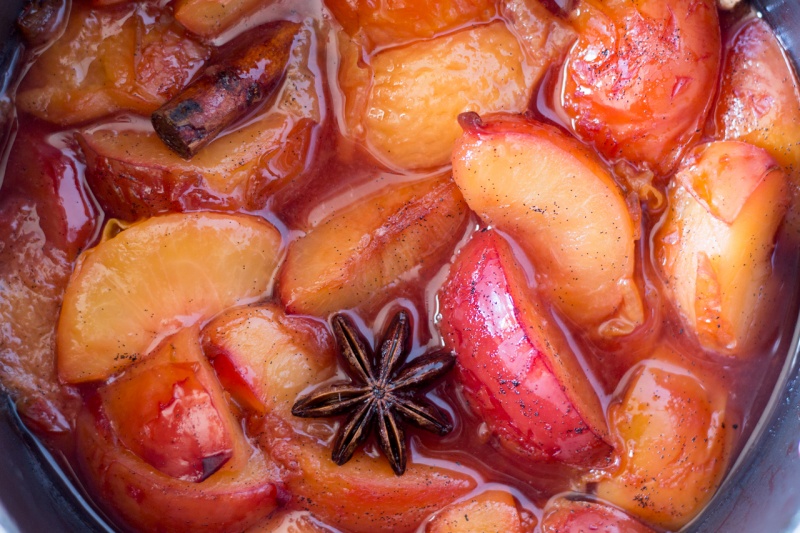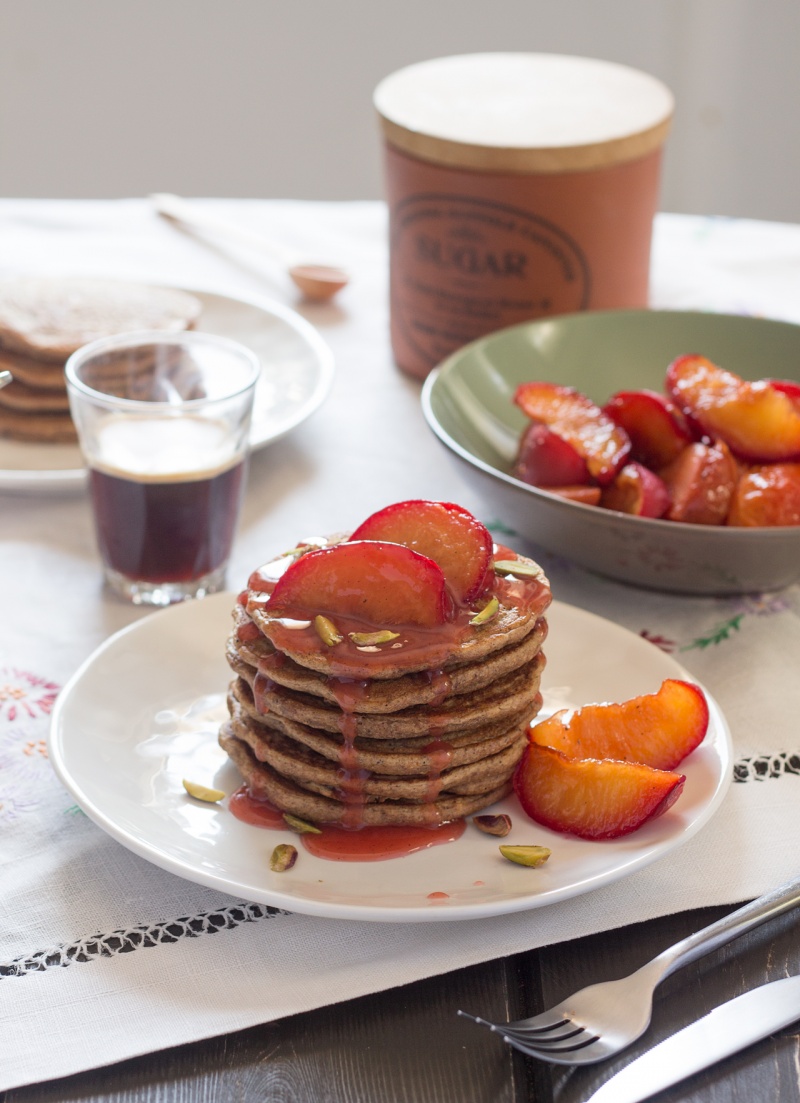 PANCAKES
¾ cup plain flour, sifted
¾ cup wholemeal flour, sifted
2 tbsp smooth (100% almonds) almond butter, store-bought or homemade
pinch salt
¾ tsp baking powder
1 ½ level tsp baking soda
3 tbsp maple syrup
1 tbsp lemon or lime juice / vinegar
½ cup full fat coconut milk + ½-¾ cup water
1 level tbsp cinnamon
1 tbsp oil for frying (I used sunflower oil)
SPICED PLUM TOPPING
5 fresh plums, quartered
2 tbsp maple syrup or sugar
1 star anise
1 cinnamon bark
2 cloves
grate of nutmeg
½ vanilla pod, seeds scraped
1 whole allspice
METHOD
PANCAKES
In a mixing bowl, combine sifted flours, salt, baking soda and baking powder.
In another bowl, combine all wet ingredients: coconut milk, ½ cup water, maple syrup, lemon juice. Whisk everything together until combined and there are no chunks of almond butter in the mixture.
Slowly (to minimise lumps) pour wet ingredients into dry ingredients stirring with a hand whisk (not electric) until you get a homogeneous mixture. Depending on the absorbency of your flour and how thick you like your pancakes, you may need to add a bit more water at this point. I added another 60 ml (½ + ¼ cup in total.)
Heat up a frying pan on medium heat, brush the pan with a bit of oil using a silicone pastry brush. Ladle 2 tablespoons (1/8 cup) of the pancake mix per pancake and shape it into a circle with the back of a spoon.
Cook the pancakes until most of little bubbles that form on the surface burst. If you flip them before the bubbles burst they may end up raw in the middle.
Once bubbles burst, flip pancakes gently. Fry until nicely browned on the other side and serve. Keep cooked pancakes in a warm oven while making the rest.
SPICED PLUM TOPPING
Put quartered plums into a pot with all the spices (put both scraped seeds and vanilla pod into the pot), maple syrup and 60 ml / ¼ cup of water. Stew on very low heat with a lid on until plums have softened.
Once the plums have softened, remove them from the pot and set aside. Gently reduce the juices that have gathered at the bottom of the pot until you get a thick syrup. If you want the syrup to be smooth, put it through a sieve otherwise just pick whole spices out and serve.