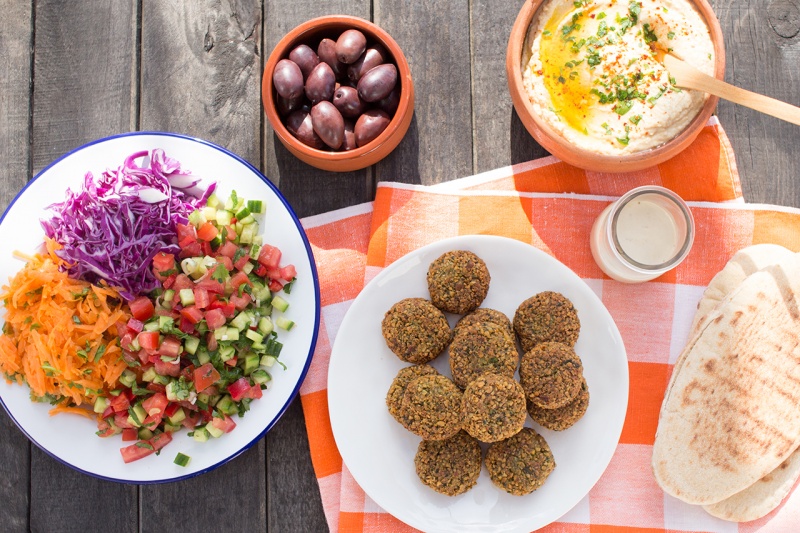 Even before I went vegan, falafels (the ultimate vegan snack) were one of my favourite things to eat. In London, you can find them very easily, both at Middle Eastern restaurants (several countries argue over who actually invented these delicious nuggets) and at regular street food markets. When we lived there, I used to take full advantage of this, but now that we live on a small Greek island, the food scene is much less vibrant. There is still good food to be had, but for obvious reasons there is much less variety.
Unable to get good falafels easily, I decided to take the plunge and make my own. They are actually quite simple to make.
One hurdle I've had to overcome is my fear of deep frying. I don't like using lots of oil and I've always avoided deep-fried foods (with the occasional exception of falafels and churros). I wouldn't be myself if I hadn't tried to bake and shallow fry falafels, but even though they weren't bad, they did not end up tasting like the real thing.
Only deep frying will get you a falafel that's nice and crispy on the outside and soft on the inside – a sheer pleasure to bite into. Given that the actual mixture is packed with healthy stuff and I have them with loads of salad and hummus, I have decided to treat myself to properly done falafels once in a while. Duncan is all for it as he is not the one to want a low-fat version of anything and he loves easy falafels too.
Enjoy your easy falafels in the sunshine with friends (recommended). They are at their best accompanied by a few simple salads, a big dollop of hummus and a generous helping of smooth tahini sauce (see recipe below).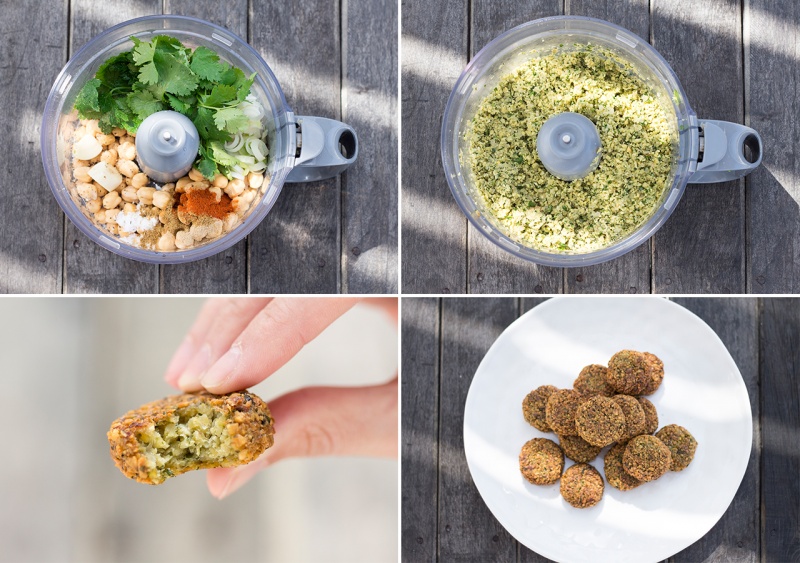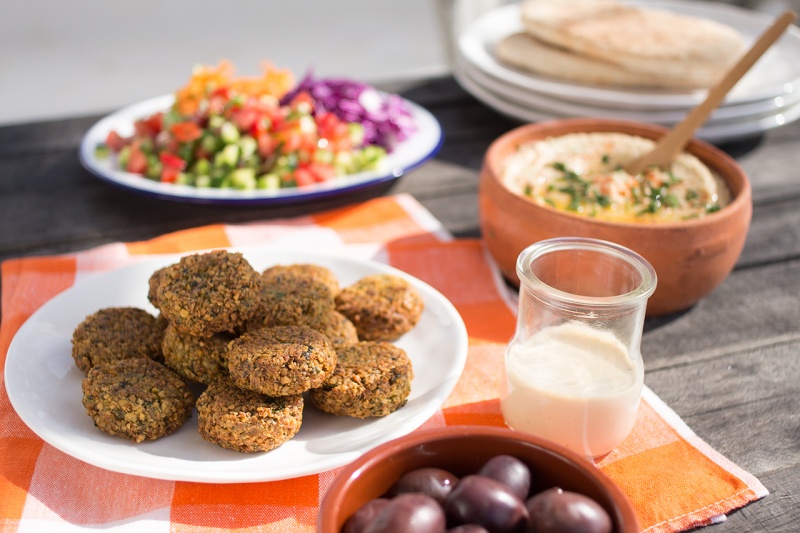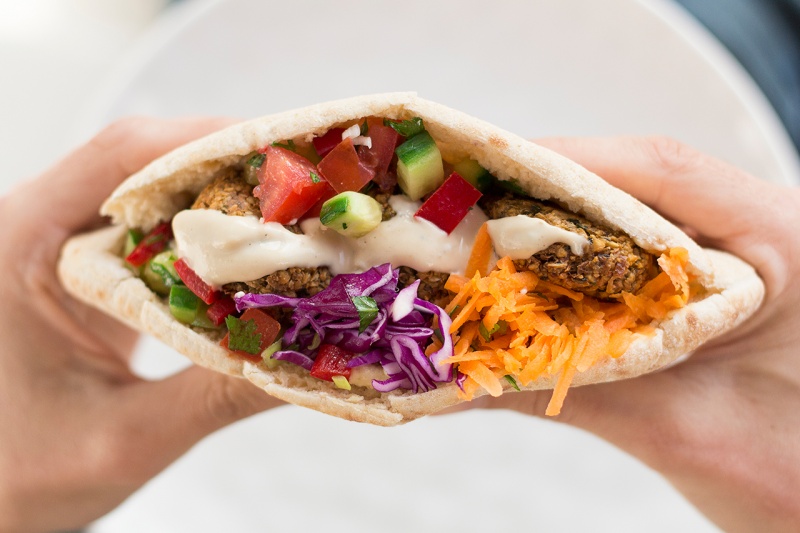 FALAFELS
1 cup dry chickpeas, soaked overnight
½ cup of fresh parsley and coriander (half half)
2 garlic cloves
1 large spring onion, white part – finely chopped
1 tsp salt (slightly heaped)
2 tsp ground cumin
1 tsp ground coriander
1 tsp ground cayenne pepper
freshly ground pepper
2 tbsp lemon juice
4 tbsp flour (if gluten-free, rice one for example)
oil*, for frying (I used sunflower oil)
TAHINI SAUCE
2 tbsp tahini
water
3 tbsp lemon juice
½ garlic clove, pressed
1 tsp maple syrup
salt
METHOD
FALAFELS
Drain soaked chickpeas, rinse them and put them into a food processor with all falafel ingredients apart from 2 tbsp of flour. Process until you have a coarse mixture.
Put the mixture into the fridge for 30 mins as it will be easier to work with after it has been chilled. You could prepare your salads and tahini sauce while waiting.
Try to form a disc with your hands. If it's falling apart, add more flour (my mixture needed 4 level tbsp in total) to make it stick together.
Form small discs with your hands and place them on a lightly floured surface.
Pour about 1 cm of oil into a pan. Slowly (on a medium heat) heat up oil – it take a good few minutes. You don't want the oil too hot as the falafels will brown too quickly and remain raw in the middle. After a few minutes, you can test the oil by putting a bit of mixture in it. If the oil around it sizzles and the mixture is getting brown slowly (i.e. doesn't not burn straight away), do another test by placing one falafel in the middle of the pan. If it takes about 3-4 minutes to get it golden brown on one side then the oil is the right temperature. If it has barely changed the colour, the oil needs heating up more. If it gets brown too quickly, you need to let your oil cool down slightly.
Once you are happy with oil temperature, place several falafels in the oil and set the timer to 3 minutes before flipping them and frying for another 3 minutes on the other side. Beware that usually the falafel that's in a middle of the pan will be done a bit sooner and the ones at the edges may need an extra minute or so. Keep an eye on them the whole time and rotate in the pan if necessary.
Fish them out using a slotted spatula. Place them on a few pieces of paper towel to get rid of excess oil.
TAHINI SAUCE
In a bowl, mix tahini and water until you get a light-coloured, pourable and homogenous mixture.
Season it with lemon juice, maple syrup, garlic, salt and pepper. Mix together well and enjoy with your falafels.
NOTES
*Once you finish frying, let the oil cool down. Sieve it through a couple of paper kitchen towels and keep it in a jar, in a dark cupboard until you are ready to make falafels again.